Cultivating an email list is one of the best ways to keep in touch with your audience and communicate with them in a targeted and effective way.
To help you keep up to date with the latest happenings in the world of email marketing services here is our latest report with all the news and updates from the most popular service providers in this sector.
MailChimp News:
MailChimp working on Responsive Redesign
Our top rated email marketing service is in the process of redesigning and upgrading their already excellent service. Part of the New MailChimp will involve the use of responsive designs that will enable their content to display the same way, regardless of the device they are being viewed on, whether that be a Windows laptop, an iPad or an Android phone. Responsive design is the key trend in user experience and web design so it's good to see this leading firm keeping up to date with the latest industry developments.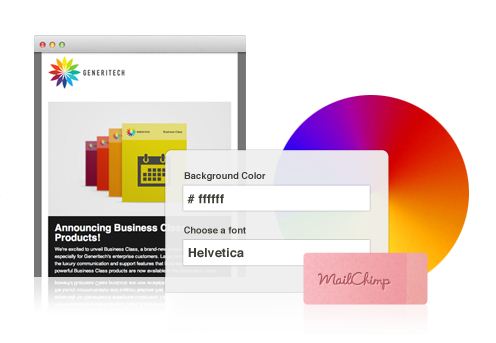 To read our in-depth review of this top email marketing service visit the MailChimp review today.
GetResponse News:
AutoResponders 2.0 Launched
The guys over at GetResponse were pleased to announce their new updated AutoResponders 2.0 service. The new version makes it even easier to build relationships with your contacts whether that is through a mailing list or on a one-to-one basis. With the improved AutoResponders service you can now easily create time-based or action-based messaging schedules.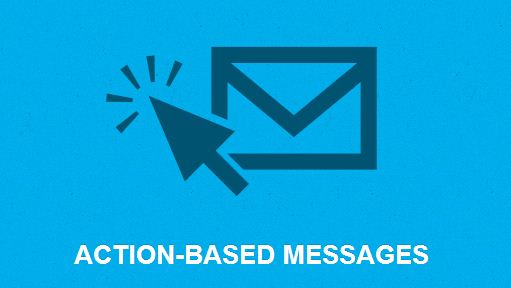 Your auto-responder messages can now be sent out on certain triggers such as when a subscriber opens an email, clicks on a link or does a specific task you have defined. All in all this is a great way to harness the power of your email list and build better relationships with your audience.
To find out more about all the features of this service provider visit our GetResponse review page now.
Vertical Response News:
New Integration with SyncApps
If you want to integrate your email marketing service with you customer relationship management (CRM) platform then the recent announcement by Vertical Response of their new integration with SyncApps by Cazoomi should attract your attention. Using this new feature you can now integrate your VerticalResponse mailing list with many popular CRM platforms such as Microsoft Dynamics and Netsuite CRM to name just a few. Being able to segment the entities in your CRM and deliver laser targeted email marketing to them has many obvious advantages.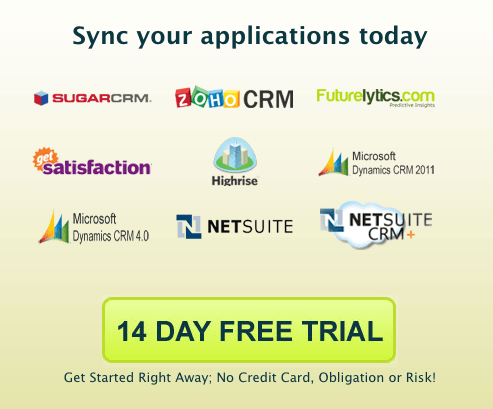 For more information on this email marketing service read our in-depth Vertical Response review.
Active Campaign News:
Updates to the Subscriber View Page
If you've ever wanted to add notes to any of the individual subscribers on your email lists, then this new feature from Active Campaign will be music to your ears. You can now enter any information you deem relevant about your subscribers, on their profile page, in order to help you store useful data about them that can increase your ability to interact with them in a meaningful way.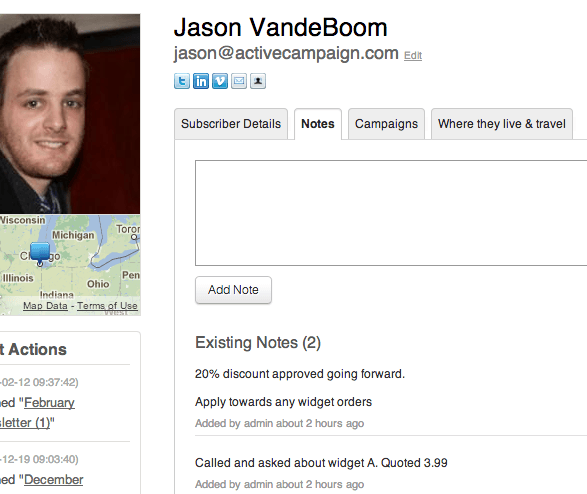 Also, as part of the updates to the subscriber view page, you can now see which social networks a subscriber is a member of. This feature makes it even easier to research and reach out to your subscribers improving the chances of them being more receptive to your messages.
Read our in-depth look at this service over at the Active Campaign review page.
Report Recap:
As you can see it's been a busy few months in the world of email marketing services. Lots of the services on our top 10 list have been launching new features and upgrading their products. Here is a quick recap of the biggest stories:
MailChimp upgraded their offerings to include responsive designs to enable consistency across all platforms from laptops to phones.
GetResponse have launched version 2 of their auto responder service by including time and action based triggers to improve message scheduling.
VerticalResponse have a new integration service in place allowing you to plug your Vertical Response mailing list into any number of popular CRM platforms.
Active Campaign have upgraded their subscriber profile pages to allow you to add notes and automatically see which social networks your subscribers are members of.
If you want to find out more about the different services available visit our Email Marketing Service reviews page.