These two things — building a subscriber list and sending the right message — can bring in huge results for affiliates
. Doing them correctly is not always easy, but their value can't be ignored. Fortunately, following a few best practices will go a long way toward putting you on a path to success.
#1. Choose an Email Service Provider — and Look Over the Terms & Conditions (TOC) Before You Do
Successful affiliate email marketing starts with choosing an email service provider. However, some providers have a shaky relationship with affiliates because they consider their communications to be spam. To avoid the pain of seeing a successful email practice taken away from you in an instant,
definitely check the TOC before signing up with any service provider
. For example, GetResponse allows you to use their platform for affiliate marketing. However, there are rules. Your list must be "permission based" (meaning contacts asked to be subscribed), and your contacts also must have explicitly agreed to be contacted. As long as you follow those two rules, your account will not be closed down simply for undertaking affiliate marketing. Check out our
GetResponse expert review
to learn more about how it helps affiliate marketers create professional email campaigns. However, there are some email service providers, such as MailChimp, that do not allow affiliate marketers to use their platform under any circumstance. If you're caught running an affiliate program, these providers will close your account immediately.
#2. Create a Lead Magnet that Offers Value to Your Audience
A best practice to build a list of voluntary subscribers who want to hear from you is by attracting them with a "lead magnet."
A lead magnet is a piece of content created to provide value to a specific audience. To receive it, a user must sign up for your email list. To create a lead magnet,
focus on a problem your audience has
— something known as a "pain point" — and then discuss how they can solve it. An essential best practice is to remember that
although you want to discuss the product or service you're an affiliate for, it should not be the sole focus, or even a main focus, of the content
. For example, if you're an affiliate of a certain brand of clothing, you might consider doing a seasonal fashion guide. Provide real value to the brand's audience by creating a guide that really focuses on hot trends — with just a small mention of what the specific brand offers. Relevant people will download the guide and give you permission to collect their email and communicate with them in the future.
#3. Don't Just Sell to Your Subscribers; Hold a Conversation with Them
When a member of your affiliate product's target audience signs up for your email list, it's not an invitation to mercilessly bombard them with sales messages. It's an invitation to continue providing them with additional value. All reputable email service providers will require you to include an unsubscribe button at the bottom of your emails — and
your subscribers are free to use it at any moment
. A good best practice here is to think of yourself as a source for your audience to get informed about every aspect of the industry you're an affiliate in — and not just for the product, or even type of product, that you sell. For example, if you're an affiliate in the online casino space, don't just write about online casino rooms. Instead, the bulk of your content should be on subjects relevant to people interested in online casinos, like honest reviews of the newest game releases, or insightful game strategy guides. A good best practice is what's known as the "80/20 rule."
For every four messages you send out that cover a topic of importance to your audience, you can send one "sell" message that invites them to purchase something
.
#4. Properly Segment Your Email List Subscribers
Although you're the only person in charge of your subscriber lists, your subscribers are not all the same. All subscribers are individuals with their own reasons for signing up, their own interests and pain points, and their own email preferences. To get the most out of these differences, you need to not only respect them, but also figure out how to use them to make more sales.
A best practice is to master a technical email marketing technique called audience segmentation
. This is the practice of grouping people who subscribe to your list based on some attribute or characteristic that can be targeted with specifically relevant messaging. Examples of attributes you can use to segment subscribers to your list are:
Where they signed up (i.e., which website, webpage, blog post, or landing page)
The date they signed up
How often they open your emails
How frequently they make a purchase
Amount of time since their last conversion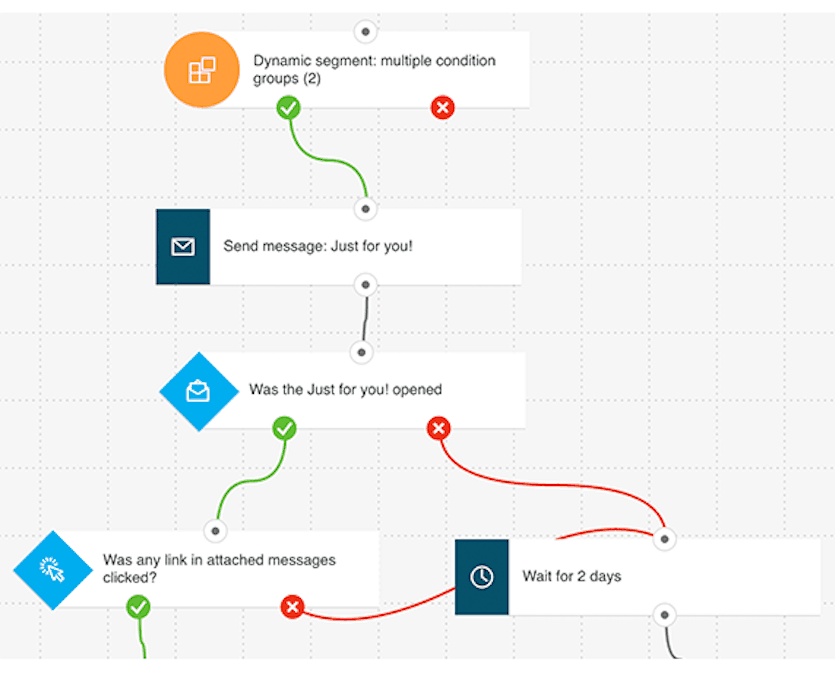 Once you create your segments, you can then target them with a strategy designed to convert. An example would be targeting subscribers who make frequent purchases with more sales messages. And a strategy on the content-side would be targeting subscribers who converted on a product-specific webpage with emails about that product in the future.
#5. Do the Technical Work to Maximize Deliverability
Email service providers help make sure your messages get delivered. For example, AWeber is an affiliate-friendly platform that constantly monitors the sending patterns of its users in order to identify accounts sending spam. By doing this, the platform gains credibility with email providers like Google, as well as internet service providers themselves, making it more likely that messages will be delivered. Check out our
AWeber expert review
to learn more about how it can help you
maximize the deliverability of your email campaigns
.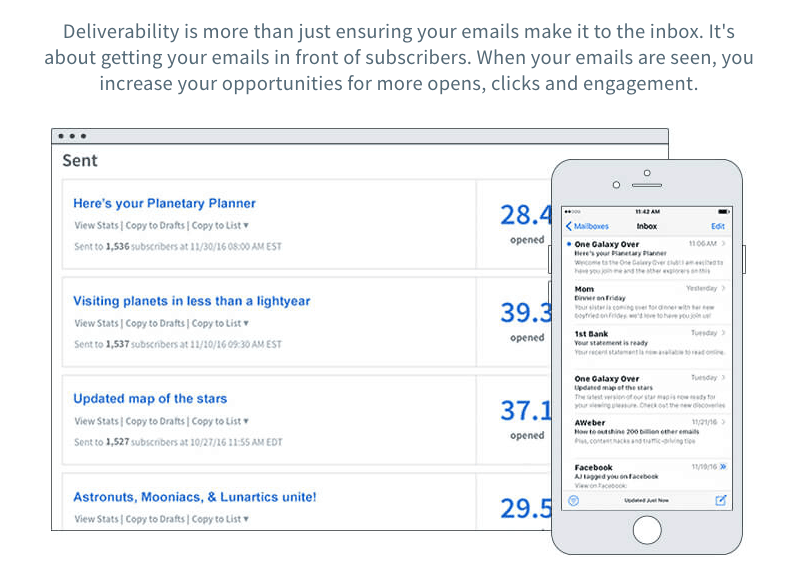 But although these platform techniques do a lot to increase deliverability, they don't do everything.
Affiliate marketers should follow these common deliverability best practices
:
Pay attention to the quality of the IP address your email service provider sends messages from. Avoid "cold" (unused) addresses as much as possible in favor of IPs with a reputation for sending quality messages.
Send an email to a small amount of subscribers, and see what percentage of them mark it as spam. Emails marked as spam at a rate of 0.1% or higher should be redone, as it risks getting your account flagged, penalized, or shut down.
Please pay heed to open rates and eliminate subscribers who do not engage with your emails. Having low open rates is regarded as an additional sign of an account that sends spammy emails, and it can have an adverse effect on your deliverability rate.
Deliverability is an ongoing battle that requires constant attention and maintenance
. Whatever you do, don't fall into the trap of building a huge subscriber list without doing any maintenance. It always hurts to remove a hard-won subscriber from a list, but sending emails to accounts that aren't interested won't get you any sales. In fact, that can have a very negative impact on your ability to get your emails in front of the subscribers who will.
Remember: Regular Marketing Techniques Apply to Affiliate Marketing
Affiliate marketers sometimes focus too much on the "affiliate" in their job and not enough on the "marketing." But the marketing techniques that work for non-affiliates are applicable to affiliates as well. And the techniques discussed above are just the beginning of what you can do to create more effective email marketing campaigns. Because affiliate marketers ultimately sell products to consumers, a good best practice for them to follow is to think of their email subscribers as leads in their own B2C business. Lead magnets are a good start to a proper B2C lead generation strategy, but there's a lot more that can be done to generate sales.
By taking the time to learn other strategies, such as how to create more effective CTAs for your landing pages and other conversion assets, affiliate marketers can increase their conversion rates
. ActiveCampaign is an example of an affiliate-marketing-friendly email service provider that offers several CTA templates pre-designed with the best conversion practices in mind. Check out our
ActiveCampaign expert review
  to learn more about how it can help you optimize the CTAs in your conversion assets. Bottom line, affiliate marketers are no different from other online marketers. By putting all the best marketing strategies and tactics to work, they can see a significant increase in the ROI of their email marketing efforts.