Developing your company's branding is one of the most important elements
of creating a cohesive vision. If you're a small business, then finding the facilities to put the time into logo creation can be tough. Often, company owners are not designers, so they're forced to look elsewhere for the skills required. As
digital artists are in increasing demand,
the costs associated with hiring them are also on the pricey side. Over the last ten years,
many major companies have more than doubled the number of staff designers.
In turn this has led to a rise in average salary, with most full-time workers earning around $40,000 per year. If these figures make you want to run and scream, don't worry — there are other options! Many small companies have turned to in-house design or the
best logo design services
available on the internet. Indeed, the latter has created a
vast array of opportunities for businesses to connect with professional designers,
for a fraction of the cost
. With so many options available, there's no excuse for neglecting this essential part of branding.
The Importance of Logo Design
It takes
only ten seconds for a customer to form an impression of your logo
, and five-to-seven impressions before they're able to recognize it. With such a short window for you to make the right impact, it's crucial that you put in the effort to
ensure your design perfectly characterizes your brand
. It's possible to make it yourself, but you'll miss out on the artistic skill that professionals boast. So many elements of logo design create a message for potential customers, such as:
Color
Logo type (icon, wordmark, monogram)
Pictorial choice
Font
Shape
While you could try to design your own, capitalizing on the experience of professionals will help you down the line.
Designers have the capability of streamlining your brand personality
into a visual design that will express those characteristics to your customers. This skill is invaluable, but of course,
budget is also a deciding factor.
Fortunately, you have three logo design options at your disposal.
Design contests, agencies, and freelancers will all allow you to work with creative professionals, without blowing your entire marketing budget.
Design Contests — Many Options, Good Value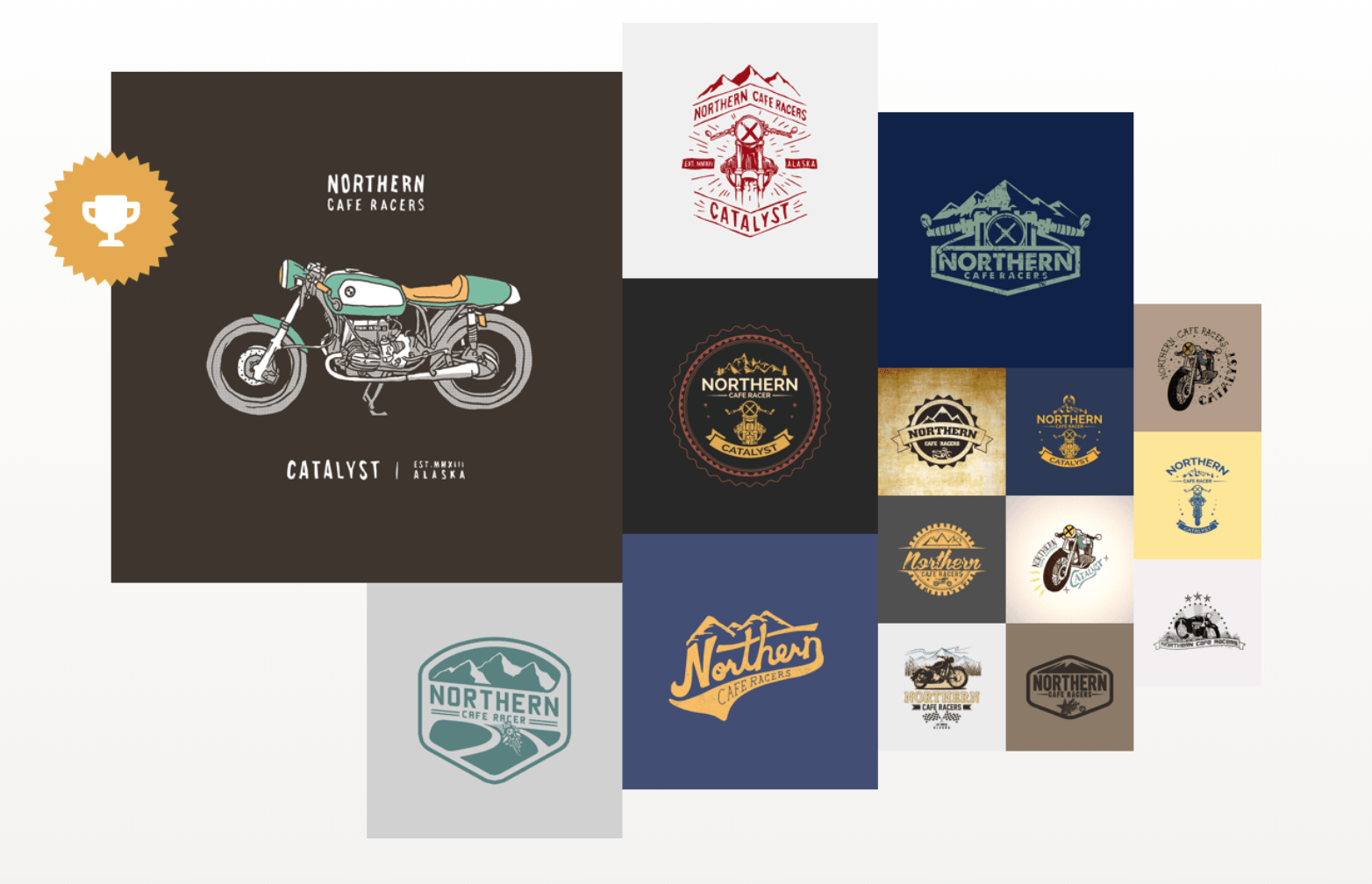 Design contests have increased in popularity
over recent years. Hosted on websites like 99designs and HiretheWorld, they offer businesses the chance to
crowdsource logo designs.
You can give feedback, choose your favorite, and
pay only if you're happy with the final option.

To learn more about these crowdsourcing platforms, check out our
review of 99designs here
, or our
review of HiretheWorld here
.
The Process
Design contests all work using similar formats. You start by
creating a brief, explaining who your company is, and the ideas you already have for your logo
. This can be in-depth or open to interpretation. Feel free to check out our article about how to optimize your design brief. Many platforms also allow you to set your budget. Once launched, the contest is open for entry by any designer. Usually, you're told
you'll receive around 100 designs.
However, this can range considerably, particularly if you find a logo you like early on, as entrants are less likely to chose contests with a clear favorite. Throughout the competition process,
you're given the option to communicate with the designers.
You can ask for revisions, give feedback, or edit your brief if you have additional ideas. This ability allows you to
work closely with the artists,
and have direct input into the development of the designs.
The Product
Once you've chosen a final product,
all the digital rights are transferred to you.
You'll also receive your logo in a range of file formats, for ease of use. Design contests are often criticized for the fact that
contests aren't always successful.
Sometimes, business owners are unhappy with the options available and choose to forfeit the competition. Designers from Ripley Studios, a professional design firm, cite the reasons for this as "poor communication between contest holders and contestants, language and cultural barriers, and low overall quality of work." However, despite the critique, 99designs, Design Crowd, and HiretheWorld have
over 900,000 successful projects
and host testimonials from their happy customers. Plus, if you don't find a design you like,
you're entitled to a full refund.
The Price
Design contests provide
incredible value for money,
considering you get access to countless designers for a single payment. While some platforms allow you to set your budget, others have a fixed price of around $200.
Agencies — Top Quality, Fast, High Price
Fifty years ago, using a design agency would have been your only option.
These traditional establishments are tried and tested,
ensuring you can work with professional artists in a timely manner. Their years of experience make them
experts in the design world,
but this exclusivity is also reflected in the price tag.
The Process
When you contact a design house,
you'll have to fill out a creative brief
. Unlike a contest environment, these instructions will be revised throughout the process, so you only need a vague overview. Once submitted, the agency will send you a quote and also link you with a designer. This contact will be your main correspondence in the company, even if other artists are involved in the project.
The development will take place through a "draft and revision" process;
your designers will give you mock-ups of the logo, and you provide feedback and changes.
Usually, you're limited to a specific amount of revisions, which is specified in your quote. Design agencies have a level of professionalism to uphold, so the process usually goes smoothly.
Deadlines are hit and it's easy to brainstorm ideas,
as the artists are knowledgeable about their field.
The Product
Depending on your individual package, design agencies will offer a range of finished products with your final design. This package
includes multiple file formats, sizes, and banners.
You may also receive the vector file to make it easy to resize your logo. The main benefit of using a professional design agency is the
guarantee of quality
. As the artists are vetted before hiring, the overall skill level is high. However, that doesn't ensure you'll be happy with the results. In a survey,
only 52% of companies were fairly happy with their design agencies.
Just 8% claimed to be "very satisfied by the process."
The Price
Design agencies are professional, but you pay for that professionalism. Often,
costs can reach over $1000.
The other downside is that you're not always guaranteed a refund. While it's possible to get your money back if you're unhappy,
your complaint must adhere to their Terms and Conditions; otherwise, you're not eligible for compensation.
Freelancers — Low Risk, Close Collaboration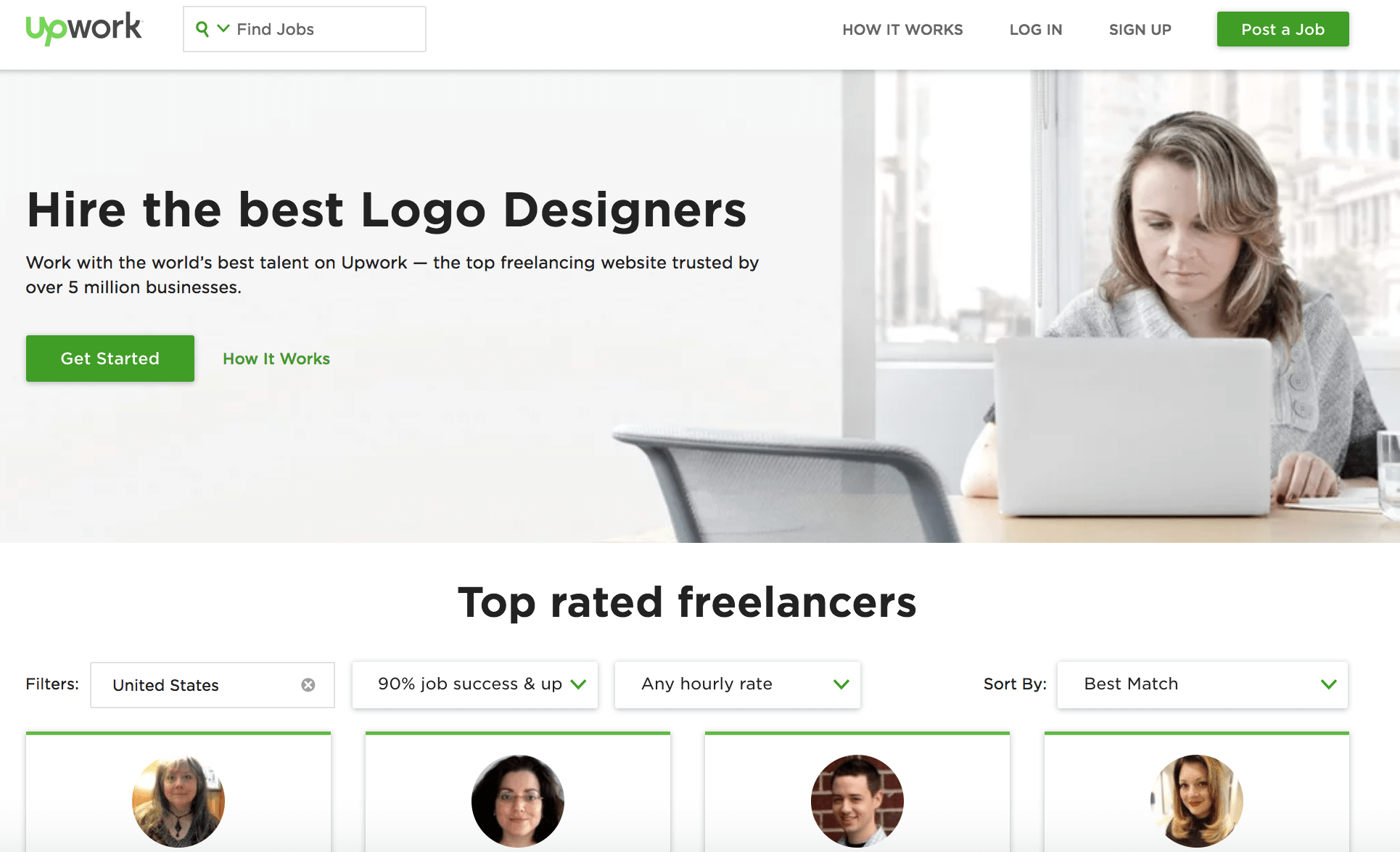 Online platforms such as Upwork and Fiverr
offer businesses the opportunity to bypass design agencies
and link with the artists directly. Freelancer websites let you post a job ad, then promote it to their members so they can apply. You can
hire the best candidate and collaborate with him or her throughout the design process
. You can read our expert reviews to learn more about
Upwork's features here
, or
Fiverr's features here
.
The Process
Different websites offer slightly differing formats for their job applications, but they follow a generic pattern.
You'll start by posting your task description.
Here, you specify certain tags (e.g., industry, job title, experience level, budget, etc.) to control who sees your advertisement.
Some platforms also allow you to develop an interview process,
where you can ask candidate-specific questions when freelancers apply. On other platforms, you're limited to viewing their profile and application note. Unlike design contests, where requesting a draft from candidates during their application is possible, you need to make your hiring decisions based on their credentials, just as you would in a standard hiring process. Certain platforms such as Upwork accommodate elite freelancers with a proven track record of high job success rates.
The Product
The result of hiring a freelancer can vary drastically.
Ensuring a high-quality design largely depends on your interview skills
. Asking the right questions and requesting samples of previous work are good ways to guarantee a successful finished product.
Most platforms include reviews from prior clients
; definitely take the time to read them to check if your shortlisted artists are reliable and whether it's easy to work with them.
The Price
The benefit of freelance websites is that you can
hire within your price range.
On Fiverr, logo designs cost as little as $5; on Upwork, you can opt to hire an experienced artist for around $200. The quality of the work is often dependent on the money, but it's still
incredibly beneficial to have flexibility in price. 
So, Should You Launch a Contest, Hire an Entire Team, or Work Closely With a Freelancer?
The reality is that deciding which method is "best'" depends on
what your requirements are as a business.
If you're just starting out, then you might not have that much overhead to invest in your branding. In this case, you want to get the most for your money. This is
best achieved via a design contest,
because you'll receive logos from several artists for one payment. However, if you want to
ensure the best quality
possible, it may be
better to opt for an agency
. These platforms require a lot of money, but affords you access to a whole team of experienced professionals. Alternatively, if your
biggest priority is good communication
, then hire a freelancer. This option gives you unlimited back and forth throughout the process.
| | | | |
| --- | --- | --- | --- |
| | Design Contest | GD Agency | Freelancer |
| Cost | $200 | $1000 – $5000 | $5 – $200 |
| Best For | Value For Money | Professional Process | Low Risk |
| Timeline | 3 – 30 days | 7 days | 7 days |
| Biggest Benefit | Work with many designers | Guaranteed high quality, fast turnaround | Close collaboration with individual designer |
| Biggest Drawback | Success not guaranteed | Very expensive | Limited to the skills of one designer |
---
Stats
: https://techcrunch.com/2017/05/31/here-are-some-reasons-behind-techs-design-shortage/ https://www.marketingweek.com/2016/05/09/just-8-of-brands-are-very-satisfied-with-their-agency-partners/