As YouTube is the second largest search engine in the world, with over 800 million monthly unique users, it's easy to understand why people want to be a part of the action.
For businesses and individuals alike, YouTube provides a safe place where you can share content, learn about new things, and discover opportunities. However, if you want to expand your reach and increase your views as a user on the platform, you need to make sure that you're representing yourself properly.
That's why you need to create for yourself a fine YouTube logo (or channel icon). Your YouTube logo is important because it serves as your profile picture. It's visible in the lower right corner of every single one of your videos and to the left-hand side of your channel art on your profile.
Wondering how you can create a YouTube logo that will make you easily identifiable while simultaneously helping you attract new subscribers? Not to worry, there are a number of best practices you can follow.
YouTube Logo Requirements
First thing's first, you need to ensure that you're adhering to YouTube's rules and regulations with your channel icon. According to the official website, your logo must be:
A JPG, BMP, PNG or static GIF file (no animated GIFs allowed)
800 X 800 pixels in size
A round or square image that renders at 98 X 98 pixels and doesn't exceed 1Mb
Any imagery that features artwork, nudity, celebrities, or copyrighted material is strictly not allowed, so keep this in mind during the design process.
Do's and Don'ts of Creating a YouTube Logo
Whether you're a professional business looking to build trust with your audience to attract sponsors, or just an individual YouTube user trying to grow your fan base, there are some definitive do's and don'ts when it comes to designing your channel icon.
DO Focus On One Image
First, you don't want to overload your visitors and over-complicate matters by trying to show them multiple images, words, or emblems in one small logo.
It can be difficult to develop an aesthetically pleasing design that represents you and your values perfectly, especially if you're new to branding. However, if all else fails, just keep it simple by following the one-image rule.
Still struggling? These guidelines might help:
Individuals
Taking inspiration from Zoella, who's a big YouTube name with almost 12 million subscribers, you might consider using just your headshot. Zoella's face is the only subject in her logo, which makes it easy to see and recognize her.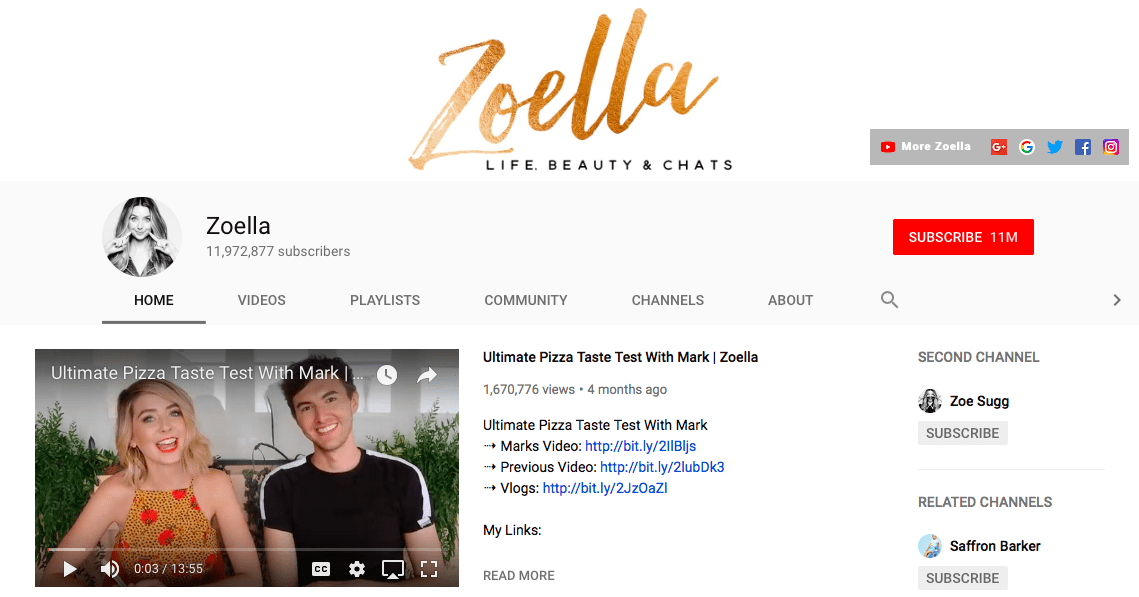 Organizations
Pick an image that represents who you are as an organization and what you stand for. For example, Bright Side is a group of people who "always look on the bright side of life and stay positive" and, in doing so, have earned themselves over 20 million subscribers. Their YouTube logo is a light bulb, which flawlessly aligns with their brand values.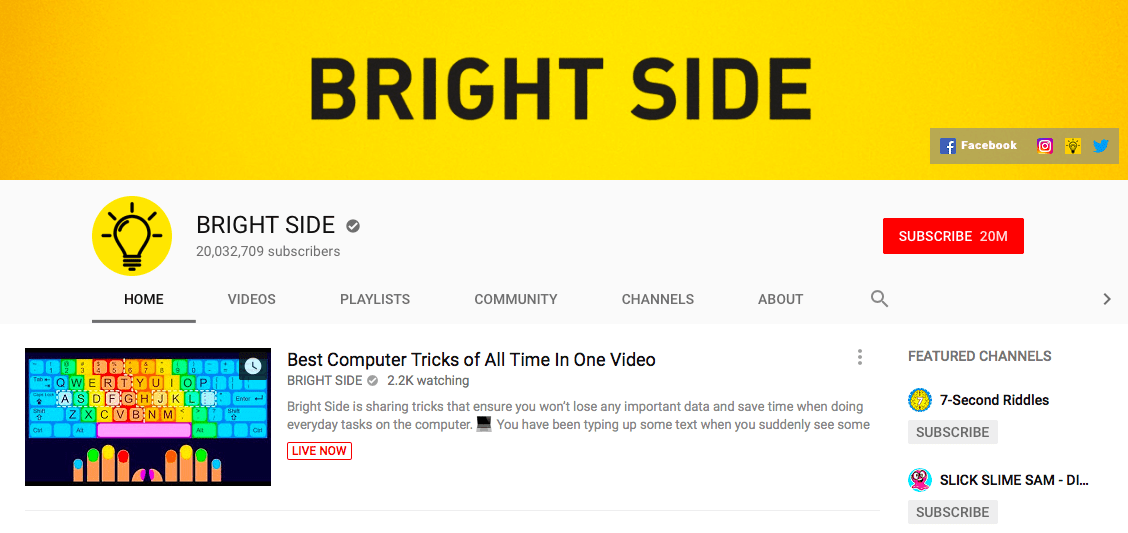 Businesses
Use your company logo, but optimize it for your YouTube profile. For instance, Apple features their standard company logo on their channel; however, this is a zoomed-in version, which makes the apple icon more prominent. With 7.8 million subscribers, they must be doing something right!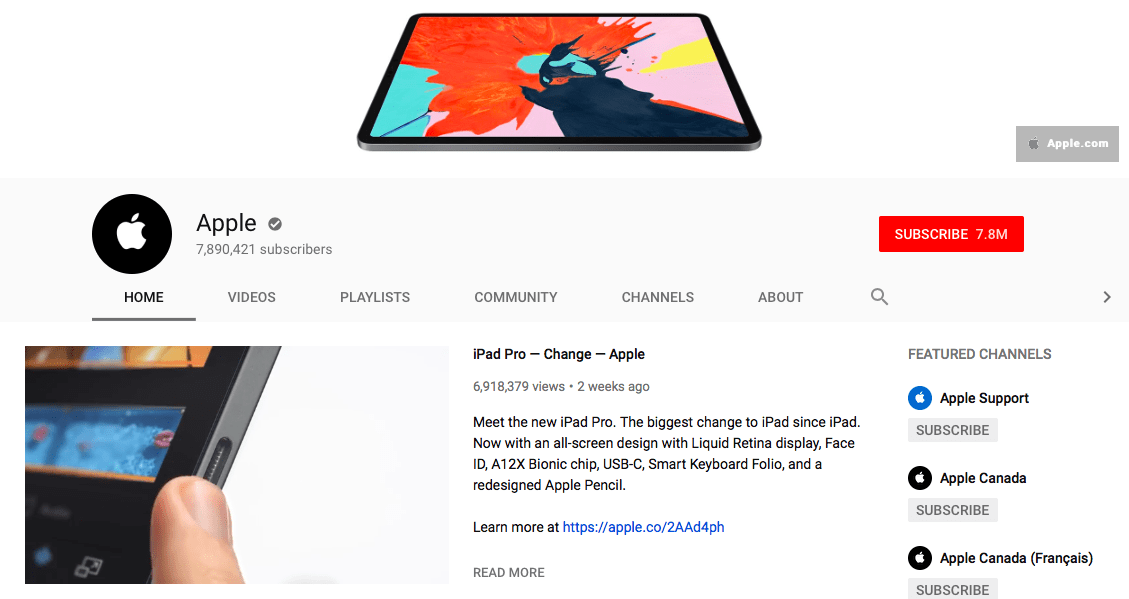 DON'T Use Too Many Colors
Just as too many images and words in a channel icon can overwhelm the viewer, too many colors can also be overpowering. In fact, just like the one-image rule, the use of a single color is generally recommended.
The idea is to make your image as legible as possible, which can also be achieved through the use of a transparent background. Feel free to read this article about the benefits of transparent logos.
Not sure about how to create a transparent logo? Well, just call Adobe Photoshop your new best friend. Alternatively, you can enlist the help of a logo design service like DesignCrowd or Looka, which give you an option to make your logo transparent. Read more about these platforms in our DesignCrowd expert review , or our Looka expert review .
DO Invest in a Decent Camera to Capture Your Image
Even if you're the most talented photo editor in the world, the worst thing you could do is capture an unclear or blurry logo image intended for your YouTube channel.
Why? Your YouTube logo is the one piece of art that will be shown every time someone clicks onto your channel or your related videos. It's the first impression you create for your viewer; therefore, it needs to put your best foot forward.
If you plan to use your own photography, then make sure you use a decent digital camera or action cam to capture the best images. You should also take photographs in broad daylight for the most flattering lighting.
How to Upload a YouTube Logo to Your Channel
Once the design of your shiny new YouTube logo is complete, you then need to actually upload it onto the platform.
As YouTube is now associated with Google, amending your Google+ profile picture will automatically update your YouTube channel icon. If you prefer to edit your icon this way, enter your Google Account settings and follow the instructions.
However, if you'd like to upload your logo through YouTube (which is universally considered easier) proceed as follows:
Sign into your YouTube channel, and click on your icon at the top right-hand corner.
Select "My Channel" and then hover over your icon to bring up the edit icon. Click on it.
Follow the onscreen instructions to upload your design and then click Save.
You can also update your settings and choose which time(s) you'd like your audience to see your logo:
Throughout your whole video
At the end of your video
At a certain time (e.g., one minute into a video)
Simply click Update to save any changes, and then the YouTube logo-creation process is complete.
Make Your YouTube Logo Stand Out from the Crowd
As well as being symbolic of you as an individual or a business, a YouTube logo must also be striking. It should help you to stand out from the crowd while staying true to who you are.
Let's face it, your YouTube logo is of utmost importance. Even though video content is significant, Design Evo claims that an appealing logo can drastically boost a channel's success. If the logo's design is attractive, then the related channel name will receive a higher click-through rate and additional subscribers.
In fact, as long as your channel is featured in the "Featured Channels" and "Related Channels" lists on YouTube, it's possible to attract viewers from other channels through a compelling logo.
And that's what it's all about as a YouTube user, right? You want to be visible, get your content seen, and share your experiences with others. There's a reason why they call it a "social" media channel, after all.
---
Sources
https://support.google.com/youtube/answer/2976309?co=GENIE.Platform%3DDesktop&hl=en
https://www.logaster.com/how-to-create-youtube-logo/
https://www.designevo.com/blog/how-to-design-make-awesome-youtube-logo-boost-channel.html