Living in the digital world, having a website is almost non-negotiable, especially if you want to attract customers to your business. If you're a newcomer to website building and want to create a simple site to showcase your business, skills, or ideas, Wix is a great choice. Wix is one of the top website builder platforms for both novice and professional website builders. Here is our straightforward guide to creating a basic website using the Wix website builder.
Step #1: Know What You Want
Before jumping straight into the Wix website builder, set aside some time to brainstorm and think about what you want out of your website:
What is the purpose of my website? Do you want your website to help you make sales, showcase your skills or achievement, increase awareness of a particular issue, or provide a platform for your thoughts and opinions? The goal of your website will affect the design, layout, and content you include.
What is my brand? No business is too small to be a brand. Your brand includes the colors you'll use, the emotions you want visitors to feel, and the type of service you provide to your customers.
Who is my target market? Think about who your ideal visitor is, and then design your website to attract that imaginary person. For example, a website aimed at millennials will have a different feel to one aimed at baby boomers.
Don't rush this step. The clearer you are regarding what you want out of your website, the easier it will be to create a successful site when you get started.
Step #2: Create Your Wix Account
Once you know what you want out of your website, it's time to create an account with Wix. You'll need to share your basic personal information and create a username and password. You can get started for free, but to access the best of Wix's tools you will want to upgrade to a paid plan. If you have already started designing your website on the free website builder, don't worry – you won't lose your work by upgrading.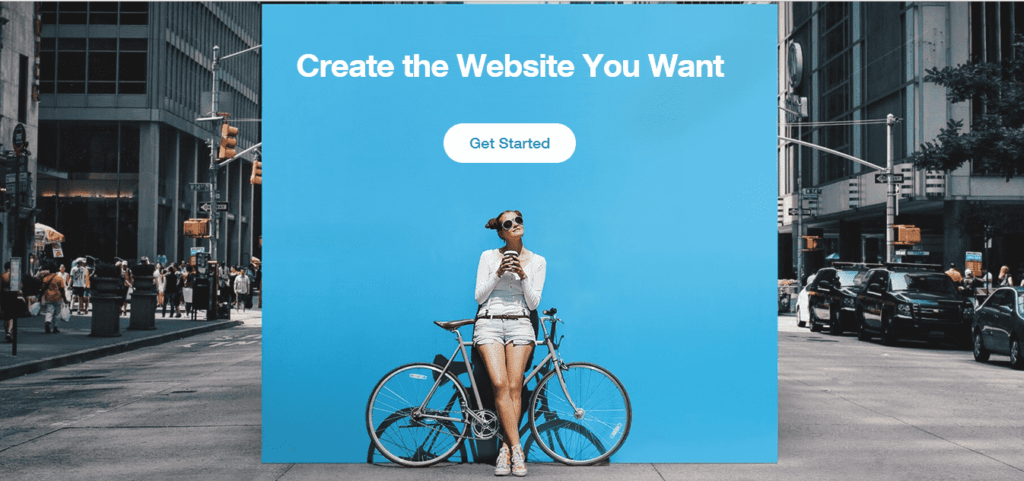 Wix offers five paid plans with a range of prices and associated benefits. Unless you only need a very simple and small site, the two lowest plans probably won't give you enough bandwidth and storage for your needs. We recommend the Unlimited plan since the 10GB of storage is usually enough for most small business needs, and it includes unlimited bandwidth and all the website building features you need. The only exception is if you need to run an online store, in which case you should choose the eCommerce plan or upgrade to the VIP plan to access a professional site review and 10 free email campaigns per month.
Step #3: Get to Know the Wix Editors
Once you've finished setting up your account, it is time to choose from the ADI editor or the regular Wix editor.
The ADI Editor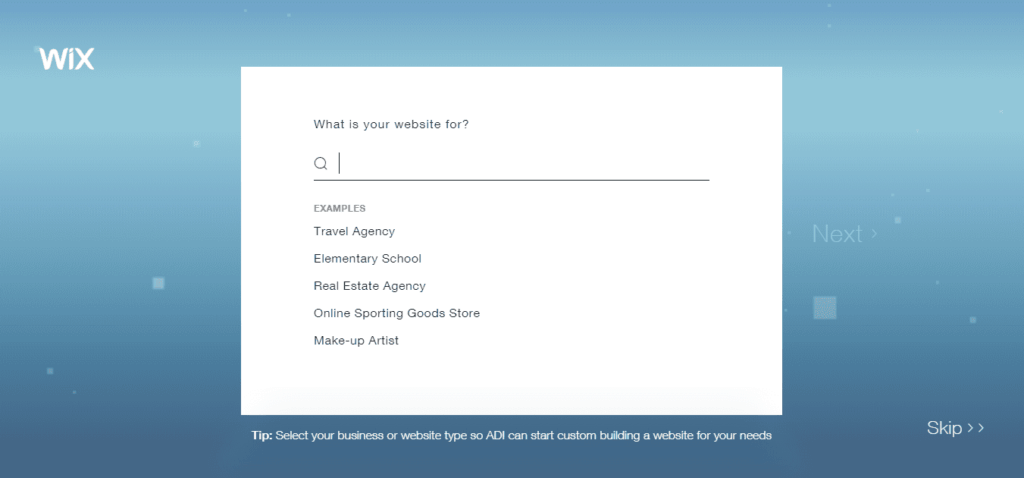 The Wix ADI (Artificial Design Intelligence) editor asks you some basic questions about the type of website you want and its purpose, and then automatically creates a website for your business. You can choose from the suggested features, input information about your business, and pick color scheme preferences. The ADI editor is a shortcut to a working website, and you can tweak almost everything about it, but it's a lot more satisfying to use the Wix editor yourself and control each individual element of your new site.
The Regular Wix Editor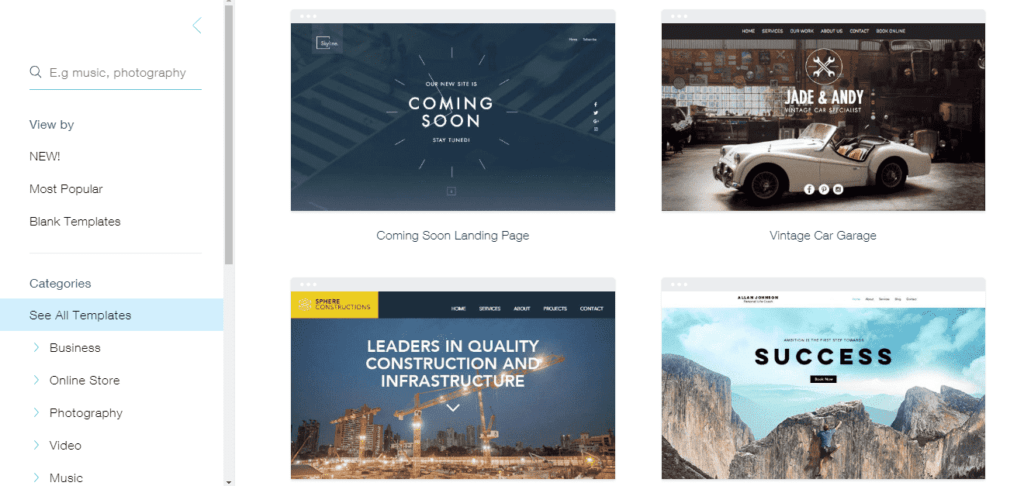 If you choose the regular Wix website builder, you will have a few additional choices to make. When you start the builder, you'll be asked to choose a website category, such as Photography, Online Store, Restaurants, and Food and Events. Each category is preset with templates that make it easy to present your business attractively, but you still have a full set of options to change every single thing about the prototype site.
After selecting a website category, you'll then need to choose the theme. Wix has hundreds of themes, but you can narrow them down by using the filters and search function. You'll find that when you arrive at this section, Wix has already recommended some themes based on which are the most popular and most appropriate for your business. You can change the theme once you choose it, but you'll lose all of the information and changes you've already made.
Step #4: Customize Your Website
Once you've created your initial website template, it's time to customize it via editor's sidebars. You can change the background to any stock image of your choice, or upload your own images and media to create a custom background. It is a good idea to also upload custom images so that you can utilize your logos and photographs throughout the website.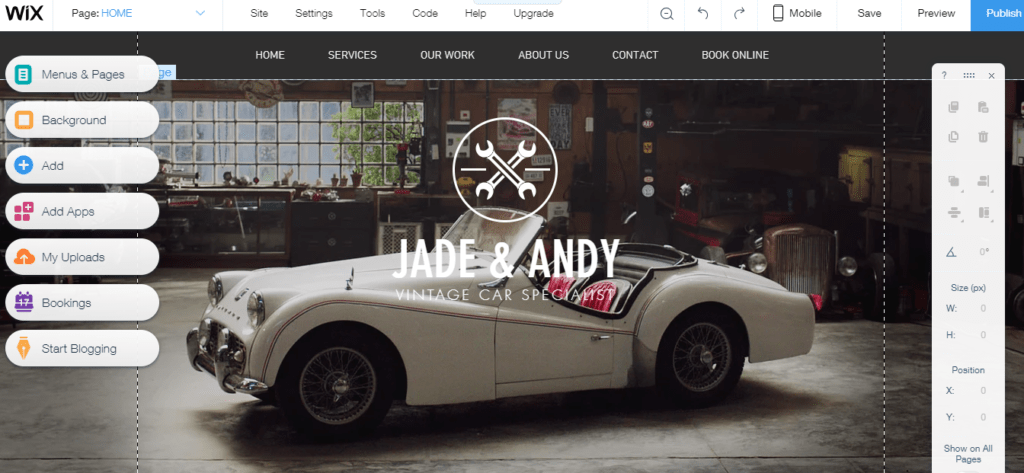 Wix offers extra elements for you to "drag and drop" onto your new web pages. These include modules like text boxes, photo galleries, call to action buttons, music, video and images, social links, and drop-down menus. You can even add premium features like parallax scrolling. When you choose an element, you'll find that Wix has already suggested some format options, but you can also tweak details like the color, shape, style, positioning, etc.
If you need extra features, you can add them from the Wix app marketplace. The app marketplace includes both free and paid features that cover just about every possible need, such as a secure checkout, a signup form, a live chat widget, and other options. Wix also offers a quick to add bookings element so that you can schedule appointments and bookings directly through your site.
Step #5: Choose a Domain Name
When you create your new Wix site, you'll be invited to choose a URL domain name for it. You can choose any name you'd like (that hasn't already been taken), but on the free or Connect Domain plan, your website name will read www.wix.com/yourusername/yoursitename. If you pay for a Combo, Unlimited, eCommerce, or VIP site you'll be offered a free custom domain name that doesn't begin with wix.com. The chances are good that you'll have the Unlimited plan or above anyway if you're running a business, but it's a good idea to do so just for the custom domain name if you haven't done so already. Having a custom domain name gives your business greater credibility.
The only disadvantage to getting a custom domain name through Wix is that if you want to move your site to a different host and website platform in the future, it's a bit difficult. You may not be able to take your domain name with you when you move your site and could be forced to stay with Wix longer than you'd like. You can buy a custom domain name from a third-party domain registrar so that you have more flexibility over your website hosting options in the future, and then integrate that into Wix (which is doable).
Step #6: Add a Blog
Adding a blog to your website gives you a place to share thoughts and insights about your business' industry, lets you keep up a constant supply of new content, and gives your customers and fans a place to come for new information and updates. A blog also provides opportunities to use keywords to improve your SEO ranking for your business' industry.
Wix' website builder includes a preset blog module that lets you add a blog to any website. You can customize the color scheme, layout, and images on your blog just as easily as the rest of your website. If you're nervous about coming up with enough content for your blog, you can use one of the Wix blog elements to integrate comments from Disqus and Facebook, or draws material from an RSS feed.
Step #7: Make Sure Your Site is Mobile Responsive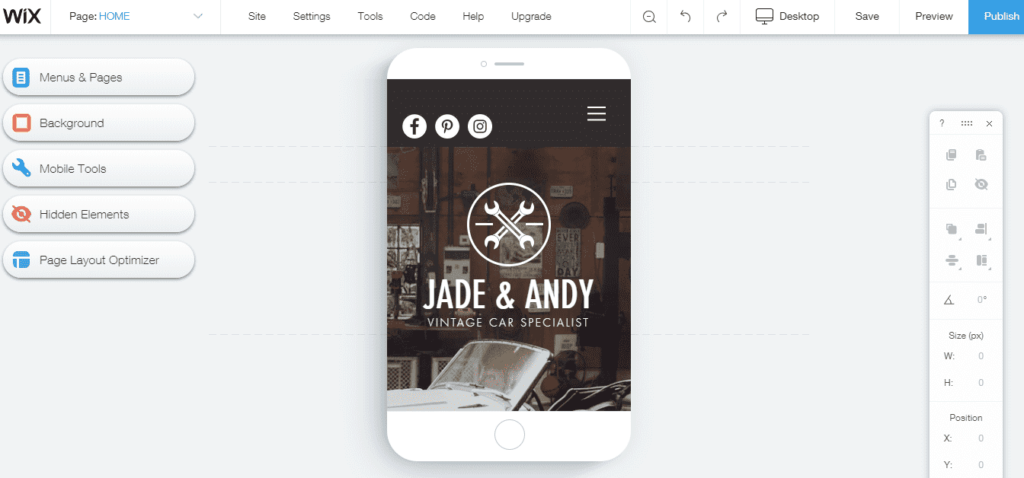 In today's mobile-friendly age, potential customers are just as likely to visit your website from their smartphone as they are from a desktop or laptop, so it's essential to make sure that your site is attractive and accessible by mobile and tablet users. Fortunately, Wix provides the unique opportunity to design your website for both desktop and mobile clients. Once you've created your site, preview it for mobile and tablet views before setting it to go live and adjust the positioning and size of elements accordingly.
Step #8: Check Your Website for Usability
Before your site goes live, you should also make sure to check it for usability and ease of navigation. It's easy to get caught up in planning beautiful images and creating an aesthetically pleasing site, but it's a lot more important to have a site that is easy to navigate. Make sure that all of your text is easy to read, in a clear font that is large enough and in a color that is easy on the eye. A clear web hierarchy, uncluttered menus, and intuitive navigation are far more important than the best images or videos.
A good tip is to go through the user journey of your website to ensure customers are able to get where they need to go without a lot of distractions and questions.
Step #9: SEO Optimize It
Wix website builder includes a full set of SEO tools to help you optimize your website for search engines. It's a good idea to perform some basic keyword research for your business to know which words and phrases are searched for the most often and can include them in your content. Wix makes it easy to enter meta tags, metadata, and alt text for images, which are all valued by search engines.
Wix's choice of editors, intuitive interface, and a huge selection of modules, apps, and website elements make it easy for everyone to build a basic website with Wix even without any web design experience.