GreenGeeks is a California-based web host, currently hosting more than 300,000 websites. As its name suggests, it's committed to providing hosting using green energy.
Its plans are suitable for beginners and small website owners who don't require lots of complex functionality. As such, as you'd expect, it's easy to get started and to create an account. This article takes you step-by-step through the process.
If you' like to learn more about GreenGeeks, read the in-depth review.
How to Create a New Account with GreenGeeks
The first step is to select which hosting plan. You've got three shared hosting plans and three WordPress plans to choose from.
I opted for the Ecosite Starter plan. With unlimited disk space and bandwidth, it clearly had more than enough resources for my website.
When you're ready to make a purchase, the pricing starts to get a bit complicated. The cheap prices advertised on the main website are, in fact, only applicable if you sign up for three years. Obviously, that's a big commitment for most small website owners.
If you want a free domain name and no setup fee, you do need to purchase a one, two, or three-year term. The monthly plan requires you to pay a setup fee and also purchase a domain name.
While I wasn't a big fan of the payment terms, on the plus side, I wasn't bombarded with any upsells throughout the process.
Once you've selected your plan length, the next choice is whether to buy a domain via GreenGeeks or to use your own domain. I opted to use one of my own as I had purchased a one-month plan and didn't want to pay for a domain as well.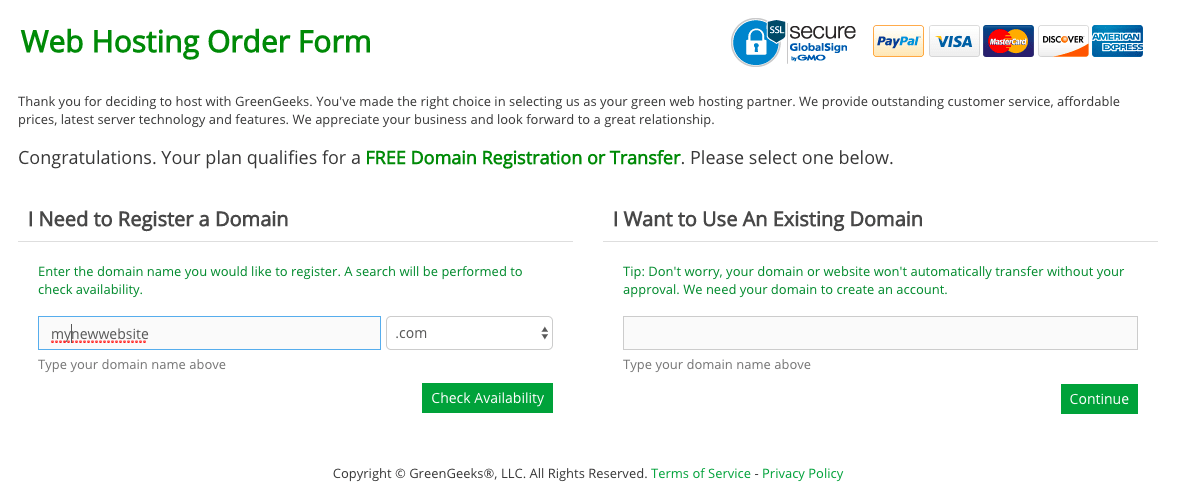 The next steps were self-explanatory and involved adding my billing and personal information. It only took a couple of minutes and the process was faultless.
As soon as I'd paid, I was advised to head over to my email account to receive my confirmation email.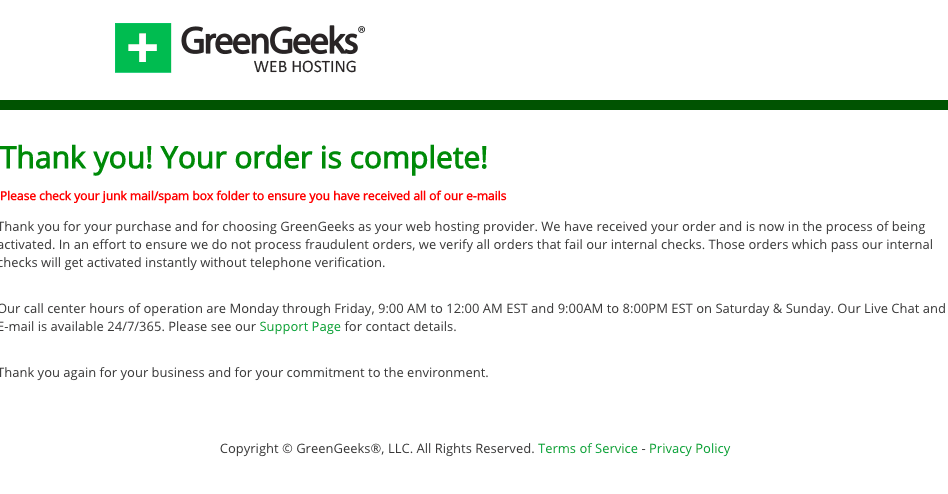 As promised, within a couple of minutes, I'd received my welcome email which included my login information and also brief, but useful information relating to how to set up my domain and install WordPress.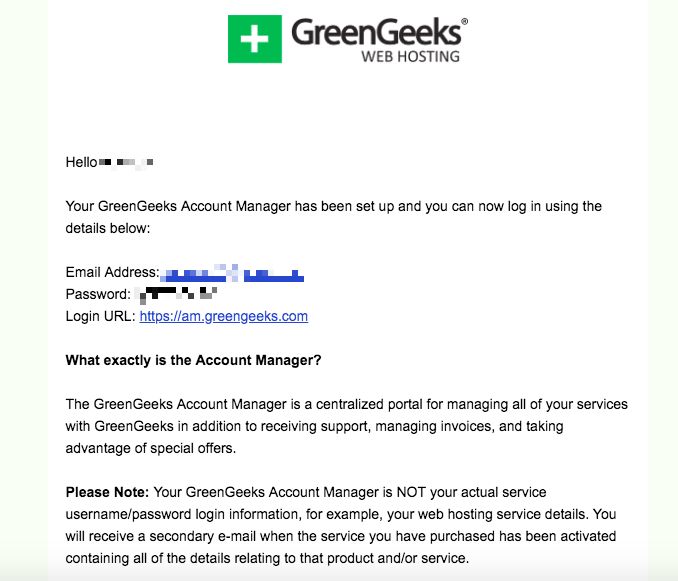 Beginner-Friendly Account Creation 
The whole process from start to finish took around five minutes. It was really easy and I did it without any help from support. I would highly recommend this company to beginners and less technical website owners.
If you're looking for a vendor who offers managed hosting, try Liquid Web, or if you need more advanced features and you don't mind paying a premium, read about Cloudways.
I've been impressed with GreenGeeks overall. If you'd like to learn more, read the full review which covers features, support, pricing, and more.