A Facebook landing page is much like your usual landing page, the only major difference being that it's hosted by the world's largest social network. Users have the option to create a custom Facebook tab on their Facebook page, which will allow them to host their own landing page. The process is the same as with ordinary landing pages: pick one of the best landing page builders, choose a template (or tinker with the design yourself) and connect it to your Facebook page. That's it, you're ready to increase conversions. Almost.
Building a Strong and Converting Facebook Landing Page
As with every landing page, there are some standard guidelines to follow in order to maximize the effect. These include:
A strong and catchy headline that clearly states your selling proposition, instantly reminds visitors why they are on your page, and ultimately keeps them there
An inviting and compelling offer that your target audience wants and has a need for in order to convert
A brief copy of what you are offering, preferably in an easily digested form such as bullet points, with explained benefits
Visually-appealing media in the form of quality images and (to a lesser extent) video, which support your message and increase the aesthetic aspect of the page
A single, prominent CTA (call to action) and visually distinct CTA button so visitors know what they're getting and can easily do so; this is the ultimate goal of every landing page and is the point of conversion, where you drive people who visit your page to perform a specific action
These are just some of the best practices, read more about how to create a killer landing page that converts. However, because this is Facebook we're talking about, there's more to pay attention to than your typical landing page:
Privacy Policy
A link to your privacy policy is a welcome addition to any landing page, as the social giant is a stickler for all-things privacy. The privacy policy is there to explain to your visitors how you intend to handle their data and all that goes with it.
Facebook Compliant
Furthermore, make sure your Facebook landing page is compliant with Facebook's guidelines as well, from general policies to Pages-specific policies. If you fail to comply, the social network can terminate your page and, in more severe cases, even shut down your account.
Leverage Analytics
Since your landing page is hosted on Facebook, you're eligible to leverage its analytics portion of the service, aptly called Page Insights. This can help you understand more about the audience engaging with your content, as well as which content resonates most with them.
Mobile-Friendly
Seeing as the majority of all web traffic is coming from mobile devices, don't forget to make your Facebook landing page mobile responsive to adapt to any screen size. As a bonus tip, you can reorder the content modules on the left side of your Facebook page timeline so that your landing page tab gets a more prominent position.
Examples to Learn From
The goal of every landing page is to get users to convert. A custom Facebook page that caters to the audience drives the customer journey and sets it apart from other regular web pages and even the homepage of your Facebook page. In these cases, it's always a good idea to check a few examples and see both the good and the bad sides.
First up is the email marketing platform GetResponse and their Facebook landing page that aims to get visitors to sign up.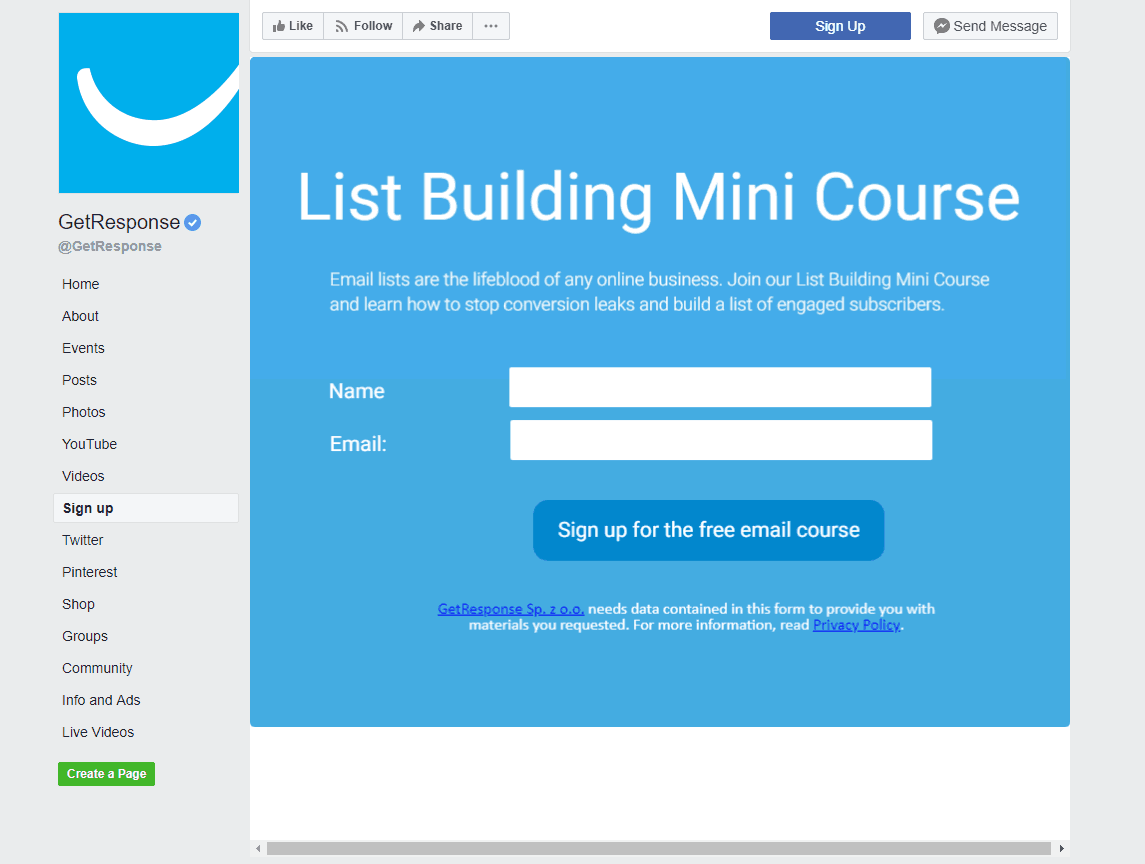 Pros
Strong headline
Clear CTA and benefits
Simplistic form design that maintains overarching look and feel
Bonus points for including a privacy policy link and a short explanation regarding the purpose of the data collection
Cons
Size has not been optimized to Facebook, as indicated by the small patch of white background at the bottom of the page
CTA button could be more prominent with a contrasting color; currently blends into the background when a user hovers over it
On to the second example that comes from another email marketing platform, MailChimp. The goal is to get people to subscribe to a newsletter.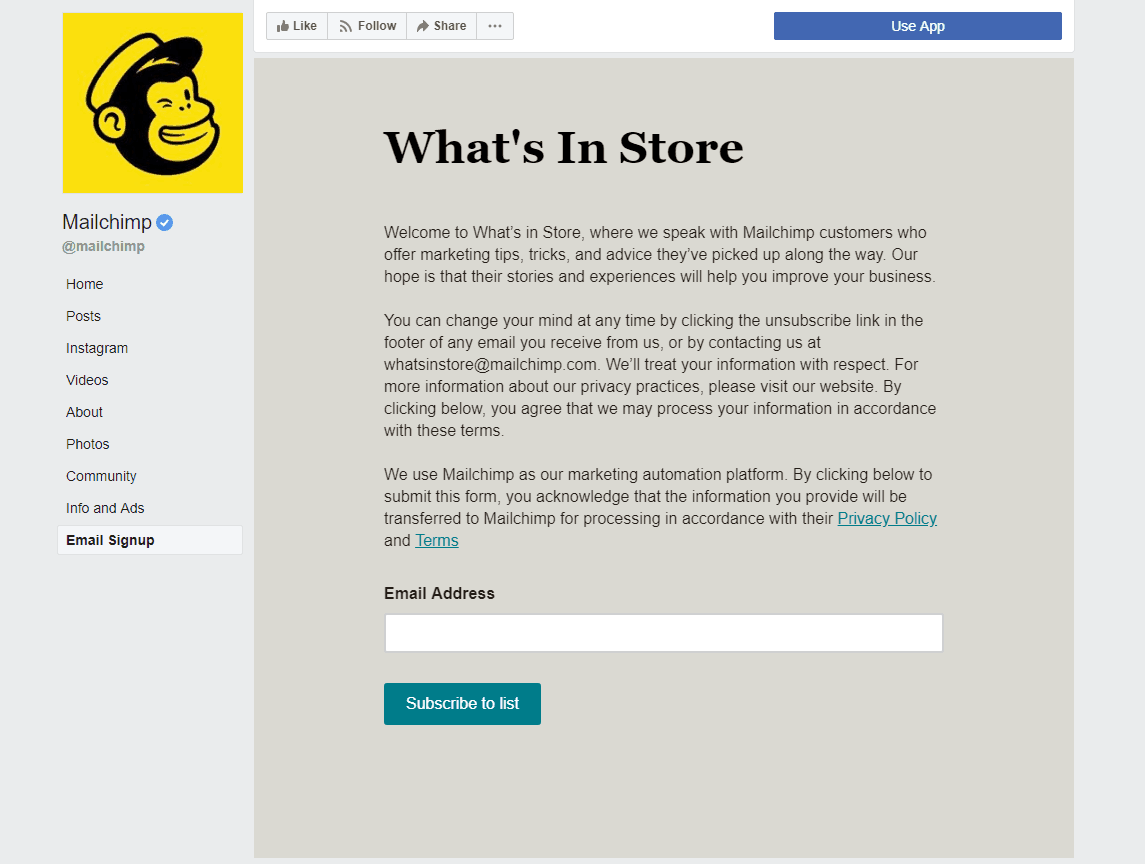 Pros
Perfectly sized
CTA button is clearly visible
Only one form to fill
Privacy details are plainly presented
Cons
Headlines and the CTA are vague, leaving visitors unclear at first what is going on
The design is bland and overall nondescript
The majority of the copy is needlessly spent on privacy details rather than highlighting the benefits and urging the visitor to subscribe
Shifting to a different business, here's a look at the landing page from PR Daily, a news website. Once again, the idea is to get people to sign up for a news feed.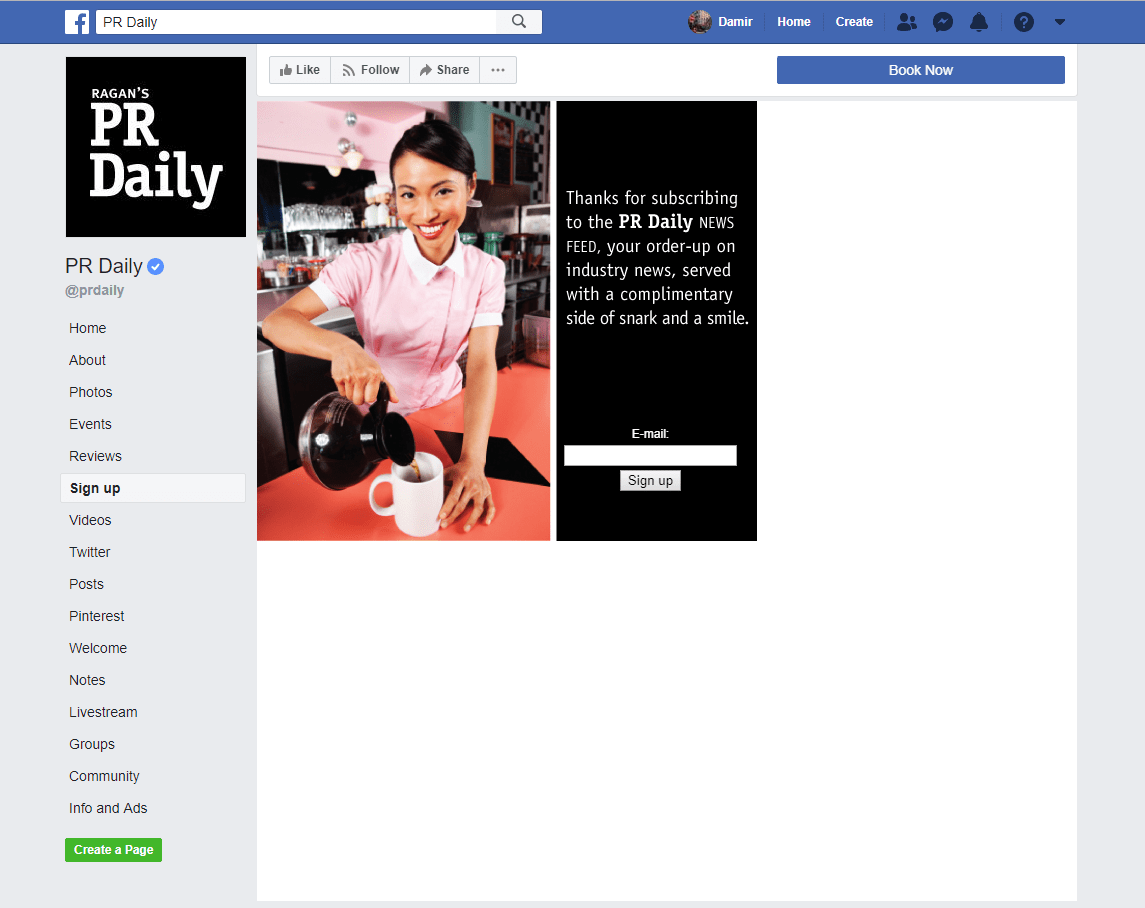 Pros : Not Much to Say Here, Except…
It's good that they tried to use an image (even if it looks awful)
A single form is better than multiple forms
The CTA button is clear (although not particularly compelling)
Cons
The page is unoptimized, as evidenced by a white background that is more dominant than the content itself
No motivation for a user to sign up (e.g. headline, CTA, benefits, etc.)
Why Use a Facebook Landing Page?
A Facebook landing page is arguably one of the more creative ways to engage your visitors and increase reach on the platform. When people land on a Facebook page, it's usually the main page, which is often full of distractions. A landing page can be that ever-important first impression of your business on Facebook with far fewer distractions (chat and navigation tabs on the top are always going to be there), which allows you to provide visitors a better sense of your business. In turn, that increases your chances for conversions.
Building trust starts with your landing page, so if you're using Facebook as a basis for your online presence, you can utilize a Facebook landing page in many ways: for building brand awareness, promotional offers and giveaways, upcoming events, or an element in a streamlined sales funnel. It's a proven way of engaging audiences and an investment that is certainly worth your time.
---
Sources
https://www.facebook.com/policies/pages_groups_events/
Image Credits
https://www.facebook.com/GetResponse/app/113349772082971/
https://www.facebook.com/mailchimp/app/100265896690345/
https://www.facebook.com/prdaily/app/208195102528120/