ResellerClub is one of a group of hosting providers owned by Endurance International Group (EIG). It's in good company—other brands in the group include Bluehost and HostGator. But ResellerClub itself is relatively small, with around 200,000 customers.
If you've read my detailed review, you'll know ResellerClub offers a lot of hosting options for all kinds of budgets and customers. This guide will take you step by step through the process to set up a WordPress website and connect it to a domain.
Step One: Log into Your Dashboard
Once you've purchased your website hosting plan, log into your dashboard. Inside, you'll be able to see all the products you've purchased from ResellerClub. Click into the applicable hosting plan.

Step Two: Enter the Admin Panel
Once you've clicked into your product, you need to select Go To Admin Panel to begin the installation.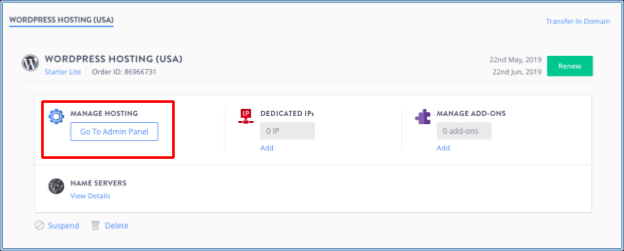 Step Three: Install WordPress
On the next page, you will begin to install WordPress by clicking the blue Install WordPress button. You'll be asked to enter the domain name you wish to use, a website name (can be anything), and your email address.

Step Four: Connect Your Domain
If you purchased a domain from ResellerClub, you can skip this step. However, if you used a domain that is registered elsewhere, I'll walk you through that.
The next screen will tell you that your WordPress instance has been installed correctly. This is also where you can find your Domain Name System (DNS) information. Select DNS from the bottom of the page.

Then, grab the nameserver details listed on the next page. Head over to your domain registrar (e.g., GoDaddy) and update your nameservers. When this is complete, all you need to do is wait for your DNS to propagate, and your website will be live.
Step Five: Wait for Your Account to Be Verified
For some reason, my account was flagged for verification (I don't know if this is standard for all accounts, or just some) and I needed to provide additional information to confirm my purchase. Unfortunately, the process took three days and several chats and emails with customer service. It was annoying, but the team was polite and helpful at all times.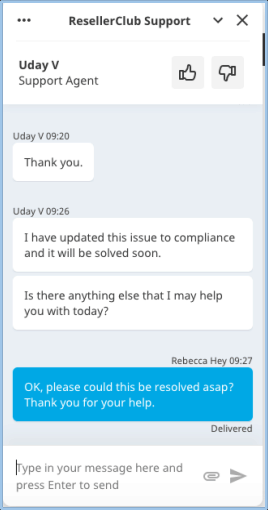 Simple and Straightforward
ResellerClub makes it easy to set up a WordPress website. It's beginner-friendly, and the on-screen instructions are self-explanatory. If you need support along the way, you can contact the team via live chat. My only problem with ResellerClub's customer support is how difficult it is to find live chat in the first place.
If you're interested in learning more about ResellerClub's easy-to-use hosting, head over to my in-depth review. In it, I cover the features, pricing, customer support, performance, and much more. Or, if you're wary of using a reseller and would prefer to go directly to the source, consider learning about Bluehost and HostGator.