In the beginning, the internet was a void and mostly formless. Then people started creating websites, and everything was good. But as the number of websites exploded, a memorable URL was no longer enough to ensure traffic. Standards have evolved, and now if you want your website to be found, you need to follow certain rules to rank well in search engines.
Whether you're running a personal blog, a small-business landing page, or a corporate website, you should adhere to the following ten commandments of website building.
I. Thou Shalt Have No Other Search Engines Before Google
Google is your internet god. If you don't adhere to and regularly brush up on its standard practices, you'll be shunned. Whether you like it or not, you need to design and code your website to suit its criteria and algorithms. And if your website falls short in any one area, work to correct the deficiency immediately. This will give you the best chance to rank highly on Google.
Also, if you use a website builder such as WordPress, don't assume that its templates automatically adhere to the best practices. Older templates especially may be less likely to do so.
II. Honor Your Mobile Users, For This Keeps You in Business
If you don't have a mobile website or an optimized version of your website, be prepared to say goodbye to 50% of your customers now and about 80% of them in the future. Nearly half of all web traffic to websites comes via mobile devices, making it crucial that you create a mobile version of your website.
But just creating a mobile version is not enough. You need to ensure that your website is optimized for all mobile devices. In some cases, this means more than having a responsive design. It involves testing and tweaking your mobile functionality to ensure that smartphones, tablets, Blackberry, Windows Phone, and any other mobile device that accesses your website can view it properly.
III. Thou Shalt Keep It Simple, Stupid
When creating your content, get to the point as quickly as possible. Some website builders fall into the trap of trying to create content that makes people think or that requires them to make a huge time investment to assimilate the information. But most people have a very short attention span, so don't make your content overly long or complicated.
Also, don't try to educate your users by making them have to look up words and phrases. If you make the content too difficult to understand, expect to see your bounce rate soar. Take Site123's approach to content by keeping it simple. Aim to cater to those with a fourth- or fifth-grade reading level.
IV. Thou Shalt Not Kill Your Website With Blah Content
Content
While your audience may not have the greatest attention span or be the best readers, they can tell the difference between good content and bad content. You need high-quality content that helps people do something better or faster, or that somehow makes their lives just a little bit easier.
Websites with mundane or lousy content provide little value to visitors and give them no reason to return. You can have the best SEO possible on your website, but if you have bad content, your website will die a slow and agonizing death.
V. Thou Shalt Not Steal Other Websites' Work or Content
Stealing is bad, m'kay! For starters, when you steal content, images, or design elements from another website, you're breaking the law and can be subject to criminal prosecution. While many website owners won't go this route, plagiarizing content or stealing elements from other websites opens you up to litigation.
Furthermore, you're going to get hammered by Google and other search engines for duplicate content. They'll compare your content and design to other websites, and when they find similarities, you'll get penalized. You might even be blacklisted from one or more search engines. In the digital world, that's worse than having someone take out a lawsuit.
VI. Thou Shalt Learn SEO and Keep Its Covenants
If you're not using search engine optimization (SEO) or optimizing the SEO of your website, stop any future webpage developing and learn at least the basics. To properly rank on Google, or on any search engine, you need to optimize your website's SEO.
Practice proper keyword targeting where appropriate, set appropriate tags for images, and optimize your SEO as much as possible to give your website the best chance to rank. If you're having difficulty, there are plenty of tools available online to help you with your design. Website builders such as Wix provide apps that help with SEO.
VII. Thou Shalt Shun Autoplay and Forced Ads
What are two of the largest complaints from website users? Forced ads and autoplay. When people visit a website, they don't want to be hammered with ads, especially those that are forced over other content. That's one reason that popup blockers became so popular.
Something else that visitors dislike is music or videos that play automatically. They don't care if the video on your website is the most viral content since "Gangnam Style." They want control over whether to watch or listen to your content. Some inexperienced users will immediately leave the website if content starts auto-playing, especially if it's an off-screen element that makes them think it's malware.
You can have ads and content on your website. Just don't force it down your visitors' throats.
VIII. Make Your Visitors Covet Your Stuff
Covetousness is typically considered a sin, but in the digital world, you WANT your visitors to covet your stuff. That's why it's important that you entice them through calls to action or other forms of engagement.
Let your visitors know why they need your product, ebook, or special report, or why they must sign up for regular updates. Then seal the deal either through a call to action or by rewarding them for signing up. Here's a good example: "To learn the secrets behind how I made $5,000 in two weeks, download my free ebook." Another example would be to offer a free report in exchange for signing up with their email address.
IX. Love Your User As You'd Love Yourself
When you're creating your website, consider the user. Consider what you like about websites, what you hate about them, and the things you wish you could change about other websites. Do you wish certain websites were easier to navigate? Well, you need to make your website easier to navigate.
Do you think that too much color makes a website look ugly? Then don't overkill your website with color. And of course, don't forget the most important question of all: What would Google do?
X. Thou Shalt Update Regularly
One of the biggest mistakes that people make when building a website is that they set it and forget it. While your website may be excellent to start with, times change. Standards also change, and if you don't adjust your website to fit with the times or new standards, it will slip in the rankings.
Also, failing to update your website will discourage visitors from returning. If you don't offer anything new or different, why should they bother coming back? After a couple of visits, they know what your website offers, and there's no reason to return.
You don't have to update your website constantly; just update it enough to give visitors a reason to keep coming back. If you don't have the time to update your website regularly, you can always hire someone to do that for you. Some website builders such as Volusion offer web design experts who will help you create and periodically update your website.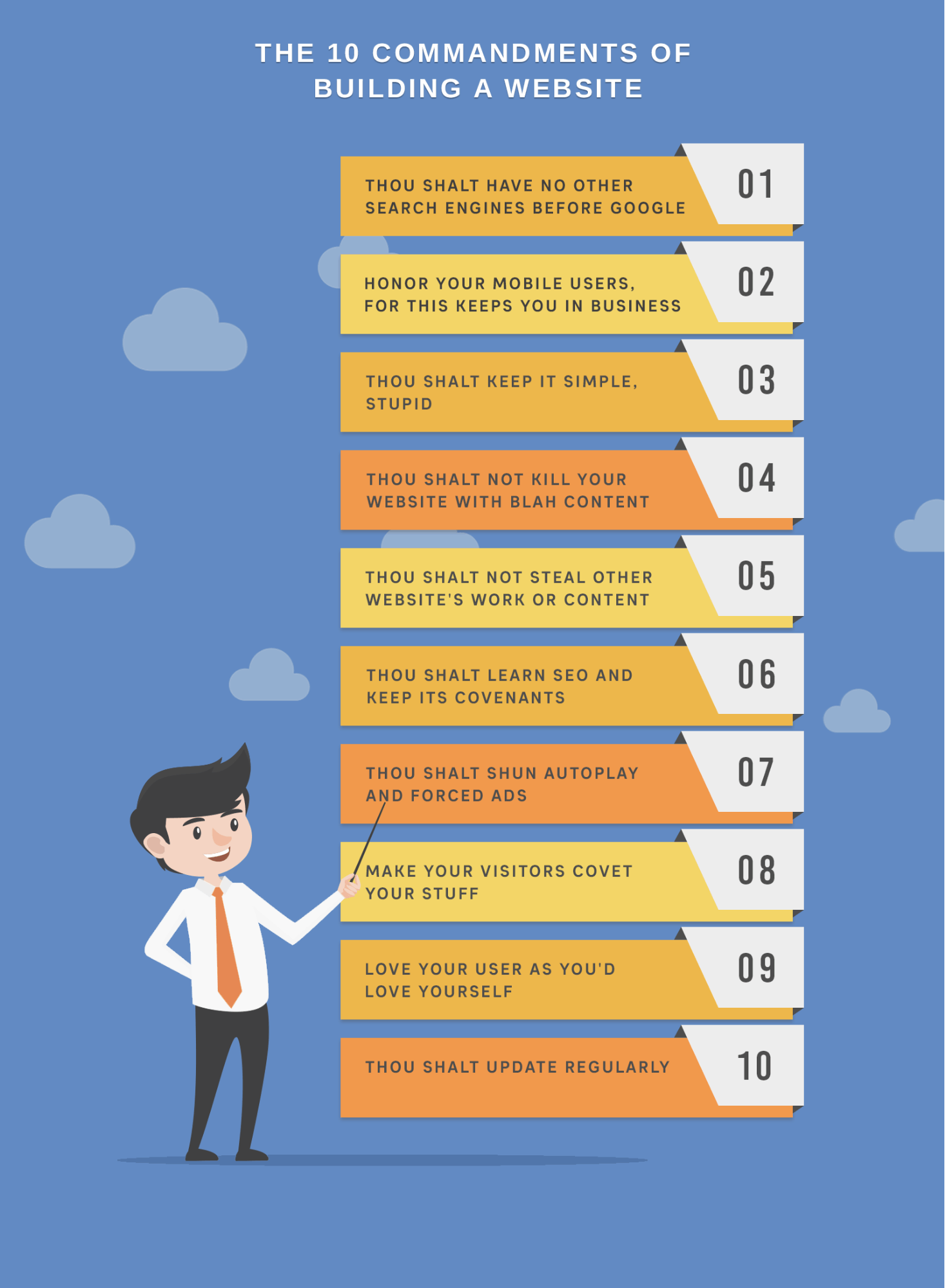 Follow the 10 Commandments of Website Building and Be Blessed
Why should you follow these ten commandments when designing your website? For starters, you want to give your website the best chance to rank well on Google and be found by prospective followers and customers.
Next, you want a website that's engaging, shareable, and capable of driving regular traffic. Fresh, organic traffic is great, but single-time visitors will not make your website popular. You want return visitors and return customers to help grow your brand.
Finally, if you're going to spend the time, money, and effort to build a website, then you want one that will be just as relevant 20 years from now as it is today. By following the ten commandments of website building, you'll give your website the best odds for success, as evidenced by brand recognition, growing traffic, and increased sales.