Ever posted a query to a retailer and received an immediate generic email stating that one of their customer service agents will be in touch with you shortly?
That's a pre-written or canned customer service response. Regardless of the subject, these pre-populated help-desk messages help companies reply to customer issues in a quick and professional manner.
Using canned customer service responses is a great idea that can be extremely effective, but only if business owners follow certain guidelines.
The Benefits of Using Canned Responses
The following reasons demonstrate why your company might choose to use pre-written responses instead of replying to each query individually.
They Reserve Resources: Canned responses help your resources go further. Instead of having your customer service agents spend precious hours replying to each and every query, you can categorize them and send out predetermined responses for efficiency, thus saving your workforce time, money, and energy.
They Increase Accuracy: In addition to ensuring professionalism, canned responses make sure that customer service agents answer questions in the correct way, without making any promises that can't be kept, or missing any important information.
They Unify Your Brand Voice: As well as helping align your brand message, canned responses also ensure that an established brand voice shines through across each and every customer touchpoint.
If you're not sure how to incorporate canned responses, the best website builders have advanced customer service options available to make the whole process more straightforward.
Do's and Don'ts of Canned Responses
When it comes to creating canned customer service responses, there are some definitive do's and don'ts.
DO Have Different Responses for Different Purposes
A one-size-fits-all approach doesn't work when responding to customer queries. If you're going to use canned templates, it's important to split them into categories to be able to provide the right response to the appropriate query.
Also, keep in mind that some cases might be too complex and won't warrant a canned response. Rather, you might need to reply to it individually, especially in a scenario where a customer is extremely dissatisfied with your product or service.
Either way, you need to ensure that your canned response aims to give your customers tailored advice for their particular case. After all, it's important to deliver the best customer experience possible across the board.
DO Let Your Customer Know that Their Information is Safe
At the end of each canned customer service response message, you should include a statement explaining how customer data is secured and shared.
Why? Well, customers like to know how their personal information is being used and where it is being kept.
If customer data is shared with third parties, it's best practice to remind customers of your privacy policy and the fact that they initially consented to this. It's all about full transparency and communicating with your customer about the whereabouts of their information, so that they feel safe in your hands.
For example, when I forgot my United Airlines password last year, I received the below auto response in order to reset it. Privacy was clearly made to be a priority, as no personal information was included, clear direction was provided if I hadn't actually made the request, and there was a link to United's Privacy Policy at the bottom.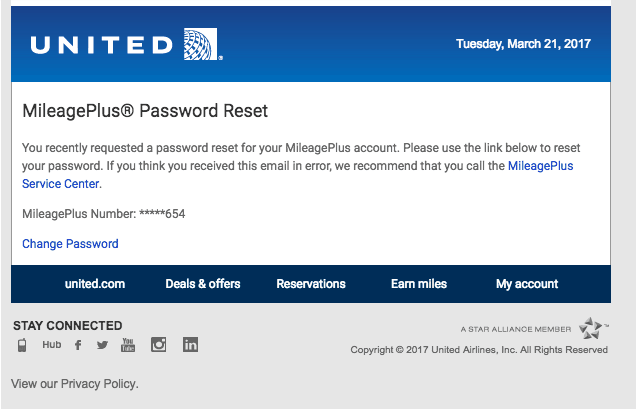 DON'T Sound Stiff
While a pre-written customer service response is often just a placeholder before a longer and more personalized follow-up, you should still take care when crafting the copy to reassure your customers that a human is involved in the process and their question or issue isn't going to be "lost in the system."
Sure, it's important to radiate professionalism throughout; but a warm and friendly touch goes a long way. After all, you're talking directly to a customer who already loves and has purchased from your brand. They trust you.
If you make your canned responses personal and as a real as possible, you can consequently build an even stronger relationship with your customers, which will then lead to their continued loyalty in future endeavors.
DO Match Your Brand Voice
While it's imperative to be personal yet professional, try not to be disingenuous to your overarching brand. Remember, your established brand identity is something that should shine through across every consumer touchpoint.
For instance, if your B2C company has been built upon the principles of humor and frivolity, and is aimed primarily at a teen audience, you might want to avoid serious statements like:
"We have received your query and aim to respond appropriately within 24 hours."
"Your satisfaction is of the utmost importance to us."
UK fashion retailer Pretty Little Thing match this brand description and use laid-back yet professional language in their canned responses like "hey" and "take a peek."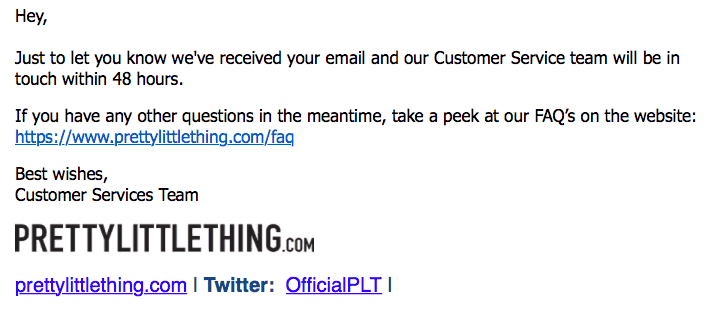 By the same token, a well-established, B2B company aimed at IT professionals, wouldn't put out responses containing the following statements:
"We promise we'll get back to you soon! So sit tight, hun—OK?"
"Hope you're happy with our service—if not, just drop us a line and let us know what's up!"
If you're struggling, take a look at your existing web or ad copy to get a sense of the tone and language that should be incorporated here as well.
DO Apologize and Be Understanding
Even though you're sending a pre-written response, it doesn't mean that you have to lack empathy for your customer's case.
As well as having light, generic responses in your repertoire, you should also have canned responses that apologize for any wrongdoings if your customer isn't happy.
Even though it can be difficult to resist the temptation to act defensively, it's important to repair the existing damage, rather than make the problem worse. After all, it's not worth losing a customer over.
A good rule of thumb is to treat your customer how you'd like to be treated if you were in their situation and had to talk to a company's support team—i.e. with love and great care. If you'd like, you can read further for guidelines on delivering excellent social media customer service.
DON'T Leave Your Customer Hanging
As well as being polite and sensitive, you should also use canned responses to keep your customer informed.
If you need to direct the customer to another agent or department, it's courteous to let them know that you need outside perspective to be able to resolve their case. Don't just leave them in the dark.
You might think that there's no need to send out yet another canned response when it won't take long to refer the customer anyway. However, in situations like these, time is of the essence and the longer you leave them waiting, the less likely you'll have them as a loyal customer in the future.
It's better to proactively update your customer on progress so that they don't have to ask what's going on—especially if they're already dissatisfied, this will only hinder their experience further. Transparency is key at all points of the customer journey.
DON'T Forget to Tell Your Customer When the Case Is Closed
Finally, it's a good idea to use a universal pre-written response to let your customer know when the case has been closed. This is important either when the customer has indicated that there has been a resolution or the company has; you're either confirming the customer's decision or letting them know that they should not expect to hear any additional updates on this particular topic.
Either way, your ultimate canned response should let your customer know that their case is being closed, but they can re-open it any time if they so wish.
For instance, web design agency Pipdig sends an automated message closing a customer's case when they haven't heard back from them in 48 hours. However, they also include details of how the customer can revert back to the support team if they need to.

This final follow-up is an example of good customer service, which is particularly important as a customer might feel compelled to leave a review—either positive or negative—after their experience dealing with your customer service team. Read more about how to get testimonials from satisfied customers.
Pre-Write Your Customer Service Success
In order to determine what you should have pre-written responses for, take a look at the most common questions and issues that are submitted to your company. They will likely fall into a small handful of categories, many of which can probably even be answered through a simple redirect or troubleshooting exercise.
Make sure that you have canned responses ready for all of these relatively quick and easy requests. For the more difficult or involved scenarios, it will likely be best to put together a short and sweet message, that automatically lets a customer know that a service representative will be reaching out to them directly in order to address their concerns. This way, you are focusing your human resources where they are most needed, and relying on automated technology for the rest—that's just smart business.
---
Sources
https://zapobjects.com/microsoftdynamics365_crm_helpdesk_emailtocase_app/canned-responses-to-use-in-your-customer-service-emails/
https://blog.hubspot.com/service/canned-responses
Image Credits
https://unsplash.com/photos/k_CWBi1TZNU
United Airlines email follow up
Pretty Little Thing email follow up
Pipdig email follow up