As a web hosting provider, GoDaddy is far from perfect. However, it was true to its word and gave me a full refund when I cancelled my account – though the process was not fast, easy, or straightforward.
GoDaddy doesn't offer a money-back guarantee after 48 hours on hosting plans with terms of less than one year
in length, which is a major reason many people decide not to try it. It also doesn't provide standard security features, like SSL certificates, with its two most basic plans (and they're not that cheap). There are no monthly billing options on GoDaddy's lowest-priced plan, either – you'll have to commit to a minimum of three months. If you've decided GoDaddy is not for you,
this article will take you step-by-step through the process of cancelling your GoDaddy account and services
. If you want to try a better budget provider,
Hostinger is one of our top-rated web hosts
, offering superior performance, reliability, and security than GoDaddy, at lower prices.
Quick Guide: How To Cancel GoDaddy and Get a Full Refund
To cancel your account, the first step is to head to the GoDaddy website and log in.
Click on your name in the top right of the screen. This will bring up a context menu. Choose the Renewals and Billing link.
Click the checkbox. Select the product you wish to cancel by clicking the checkbox beside it, then hit the Cancel Renewal button.
Click Delete My Product. On the new screen that appears, you'll see three options. Click the Delete My Product link.
Check the box. After you've checked the box, click Send email.
Check your email. In order to confirm that you want to delete your product, click the Yes, I Want To Delete! button in the email you receive.
Click Delete Product. After clicking the button in your email you'll be brought to one final screen. Click the Delete Product button to complete the process.
Contact support. To get your refund, contact support by phone or chat. You cannot get a refund unless you contact support.
My Experience: Here's How I Cancelled My GoDaddy Account
The first step in cancelling your account is to
head over to the GoDaddy website
in order to log into your account dashboard.

Once you've logged in, click your name in the top right of the screen. Then, click
Renewals & Billing
in the context menu that appears.

Click the checkbox to the immediate left of your hosting plan, then click
Cancel Renewal
. Don't worry – you're not
only
cancelling your renewal, this is just where you have to click to get the process going. (GoDaddy's account dashboard and cancellation process weren't very straightforward, so I had to contact support to get instructions for this part.)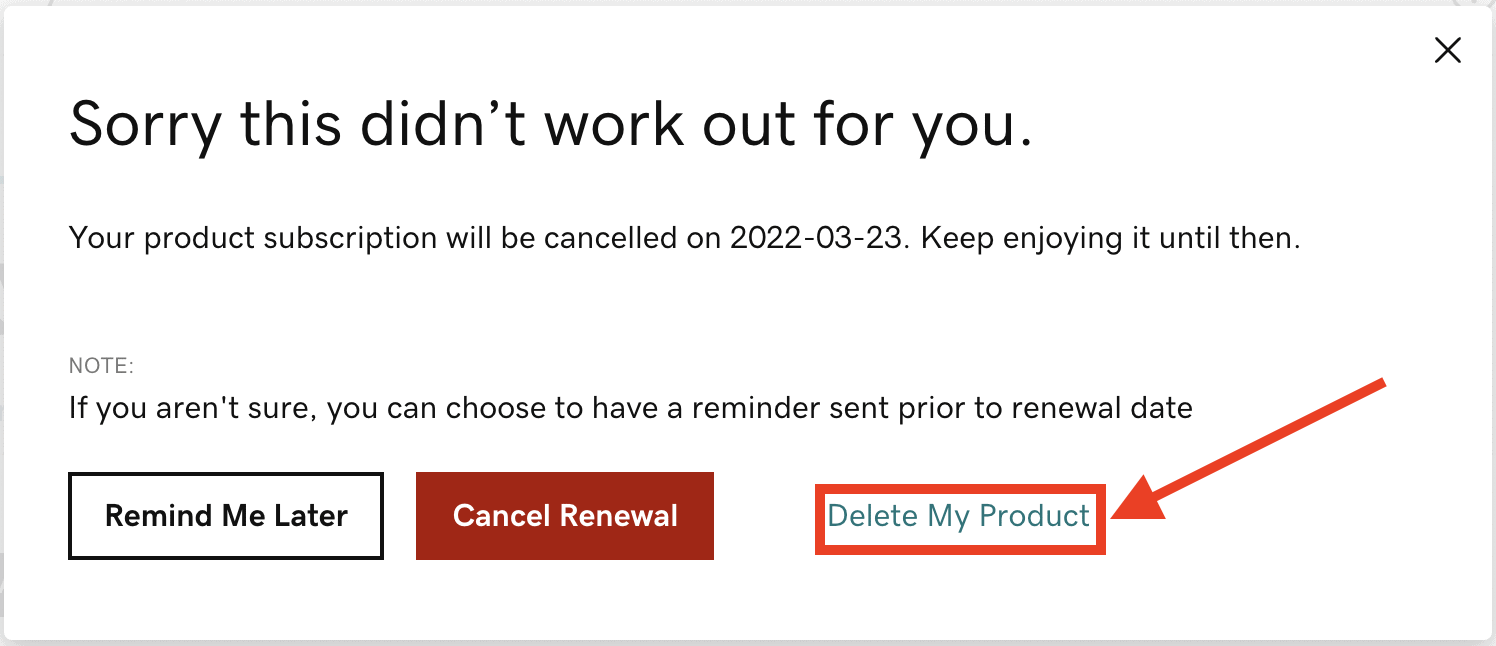 Next, click the
Delete My Product
link.
Or, if you want to keep your hosting plan active until the expiry date, click the
Cancel Renewal
button.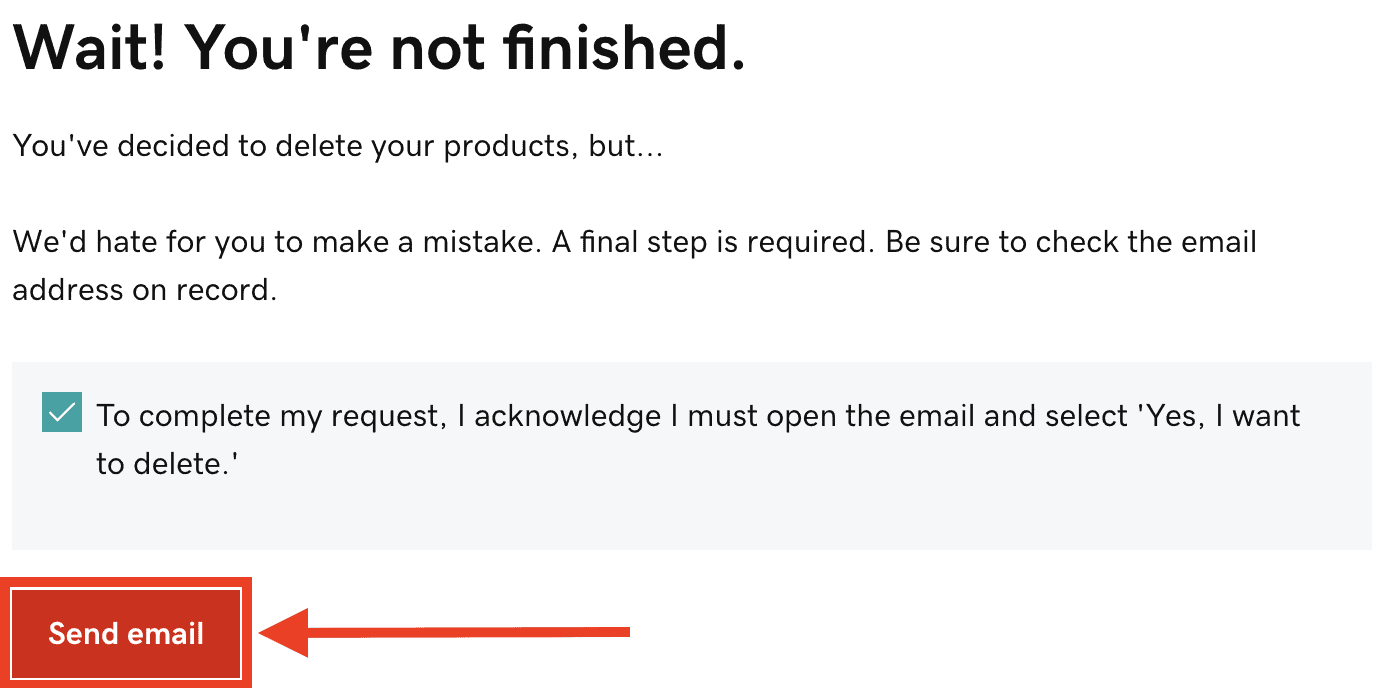 For security reasons, GoDaddy requires you to confirm your cancellation via email. Check the box provided and click the
Send email
button. Then, head over to your email inbox.
In the email you receive, click or tap the
Yes, I Want to Delete!
button, which will bring you back to your GoDaddy account dashboard.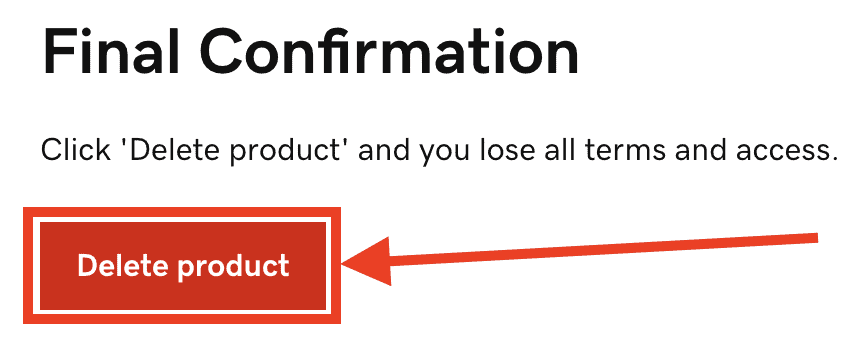 Once back at your account dashboard, click the
Delete product
button to complete the cancellation of your hosting plan. Once you're done, you'll need to contact support to initiate the refund process.
If you signed up for a plan of less than a year in length, you can only get a refund within 48 hours of signing up
. If your plan term is at least one year, you'll have 30 days to request your refund.
3 Best GoDaddy Alternatives for Shared Hosting
When it comes to shared hosting, there really is no need to consider GoDaddy when so many reputable, high-quality hosting providers are available. Many of them offer lower prices along with standard security features like SSL certificates.
We've tested each one of the vendors below, and they excelled in areas where GoDaddy fell short
.
Hostinger ranked well in our evaluation, comfortably surpassing GoDaddy in many areas. Its packages are significantly less expensive, and it provides basic security features such as SSL certificates for free. Additionally, it has a much more flexible 30-day money-back guarantee on its beginner plan, and this applies to all its other plans as well.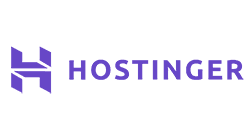 Save up to 75 % on your Hostinger plan!
Limited-time offer - Don't miss it!
7002 users used this coupon!
Though it's slightly more expensive than GoDaddy, all of Nexcess's plans come with free SSL certificates, a 30-day money-back guarantee, and superior, cloud-based server infrastructure making it more suitable than GoDaddy for busy websites, particularly those built with WordPress. Furthermore, the service is managed, meaning you'll receive guidance from experts when optimizing your site.


Save up to 33 % on your Nexcess plan!
Limited-time offer - Don't miss it!
55 users used this coupon!
InterServer outperforms GoDaddy in three distinct ways. First and foremost, it offers free SSL certificates—a crucial inclusion that should be standard for any reputable web host. Secondly, the Standard shared hosting plan provides you with unlimited SSD storage. Lastly, the remarkably affordable price remains consistent, even for monthly payment arrangements.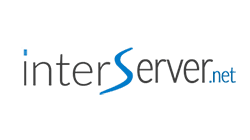 Get your first month of hosting for just $0.01!
Take advantage of this exclusive deal to try out InterServer.
424 users used this coupon!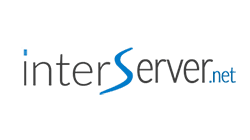 Get your first month of hosting for just
$
0.01
!
Copy and paste this code at InterServer
Why Choose GoDaddy When There Are So Many Better Options?
GoDaddy is not a very good web host, and there are few reasons to consider it.
With a complicated account cancellation process, one of the least flexible money-back guarantees, no free SSL certificates, and a convoluted user interface, there are many other providers to consider in your search for web hosting.
FAQ
How do I cancel my hosting on GoDaddy?
To cancel your GoDaddy services and account, log in to your account dashboard. Then, click on your name in the top right of the screen. From there, you'll be able to locate and select any of your products that you wish to cancel. Check out my instructions above on how to do just that.
Can I cancel GoDaddy and get a refund?
Sometimes. GoDaddy only offers a 30-day money-back guarantee if you choose a contract length of one year or longer. If you opted for monthly billing instead, you'll only have 48 hours to cancel if you want to get your money back. If you're looking for a new web host, we've compiled a list of the 10 best current web hosting providers for 2023 – all of which are far better options.
How long does it take to get a refund from GoDaddy?
It generally takes about 5-10 business days to receive your refund from GoDaddy (as long as you cancelled your plan within the money-back guarantee timeframe). If you're looking to put your refund money towards a new hosting plan, you may want to check out our step-by-step guide to choosing a good web host and launching a new site.
Can I pay monthly with GoDaddy?
Yes, you absolutely can. However, any hosting service you purchased for which the term length is less than a year will only be eligible for a refund within the first 48 hours.