We noticed that ever since Hostinger reduced their prices, many users are closing their accounts with GoDaddy.
Web hosting giant GoDaddy tries to cater to a wide audience with varying hosting needs and budgets. In most aspects, it does a great job of this. But there's still room for improvement.
Whether you want to avoid GoDaddy's high renewal rates or you simply weren't happy with your hosting experience for whatever reason, it's important to know what you can expect when you request a refund from GoDaddy, especially considering the company's reputation.
That's why I tested the whole process out, particularly with an eye on whether GoDaddy still deserves the criticism it sometimes gets for its policies.
If you're looking for a new home for your website, Flywheel is an excellent host that also features an intuitive and fun user interface.
Cancellation and Refund
If it's not too late, be sure to read the fine print in GoDaddy's cancellation policy carefully.
The 30-day money back guarantee is only applicable to annual (or longer) contracts; anything shorter falls under a 48-hour money-back guarantee. That's quite stiff compared to most other hosting providers.
A few of GoDaddy's other products may also not be covered by the refund policy or will have special conditions associated with them. For example, you'll forfeit your website security suite refund if you performed malware removal manually.
In addition, it's not obvious just looking at your billing details which plans can be canceled for a refund, as GoDaddy doesn't indicate it anywhere. However, it's easy to deactivate the auto-renew feature: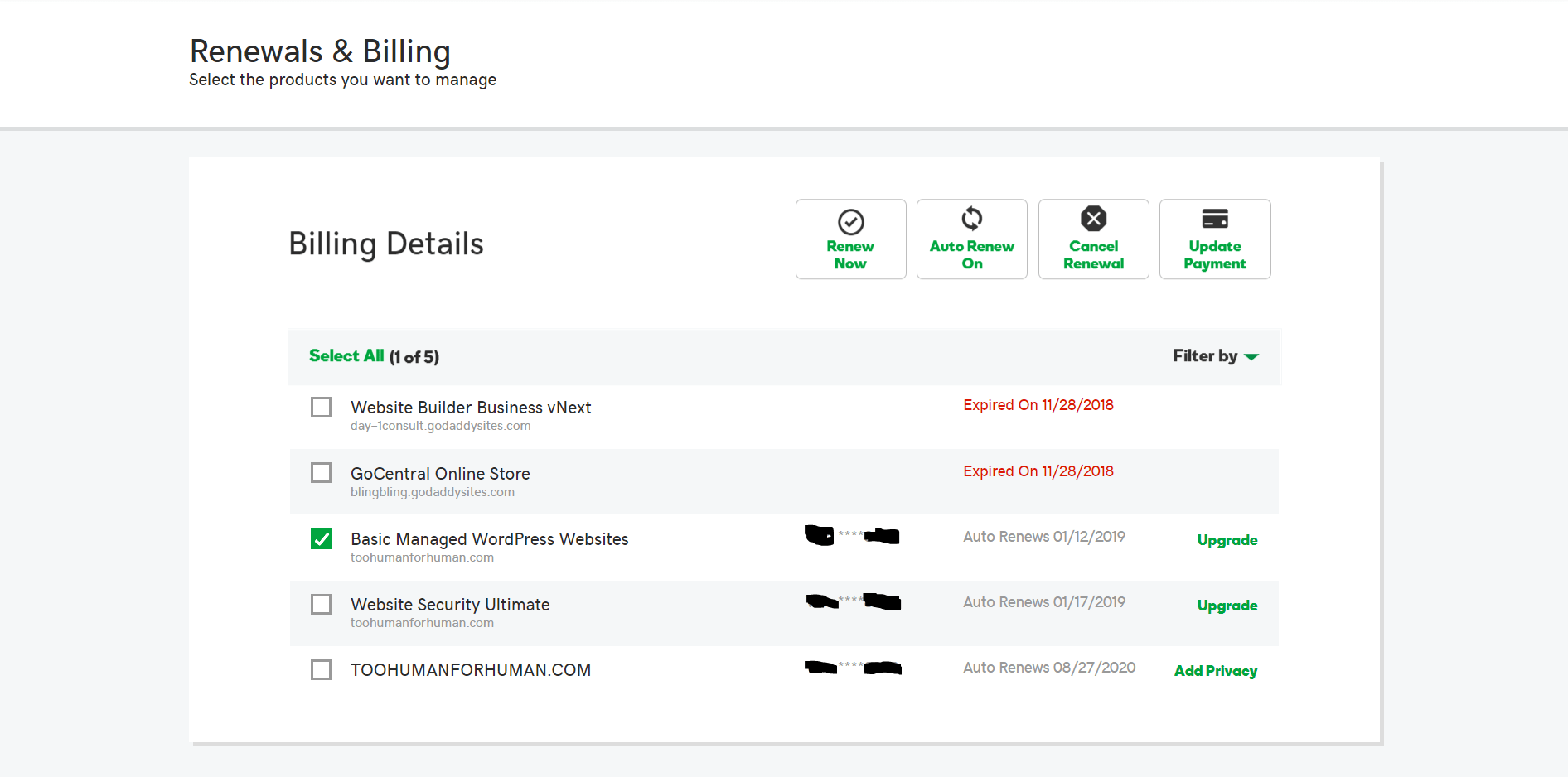 Lastly, you can't cancel a product and request a refund without calling customer support. Once you get through to an agent, you'll need to verify your identity with your customer ID and support PIN. In my case, I wanted to cancel both my hosting and website security suite.
The agent informed me that the deadline to refund my hosting had already passed, as I'd purchased monthly hosting and was over the 48-hour threshold. I already knew this, but wanted to see how far customer support would go to help. It turns out this is non-negotiable.
In the case of my website security suite, the agent wanted to know why I'd decided to cancel. However, after I'd stated my reasons, he warned me about the security implications. This could simply be chalked up to a responsible disclaimer, but I did get the slight feeling that I was being coerced into not canceling it.
For both requests, the agent needed to take some time to check GoDaddy's policies, so I was put on hold. This lasted for about seven minutes. Then, after a few more disclaimers, my website security suite was canceled and removed from my account and the agent claimed that the refund had been processed.
Shortly after the call, I received the following email confirming this: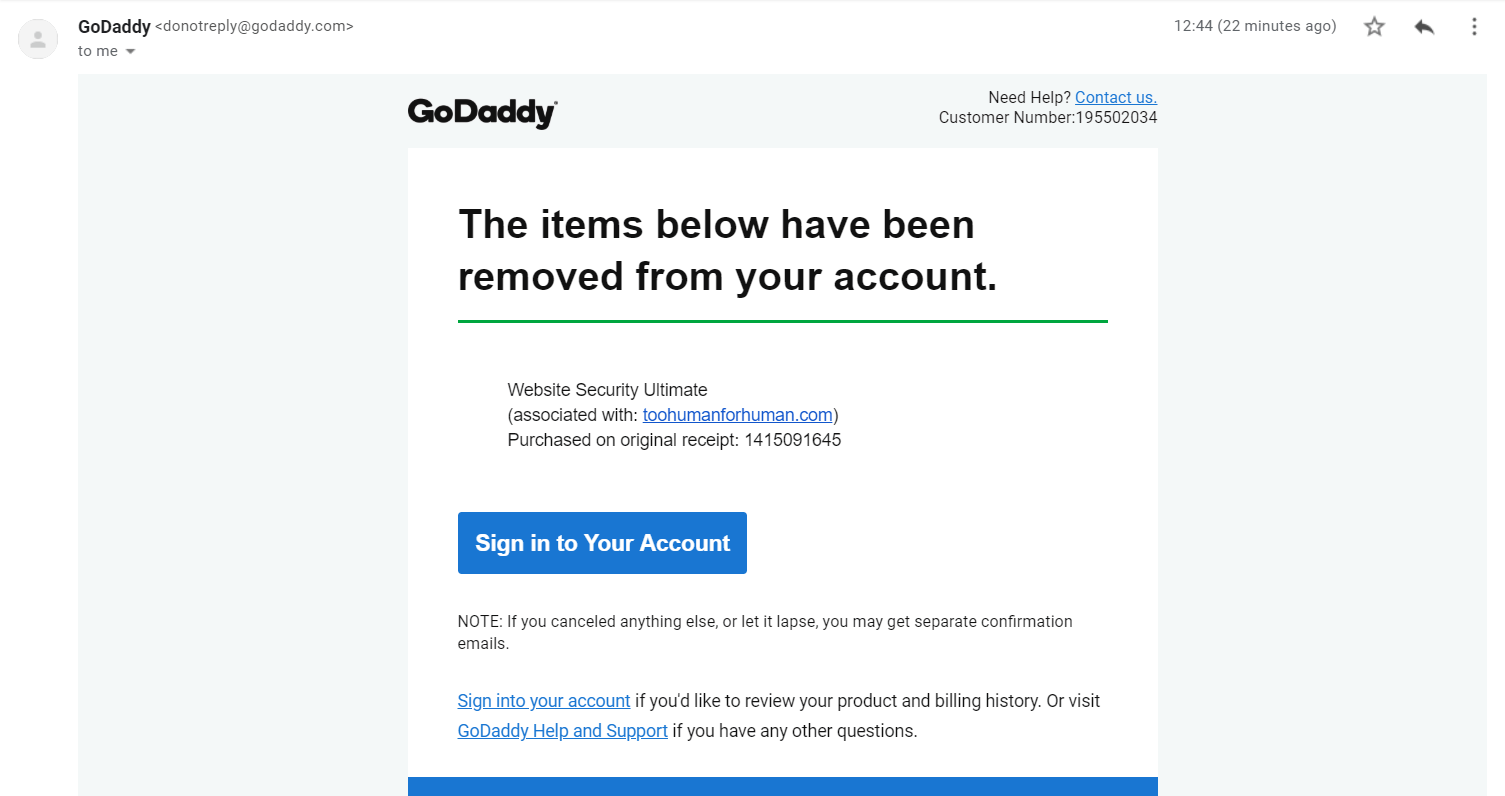 As well as the following email confirming the refund: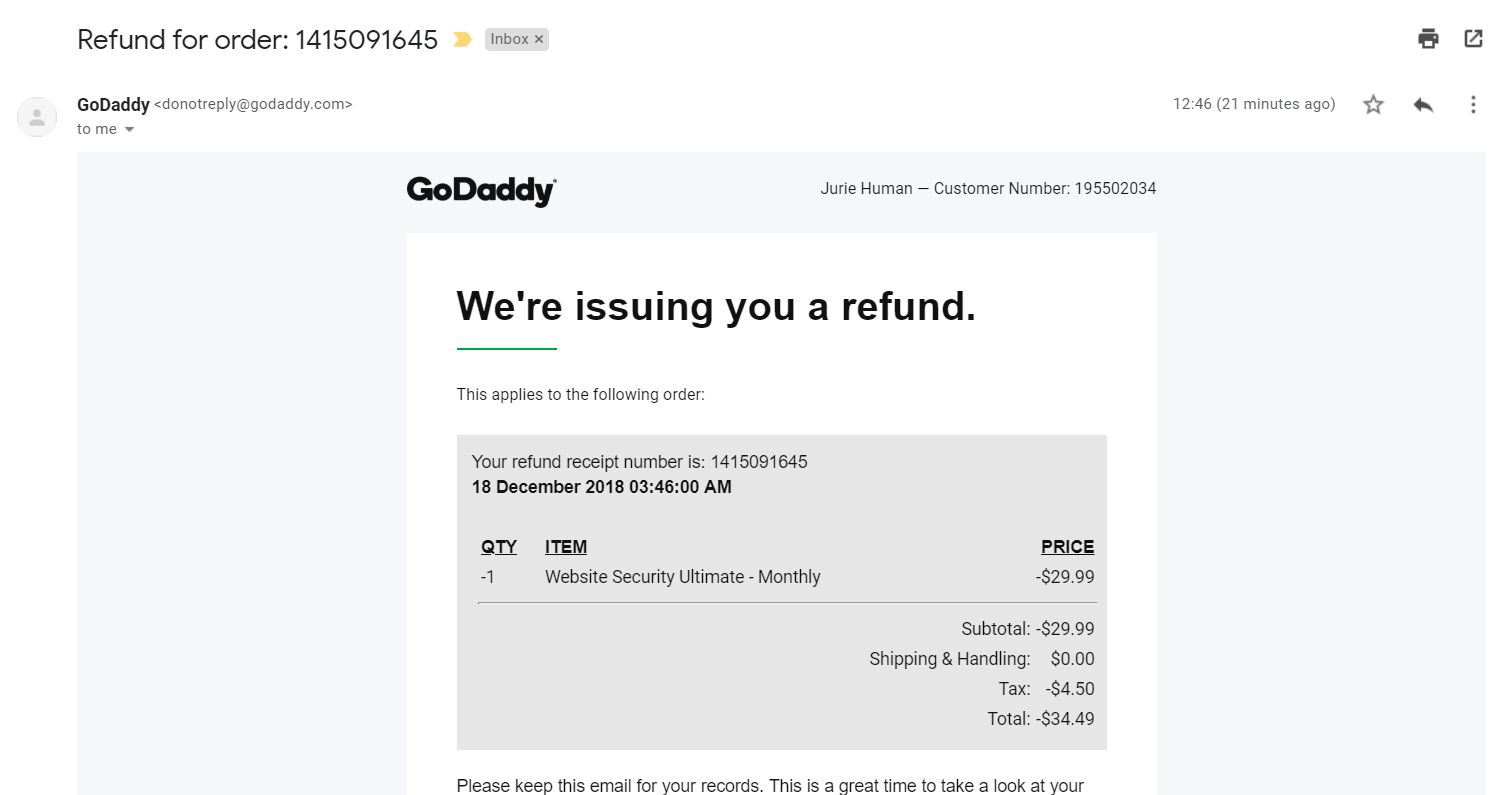 For some reason, refunds from GoDaddy can take quite some time to process. The agent warned me that processing the refund could take up to ten business days, so just be aware of this possibility. However, I was very glad when the money made its way back to my account in less than 48 hours.
Straightforward Refunds with Tricky Terms
GoDaddy's refund policy is a bit tricky, but if you stuck to the terms, you shouldn't have any problem getting your money back.
The only two issues I found with GoDaddy's cancellation and refund process is that one, you can't cancel your account or request a refund automatically; and two, this call can take quite a long time.
I'm not sure whether GoDaddy's reputation made me extra suspicious, but I did get a strong sense that the company is rather reluctant to give refunds. The agent did try and convince me to keep my website security suite (which may or may not have been sincere and it did seem to take ridiculously long to "check their policies").
Still, GoDaddy did process my refund in a minimal amount of time and didn't offer any real resistance other than sticking to its policies.
However, if you're looking for a company with slightly better refund policies (and reputation), Flywheel is a superb option for business hosting. If you're interested in an even simpler hosting experience, then iPage might be the host you've been looking for.
To find out more about the GoDaddy platform as well as its policies, read my full GoDaddy review.