Facebook has one of the biggest reaches in terms of people that you are ever going to come across. With well over 1 billion users each month, you are really missing out if you haven't already set yourself up on Facebook. It's just another avenue to take your business down and prosper from.

Today's article will walk you through the simple steps that you need to take in order to set p a Facebook store to help you start selling your products or services on the social media powerhouse. Grab a coffee, and let's get this started.
I'm going to write this article with the knowledge that you already have a Facebook business page, which most companies tend to have. If you are just starting out and don't have one then just search Google to find out how to create a Facebook business page.
Creating a Store Tab
Creating a store on Facebook sounds like an uphill battle in which you need to create an app and input product information, and then actually get the customer to sell through a shopping cart. I'm not going to lie to you, it's exactly that.
As we tend to write for people who have basic skills and knowledge we are delighted to let you know that there is a work around, and you can actually automatically create and update a Facebook store and one of those is Shopify.
Creating a Facebook Store With Shopify
If you have an account with Shopify you can add their free Facebook Store app, from their own app store – just search for it and then install it. A lot of time and hassle can be saved by using your own website builder to do all this for you, not to mention headaches!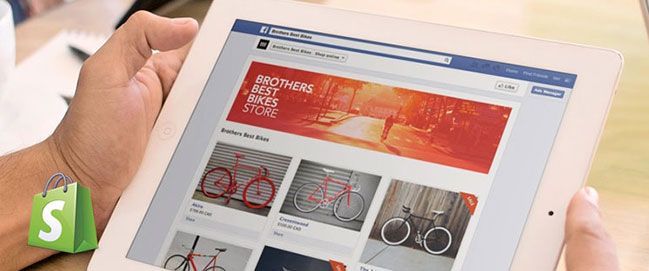 With automation involved in the process, you won't have to think too much about updates, and you get to reach out to a whole new audience.
What the app will allow you to do:
Change banners
Automatically import your products
Update products in real-time (when you change a price on your Shopify store the changes will then reflect on the Facebook store.
Set the option to hide the store unless you Like the page.
Other Options
There are of course other website builders and eCommerce setups that will help you achieve this same goal. The likes of BigCommerce and Wix also offer the Facebook store option, both for free.
Summary
The days of needing to know how to code an app and then implement the app into your Facebook store are gone, to the cheers of many people out there (including myself). Website Builders have really helped those that have no coding knowledge advance forward in getting an online site, store and now a Facebook store. The biggest advantages of a Web Builder created Facebook Store app is the ease of setting it up and the automatic processes that help keep things running smoothly. You get time to spend on more important tasks in the day-to-day running of your business.