As technology grows in this modern age, more people are choosing to create websites for their wedding. These websites have nearly everything on them, from the predicted weather forecast on your special day to the directions to the venue. Not only are they informative, but they can look beautiful, too. And many couples prefer to create their own wedding website. This way, they can quickly make slight tweaks when necessary.
One of the best ways to build a wedding website for all your information and announcements is by using a website builder like Wix. This short guide will teach you how to create a Wix website for wedding announcements. Signing up to Wix and going through the whole website-making process may seem daunting at first, but just read on and you'll be on your way in no time.
Step-By-Step Guide 
Creating your own wedding website is not as hard as you may think. Following this guide step by step will provide not only a great working website, but also everything you need on it. The process is fun and can be a nice bonding experience with your partner, too.
This is the easiest part. Either enter your email address and create a password, or sign up using Facebook or Google.
Go through the tutorial or skip it
Anyone who has used Wix before knows how it all works and so can skip this part. But if you're new to the platform, you should go through the helpful tutorial. Or if you've used it before but it's been a while, review it again and you might learn something new.
There are hundreds to choose from! But if you use the left-hand column to choose an events website, then you'll see something more suited to creating your wedding announcements website. However, while some templates are free, you may have to pay for the one you really like, and they can differ in price a lot.
Start editing your main page
Remember that first impressions count, so the website must reflect what your wedding is all about. Do you want elegant and traditional? Maybe something more modern? Whatever your preference, edit your main page accordingly. And to personalize it, you can even add your favorite photos as well.
If you have chosen a wedding template, then Wix is clever enough to ask you to provide the most relevant information, such as your big day's date, transportation details, or even gift ideas. This is the personal section of your Wix site — make it beautiful.
Do you want everyone to know your cutest couple moments? Or perhaps the time you two laughed till you were on the floor? There are other pages where you can share all these stories and provide more information about the wedding. Take a look around the template and see what you want to add. If you want to create wedding announcements on the website, then having an announcements page will be great, too. Wix's tools are super easy to use and the platform is one of the easiest to navigate around, so you'll have your perfect website in just a few hours.
Your username will automatically be your domain name (the URL) when you created your site, but you can change it to something cute or quirky when you're ready to publish.
Tell your family and friends
That's it! All the simple steps you need to have the best wedding website ever. The process is fast, and with a Wix template, you can enjoy a beautiful wedding website in no time.
The 3 Best Wedding Templates 
Since there are hundreds of templates on the Wix platform, it can be difficult to decide which you like most. Below are some popular wedding templates you can use for FREE with Wix. Like any of them? Sign up if you haven't already.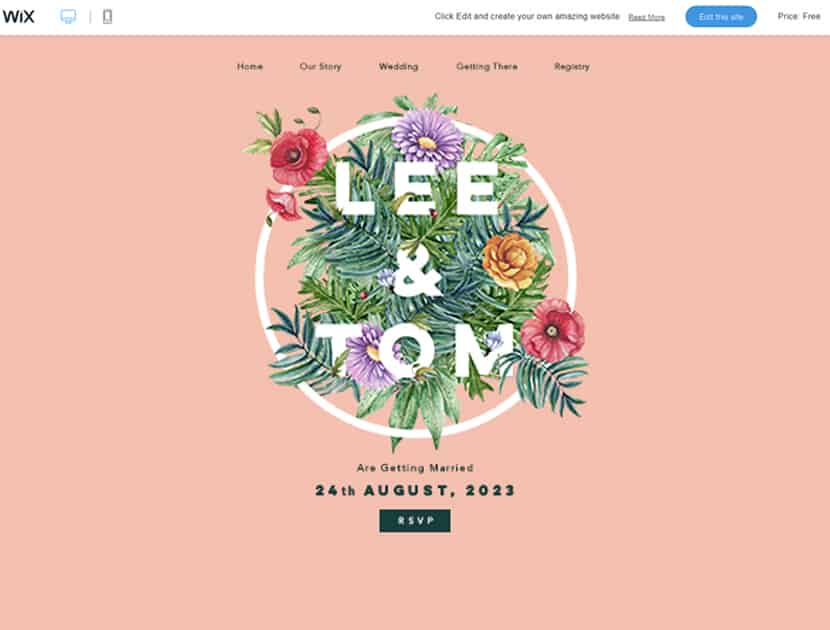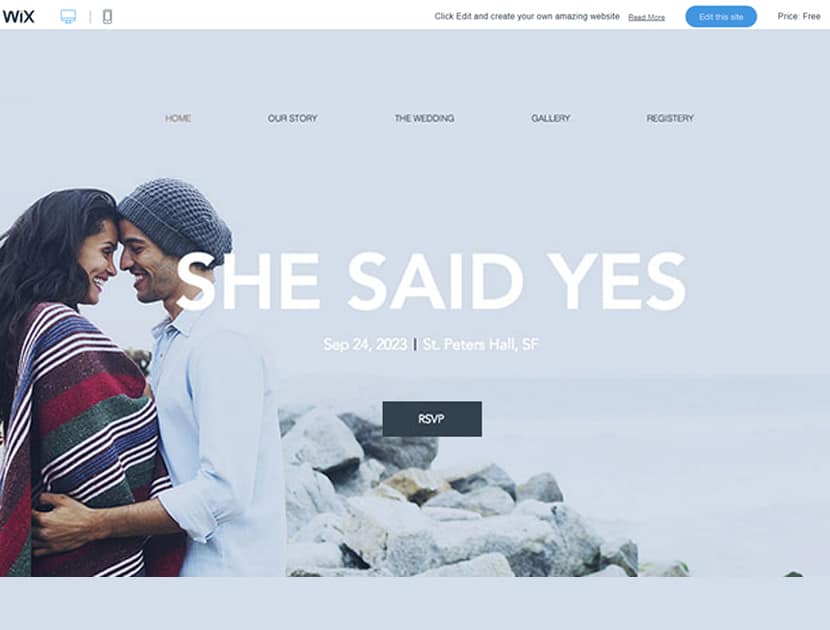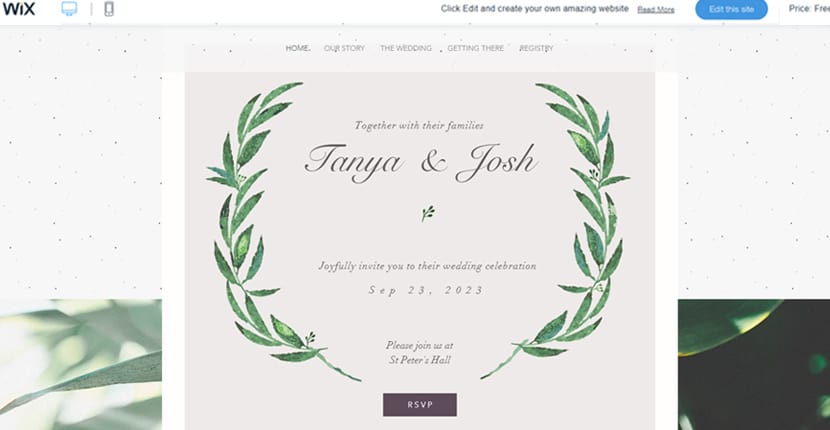 Why Choose Wix?
Wix is a user-friendly, web-building tool anyone can use. Modern and ever-evolving, it's a great platform when considering your options because you'll always have the latest templates and designs! And for simple websites like yours, it's free! So you don't have to worry about blowing your budget on stamps for traditional invitations.
Have Your Happily Ever After 
Once all the wedding organizing is over and you've impressed your friends with your creative wedding website, you're set to have your happily ever after. Even if you decide to take down the website after the wedding, make sure you keep it so you'll have a memento to relive this amazing milestone in your and your partner's life together! Your wedding announcements website is something you both can cherish always.