Hopefully, you already understand the importance of having an online presence. Whether to act as a digital resume, promote your business, or connect with peers — whatever the reason may be — a website is simply the best way to reach the most people. However, that doesn't mean you're ready to spend big money on creating one just yet.
Luckily, WordPress is an exceptional website-building platform that provides this service for free. It has also made the process relatively quick, easy, and painless. A free WordPress website includes:
24/7 hosting for your website
A subdomain address for your website
A repository of free themes to use
Basic tools to customize your website
Widgets to add functionality to your website
The ability to create and manage webpages and blog posts, user comments, etc.
The option to upgrade your website to a paid plan at any time.
In the conclusion, I'll talk a bit more about what you can get with paid plans and why you might consider it. For now, let's look at building your free website.
Step-by-step guide to build a free WordPress website
Create an account
Go over to the WordPress website. Find any "Get Started" link on the website and click on it. If you're on the pricing webpage, click "Get Started" under the free pricing plan.
Then, go through these steps:
Input some basic website information like the title, purpose, etc.
Provide your website address. WordPress will check whether it's available and recommend ones if it isn't. Select one of the "Free" domain options; the others will ask you to upgrade to a paid plan.
Confirm that you want the free plan.
Enter your email and password to log into the WordPress.com website, or connect your Google account.
After a short wait, you'll be taken to your WordPress website's dashboard where you can start building your website. You can preview what it will look like to visitors by clicking "View Site" in the left-hand menu.
Choose a theme
Now choose a theme to start off your website's design on the right foot. To access the theme repository, in the menu on the left, click the "Themes" button next to "Customize."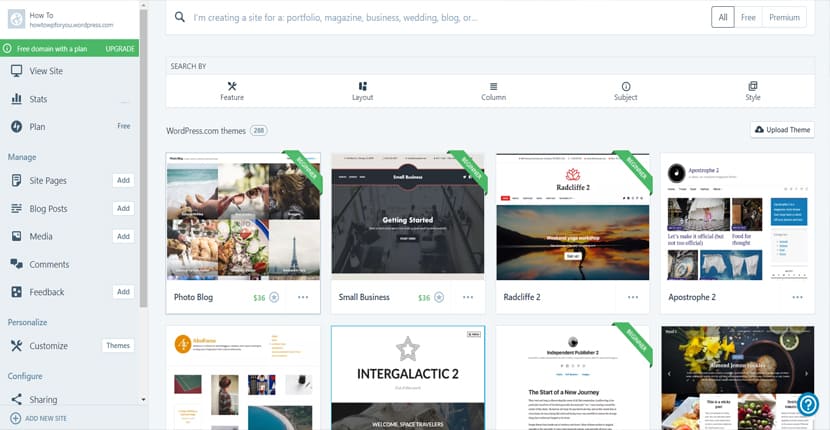 Here, you can choose a free WordPress theme for you. You'll also see the paid themes you can buy if you wish. By clicking on the three dots on the bottom of the theme, you can view a demo of it, activate it on your website, view more info, see what support you can expect, or try out its customization options.
To add the theme you want for your website, click "Activate."
Customize your website
No matter what theme you choose, you should customize your website to make it uniquely yours and fit for your purpose. Most of your customization will be done by clicking on "Customize" under the "Personalize" section of the menu.
This is the world-famous WordPress customizer: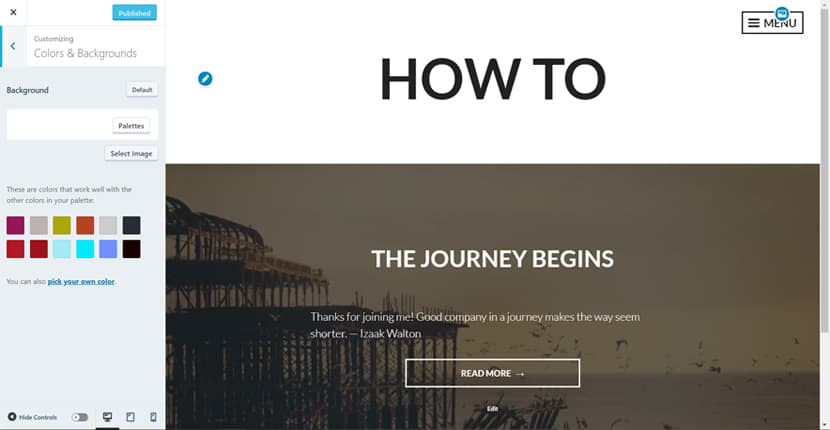 Most themes will have some of their own customizer settings. However, most of them will be similar. The most important tabs are:
Website Identity: Here you change the branding of your website like its logo, favicon, title, tagline, and footer credit (which for a free plan will show that your website is powered by WordPress).
Colors & Backgrounds: Here you can choose a background color or image for your website.
Fonts: Choose the fonts used throughout your website. Here is where themes usually differ the most in terms of what options they provide (e.g., headings, text, links, etc.).
Content Options: By checking or unchecking boxes, you decide what info is displayed, and where.
Widgets: Your website will have a footer and sidebar where you can add widgets. These are cool little gadgets that you can link to your Instagram profile, a calendar, a small menu, Gravatar image bio, etc.
Create Pages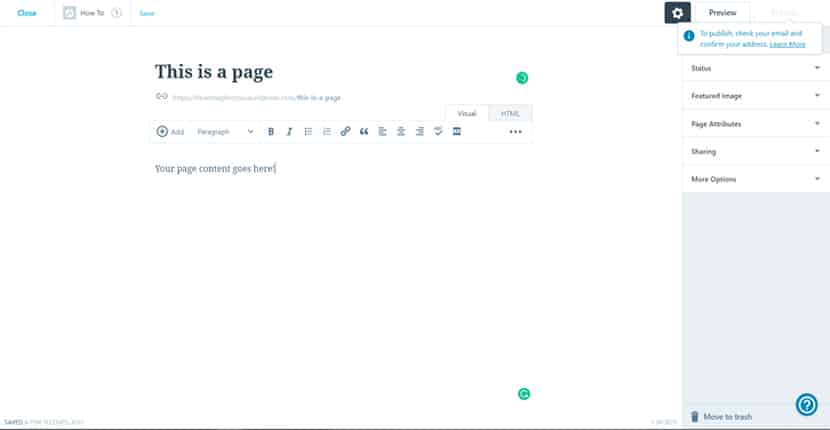 Every website consists of webpages. With its free plan, WordPress.com's webpages are very simple, as most webpage customization comes from using premium theme templates. Create a webpage by clicking "Add" under "Site Pages."
Give your webpage a title, make sure that the URL is what you want it to be, and add in text content in the editor. On the right, you can expand the areas to add more features to your webpage like a location, a featured image, sharing options, and comments.
If your webpage is complete, click on "Publish" at the top right to send it live.
Create Blog Posts
One of WordPress.com's strongest points is how quick and easy it makes publishing content. To create a new blog post, click "Add" in the "Blog Posts" section. The options will be very similar to that of webpages. The biggest difference is that blog posts are organized in "Categories" that act like folders.
For example, you could have a "Countries" category and then create a post for each country within it. On the right under "Categories," you can add new categories or choose categories to add posts to.
Other Options
The steps and features mentioned above make up the most important things you need to know when it comes to building a free WordPress website. As you continue to explore the platform, you'll gradually familiarize yourself with the rest.
For example, you can manage comments under "Comments" in the left-hand menu by approving, deleting, or viewing new comments. You can also manage the images, video, and other media on your website under "Media." Your account settings are in the top right corner. Last, you can add other people either as visitors or collaborators to your website under "People."
WordPress.com's offering doesn't stop there
Why you should consider an upgrade:
Get your own domain: Your website will no longer need to be on a WordPress subdomain, which will look better to visitors and give you more ownership.
No more WordPress ads or branding: WordPress advertising and branding can look a little sketchy to users. Getting rid of them will also make the website more truly "yours."
Better support: With a free plan, you'll need to ask the community for help. But with a paid plan, you'll get assistance from dedicated support staff.
More themes and customization options: From Premium onwards, you get free access to premium themes.
Monetize your website: You can place your own ads or start your own affiliate programs on your website to make money.
Third-party plugins and themes: With the Enterprise plan, you can use plugins and third-party themes to implement more features and get better, more unique designs.
Advanced features: With paid plans, you can enhance your SEO, receive payments, install Google Analytics, etc.
Ready to Launch Your Own WordPress Website?
By paying for WordPress hosting, you'll enjoy greater ownership of your website, have more design potential, and get better support. However, a free website may still be the best way to get comfortable with the platform and decide whether it's ultimately right for you.