Certainly, its prices are attractive, but then the other shoe dropped and now you're stuck with a subpar hosting service.
While Wholesale Internet isn't wholly bad, it's not the best, either. Frequent downtime, unresponsive customer service, and outdated technology are just some of this host's shortcomings.
And because servers come preconfigured but are unmanaged, there's a lot of ambiguity when it comes to troubleshooting the initial setup.
With a no-refund policy, Wholesale Internet could turn into an expensive lesson. That's why I took the time to find the best Wholesale Internet alternatives for you. I looked at the most popular hosts that offer dedicated resources and weighed them on features, price, and scalability.
Some of the services on my list even offer excellent VPS solutions that are not only cheaper than dedicated servers, but also provide better resources and performance.
Short on Time? Here Are the Best Alternatives for Wholesale Internet in 2023:
Kamatera – Powerful and highly scalable cloud-based VPS servers with per-hour billing options.
InterServer – Dedicated and VPS plans with great resource allocation and excellent uptime.
Hostinger – Cheap but reliable VPS servers with multiple server locations around the world.
What We Look For in the Best Alternatives to Wholesale Internet
My first priority was to look for hosts that I could trust – in other words, hosts that had great loading times and up-to-date server infrastructures. I also looked for hosts that had a money-back guarantee or free trial so you don't have to make a commitment before trying the service.
Reliable customer support. Many Wholesale Internet users complain about its poor customer service. Live chat isn't available, and you can't get technical support over the phone. That's why I only picked web hosts with responsive and helpful customer support that can be reached across several communication channels.
Availability. If you've experienced multiple downtimes and server failures with Wholesale Internet, you're not alone. Therefore, I carefully chose web hosts that have high server availability.
Managed servers. Wholesale Internet only offers unmanaged dedicated servers, which isn't convenient for beginners or those who simply don't have time to manage their own server. Some of my selected hosts offer semi-managed or fully managed services.
Widespread server locations. Wholesale Internet has servers in Kansas City, US, so it won't be a reliable option if your audience is in Asia or Australia, for instance. Instead, you're better off with a web host that has servers in multiple locations worldwide.
Value for money. Dedicated server hosting is expensive. That's why I only chose hosts that will give you all the features and resources you'll need for your server at a bargain price. Some of these services offer highly scalable and more cost-effective VPS solutions that can handle heavy traffic.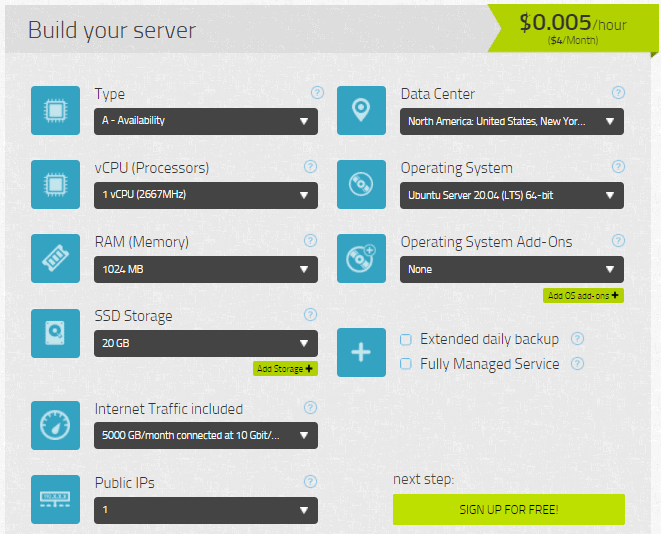 Some VPS hosts have the capacity to offer better performance and value for money than what you might get with a dedicated server
– and Kamatera is a great example of this. Kamatera offers a wide range of cloud products, including easily deployed and highly scalable cloud-based VPS servers for personal and enterprise use. One of the most notable differences between Wholesale Internet and Kamatera is that
Kamatera has 13 data centers spread across various locations around the globe
, including Germany, Hong Kong, and Israel. Kamatera pairs this impressive server network with a robust cloud infrastructure to deliver fast loading speeds and near-perfect uptime. Here's another advantage over Wholesale Internet:
Kamatera has over 1000 cloud server configurations
. You can choose up to 104 vCPUs and 512GB of RAM, with TBs of block storage available. You also have your pick of data center, control panel, and operating system. And if you're inclined, you can have one of Kamatera's experts manage your servers for an additional monthly fee.
Features
4 CPU types. General purpose, burstable, and dedicated CPUs are assigned to a dedicated server and best for application, web, and database servers. Availability CPUs are the cheapest option but don't guarantee resources.
Cost-effective plans. With Kamatera's cloud servers, you can easily purchase what you need without having to upgrade all of your resources. You can also choose per-hour billing, which means you'll only be charged for the time your server is online.
Cloud firewall. Protect your site from hackers, spyware, and unauthorized sources by installing a cloud firewall set up and monitored by Kamatera's team of security experts. You'll be charged for this service, though, and there's also an additional fee for managed accounts.
Load balancing. Any cloud host worth its price will have load balancing. This means that any surge in traffic will be efficiently managed by distributing resources equally across available nodes.
For more on features, read our in-depth Kamatera review
.
Types of plans

Cloud, VPS

Data center locations

US, Canada, the Netherlands, Germany, UK, Israel, Hong Kong

Customer support

24/7 email, support ticket, and phone

Starting price

$

4.00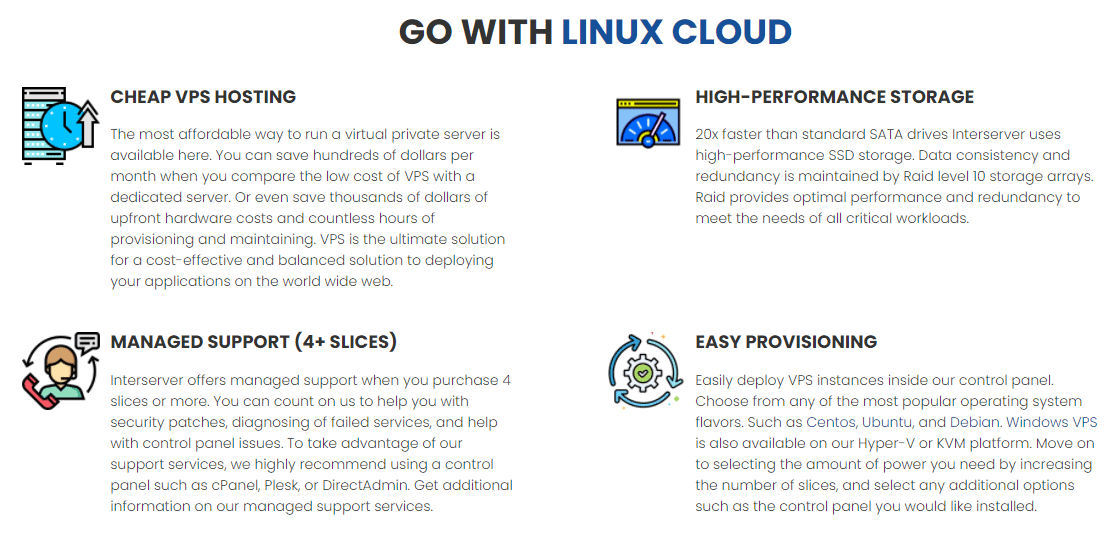 InterServer makes it easy to get your server online
with preconfigured "Rapid Deploy" dedicated servers that can be ready in 15 minutes. On this plan, there's no set up fee and you'll get 4 IPs, 10TB of transfer, a unique cloud VPS control panel, and managed support.
Although there are only 5 preconfigured options, you'll be able to adjust several criteria, including memory, bandwidth, and operating system.
If you go for a cloud VPS plan, you'll also have the option to tweak your server.
Not only do you get to choose the level of resources you need, but you also get to choose the best plan to fit your budget.
You'll also get your pick from five different operating systems and three different control panels.
If you buy four or more unmanaged VPS "slices," InterServer will throw in managed support for free.
This value-added feature includes control panel reinstalls (except Plesk), server troubleshooting, and hardware repairs.
Features
Dependable performance. InterServer might only have two data center locations in the US, but it still achieves reliable loading speeds throughout North America – and it performs well in Western Europe too. When we tested it, InterServer's actual uptime exceeded its 99.9% guarantee.
Remote backups. For a nominal fee ($0.05/GB per month for up to 100GB, with discounts for more storage space), InterServer offers remote incremental backups stored on the InterServer cloud. With this backup service, you'll also be able to take a clone image of your machine.
Developer-friendly features. The Webuzo panel is a one-click installer available for all VPS plans. It has hundreds of apps, CMSs, and software available for installation. You'll also have access to dozens of developer tools like PHP, Python, Java, and Perl, and be able to manage FTP and SSH access for users.
Preventative AI technology. InterServer's self-healing AI technology can detect system failures and redirect data to backup nodes before the server completely crashes.
Read our full InterServer review for plan details
.
Types of plans

Shared, Cloud VPS, Dedicated Server

Data center locations
US
Customer support

24/7 live chat, Facebook chat, email, support ticket, phone

Starting price

$

2.50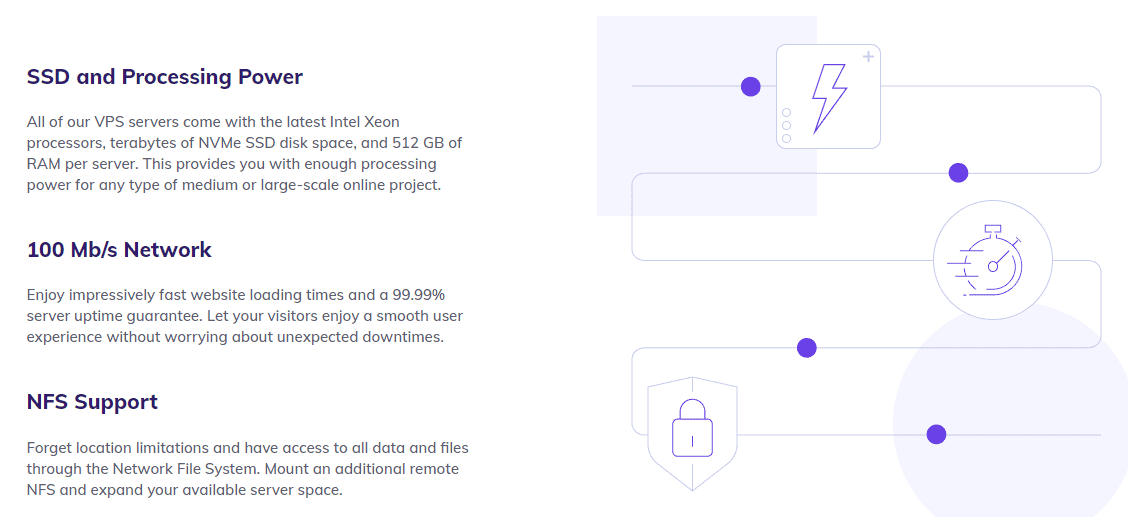 Even though Hostinger doesn't offer dedicated servers, it does offer VPS hosting for Linux, Minecraft, and CyberPanel.
Hostinger's VPS plans are suitable for large projects
, which is great if you want fast servers that are also cost-effective.
VPS plans start at

$

5.99

 and you can choose from eight configurations.
While the entry-level VPS 1 plan comes with 1 core, 1 GB of RAM, and 20GB of storage, you can scale all the way up to 8 cores, 16GB of RAM, and 250GB of storage on the VPS 8 plan. You can upgrade your plan at any time through your control panel, making Hostinger a good option for growing projects. If you have any questions, Hostinger has a massive knowledge base with hundreds of articles and tutorials covering most major topics. In the rare case that you don't find what you need,
Hostinger's reliable customer support is available 24/7 through live chat, email, and support ticket.
A free domain name is included with some hosting plans from Hostinger
Features
More locations. Unlike Wholesale Internet, Hostinger has multiple data centers outside of the US, including Brazil, the UK, Lithuania, Singapore, and Indonesia. Coupled with Cloudflare integration, your sites will experience fast loading speeds for most audiences throughout the world.
Loaded VPS plans. Hostinger's VPS plans don't lack any of the features you'd expect from a premium host. In addition to full root access, you'll get a dedicated IP, a 100 Mb/s network, NFS support, weekly backups, and your choice of OS (CentOS, Ubuntu, Fedora, Debian, or Suse).
Restore your VPS with a snapshot. In addition to backups, you can keep your account safe by creating a snapshot, which acts as a restore point. Snapshots make it easy to get your VPS back online should something happen. One free snapshot is included in all VPS plans.
CyberPanel VPS plans. Besides having your control panel preinstalled, there isn't much of a difference between VPS and CyberPanel VPS plans – which means you can enjoy the advantages of CyberPanel at regular VPS prices. You'll also get speed-enhancing features like LiteSpeed Cache and HTTP/3 support.
Read our review to see how well Hostinger performed in our tests
.
Types of plans

Shared, Cloud, and VPS

Data center locations

US, UK, the Netherlands, Lithuania, Indonesia, Singapore, Brazil

Customer support

24/7 live chat, email, and support ticket

Starting price

$

1.99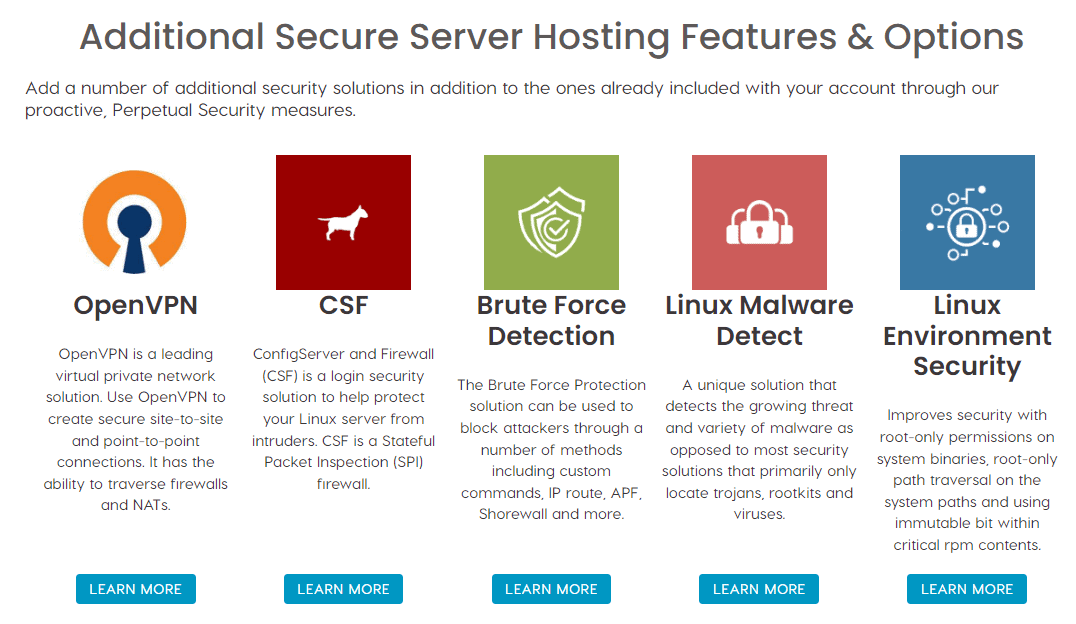 Alongside its wide range of hosting solutions,
A2 Hosting has three types of dedicated servers
: unmanaged servers, core servers, and managed servers
. The only difference between core servers and managed servers is that core servers come with root access, while managed servers don't.
While managed plans can be pricey, they do offer enough benefits to make your life easier.
You'll get the user-friendly cPanel installed for you, as well as server management and hardware and network support. Security management will include installing automatic updates and security patches. You can further customize your server by adding more resources, including SSD storage, RAM, and CPU cores.
If you don't see anything that suits your needs, you can always contact A2 Hosting's customer support to build a whole server from scratch.
Features
Round-the-clock security. All of A2 Hosting's plans (with the exception of unmanaged dedicated server plans) come with a wide range of advanced security features. The Perpetual Security package includes KernelCare and Hackscan malware protection.
Solid speeds. A2 Hosting has data centers in the US, the Netherlands, and Singapore, and it has great loading speeds in North America, Europe, and Asia.
Turbo servers. On select plans, you can upgrade to A2 Hosting's Turbo servers. These servers are optimized (both on software and hardware levels) to deliver the fastest possible loading speeds. Turbo servers achieve this through LiteSpeed Web Server technology, caching systems like Memcached and OPcache, and HTTP/2 HTTP/3 protocols.
Anytime money-back guarantee. Even after the 30-day money-back guarantee has expired, you can cancel your plan with A2 Hosting at any time and still receive a prorated refund for your unused time.
For more on Turbo servers, check out our A2 Hosting review
.
Types of plans

Shared, Managed WordPress, VPS, Dedicated, Reseller

Data center locations

US, the Netherlands, Singapore

Customer support

24/7 live chat, email, and phone

Starting price
 

$

2.99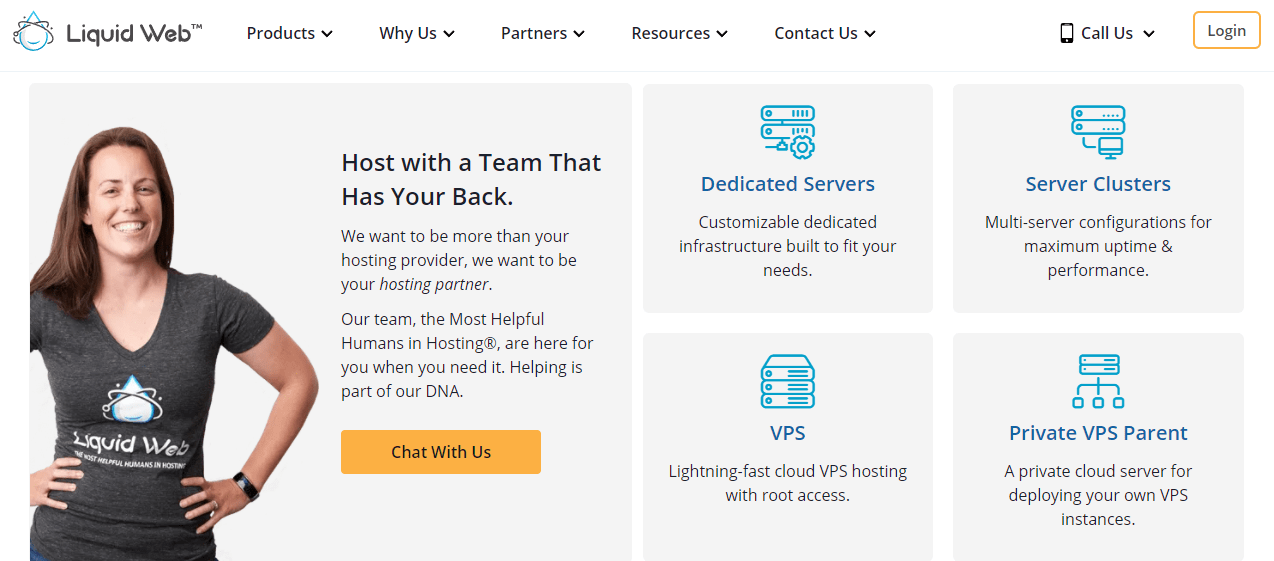 Unlike most hosts on this list,
Liquid Web's only focus is on managed hosting solutions – namely for cloud, VPSs, and dedicated servers.
It offers a wide range of premium dedicated server configurations as well as customizable options.
If you're on a budget, you might want to consider the more affordable managed VPS plans, which still pack a lot of features.
Available for Linux or Windows, VPS plans start at 2 vCPU cores and 40GB of SSD storage, and you can scale all the way up to 8 vCPU cores and 200GB of SSD storage. All plans include 10TB of bandwidth and 100GB of Acronis Cyber Backups.
Liquid Web's support is available around the clock through live chat, phone, and support ticket.
All three channels are highly responsive and the support staff is professional and helpful. I recommend going through the extensive knowledge base before contacting support – the tech support articles and tutorials were able to answer most of my questions.
Features
Exceptional uptime. Liquid Web promises a 100% uptime guarantee – higher than the industry average – and from our extensive tests, it delivered on its guarantee.
Customer service SLA. If you hate waiting to connect to support, well, Liquid Web hates it too. That's why its SLA states that initial response times for phone and live chat should be 59 seconds or less, and ticket support should be 59 minutes or less. If you're on a fully managed plan and have to wait longer than this, you'll be eligible for hosting credits.
Server protection. Liquid Web's all-in-one security suite for dedicated servers includes server hardening, malware scans, antivirus protection, and real-time monitoring. You can also order these services individually.
Compliance services. Liquid Web provides companies needing compliance with industry regulations like HIPAA or PCI DSS (Payment Card Industry Data Security Standards) with a range of security solutions. These solutions encompass preventive security scans and vulnerability assessments as essential add-on services.
Read our comprehensive Liquid Web review for more info
.
Types of plans

Managed WordPress, Cloud, VPS, e-Commerce

Data center locations

US, the Netherlands

Customer support

24/7 live chat, support ticket, and phone

Starting price

$

15.83
Which Alternative Hosting Service Is Right for You?
While all the hosts on my list have the features that Wholesale Internet lacks, the
best
web host for you will depend on several factors, including budget and type of use. If you're considering going for a cloud VPS as an affordable alternative to a dedicated server, I recommend Kamatera.
With its flexible plans, Kamatera gives you the freedom to scale resources without upgrading to a whole new plan.
You can opt for server management but if you're a hands-on developer, you'll appreciate being able to configure your own server.
Hostinger is also notable for its VPS plans, which are great for large-scale projects.
This host has a broad server network and offers reliable uptime with fast loading speeds. Prefer dedicated servers?
InterServer's preconfigured servers
 are designed to be deployed in under half an hour, and resources can be scaled to fit your needs.
Through KVM virtualization, you'll be able to run virtual machines on these dedicated servers. Still in doubt? Take a look at our table to compare these hosts.
Standout Feature
Money-Back Guarantee
Uptime Guarantee
Starting Price
Kamatera

Cloud VPS plans with individually scalable resources

30-day free trial

99.9%

$

4.00

InterServer

Preconfigured dedicated servers with KVM virtualization

30 days

99.9%

$

2.50

Hostinger

Super cheap long-term VPS plans with fast global loading speeds

30 days

99.9%

$

1.99

A2 Hosting

Affordable managed VPS hosting with strong security solutions

30 days plus any time cancellation with pro-rated refund

99.9%

$

2.99

Liquid Web

Fully managed Windows- and Linux-based VPS plans

30 days for cloud-based plans and 14-day free trial for Managed WordPress plans

100%

$

15.83
FAQ
Which host is better – Wholesale Internet or Kamatera?
Kamatera outshines Wholesale Internet in so many ways. Kamatera's cloud VPS servers are more scalable than Wholesale Internet's dedicated servers, and you'll only pay for the resources you need. Overall, Kamatera has a more powerful and secure cloud infrastructure, with 13 data center locations to choose from. Managed service is also available for an additional monthly fee.
Which alternative host is better for dedicated servers?
It actually depends on your hosting needs. If you're looking for a full-service host, I'd recommend Liquid Web's managed plans. You'll get a premium security package, on-site support, free Acronis backups, and more. A more affordable option is InterServer. It offers a variety of customizable and flexible dedicated server plans. InterServer also offers free DDoS protection, managed support, and website migration.
Is Wholesale Internet affordable?
Like many web hosts, Wholesale Internet's prices can run from cheap to expensive – it all depends on the configuration of your server. Still, there are better hosts that have more to offer at a fraction of the price. If you're looking for dedicated server hosting on a budget, take advantage of our deals and coupons for some great discounts.
Does Wholesale Internet only offer its services in the US?
While anyone can sign up for Wholesale Internet's services, it should be noted that there's only one data center in Kansas City, US. This means that if your audience is outside of North America, they might experience slow loading speeds, which should be a consideration when you're building your website. If you're looking for more data center options, the web hosts on our top 10 hosting services in 2023 have widespread locations and better performance results.