don't just go with the first free tool
that you come across. Look for a combination of tried and tested tools that can help boost your SERP (search engine results page) ranking and effectively drive more quality traffic to your website. We've tested dozens of the most popular
free keyword research tools
currently available to bring you this list of our top eight picks. Use them to get to know what your target audience is searching for and choose the best keywords for your brand.
#1: Google Trends
Google Trends is undoubtedly one of the best keyword research tools due to its highly visual nature, which is why it gets the top spot. Simply pop your keyword phrase into the search bar and you'll be shown a graph that illustrates how this search trend has adapted over time. Here, I've searched for "dark chocolate" over the past 12 months as an example: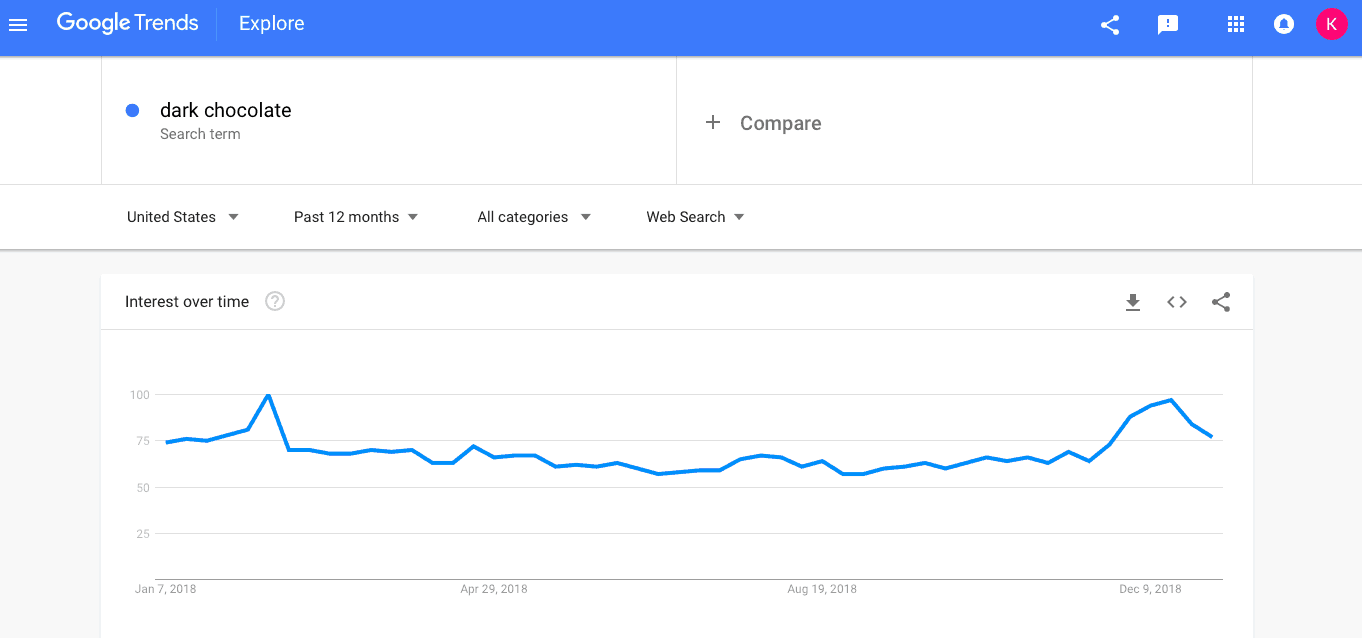 Keyword Research Tip #1: Choose a long-tail (or seed) phrase rather than just one word in order to successfully cut down the competition.
I can see that the popularity of the search term is generally high throughout, but spiked in December and February. This could be due to the fact that consumers buy more dark chocolate as gifts around Christmas and Valentine's Day.
If I were planning a blog post about dark chocolate, it would be a good idea to launch it around these times in 2019, based on what worked well the year before. Other wonderful elements of Google Trends include:
Interest By Subregion: This section allows you to view the locations where your search term was the most popular during a particular time frame
Related Topics & Queries: This miracle box shows you related search terms with rising popularity that you can also insert into your content

The insights Google Trends can give you make it
an ideal service for seasonal businesses
; but keep in mind that the terms that spike in search volume at specific time periods will also increase your Cost Per Click in Adwords. If you are looking to participate in paid search campaigns at peak times, then you will need to allocate more budget toward your Adwords spend.
#2: Google Correlate
Sure, Google Correlate is technically part of Google Trends. However, as
these two tools are fundamentally different
, Google Correlate deserves its own mention. (Just call Google the king of keyword research tools!) In principle, instead of looking for trends in relation to keywords, Google Correlate discovers search patterns that are aligned with real-world trends. For example, when I search the term "dark chocolate," the top correlated term is "is chocolate." The graph underneath then delves further into the popularity of both terms according to
different time periods
.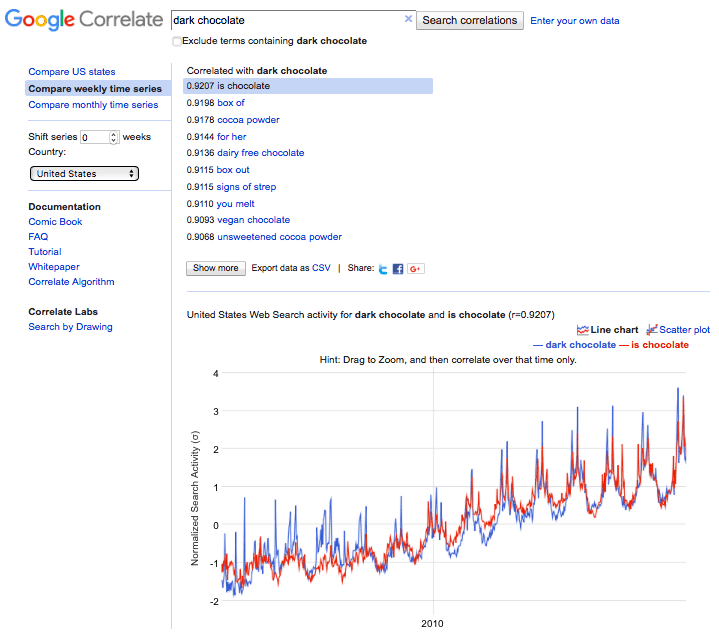 The best thing about Google Correlate is that it helps me understand the different questions people have when it comes to the topic of dark chocolate. For example, they want to know if it qualifies as chocolate, and whether it adheres to different dietary restraints. So, if I'm smart, I would
use these related search terms in my content strategy
. The worst thing about Google Correlate? Sometimes, you get irrelevant words or phrases which have nothing to do with your chosen topic. When this happens, it's better to avoid those words to
ensure that your content appears genuine and authentic
to the reader.
#3: AdWord & SEO Keyword Permutation Generator
If you're in the process of launching a new website, then you might already know the top keywords in your niche. But where do you go from there? Enter: AdWord & SEO Keyword Permutation Generator. Yes, it is a bit of a mouthful, but this free tool
helps you get creative
if you search for terms that correspond with your industry, marketing strategy, and target audiences.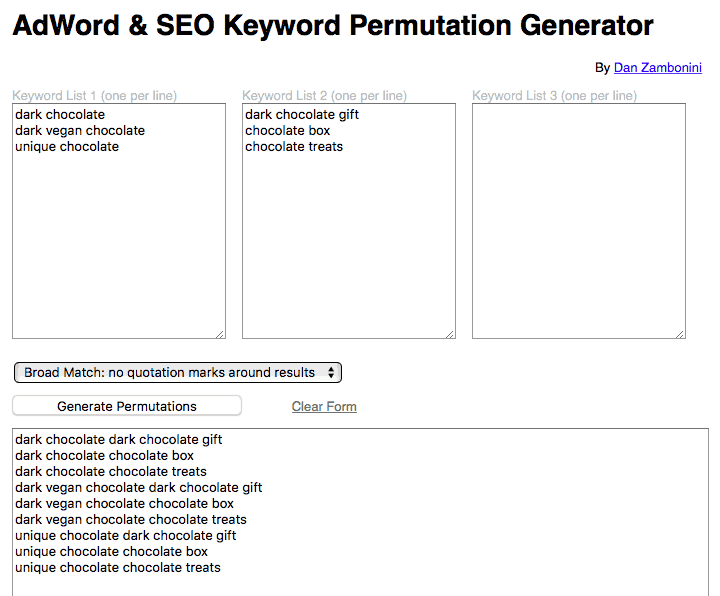 Keyword Research Tip #2: Be your own search term generator first and foremost. Play the word association game with your chosen keyword(s) – it's amazing how many you can come up with when you put your mind to it! Try to produce an extensive list of related terms and ideas before using a keyword research tool.
This super-easy-to-use tool does all the thinking for you. You can produce up to three lists of words or phrases – then, all you have to do is click "Generate Permutations" to see the results.
Even though this tool is nice and quick, the downside is that
some of the results might not make sense
. You often have to invest energy sifting through them to get to the good stuff.
#4: Ubersuggest
The brainchild of B2B marketer extraordinaire Neil Patel,
Ubersuggest is the perfect alternative to Google's original Keyword Planner
(which now requires you to sign in and create an ad campaign to use the service). The major pro of this tool is that it ranks the terms according to a number of relevant metrics:
Volume: The number of searches per month
Cost Per Click (CPC): The average CPC according to Adwords
Paid Difficulty: The estimated competition in paid search
SEO Difficulty: The estimated competition in organic search
Keyword Research Tip #3: Sometimes it's better to avoid the most competitive search terms. Instead, consider one of the most popular options that doesn't score particularly high in terms of paid or SEO difficulty. This way, you're more likely to come up on top of the Search Engine Results Pages (SERPs).
There will also be a little text box from Neil Patel himself that communicates how easy it is to rank for your search term, alongside a handy graph showing the volume of searches per month.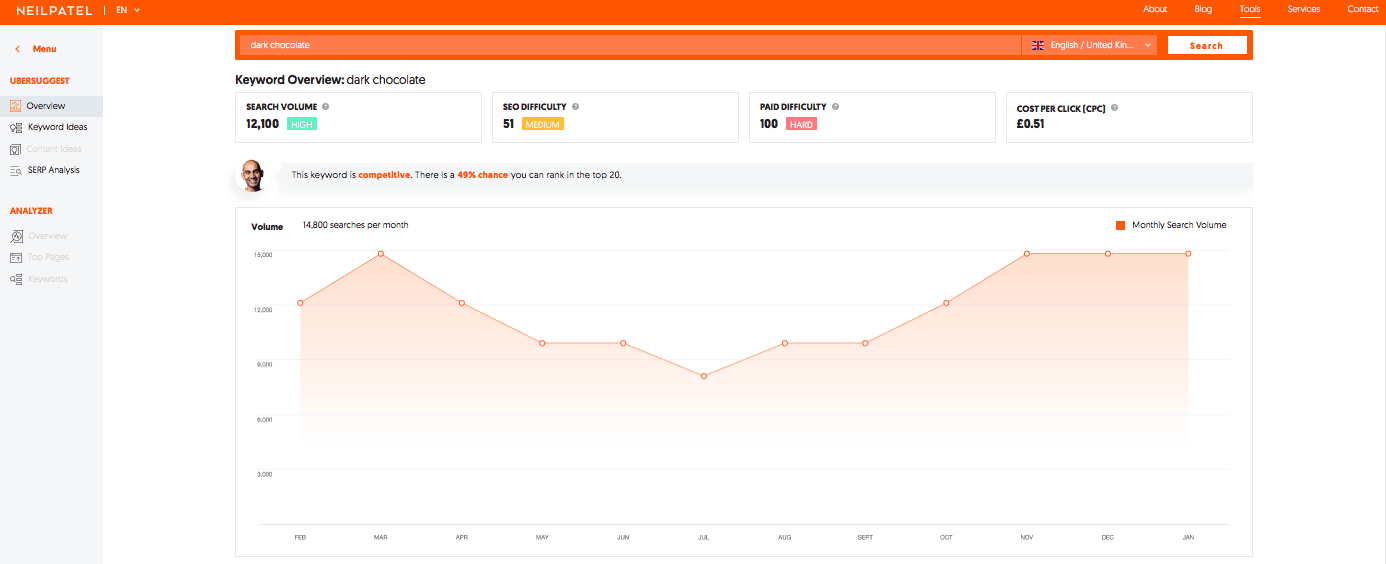 With this incredibly user-friendly tool, you are also able to quickly generate a list of additional ideas—including suggested and related search term ideas.

Even so, the major con of Ubersuggest is that it provides you with keywords which won't pop up through Google Keyword Planner. This means
it doesn't really work as a standalone option
. Instead, it's a good idea to use Ubersuggest alongside another keyword research tool for maximum success.
#5: Keyword Shitter
Though slightly inappropriately named, this top
keyword research tool works by mining Google Autocomplete
– meaning, the results that appear when you type something into the search engine. While there are other tools that do this, most are restricted to up to 700 keywords, whereas Keyword Shitter isn't. Just enter your keyword and click "Shit Keywords!" The tool will generate a bunch of suggested search terms. When I searched for "dark chocolate," for example, more than 500 results came up within a few seconds—and the tool just kept on going!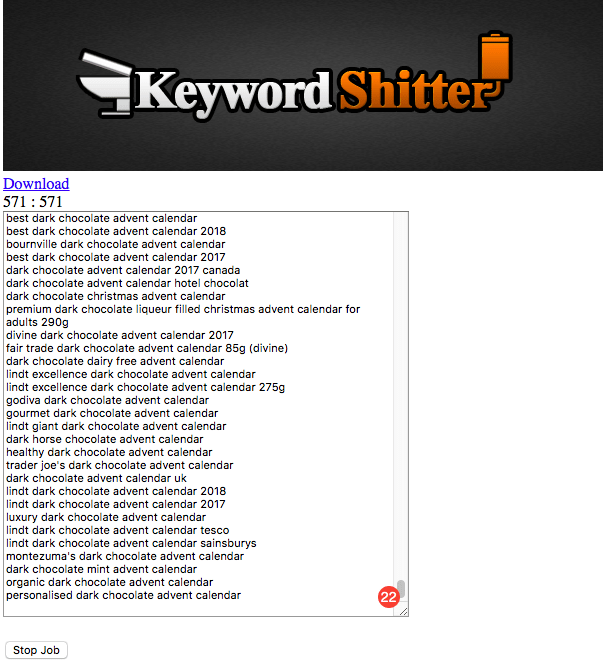 Even though Keyword Shitter does give you plenty of options, it is pretty basic
. That being said, they do have the following handy filters:
Positive Filter: Type a word that you'd like to see in your results into this box
Negative Filter: Type a word that you'd like excluded from your results into this box
Once you've got enough results to work with, simply hit "Stop Job." Then, the only issue is having to work through hundreds of options to find the ones that best suit your needs.
#6: AnswerThePublic
AnswerThePublic is one of the more complex free keyword research tools
.
As well as finding related searches, it finds questions, prepositions, comparisons, and alphabeticals
. You start off by asking this guy what questions people ask regarding a specific search term: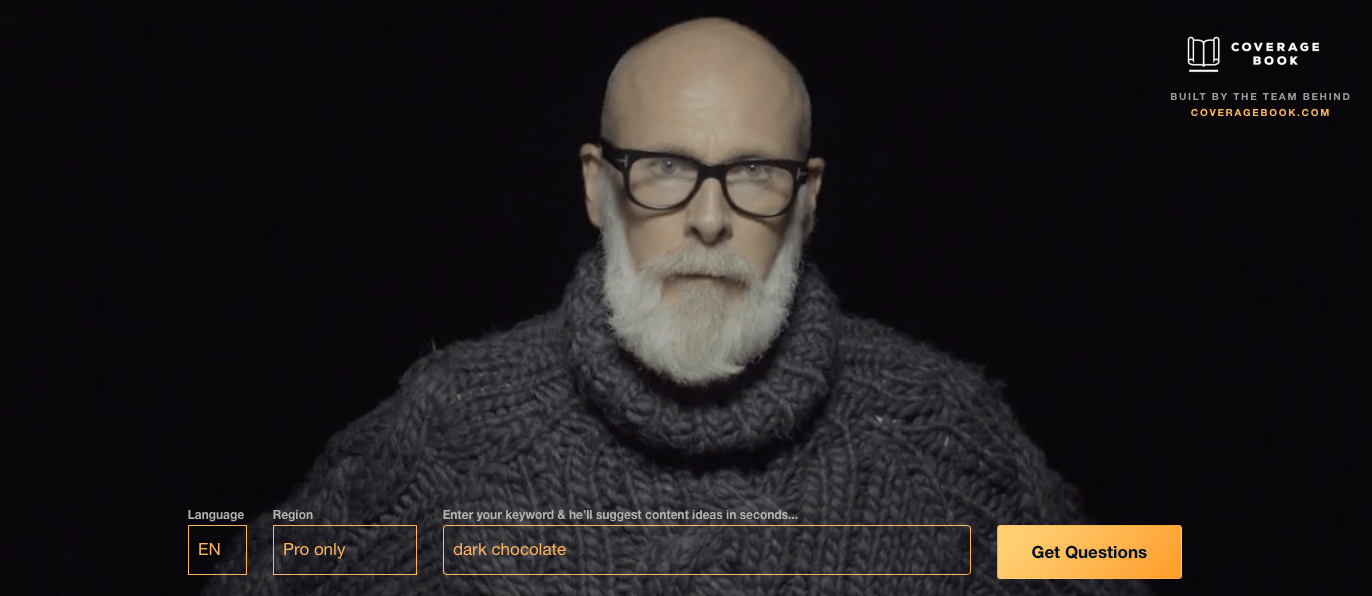 And the best part? Your results are displayed in
visual form
.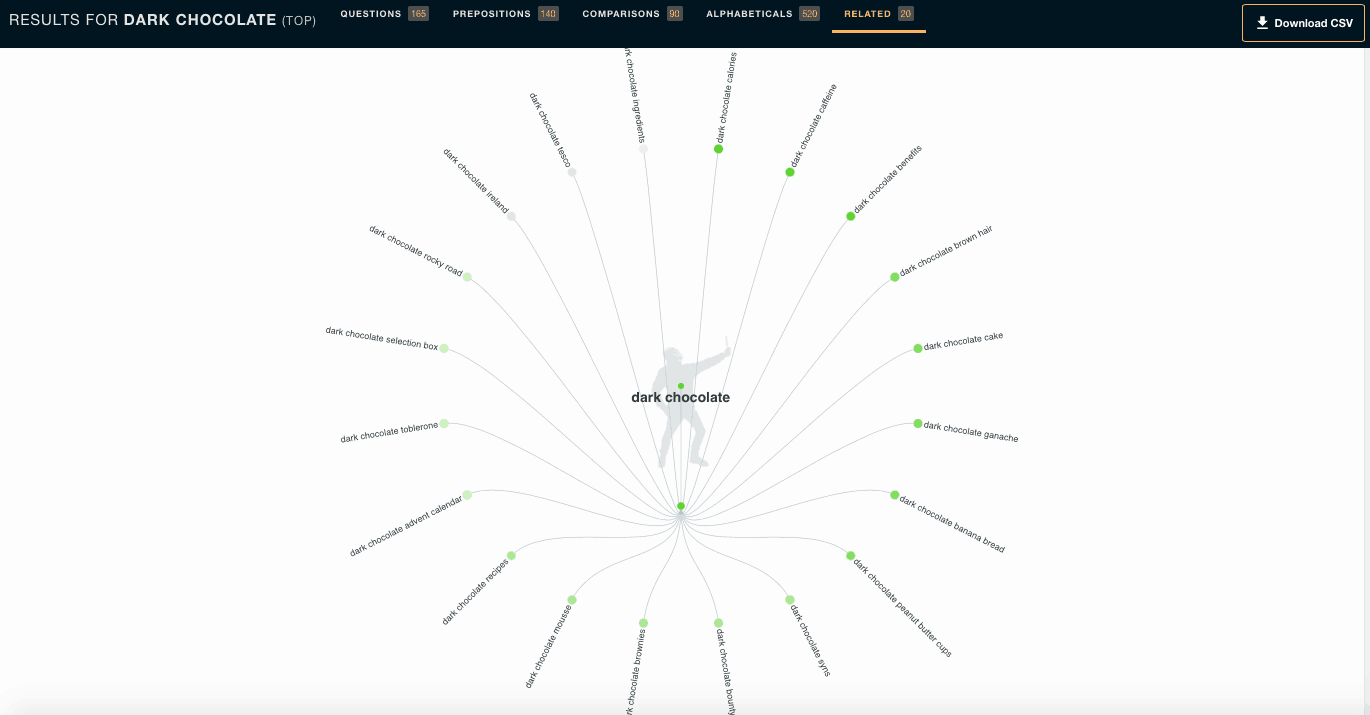 How cool is that? If you'd prefer to see a list, just switch to "Data Form" – you can find the button at the bottom of the page. In terms of results, the following includes examples of the categories based around the "dark chocolate" search term:
Question: "Can dark chocolate go bad"
Preposition: "Dark chocolate nearby"
Comparison: "Dark chocolate vs milk chocolate"
Alphabetical: Lists the terms from A-Z, e.g. "dark chocolate advent calendar" to "dark chocolate zinc"
Related: "Dark chocolate calories"
For more information, read our comprehensive Guide to AnswerThePublic!
Even though
the free version is rather extensive and clever
, you can choose to upgrade to AnswerThePublic Pro for a reasonable monthly cost. The pro version will give you added benefits, such as
being able to filter your results based on language, location, and unwanted words
. If you decide to stick with the free version, then the biggest downside that you'll come across is that the "Related" search term category provides less than 20 results—but everything else works flawlessly.
Keyword Research Tip #4: Most keyword research tools allow you to export the data to CSV. However, for the ones that don't, with minimal effort you can copy and paste the results into an Excel spreadsheet.
#7: Keywords Everywhere
Keywords Everywhere is a free extension for Google Chrome. It attaches
search volume, competition data, and Cost Per Click
to websites you visit. From Google to Amazon and Wikipedia, this tool is very practical when it comes to
incorporating keyword research into your casual browsing habits
. The plus point is that you can discover endless opportunities this way.

Keep in mind that the keyword volume and Cost Per Click estimates are pulled from searching terms via Google
and not Amazon, for example. This means that all the data comes solely from Google's Keyword Planner, so the numbers aren't representative of the internet as a whole.
#8: Soovle
Last but not least, Soovle is a fairly simplistic yet effective free keyword research tool.
If you've ever used Google Autocomplete to locate keywords for your website content, then this will look very familiar
. All you need to do is enter your search term and hit "Soovle."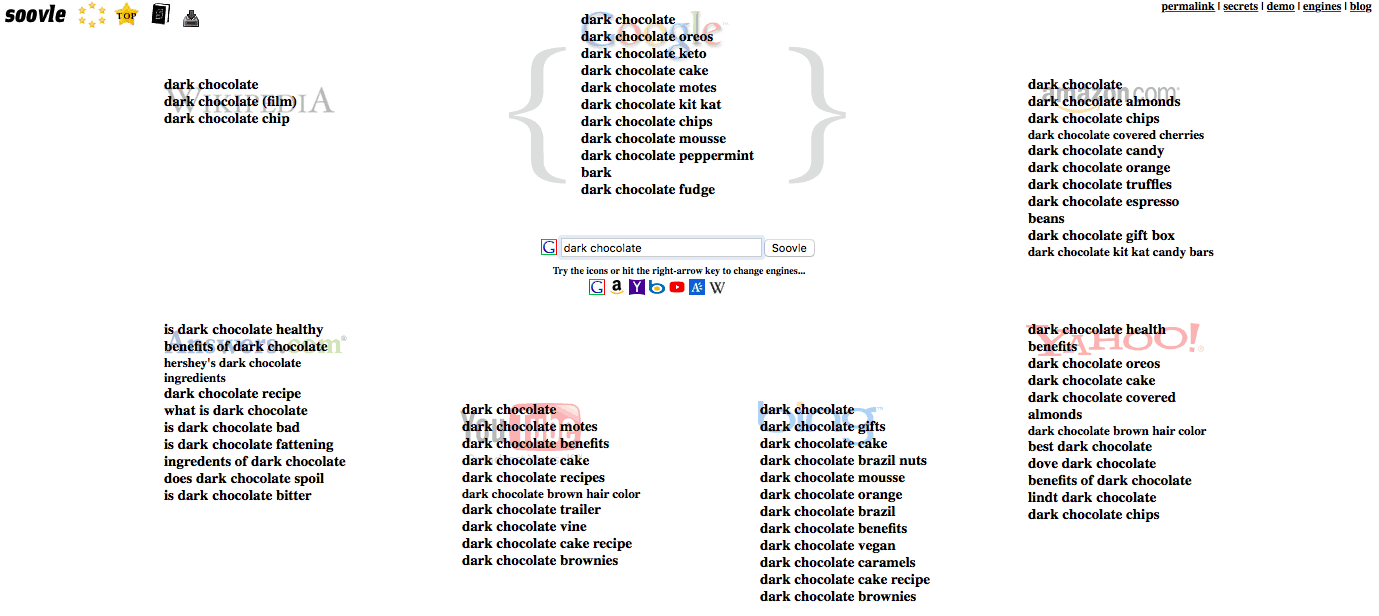 The results that you see have been pooled from a
variety of sources
. In fact, you'll see the terms visually organized by search engine, from Yahoo to Bing, YouTube, and—of course—Google, to ensure that you cover all your bases. Sure, there are not that many results per platform, but you can set a default platform (in my example, it's Google) which will give you a few extra suggestions for that specific platform. It's quick, it's efficient, and it might be just what you need on days where you're struggling with ideas and/or resources.
Keyword Research Tip #5: Once you've used a keyword research tool, be sure to actually Google each search term that you're thinking of using in your content and check out the top three results. Your aim is to match—or, even better, beat—the top three websites, so you need to ensure that your website exceeds theirs in terms of quality content, design, formatting, as well as keyword insertion (of course!).
Free vs. Paid Keyword Research Tools
Free keyword research tools are ideal for new businesses, startups, or anyone who's just becoming familiar with the world of SEO
. However, if your SEO knowledge is more advanced or your company is rapidly growing, it might be worth considering a paid tool. Why? Well, free keyword tools tend to offer an abundance of results, which takes time to sort through—and
time equals money in the world of business
. Furthermore,
paid keyword tools streamline their results from huge amounts of data in accordance with low-competition keywords
, which are going to be more worthwhile to target. We recommend using a free tool until you grasp the prospect of keyword research and build up your experience level. Then, if your budget allows, progress to the paid versions for optimum results.