It's complex, and to get the most out of it, you need to know how to code.
Hiring a web developer to manage your Magento store is expensive, too. The good news? There are plenty of great Magento alternatives to pick from. But all of them say they're the "best" option for you — obviously, that's not always true. Your e-commerce tool should make it easy to put your products online. It should help you
market your products, manage your inventory, and track how well business is doing.
The features you need depend on whether you're a new online seller or an established one. But either way, you also need to consider your current budget and the future growth of your store. With so many platforms vying for your business, you're faced with a tough choice. Fortunately, I've done the research for you! This expert evaluation of the best alternatives to Magento will make your decision easier.
Magento Alternatives – Our Top Picks:
Shopify
– Tons of payment gateways and a rich app store
Wix
– Stunning templates to make your products stand out
BigCommerce
– Strong security features to keep your store safe
WooCommerce
– The best WordPress plugin for e-commerce
Volusion
– Beginner-friendly wizard to set you up for sales right away
GoDaddy
– Auto-optimization feature will help you rank well on Google
What We Look For in the Best Magento Alternatives
After testing dozens of e-commerce tools, I can tell you the top ones give you at least the following:
Ease of use. The best tools are less complicated than Magento — no more headaches!
Flexibility. You should be able to sell a lot of products, and customize your store so it matches your business branding.
Powerful e-commerce features. The success of your business depends on the tools to display, promote, and manage your product inventory. You don't have to know how to code to make the most of these features.
Outstanding support. Your online store needs to run 24/7, so it's important that you have customer support, community support, and/or a knowledge base to use if something goes wrong.
Free trial. You can try any of these tools risk-free!
Shopify – A Powerful All-in-One E-Commerce Platform
As one of the most popular e-commerce platforms for small businesses and sole traders,
Shopify
offers lots of user-friendly tools to make your online store a success. When you sign up with Shopify, your hosting, security, and domain name are included in the pricing. However, Shopify can still be expensive. Even its most basic subscription plan charges a relatively hefty monthly fee. But Shopify might still be worth the investment.
As a dedicated all-in-one e-commerce platform, it has lots to offer.
For example, there are built-in tools to make your products look great, and you can add up to 3 different options (e.g., size, color) and 100 variants (e.g., small, medium, large; red, blue, black). There's also a
14-day free trial
, so you can test Shopify risk-free.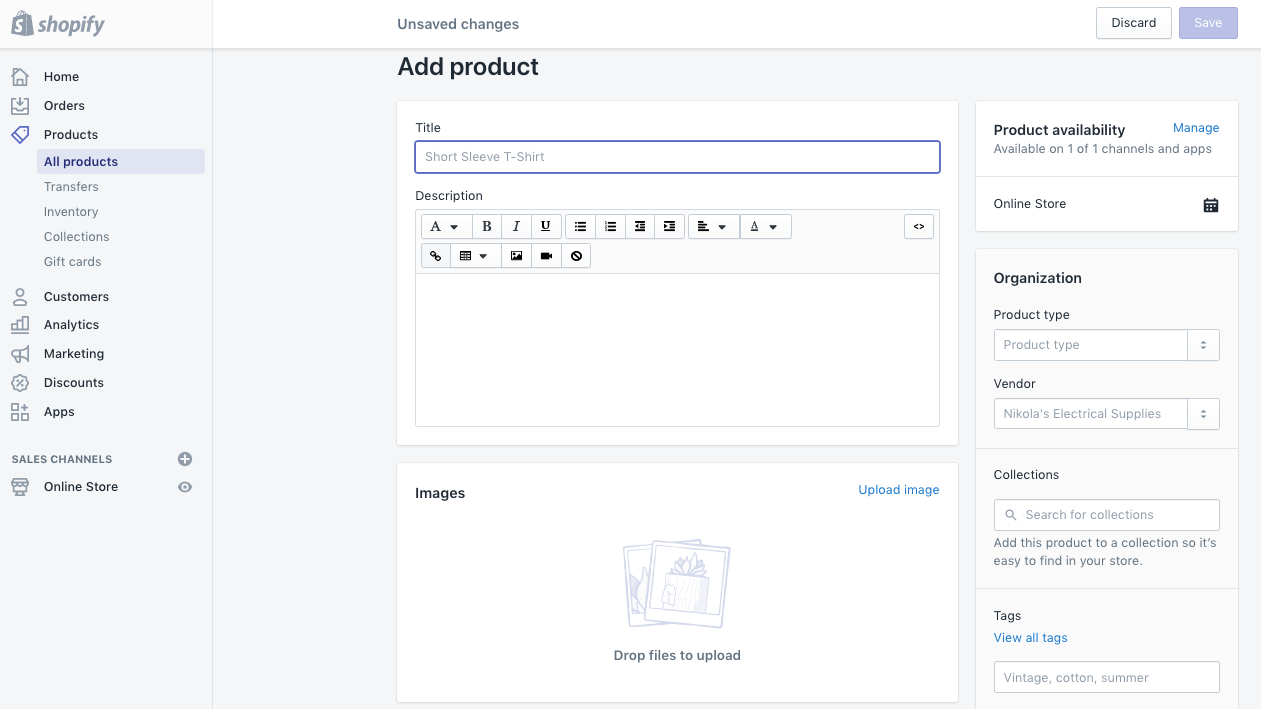 All of Shopify's themes are designed to display perfectly on mobile devices — an essential feature since so many people shop on their smartphones. But the choice of themes is quite limited, and you can expect to pay up to $180 for a premium theme. Fortunately, there are also around ten free themes to choose from.
Shopify has an intuitive interface that makes adding products to your store painless.
As soon as you sign up, you're guided to work through the steps to add your first product. Getting your store online is fairly quick and easy. For more info about Shopify, read our
expert review
. We also have a
comprehensive guide about Shopify's pricing plans
to help you pick the best plan for you in case you want to sign up!
Features
Payment gateways. Shopify offers more than 100 payment gateways, including its own integrated solution, "Shopify Payments." Payment providers include PayPal, Stripe, Amazon Pay, and some country-specific gateways such as Alipay Global (China). There are no additional transaction fees if you use Shopify Payments, but using a third-party platform will cost you a fee of between 0.5% and 2% (depending on the plan you're on). Shopify Payments isn't available in all countries, either.
Abandoned cart technology. Shopify comes with a built-in abandoned cart function that allows you to automatically send an email to registered customers who leave items in their cart without checking out. This can boost your sales by up to 25%.
App Store. You can boost your store's functionality by installing one or more of Shopify's 2800+ apps. Categories in the App Store include Orders and shipping, Inventory management, Marketing, Store design, Sales and conversion, Finances, and Reporting.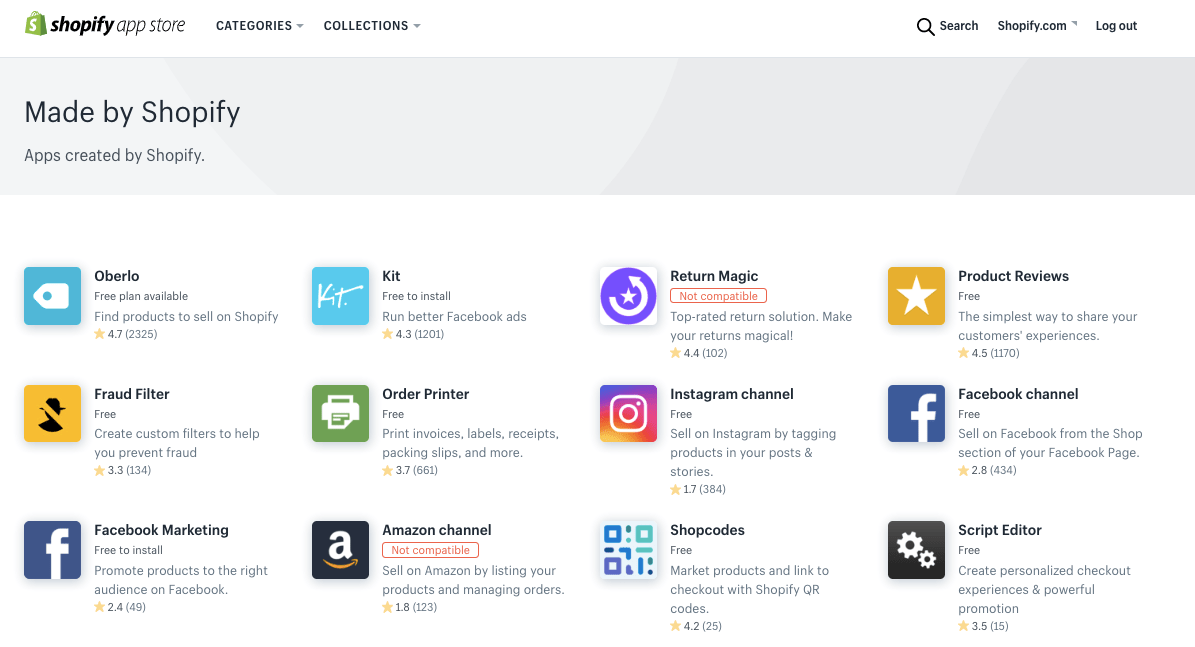 Multi-channel sales. Shopify seamlessly integrates with Facebook and Instagram to enable you to sell not only in your Shopify store, but also directly through your Facebook and Instagram pages. This is an excellent way to increase sales because it lets customers purchase items without their having to navigate through your website.
| | |
| --- | --- |
| Free Trial | 14 days |
| Customer Support | 24/7 email, phone, and chat, plus a community forum |
| Product Variants | 100 |
Wix – The Easiest to Use Website Builder with E-Commerce
Wix's drag-and-drop editor makes building a website really easy — and it's built-in e-commerce features give you a straightforward way to start an online store. Having a streamlined checkout process is important for giving customers a great user experience. Wix's checkout process is easy, and you have a number of payment processing options, including PayPal and Stripe. There aren't as many payment options as dedicated e-commerce platforms like Shopify have, however. While Wix does have a
free plan
, it doesn't include e-commerce features, and the e-commerce plans aren't cheap. But when considering the fees involved, you should keep in mind that Wix is a fully hosted platform.
You don't have to pay additional costs for things like hosting, SSL, and a domain name, and you don't have to pay any commissions for the sales you make.
And with Wix, a domain name is included if you sign up for a 12-month plan or longer. Wix has a large selection of apps (extensions) that you can easily add to your web store. There are currently 50+ apps in the "Online Store" category, including Wix Chat and Wix Art Store. There are also 40+ apps in the "Marketing Tools" category, such as the Facebook Messenger app and the Social Testimonials app. For more about Wix, read our
expert review
or our
complete guide to Wix pricing
.
Features
Marketing. Promoting your online store is essential for generating more sales, and Wix has a complete marketing solution called Ascend. You do have to pay an extra fee to use all of Ascend's features, but the cost is worth it. Ascend gives you tools to:

Manage your customer interactions
Promote your online store with email marketing and social posts
Offer coupons to your customers
Manage your SEO for better Google rankings
Collect visitor email addresses through pop-ups
Send your customers invoices and price quotes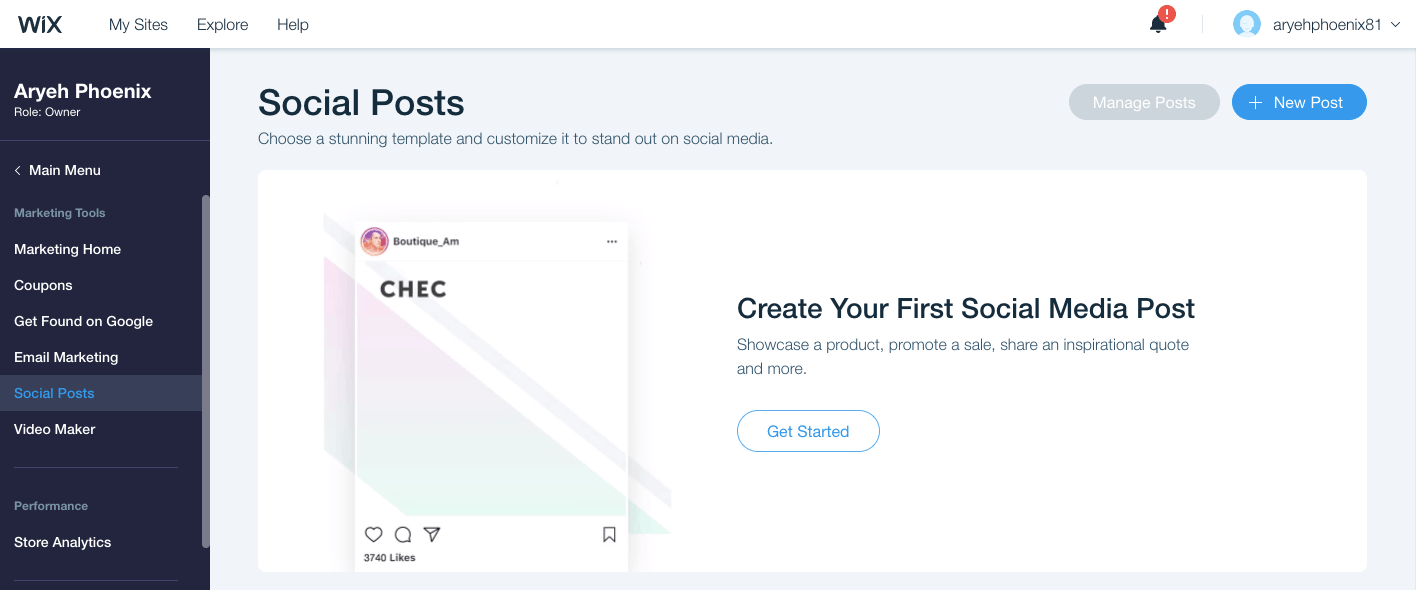 Product display. With Wix, you can make your products stand out, using galleries of product images. You can have up to 15 images for each product.
Design features. Wix boasts over 500 templates. Although only 80+ of them are in the "Online Store" category, you're not limited to choosing an e-commerce template for your website – it's easy to add an online store to any Wix site. The only drawbacks are that you have to edit the mobile version of your store separately, and if you change your template, you'll have to rebuild your store.
Product options. Setting up product options and variants is fast and easy. You can have up to 6 options and 30 variants. I love that once you've used a variant for one product, that variant becomes available for other products without your having to type it again. Just hit enter — saves you time! You can also set different prices for individual options.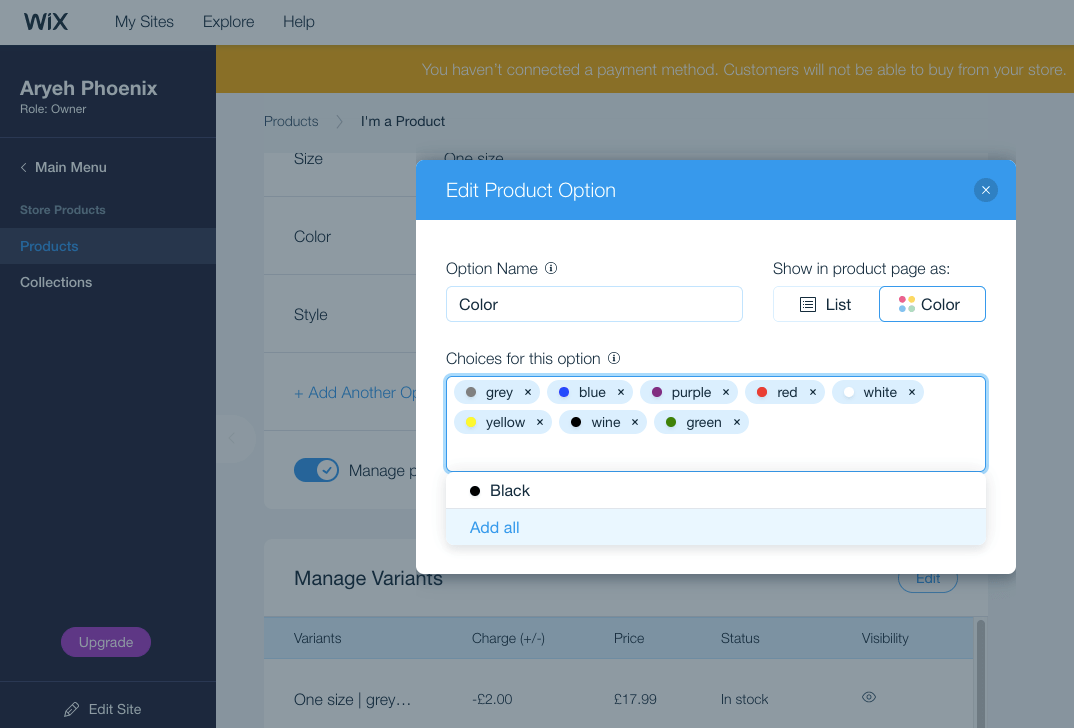 | | |
| --- | --- |
| Free Trial | No, but there's a 14-day money-back guarantee |
| Customer Support | Monday-Friday 5am-5pm U.S. Pacific Time for e-commerce issues; email and phone support 24/7 for other issues |
| Product Variants | 30 |
BigCommerce – A Complete E-Commerce Solution for Small Businesses
BigCommerce has lots of powerful, advanced features for building an online store, but it's exceptionally easy to use.
On all plans, you can use multiple sales channels, such as eBay and Amazon, and you can offer coupons, discounts, and gift cards easily. There are even templates for designing your gift cards! PayPal is the standard payment processor, and it's powered by Braintree. The advantages of this include specially negotiated processing rates depending on which
BigCommerce
plan you're on, and faster payouts. You can use other payment gateways via Braintree, too, including Amazon Pay, 2Checkout, Square and Stripe, as well as digital wallets like Apple Pay and Google Pay.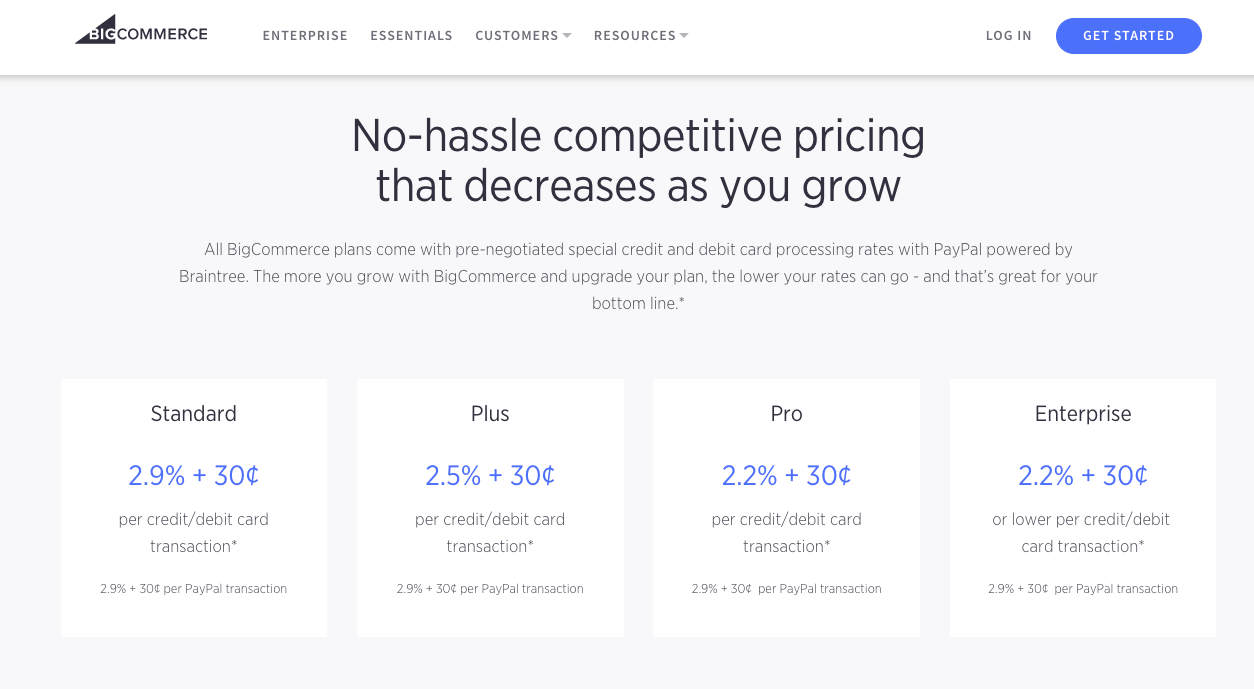 BigCommerce's pricing is similar to Shopify's. However, if you compare both platforms' cheapest plans, you'll find that BigCommerce gives you more features. For example, you can create gift cards on BigCommerce's most basic plan, but you have to pay almost three times as much to do that on Shopify's mid-tier plan. BigCommerce offers four plans, and what's great is that none of them add transaction fees on top of those charged by payment gateways. Check out our
expert review
to learn more about BigCommerce.
Features
Security. BigCommerce focuses heavily on keeping your online store secure, with exceptional DDoS protection and fraud monitoring. You and your customers can be sure that transactions are 100% secure and PCI-compliant.
Preview your store. If you want your friends, family, or email subscribers to provide feedback about your store before it goes live, you can use BigCommerce's Preview Your Store feature to give them access to your store with a secret code.
Multiple currencies. Selling to a worldwide audience is simple with BigCommerce. You can add different currencies to your dashboard and let customers choose their local currency when they're viewing your products. BigCommerce provides an automatic currency exchange rate through its Currency Service.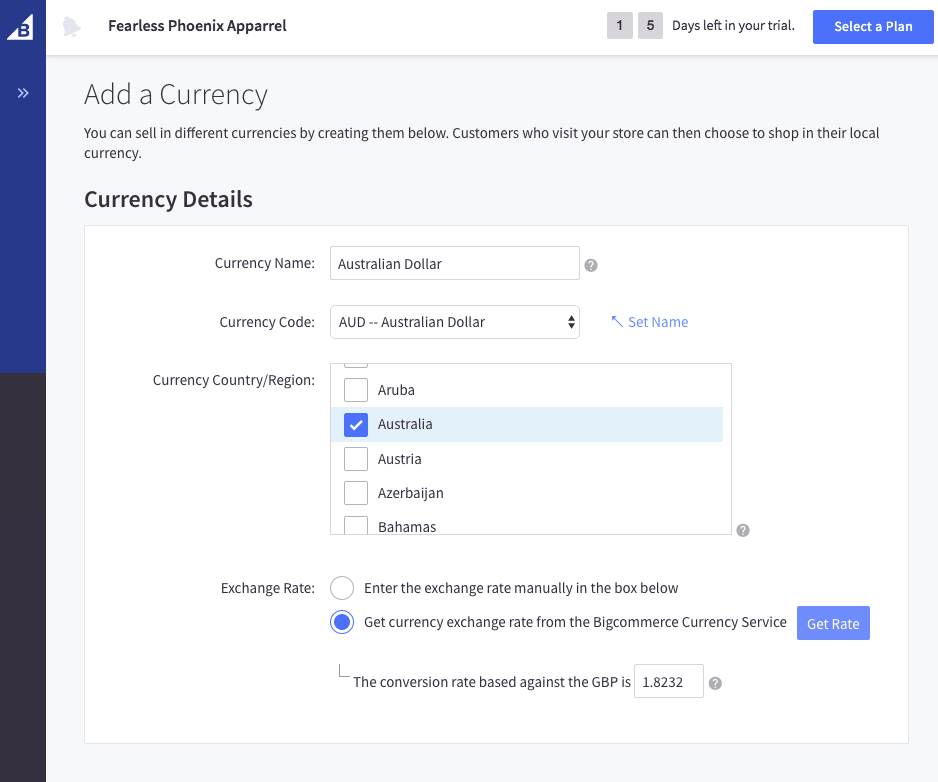 Advanced analytics. By using the analytics feature incorporated into your BigCommerce dashboard, you can monitor real-time traffic and sales, produce sales tax reports, and analyze the purchase funnel. BigCommerce's analytics help you evaluate your store's performance and compare the results when you market products in a different way.
| | |
| --- | --- |
| Free Trial | 15 days |
| Customer Support | 24/7 via phone or email, live chat, community forum |
| Product Variants | Maximum of 600 total variants per product (with a maximum of 250 per option) |
WooCommerce – Best E-Commerce Plugin for WordPress
WooCommerce is very different from the Magento alternatives on this list.
Rather than being a complete, all-in-one solution for e-commerce, WooCommerce is a plugin that works only on WordPress.
This means that you need to already have a self-hosted WordPress setup, or you need to purchase web hosting and have WordPress installed. You can also use WooCommerce with a site hosted on WordPress.com, but only if you upgrade to the Business plan. Once installed, WooCommerce is easy to use. But to get the most out of it, you'll need to be familiar with WordPress.
WordPress
has a steeper learning curve than most platforms, like
Wix
and
Shopify
, but it offers much more flexibility in design and customization. There are thousands of plugins you can use with WordPress, and most integrate seamlessly with WooCommerce.
To boost your sales using WooCommerce, you can offer your visitors a coupon or discount in exchange for their email address.
You can also automatically show products related to the one a visitor is viewing, which can encourage them to stay on your website longer. It's easy to showcase products across your website, too. As a platform, WooCommerce is 100% scalable. It will grow with you as your online store generates more and more sales. There are no restrictions. WooCommerce is
free to install
, and many of the extensions are free to use. Some premium extensions require a one-time or yearly payment.
You'll also need to consider the cost of web hosting, your domain name, and SSL security (essential for an online store).
Also keep in mind that unless your host provides a kind of
managed WordPress hosting
, you'll have to manage things like updates and backups yourself. Check out our WooCommerce
expert review
for more information.
Features
Customization potential. WooCommerce is an open-source e-commerce solution, which makes it highly customizable. There's a huge range of free and premium extensions that you can add to WooCommerce to get features like subscriptions, a membership area, accommodation bookings, and donations.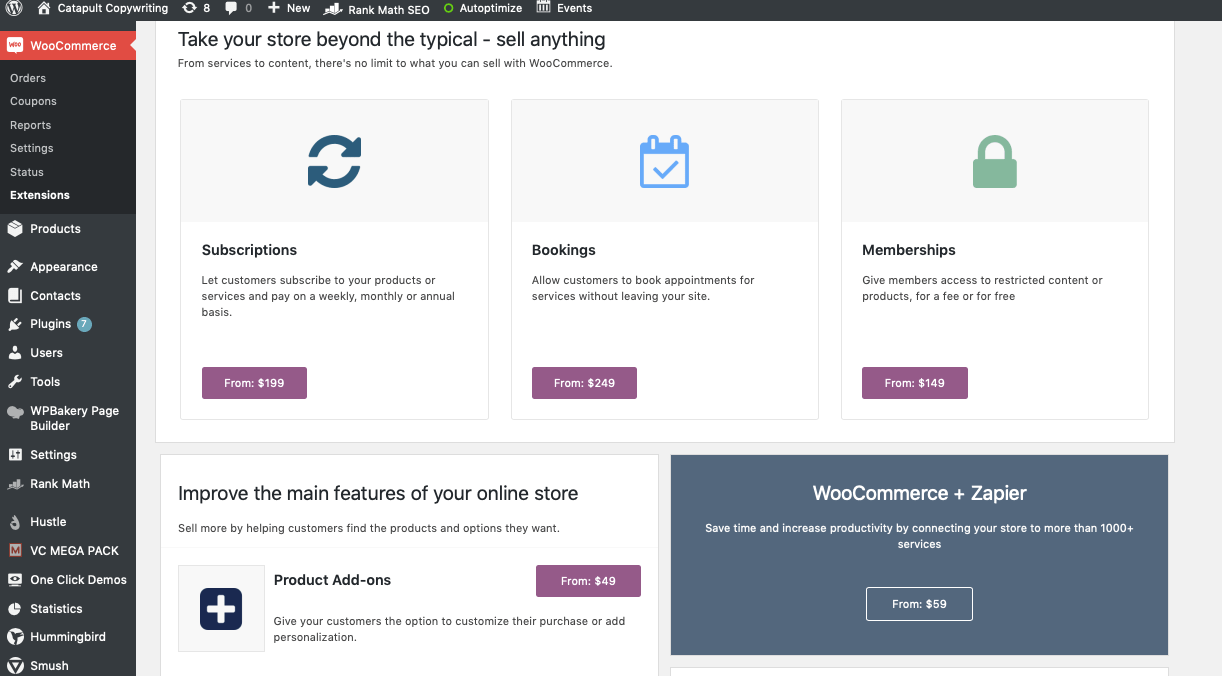 Product tools. With WooCommerce, you can keep your store as a separate part of your website, or you can embed products onto your blog posts and landing pages to boost your sales conversions. You can also build landing pages that take your customers directly to the checkout.
Unlimited everything. There are no limits on the number of products you can add to your WooCommerce store, and no limits on the number of images for each product. What's more, you can have unlimited variations for your products, too, and set different prices for different variations and options.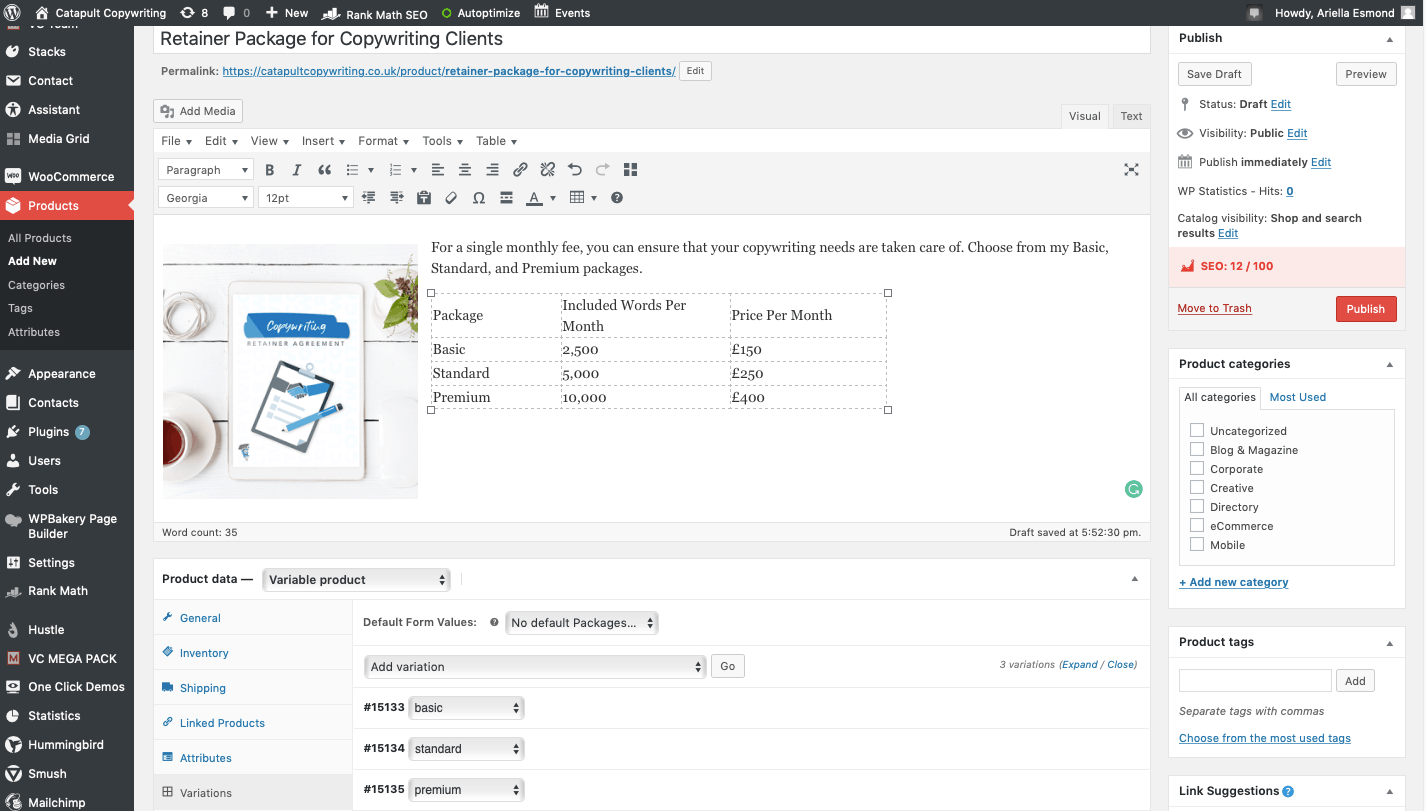 Sales Management. WooCommerce gives you a wide range of built-in tools to help you manage your inventory and sales. You can manage currencies, tax options, and shipping options and rates. You can also process one-click refunds directly from your dashboard. You get inventory management, order management, and the option to allow customers to immediately check out as a guest rather than having to register first.
| | |
| --- | --- |
| Free Trial | WooCommerce is free, but WordPress requires a hosting plan. |
| Customer Support | Only for installation issues. Help docs and community support are available. |
| Product Variants | Unlimited |
Volusion – Easiest All-in-One Dedicated E-Commerce Solution
In terms of ease of use, Volusion is similar to Wix. But unlike Wix,
Volusion
is a dedicated e-commerce platform that focuses on giving you sales tools to make your online store a success.
There are around 14 free, customizable themes available for your online store. They're attractive and designed to load quickly on both desktop and mobile devices. Volusion provides a streamlined way of adding products to your online store and gives you plenty of options to make them look fantastic. You can set different prices for different variants easily, and there are no limits on the number of variants you can create.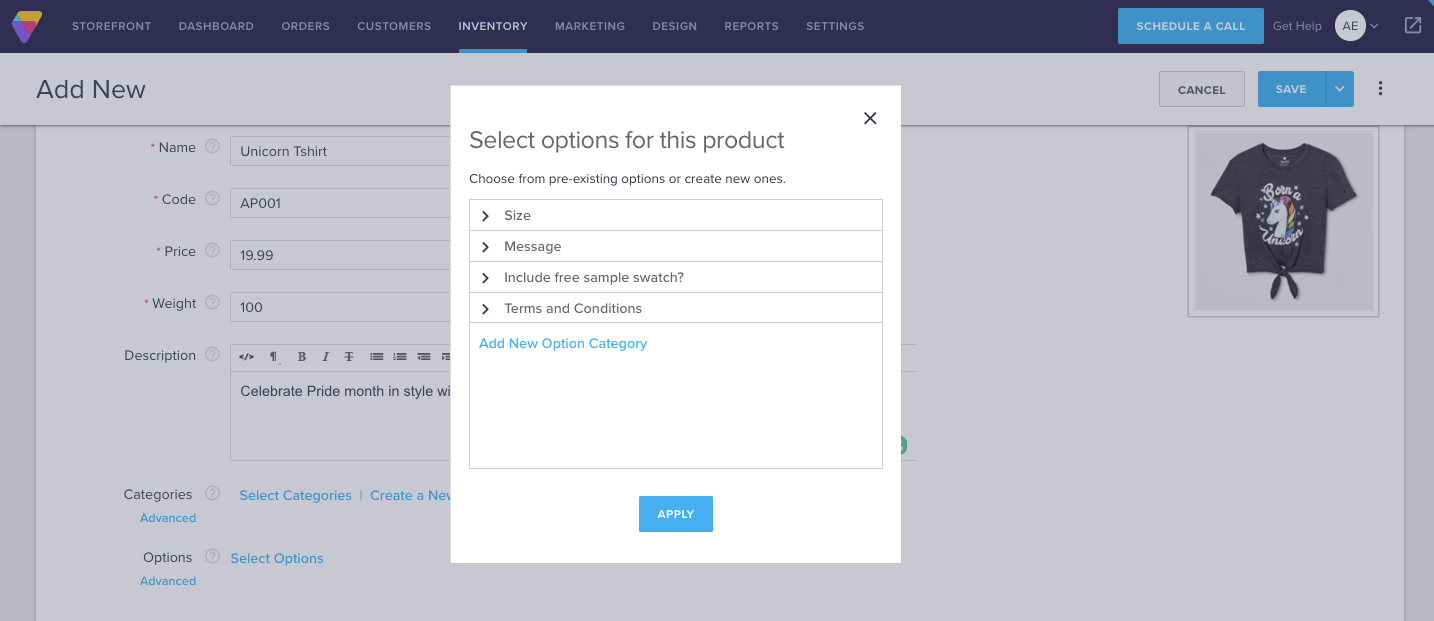 If you're a beginner to selling online, you'll love Volusion's design wizard, which can create your online store in a matter of minutes.
It's similar to Wix's ADI feature. Just answer easy questions about what you're selling and whom you're selling to, and the wizard will build your online store for you — no stress. Learn more about Volusion by reading our
expert review
.
Features
Dropshipping. If you want more sales opportunities, you can use Volusion's built-in dropshipping function. It allows you to quickly add products to your store, without having to worry about managing the extra inventory and shipping.
User-friendly interface. Volusion takes you step by step through the process of setting up a store and adding your first products. The editor is simple, and you can easily see a preview of any changes you make to your store.
Marketing tools. You want to attract the right kind of customers. At no additional cost, Volusion gives you a range of marketing tools to make this possible, including all-in-one SEO tools, discount and promo tools, and direct campaign tools.
Dedicated support. If you subscribe to the Business plan, you'll get a dedicated account manager who will help you get the most out of Volusion. You can contact them via live chat or schedule a call to discuss getting help with things like marketing, design, and SEO.
| | |
| --- | --- |
| Free Trial | 14 days |
| Customer Support | 24/7 phone or live chat |
| Product Variants | Unlimited  |
GoDaddy – Cheap but Comprehensive E-Commerce Solution
GoDaddy is well-known for being the place to go for domain names. But it also offers an excellent website builder, called
GoCentral
, that has a specific online store option. There's only one plan if you want all the online store features.
It includes hosting, security, domain name, and all the e-commerce features you need.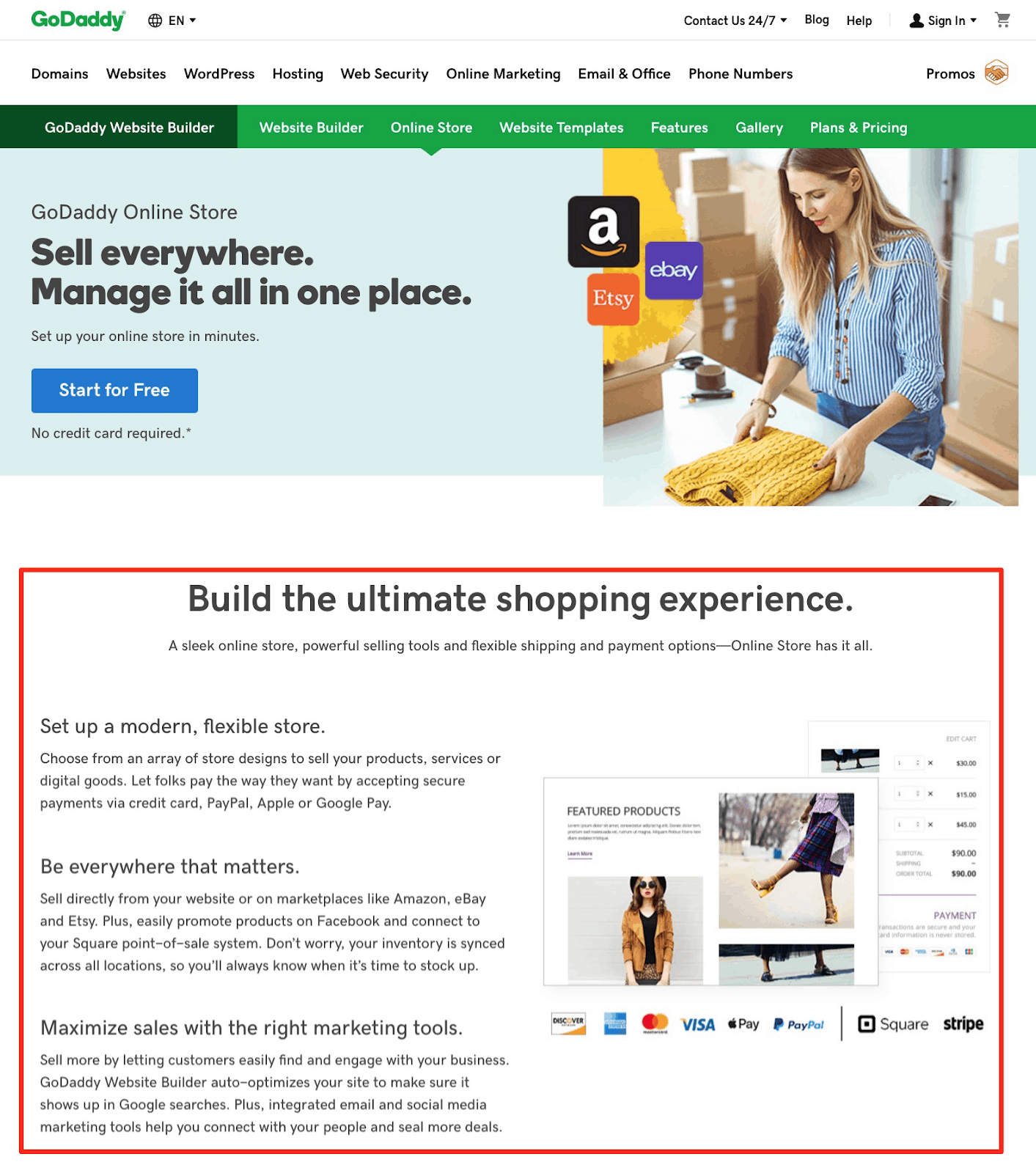 GoDaddy offers a limited amount of payment providers, including PayPal, Stripe, and Square. With GoDaddy, Stripe and Square enable you to accept Apple Pay, too. All of GoDaddy's gorgeous templates are mobile-optimized, and you can customize them to match your business branding, too. Managing your orders with GoDaddy is easy.
You get text messages whenever someone orders from your store, so you won't miss an order.
Your dashboard gives you a view of the sales you've made and gives you automated abandoned cart recovery email options, too. Read our GoDaddy GoCentral
expert review
to learn more.
Features
Generous free trial. To try out all the online store features risk-free, GoDaddy gives you a full month, which is much longer than any of the other free trials mentioned on this list. You won't need to provide credit card details either.
Product add-ons. For your products, you can create not only different options and variants, but also different add-ons. For example, you can have gift wrapping as an add-on and allow customers to select different wrapping papers from a list. Engraving is another add-on, and you can provide a text box for customers to add their custom text. You can also give different prices for your various add-on choices.
Auto-optimization. Getting your online store to rank well on Google doesn't have to be challenging. GoDaddy's auto-optimization feature, built right into its website builder, makes it easy to get your store the attention it deserves.
Mobile checkout. GoDaddy's mobile checkout is great for your customers who want to shop on their smartphones. There are fewer steps required for checkout, so your customers are more likely to complete their purchase.
| | |
| --- | --- |
| Free Trial | 1 month |
| Customer Support | 24/7 phone support, live chat, knowledge base |
| Product Variants | Unlimited |
Which Magento Alternative Is Best for You?
If your business is small or medium-sized, or if you're a sole trader on a tight budget, you need to be able to run an online store without needing lots of technical knowledge or spending a fortune hiring someone to help you figure out Magento.
All-in-one e-commerce platforms and website builders with e-commerce features can be a huge help.
Certain e-commerce platforms in this list carry a substantial price range, particularly when opting for the more advanced plans. Prior to making a long-term commitment, take a thoughtful assessment of your store's actual requirements. With the exception of GoDaddy, most platforms allow you to commence with a lower-priced plan and enhance it as your online store expands.
My Recommendations
If you're a very small business or a sole trader with only a small amount of products to sell — and if you don't envision your business growing massively — then an e-commerce plan from a website builder like Wix or GoDaddy is best. For a fairly cheap price, you get plenty of sales, marketing, and management tools.
If your goal is to grow your business every year, go with BigCommerce. With lots of powerful features even in the cheapest plan, it gives great value for money. But if you want access to more apps for dropshipping, or if you want to add Google customer reviews to your store, go with Shopify.
If you already have a WordPress website, pick WooCommerce. You can create an online store for no extra cost (unless you buy extensions). I wouldn't recommend WooCommerce if you're not already familiar with WordPress, though — again, the learning curve is pretty steep.
| | | | | |
| --- | --- | --- | --- | --- |
| | Price | Standout Feature | Apps and Extensions | Ease of Use |
| Shopify | $$-$$$$ | Multi-channel sales. | 2800+ apps | 4/5 |
| Wix | $$-$$$ | Product videos | 250 apps (50+ e-commerce specific) | 4/5 |
| BigCommerce | $$-$$$$ | Getting feedback on your store before it's live | 600+ apps | 4/5 |
| WooCommerce | 0-$$$ | Flexibility and customization options | 280+ official extensions | 3/5 |
| Volusion | $$-$$$$ | Dedicated account manager for 24/7 personal support | 20+ apps | 5/5 |
| GoDaddy | $$ | Add-ons feature for your products | No app store, and limited built-in integrations | 4/5 |