as little as $5
. As I browsed through kawaii illustrators on Fiverr, I wondered if a higher price meant better quality.
Can you hire a talented artist for less and still get great work?
To find out, I hired three freelance illustrators to complete the same project at a range of price points. See which of the three artists delivered the best work and take a look at my full list of top 10 list kawaii creators below.
Hiring 3 Kawaii Illustrators to Test
On Fiverr, most kawaii illustrators offer multi-tiered gigs, with the cheapest option starting at $5, $10, or $15. The basic package typically includes a single character with no background. If you pay more, you can purchase a standard or premium package with multiple characters or a detailed background. Although I realized it might be difficult to compare illustrations with varying levels of detail, I thought this approach would be a good way to see if paying more for a premium package really offered better overall value.
I chose artists at three different price points ($15, $40, and $100) to create an illustration of an ox for Lunar New Year.
 Because many artists also create chibi drawings and children's illustrations, I made sure to specify that I wanted the ox in kawaii style.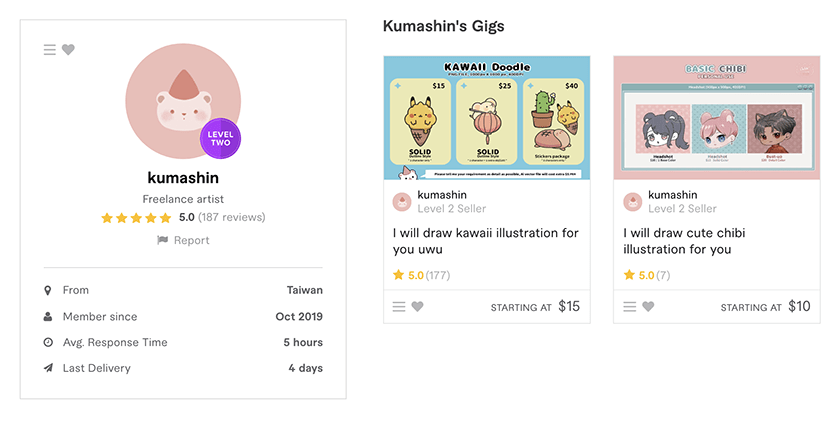 The cheapest seller grabbed my attention right away. Not only was their style impossibly cute, but kumashin's profile also reflected nearly 200 five-star reviews and a Level Two Seller badge. As one of Fiverr's top credentials,
 Level Two Seller status indicates excellent reviews, on-time deliveries, and consistent work over the past 60 days
.
I booked kumashin's basic $15 gig
, which included a single kawaii character and a turnaround time of four days. The package also gave me the rights to use the illustration for commercial purposes.
The gig didn't include revisions, which gave me pause. But as I learned later, this seller's creative process allowed for plenty of input and change requests.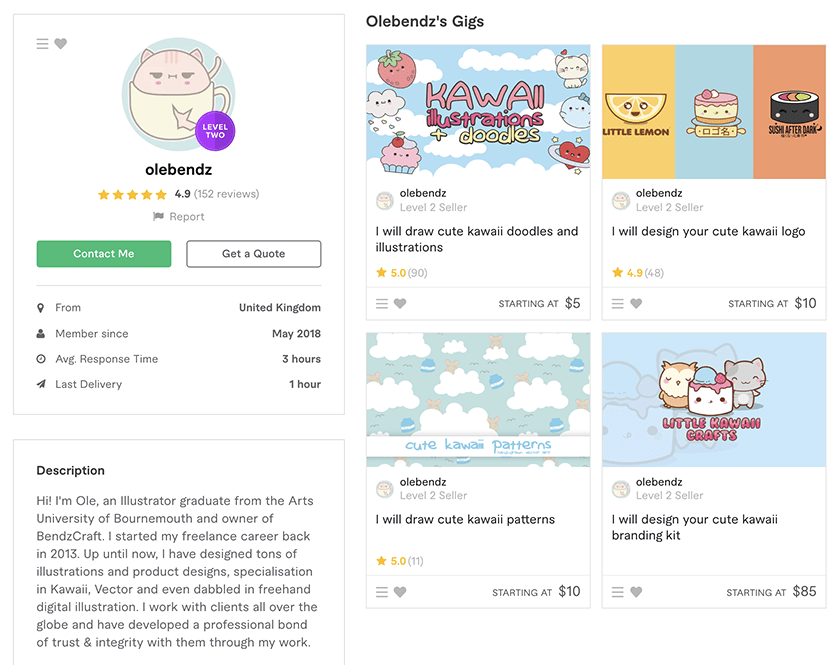 Another Level Two Seller, olebendz caught my eye with their colorful drawings and great reviews. They had over 150 reviews and a 4.9-star rating, and their profile detailed their art degree and eight-year career in the field.
I booked the premium package for olebendz's illustration gig, which included either five kawaii doodles or one illustration with a background for $25.
 For consistency purposes, I requested a single illustration with a background. I paid an extra $15 for a faster two-day turnaround (instead of four), for a total of $40. This gig came with one revision, which made me feel more comfortable that I would get a finished product I was happy with.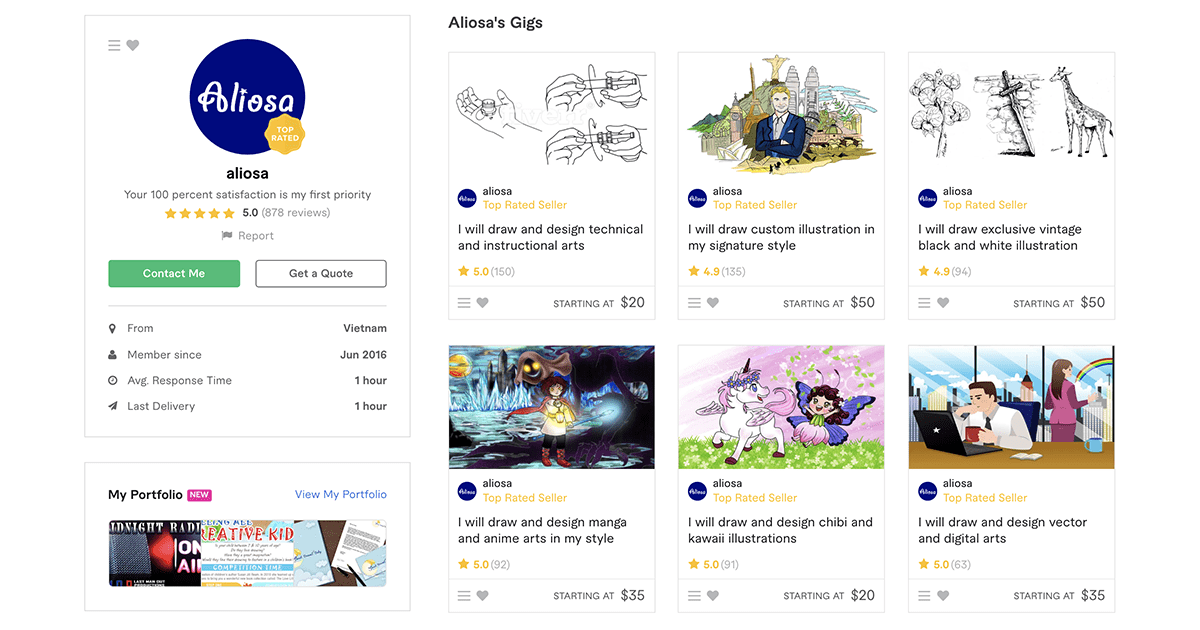 While Level Two Seller status is pretty good, aliosa's Top Rated Seller credential is even more impressive. This designation reflects that
 the freelancer has maintained a 4.7-star rating or above and has earned at least $20,000 on Fiverr
, which is a serious commitment. Aliosa's profile also showed a five-star rating and nearly 900 reviews, making them an easy choice.
I booked aliosa's premium $80 gig
, which came with a highly detailed kawaii character. However, a two-week turnaround was pretty lengthy, so I paid an extra $20 for 10-day delivery, for a total of $100.
Unlike the other gigs, this one included unlimited revisions, which seemed like a smart investment since it suggested that the artist would continue to modify the design until I was completely satisfied.
My Experience Working With These Fiverr Freelancers
Before booking the gigs, I messaged each creator with my assignment brief, which asked for an illustration of a kawaii ox for Lunar New Year. Since my design concept was brief, each freelancer asked a few questions in order to get the illustration right:
The $15 freelancer (Kumashin): Right away, kumashin asked about the character's details. Did I want the ox to have an outfit or any other decorations? Would a front view be okay or did I want a specific pose? A front view sounded too simple, so I asked for a side view that showed the full body instead. They made sure I understood that the character would have base color with shadow only (i.e. the color and shading would be pretty simple). I appreciated that they set appropriate expectations.
The $40 creator (Olebendz): Before getting started, olebendz asked about the color palette and any details I wanted to include. I requested an outdoor scene featuring the ox character against a blue sky and a green field. I encouraged them to add natural details like flowers or a sun to fill out the scene.
The $100 illustrator (Aliosa): Since this gig also included a detailed background, I requested similar features as the $40 gig: a blue sky, a green field, and some flowers. In addition, aliosa asked what size I needed for the illustration file, which seemed like an important component that the others hadn't requested.
Comparing the Final Results
The three freelance artists all delivered high-quality illustrations.
While I was happy with all of the work, I found that the artists' interpretations of "kawaii" were pretty varied.
 One truly adhered to the style – with a lovable pose, oversized eyes, and a large body – while the other two created normal, childlike drawings.
The $15 Kawaii Illustration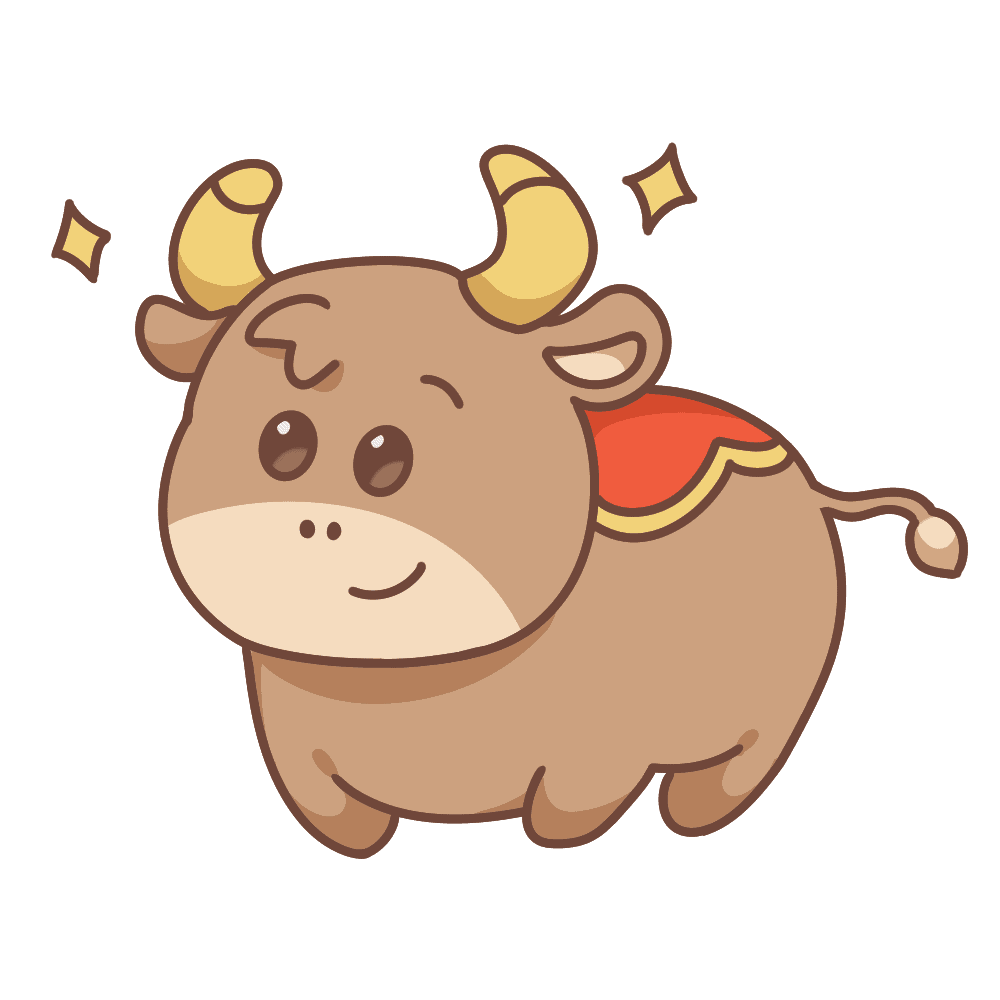 A few hours after I placed my order, kumashin sent me three rough sketches, each with different details for the ox's eyes and mouth. I liked them all, so I requested that the artist combine the details from two of the sketches to create the cutest possible result. Less than a day later, they sent an updated drawing in color.
Although this package didn't include revisions, I appreciated that I had multiple opportunities to request changes during major stages of the process.
A few hours after I approved the illustration, they sent me the final version.
The project took just over a day to complete, which was far faster than the four-day turnaround the package advertised.
 Even when you take our pre-order messaging into account, the job was finished in just two days. With their efficient work and adorable style, I'd happily hire kumashin again.
The $40 Kawaii Illustration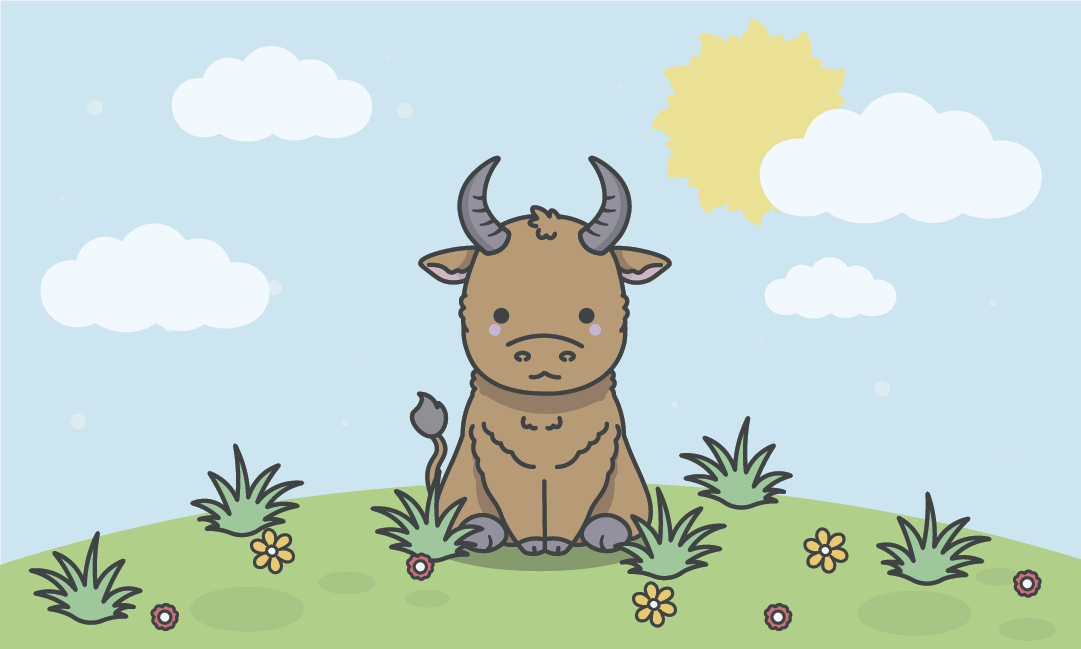 Olebendz also worked incredibly quickly. I'd upgraded to two-day delivery, and they submitted the illustration about 12 hours ahead of schedule.
Olebendz, unlike the least expensive creator, didn't provide sketches or ask for feedback. Thankfully, they had asked pretty thorough questions from the beginning, and the final design resembled exactly what I had requested, encompassing all the background details. However, if I had wanted to make amendments, this could have been an issue, as it's not the most "kawaii"-style illustration I've ever seen. Despite this, the overall experience was friendly and professional.
The $100 Kawaii Illustration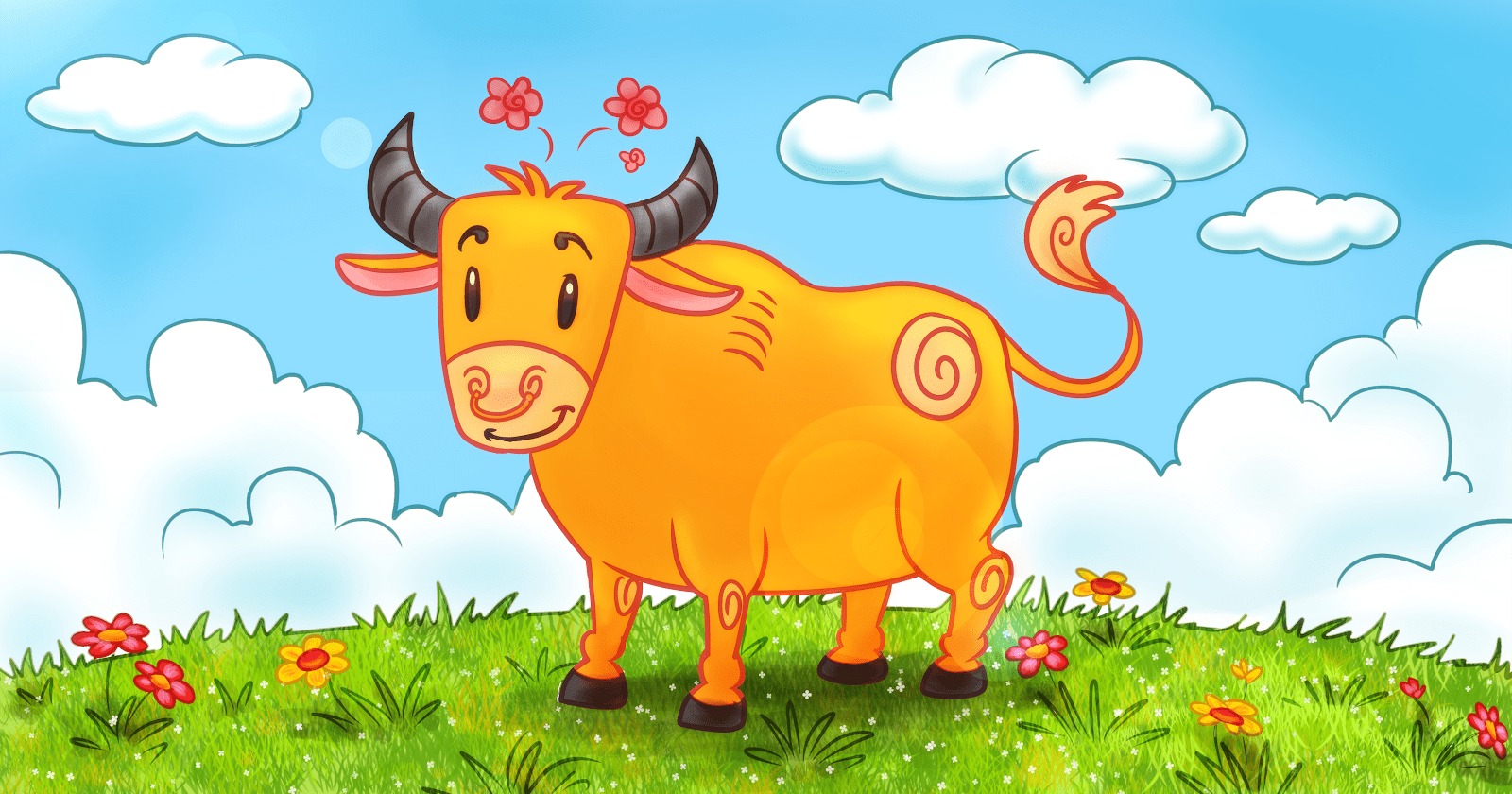 Compared to the midrange creator – who had a pretty hands-off process – aliosa had four different stages, beginning with an outline and ending with shading.
 At each phase, I was able to request changes – but only to the work included in that stage.
 For example, during the final shading stage, I could no longer modify the layout or outline. I appreciated the clearly defined process because it helped me provide better feedback and become more invested in the final illustration. Aliosa checked in regularly, reminding me what to look for and what I could request.
I took advantage of the unlimited revisions in this gig and requested several changes along the way.
 For example, I asked them to add a nose ring to the initial outline of the character, more color variety in the flowers, and higher contrast levels between the clouds and sky.
Although I'd paid extra for a quicker 10-day turnaround, the illustration was done even faster than expected – in just three days.
 In the end, I was pleasantly surprised by the speed and happy with the level of detail in the final illustration. However, while this piece clearly required the most work, it looks the least kawaii, and I'd hired aliosa because this was supposedly their niche. As this experiment shows, you can get kawaii illustrations at any budget.
In fact, you can pay as little as $15 to get a cute drawing in just one day, and to be honest, the cheapest illustration by kumashin was actually my favorite since it's the most classically kawaii.
If you have a bigger budget, it's not necessarily worth paying more, unless you're looking for a different level of work. For example,
I'd consider spending more for a kawaii illustration if you wanted multiple characters, a detailed background, or a shorter deadline.
Hiring a Freelancer for Kawaii Illustrations on Fiverr
Hiring a kawaii artist on Fiverr is incredibly easy, straightforward and cost-effective. It's why our expert rated the platform so highly in
our Fiverr review
. Using Fiverr has a lot of perks including:
Finding a freelancer that fits your budget: Fiverr lets you search within any price range. By setting a minimum or maximum amount (or both) you want to pay, you can find creators for big or small budgets, or anything in between.
Creating the ideal package for your needs: Most sellers offer a range of add-ons for their gigs. By spending a few dollars more, you can add things like a shorter deadline or a specific file type.
Working with experienced artists: Many newer freelancers possess the ability to produce excellent work; however, at times, you may simply feel more at ease when hiring an artist with years of experience or hundreds of completed orders. Fiverr simplifies the process of identifying Top Rated Sellers, allowing you to swiftly assess the ratings and reviews of each freelancer.
The 10 Best Kawaii Illustrators in 2023
I found plenty of skilled kawaii artists on Fiverr.
However, my top choice is kumashin because of their unparalleled efficiency and adorable style.
 Of course, I'd happily hire any of the three illustrators I tested for another project. Check out the rest of my top 10 kawaii illustrator recommendations or if you're looking for a slightly different style, check out the
9 best manga artists for hire
:
FAQ
Can you really get a kawaii illustration for $15 on Fiverr?
Yes, Fiverr has dozens of kawaii illustration gigs starting at $15 or less. As my test showed, the quality of the work is excellent, even for these low-priced gigs. In fact I was most impressed with the cheapest option I tested.
Is the most expensive option always going to provide the best results?
In some cases, the most expensive gig might give you the best finished product. But you shouldn't assume that cheaper packages lead to lower-quality work. I liked the least expensive kawaii illustration best, and my colleague preferred the cheaper option in our Fiverr logo design review.
When does Fiverr charge you?
You pay for a Fiverr gig when you confirm your purchase. That means you can browse gigs, look through freelancer portfolios, and even message sellers before having to pay.
Is Fiverr easy to use?
Yes, Fiverr's marketplace is easy to navigate. After creating an account, you can type whatever you're looking for into the search bar. Then you can filter by category, budget, delivery time, or seller status. With Fiverr, you can find sellers offering popular services like digital marketing and video production or more unusual categories like this one.
Which is better – Fiverr or Upwork?
In my experience, Fiverr is better than Upwork, especially if you want to hire a freelancer for a one-time project. Fiverr's visual interface makes it easy to find the right creator for art or design work, and the Top Seller and Level Two Seller credentials highlight experienced freelancers with great ratings and reviews. If you're unsure, you can see what we really thought of it in our Fiverr review or check out our review of the top freelance platforms in 2023.