you can hire a freelance interior designer for as little as $5.
 I've already curated a list of nine of the best freelance interior designers with varying specialties.  Keep reading to find out which freelancers scored a spot on my list.
Short on Time? These Are the Best Interior Designers to Hire on Fiverr in 2023
Farhanahmad665 – Experienced contemporary designer skilled with residential and retail interiors using wood, glass, and marble.
Stylefragments – Great redesigns, advice, and easy-to-follow shopping lists for DIY beginners.
Urosjovic – Modern interior designs of apartments and office spaces, making use of small space and chic colors.
9 Best Freelance Interior Designers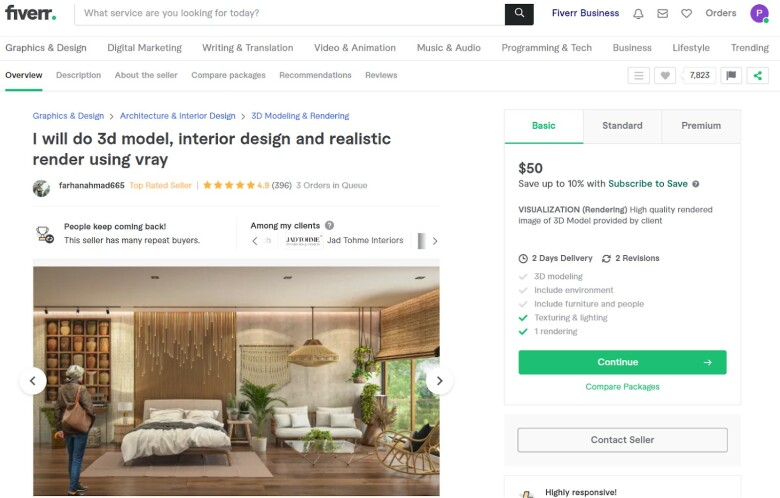 What impresses me most about Farhanahmad665 is his attention to detail. His style makes incredible use of wood, glass, and marble material for a modern yet homey vibe. You'll get a perfect blend of natural and bold colors.
He makes high-quality interior designs for residential and retail lots, including houses, apartments, offices, restaurants, hotels, and stores.
He can make small spaces work, too!+
His basic package starts at $50, but only includes 1 render.
You'll have to go premium, which costs $150, to get 3D models, environment, and lightning.
One thing I really like is that he delivers an alternative in his premium package, so you actually get 2 renderings you can pick between.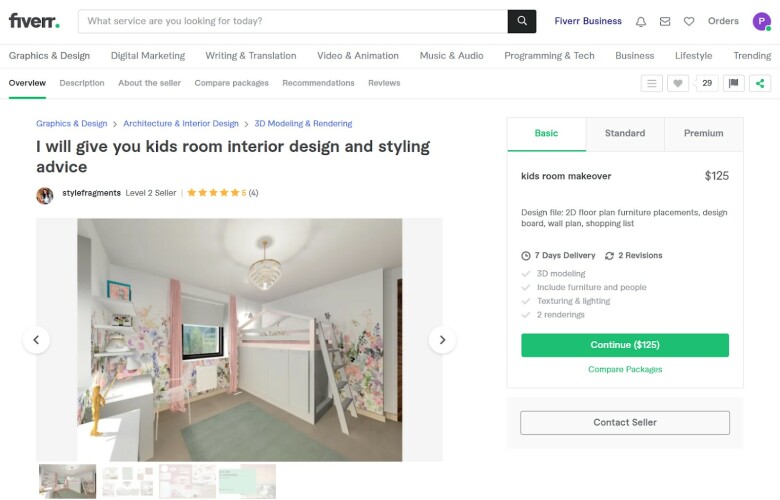 Stylefragments will put together style advice for any room in your house starting at $125. She'll provide easy-to-follow advice on a single interior problem or redesign an entire space.
The standard package, at $155, includes a mood board and clickable shopping list
, so turning the design into reality is as easy as possible.
Stylefragments even offers an Ikea-specific design option
, so you can purchase all of your new furnishings from the popular flat-pack furniture store. I like that she offers revisions as part of every package so that if you aren't happy with an aspect of the design, you can ask for changes.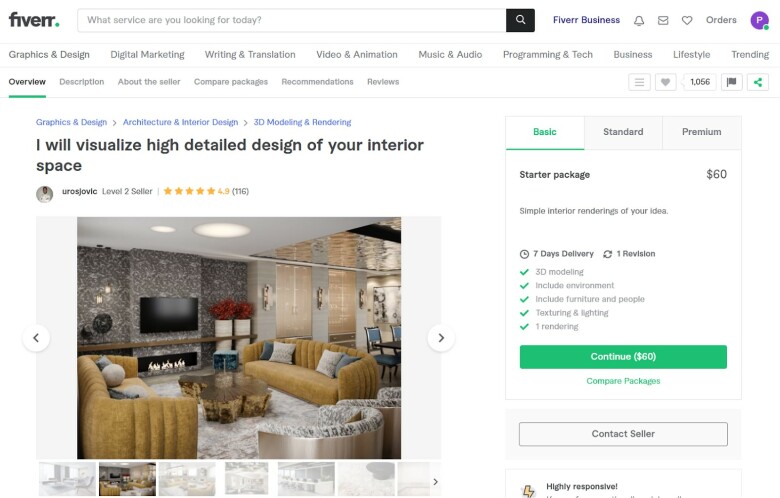 Modern furnishings with a splash of bold colors are perfect for apartments and offices.
Urosjovic excels at contemporary interior design for both of these spaces.
His style makes use of color and texture, and uses a wide range of monochrome, muted browns, and popping accent colors. 
What I love most about Urosjovic's designs are his use of layout and color to make any room appear larger. That's why Urosjovic specializes in small residential and commercial interiors.
He offers 3 packages starting at $60.
For that price, you'lll get one 3D render with textured models, furniture, people, and lighting. That's plenty to spruce up a single space.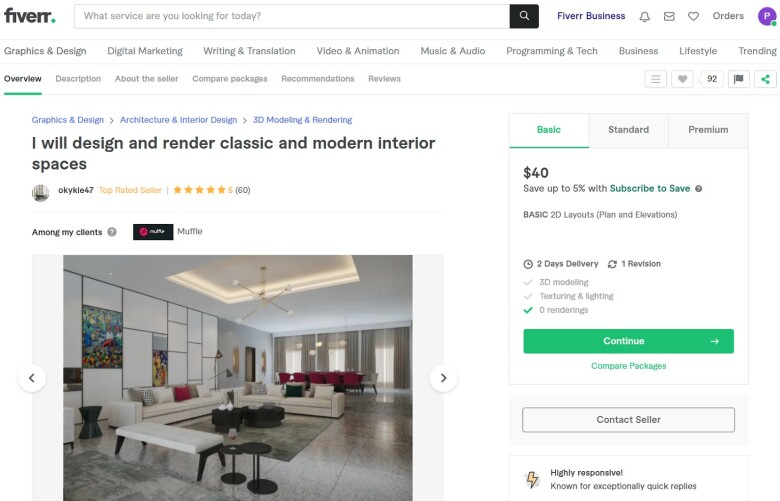 Okykie47 is a top-rated modern interior designer and architect
, so if you've got a larger renovation project in mind, this might be the option for you. For only $40, Okykie47 uses 3DS and Photoshop to design interior layouts and AutoCAD for
 detailed floor plans with elevations for use in construction work
. While they'll help out with any home or commercial interior design, they're particularly adept with kitchens.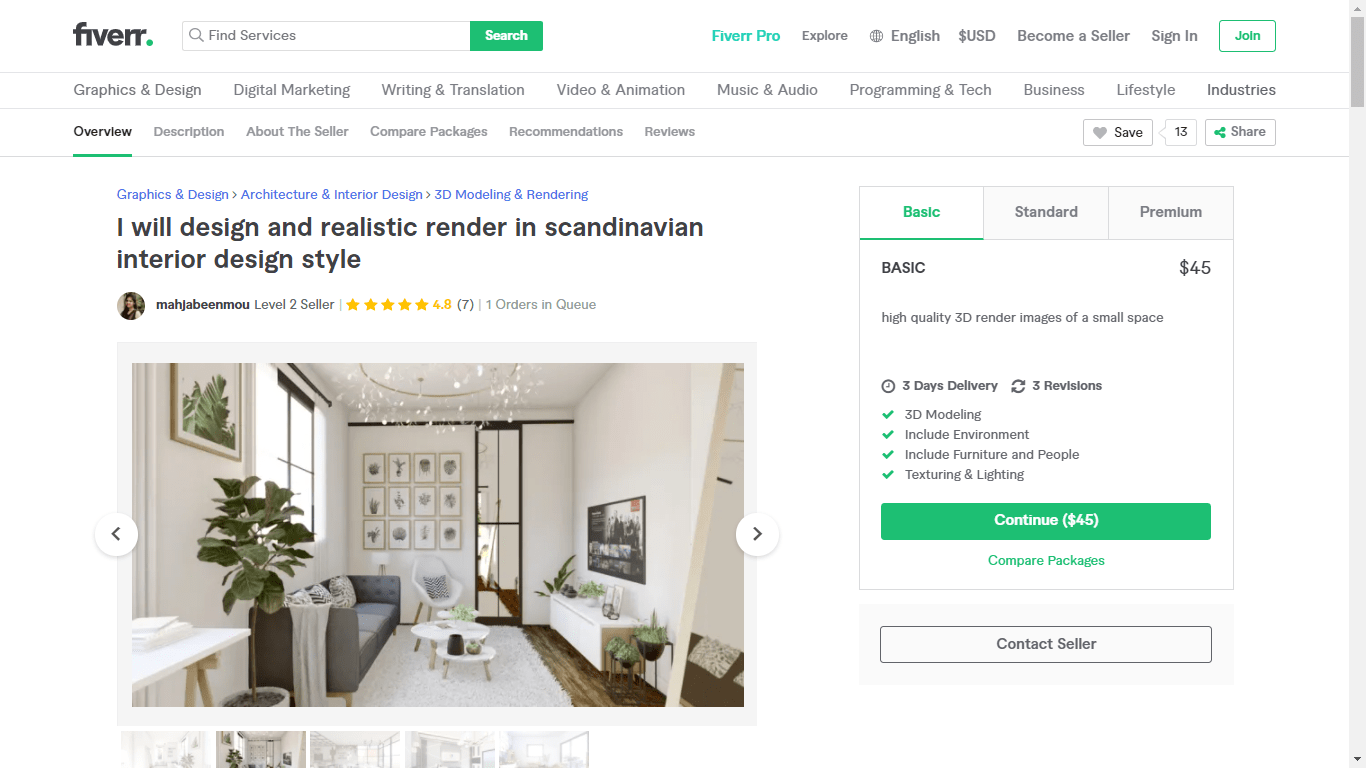 Mahjabeenmou offers a few more services than most of the design freelancers I've come across,
 including premium colored floor plans for real estate agents
. Mahjabeenmou specializes in residential interior design with a Scandinavian vibe so uses a lot of natural lighting, simple layouts, all-white color schemes, and vibrant art in her designs. You can receive 2D and 3D models of your space, plus unlimited renderings.
Every package offers you three rounds of revisions
, but the more you pay, the larger the space Mahjabeenmou will design, up to 1,000 square feet for the premium package.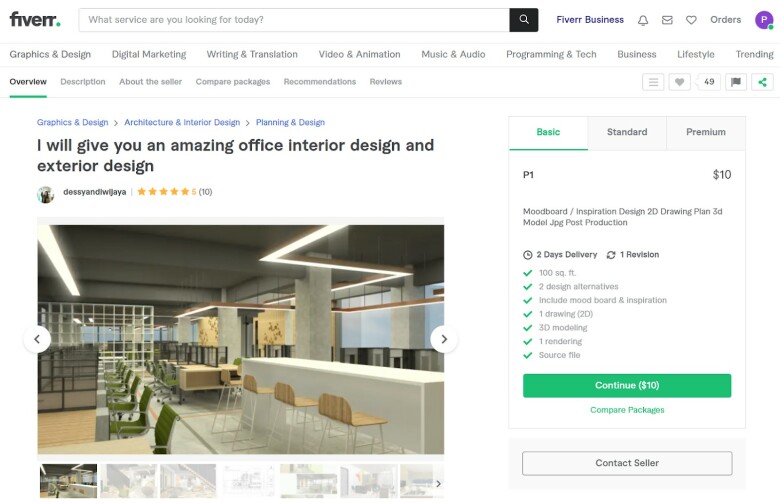 If you've ever found yourself demotivated thanks to your surroundings, you'll know that office esthetics are important. Dessy can help you to create a modern office interior to inspire and uplift your employees.
She's a skilled architect and designer with experience in small, medium, and large commercial spaces.
Dessyandiwijaya's packages include a 2D drawing, 3D modeling, rendering, mood board, and source file. The tiers typically differ in room size and the number of revisions included. If you don't see what you want, though, talk to Dessy before picking a package.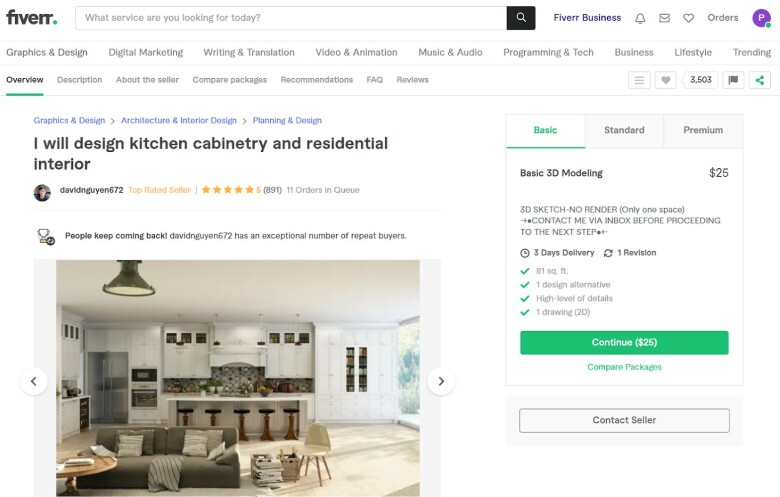 A skilled top-rated designer like Davidnguyen672 can create a kitchen concept that is both beautiful and functional.
 His designs include all the measurements and information that builders will need
to make your new kitchen a reality. If you just want the black and white sketches, go for his basic $25 package
and if you want a realistic 3D render, as well as a highly detailed floor and site plan, upgrade to the premium package for $60.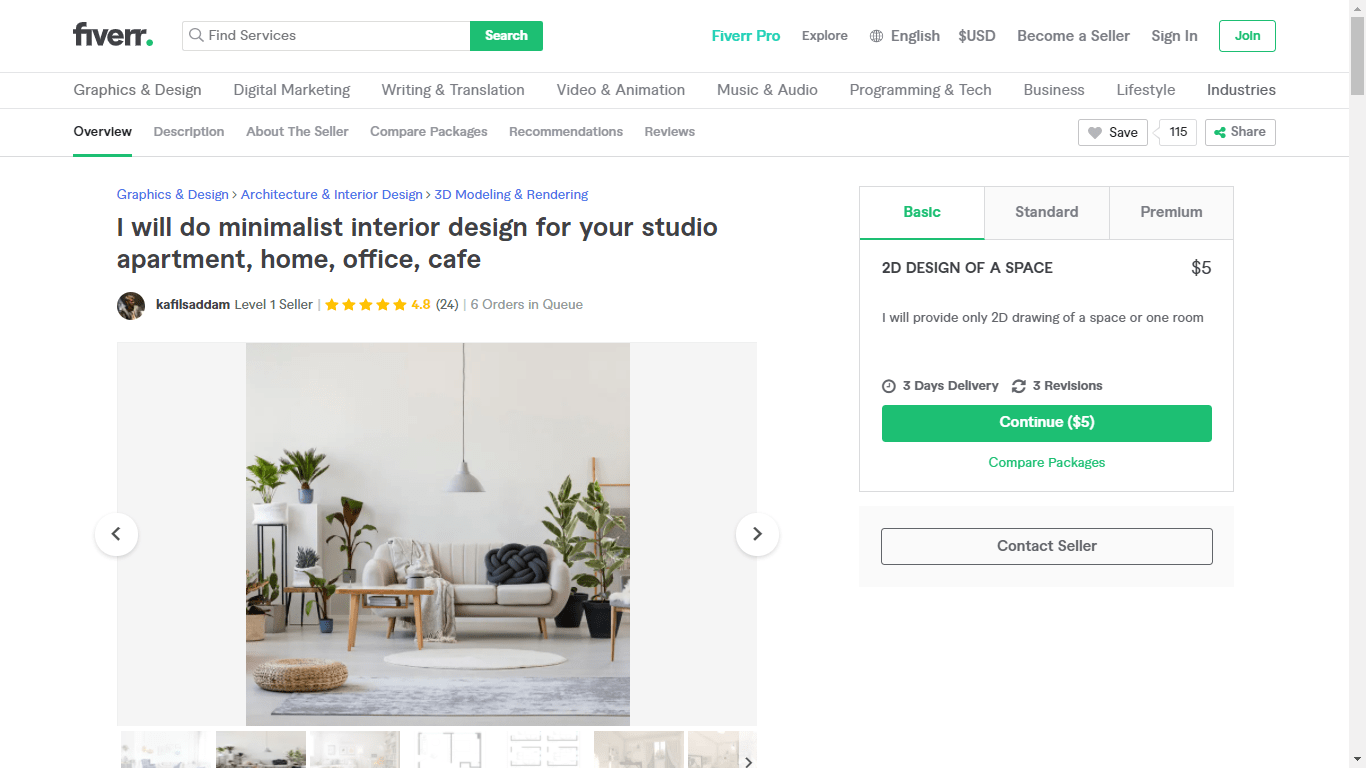 Kafilsaddam specializes, in both luxe and industrial interior design. Whether you're looking for a plush, luxurious air or something more raw and edgy, he can help you to achieve your dream. Like a number of other designers I've mentioned, Kafilsaddam is an architect as well as an interior designer. This gives him a more advanced skillset so that he can work on renovations as well as basic redecoration projects.
His basic package includes a 2D drawing of your redesigned space for just $5.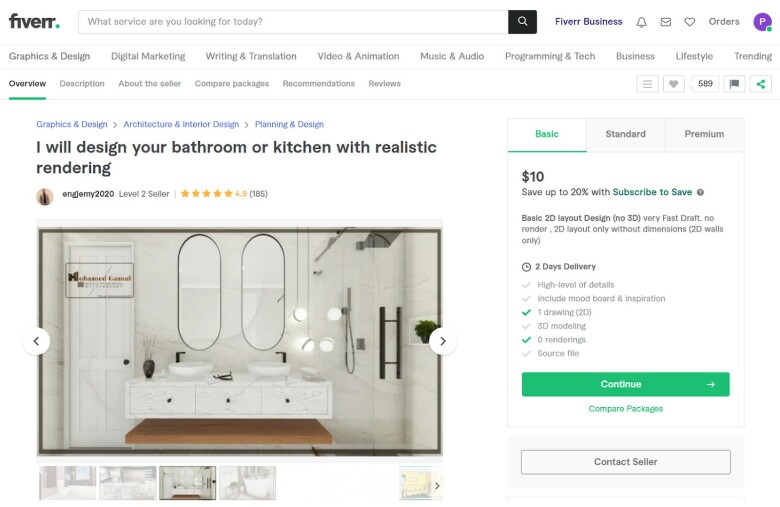 If you're looking to upgrade your post-work relaxation routine, redesigning your bathroom is the way to go. Engjemy2020 is an expert at designing modern and contemporary designs for bathroom renovations. What I like about Engjemy2020 is that he offers a range of design options in each package.
The basic package gives you a simple draft sketch
, which is great if you can't figure out exactly what you want yet. You can talk to him about putting together a few different drafts of your bathroom, then pick the one you prefer and get a full 3D modeling and floor plan.
How to Hire a Freelance Interior Designer on Fiverr
How can you find an interior designer that meets all your specifications? My expert tip is to use Fiverr, a top-rated freelance hiring website. Fiverr lets you
hire interior designers for only $5
. I know the idea of hiring an experienced interior designer for $5 seems like a scam. But, trust me, I've used Fiverr's hiring services myself and we've thoroughly tested them out in
our in-depth Fiverr review
– hiring a professional for $5 is both possible and effortless.
You can search for a freelancer on Fiverr without creating an account or signing up
. So, your browsing is 100% commitment-free until you're ready to hire someone. All you have to do is head to the Fiverr homepage and type "interior designer" into the search bar. Looking for an interior design with a distinct specialty, like contemporary or rustic decor? Include this specialty in your search for more narrowed gig results.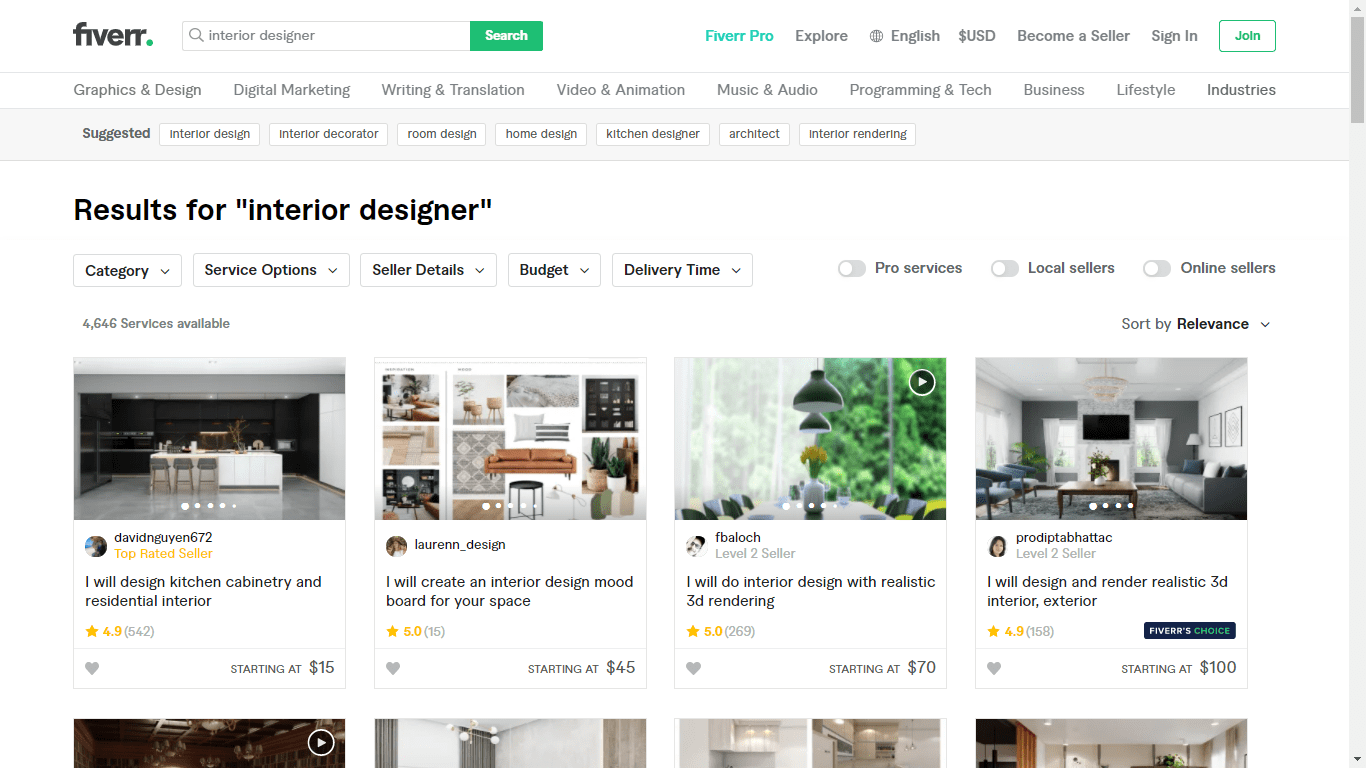 Once you see a profile that interests you, click on it to see it in full view. Here, you'll have access to all the gig information needed before you hire. Click the package tabs on the right of the page to see individual package details. If you'd like to see this information all at once, click
Compare Packages
 to view it in a table. If you're not seeing any services that meet your needs, you can click the
Contact Seller
 button below the pricing section to contact the freelancer directly. The
Continue
 button will take you to the payment preview page.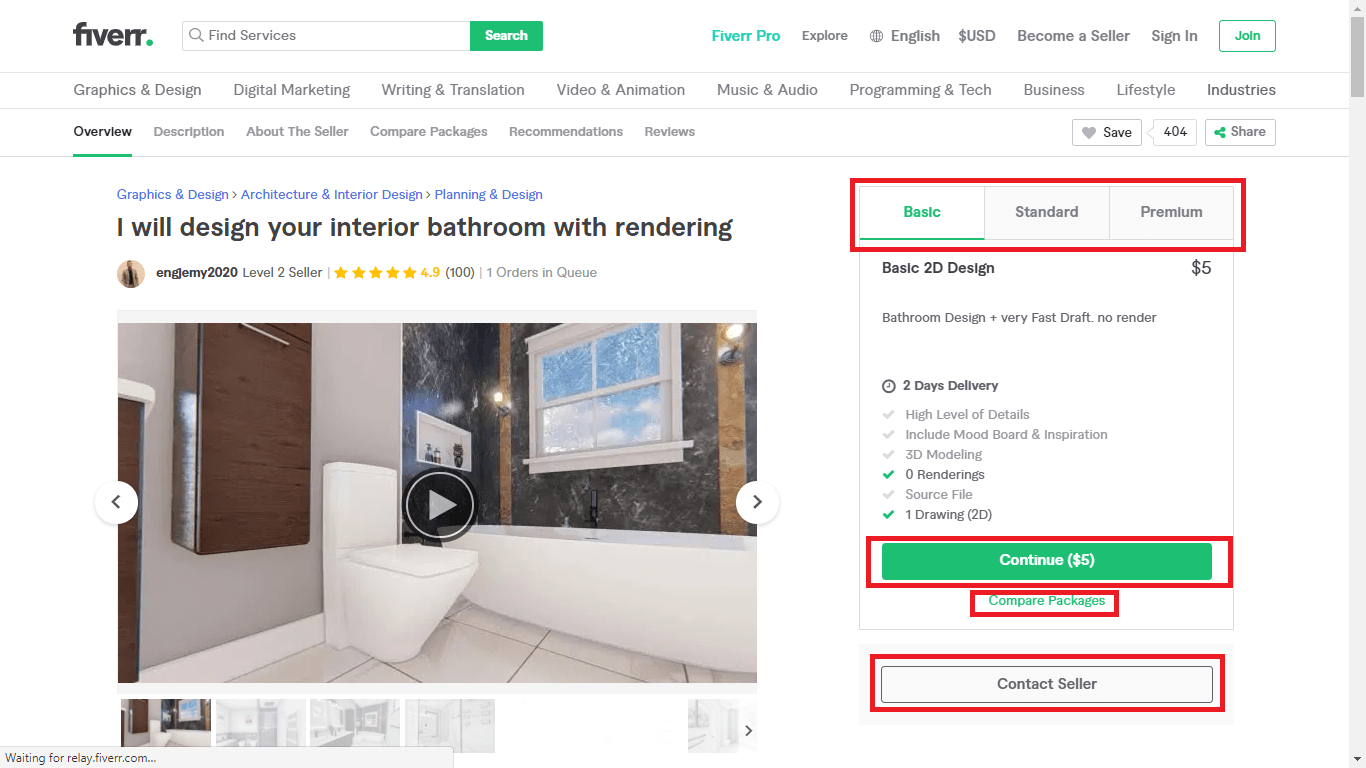 On the payment preview page, your final cost will be displayed. The services in your package will also be listed here for you to review. Click
Continue to Checkout
 to enter your payment information and complete the hiring process.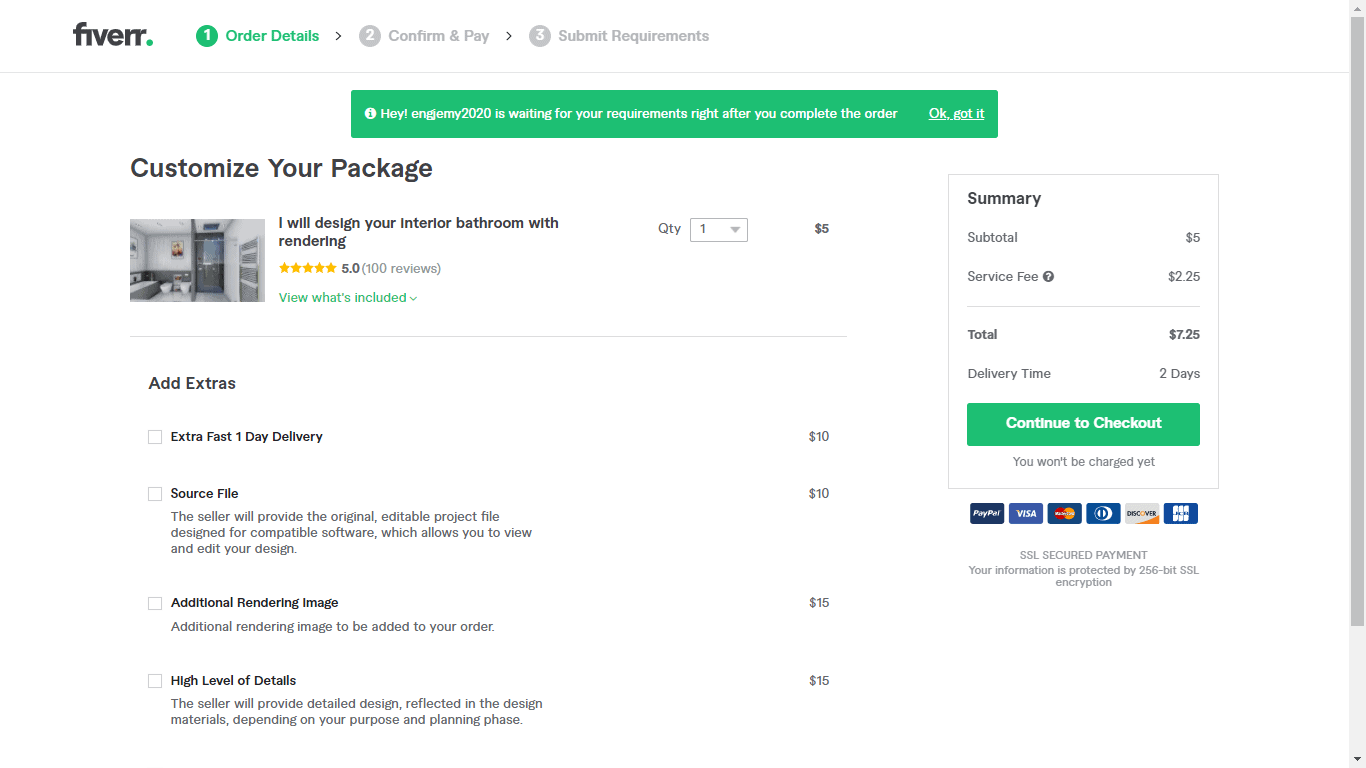 What to Look for in a Freelance Interior Designer
If you're new to the design world, you may not be sure what a skilled interior designer looks like. But here are a few of the skills you should look for when hiring one, to help you find a talented artist.
Proven knowledge of architectural and design software: an experienced designer will have an extensive background in AutoCAD, SketchUp, Grasshopper, Rhino 3D, or other major software.
Attention to detail and creative eye: your designer should have a sharp eye for detail, color, materials, texture, and lighting.
Excellent spatial awareness: how well does the designer create and maintain space in their designs? Examine the designer's portfolio for visual cues towards their spatial perception.
Understanding of major design styles and trends: a designer must know how to create a concept around your desired design style and relevant decor trends.
Ability to expertly work with a set budget: working within a budget is essential for a designer. Contact the designer before hiring to ensure they can work with your budget restrictions.
First-rate communication and comprehension skills: check the seller's Fiverr rating on their profile and scan through feedback and reviews from the designer's customers.
Are You a Freelance Interior Designer Looking to Sell Your Services on Fiverr?
Fiverr isn't just a freelancing hiring option for buyers.
If you are an interior designer interested in expanding your client reach, then joining Fiverr as a seller is a great move.
There are thousands of potential buyers exploring Fiverr every day. Selling your services on this platform puts you in the reach of new clients, 24/7. If you've been freelancing for a while, you'll know that sourcing clients is usually 90% of the battle in building a sustainable business. Getting started with Fiverr is easy.
Head to the Fiverr homepage and click the Join button on the top right.
 You'll need to come up with a username and password for your account. This is how clients will identify you, so choose your username wisely!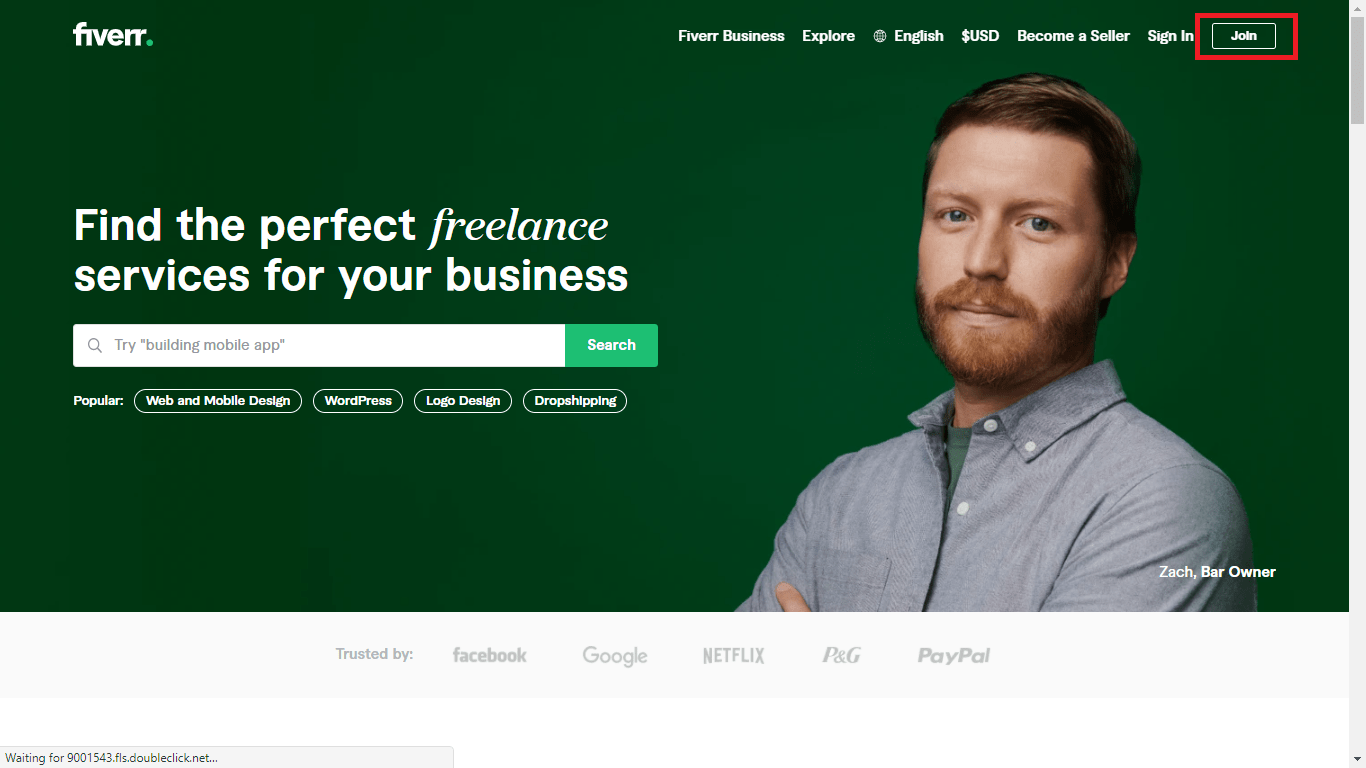 Once you've verified your account, you can begin personalizing it. Click on the circle icon in the corner to find your profile. Choose a photo, connect your social media accounts, and add your skills, certifications, and educational achievements.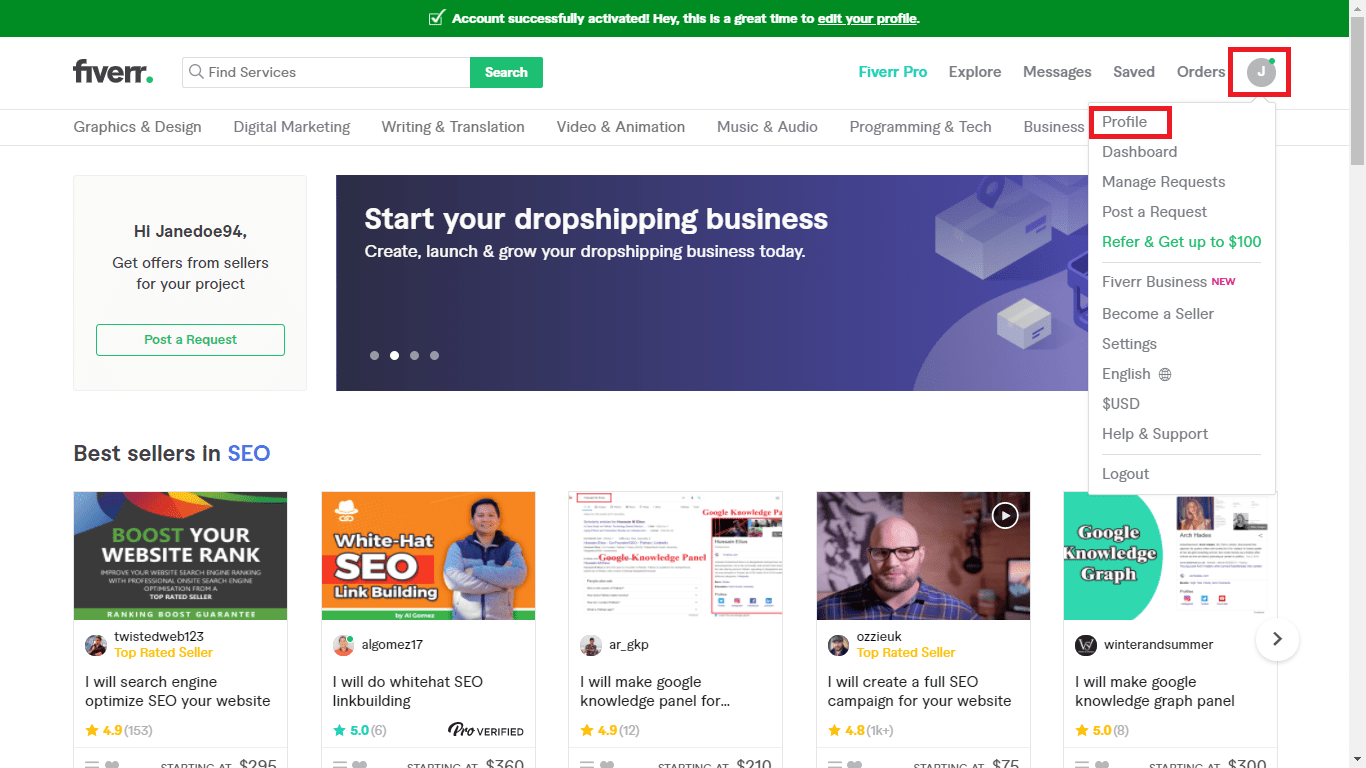 Are you a business owner, freelancer, agency representative, or a company employee? Select the right answer and then find your industry in the dropdown menu.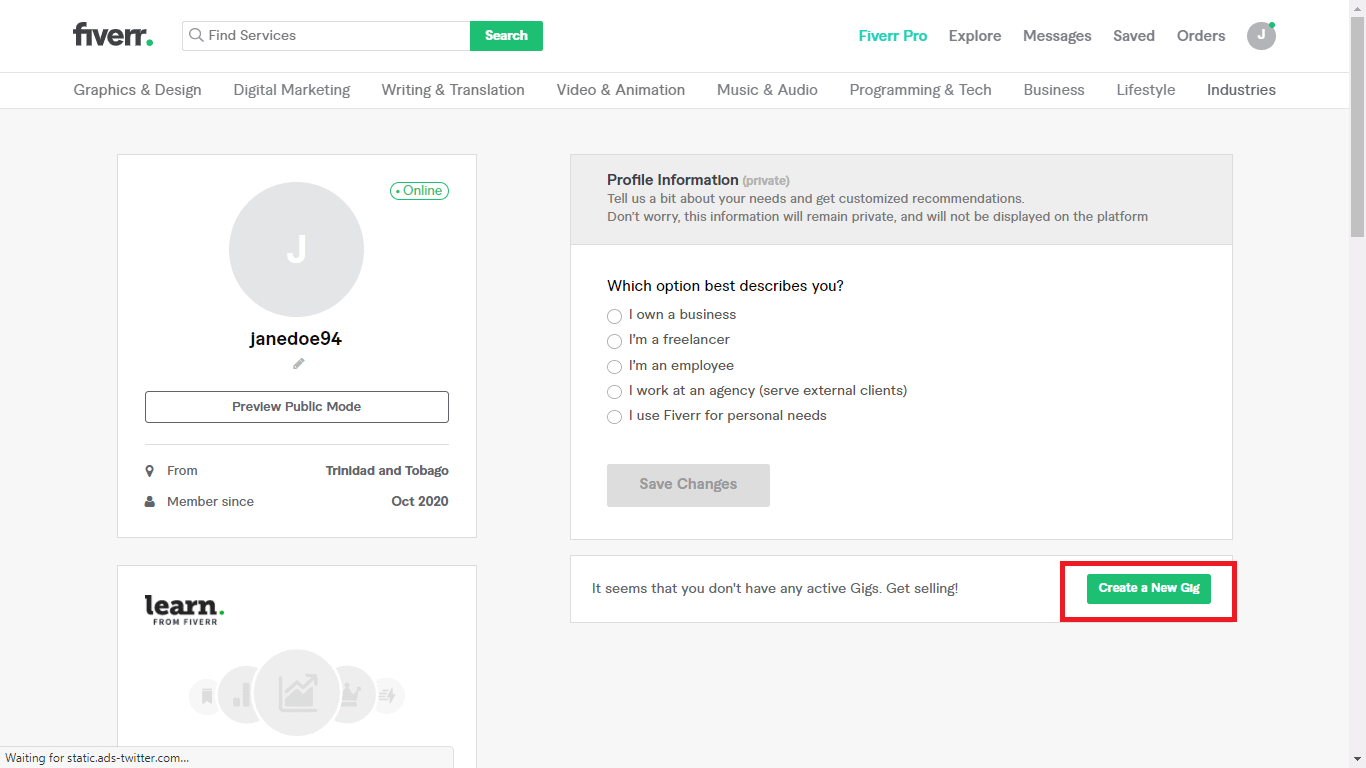 Click the Create a New Gig button when you're ready to begin setting up your gig.
You'll need to choose a name for your gig, specify the gig category, and add relevant search tags. Think about which package tiers and services will you offer in your gig. Create a description for each tier with a full list of services and choose a price to suit.
If you want buyers to be able to include optional package extras, like unlimited revisions and expedited delivery, you should select these options now.
Add photos of your past work to your portfolio, review all the information you've entered, and publish your gig. Once the gig has been published, it is now live and accessible through any searches connected to its search tags. The easiest way to understand how to optimize your gig is to view the hiring process from the other side. My advice?
Use Fiverr from a buyer's perspective and hire a freelancer through the platform.
Need a new logo designed or some editing done on family vacation photos? Search for a freelancer with a skill you're in need of, hire someone for a project, and use this experience to structure your gig to meet buyers' needs.
Wrapping Up
Ultimately, hiring your new interior designer through Fiverr is quick, straightforward, and cost-effective. Whenever I've used Fiverr to hire a freelancer, I've found that the platform delivers just as promised. There's a reason it scores so highly in
our Fiverr review
. I've found a number of talented and dedicated freelance professionals at a fraction of the usual cost – and you can't go wrong when you can
hire a professional interior designer costs as little as $5
. The gig framework is a key factor in why Fiverr operates effectively for both buyers and sellers. Instead of engaging in lengthy discussions with a seller for days to clarify your requirements and determine their capabilities, you can simply browse until you discover a gig that suits your needs. Freelancers provide services they are proficient in, allowing for quick and effortless execution.
FAQ
Where can I find a freelance interior designer?
You can find thousands of talented freelance interior designers through Fiverr, an expert freelance hiring solution. Fiverr is one of the top freelance websites for both buyers and sellers. This platform combines ease of use and affordability into one safe, reliable location.
How much do interior designers cost?
Outside of Fiverr, interior designer prices can quickly climb into the hundreds or thousands of dollars. However, when you use Fiverr to find your interior designer, you can hire someone for as little as $5. The cost per gig will vary depending on the freelancer's skill set, location, academic background, and your design specifications.
What skills should an interior designer have?
Before you engage a freelance interior designer, make sure they have a broad background in both architectural and design software and grasp your preferred design style. They should also be excellent at communication and able to respect your budget as they carry out a design that fully meets your satisfaction.
Can you hire a freelance interior designer?
Absolutely! With a freelance interior designer, you can get photorealistic 3D renders of your space using models and lighting to accurately show how your space will look. Then, all you have to do is follow the design and put the furniture into place.
What are the benefits of hiring a freelance interior designer?
Hiring a freelance interior designer through a platform, like the ones in this article are far more affordable than the traditional route. Traditionally, hired interior designers cost anywhere from $50 to $500 an hour (ouch!). Going with a freelancer also makes the process really easy. A freelancer can deliver a 3D render in under a week, so all you have to do is put the pieces together.