All of the free services on this list allow you to edit the basic elements of a photo
, such as brightness, saturation, zoom (crop), size, and more. Most let you add effects, and many will assist you in creating collages and other marketing materials.
#1: Photoshop Express Editor
Adobe Photoshop is probably the most well-known photo editing software out there. It's also quite the investment to make. Before you commit, check out the Photoshop Express Editor. It doesn't have all the bells and whistles of the paid software, but depending on your needs it may more than suffice. You should note that
the program is browser-based and only supports jpg files under 16MB
. Adobe has a reputation to uphold, so it's definitely not a disappointing free editor. You'll have access to basic tools that allow for adjustments like
rotation, resizing, exposure, sharpening, and red-eye reduction
. There are also tools in beta like dodging and burning. Add fun aesthetics like a sketch effect or a pop of color. As you can see from the screenshot below, the editor makes it easy to preview your effect before committing or you can start over with a click.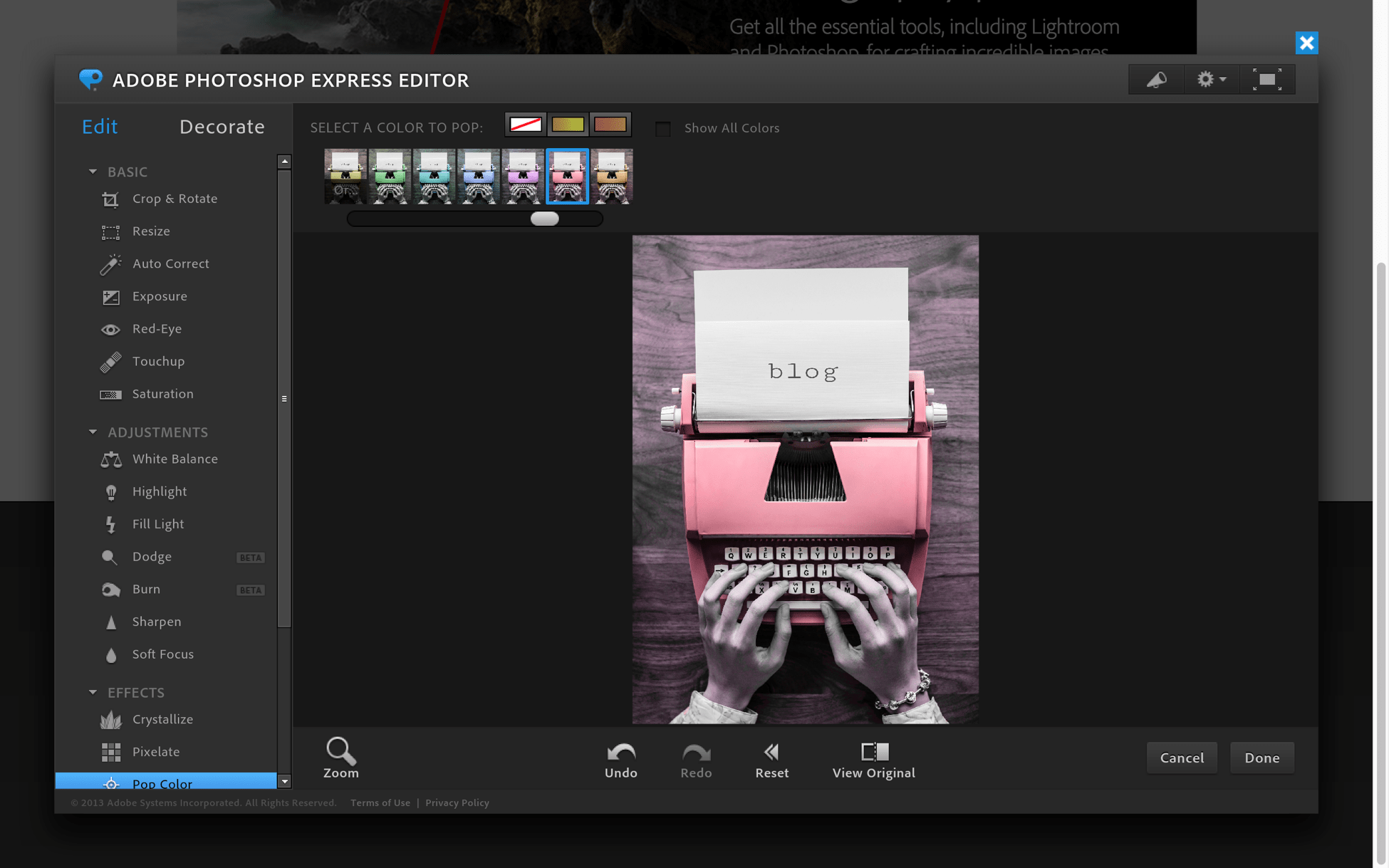 #2: FotoFlexer
The FotoFlexer editor works exclusively on desktop browsers and is a personal favorite of mine.
It looks a bit outdated, but don't let that fool you
. It's advanced enough to allow you to upload multiple photos and work with layers: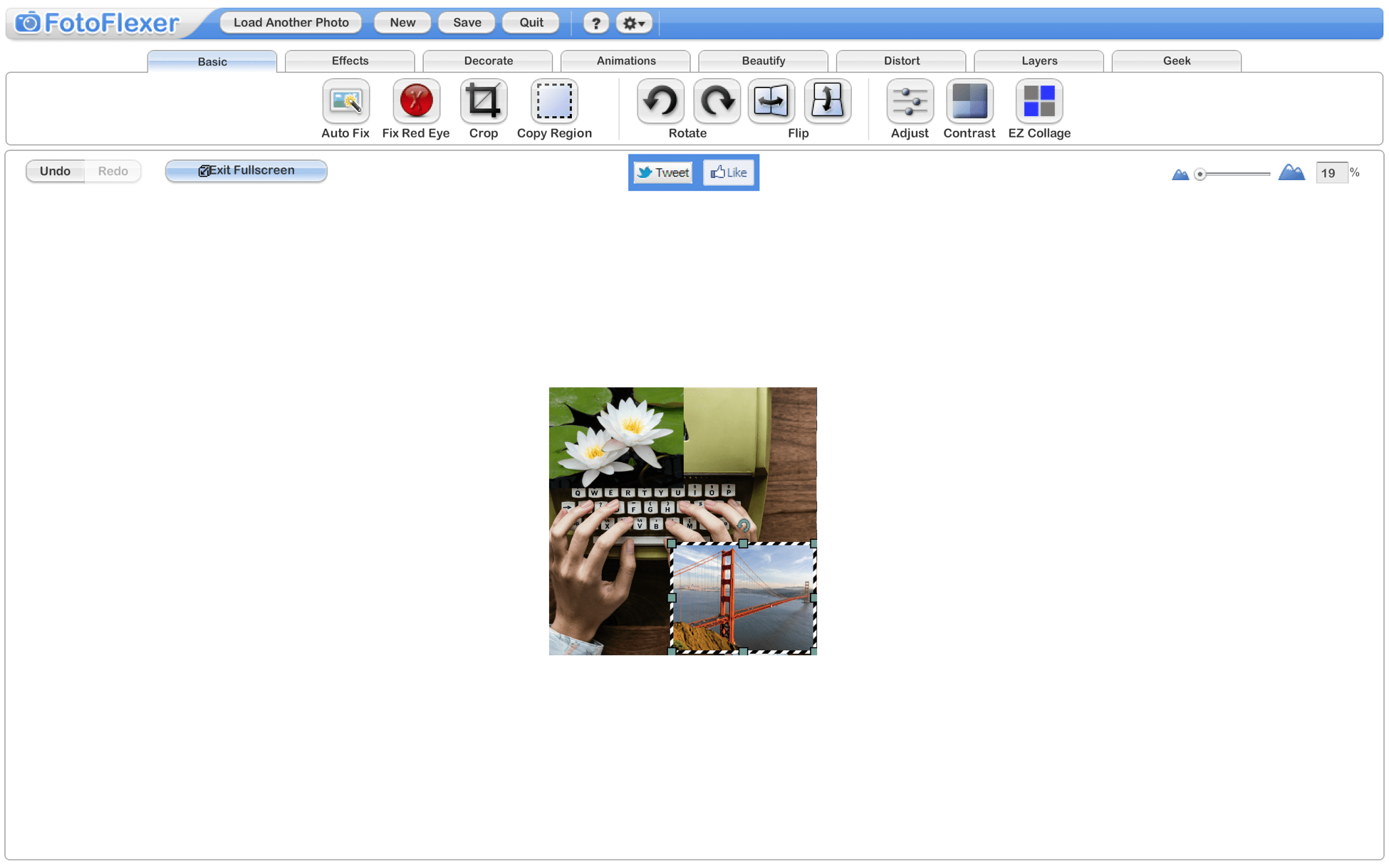 As the above screenshot indicates, the editing basics are also covered. You can auto-fix, rotate, adjust hue, saturation and brightness, crop, fix red eye and more. There is a feature that lets you easily create a collage. In the "Decorate" section, you can add stickers to your image, create a poster, add a border or glitter text. The "Beautify" section is where you can sharpen or fix blemishes.
There are admittedly a lot of unnecessary features if you're just looking to perfect blog or newsletter photos, but the extras don't take away from the editor's capabilities.
#3: Pixlr Editor
Pixlr is one of the
most popular browser-based photo editors
on the internet, and for good reason. A quick test of the free version showed me just how extensive their editing tools are, and the interface is similar to the paid version of Photoshop. You can design artwork from scratch or upload an image to edit. All of the basic editing tools are at your fingertips. You can crop, blur, sharpen, or burn an image to your heart's content. But there are also
more advanced tools that are useful when you are creating art
, not just enhancing a photo. There's an eraser, a paint brush and bucket, a pencil, a color replace tool, a sponge (used on the image below) and more.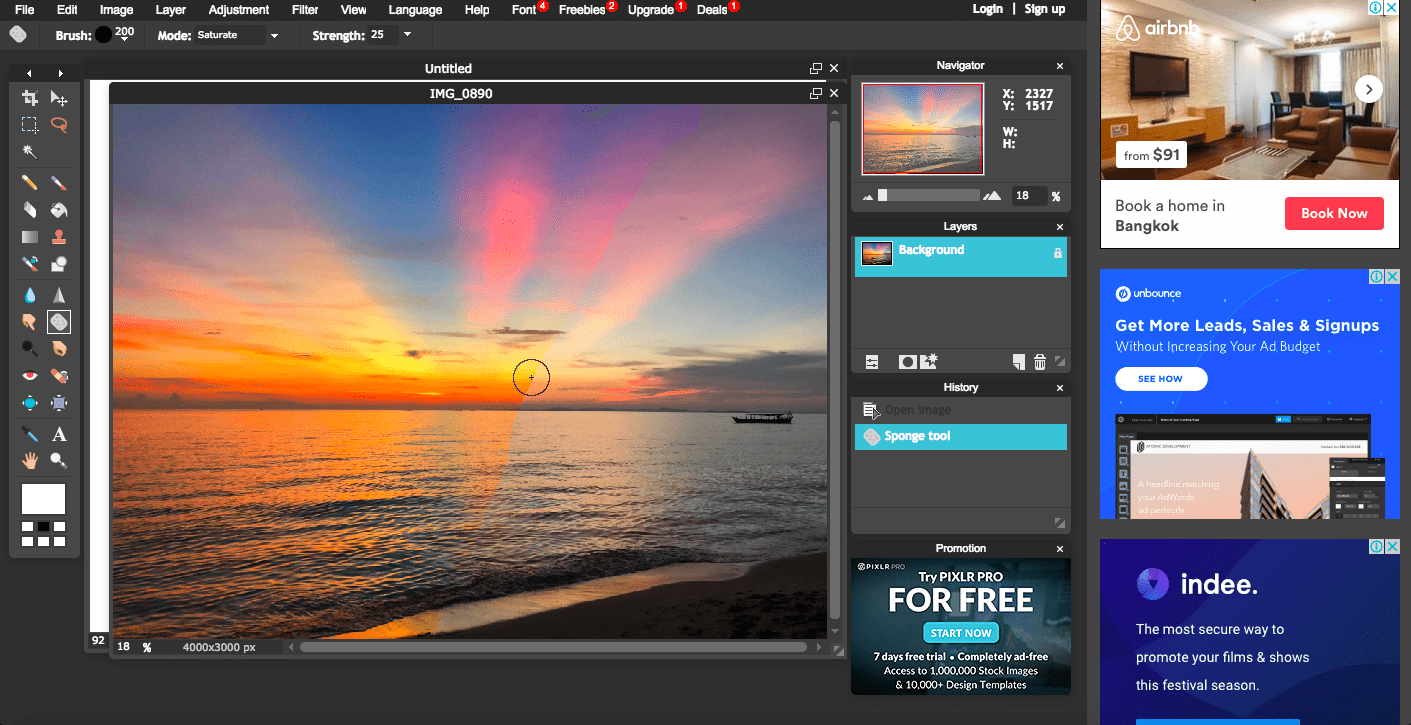 I didn't love that the interface was crowded with ads, but it's a small sacrifice to make for all of the tools.
The paid version of Pixlr, called "Pixlr Pro," has a clean editing screen with no ads, and offers templates for designing things like menus, invitations, coupons
and so much more, along with some other tools. You can access a free trial of the paid version.
Pro Tip:
Need a website to share your photos with the world? Check out our list of the best website builders for photography websites.
Wix is a great place to start. You can build a fully-functional website for free, and it's easy, too. Wix offers some amazing templates for photographers.
#4: Fotor
Fotor is another extremely dynamic photo editor and designer.
There are three different editing interfaces for editing photos, making a collage, or designing marketing materials
like programs, invitations, flyers or menus. You can design business cards, logos, and even letterhead. One of the most unique features is the
ability to design social media posts and covers
: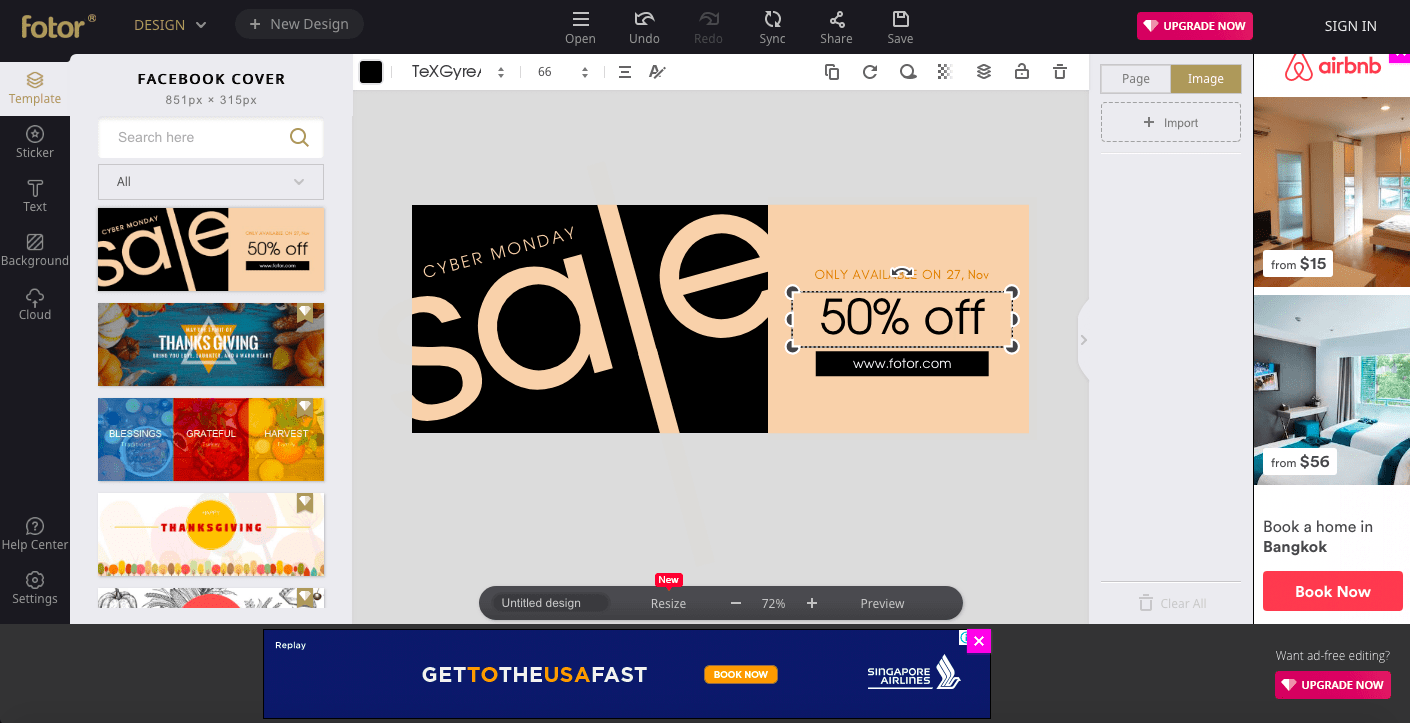 I love that there is a
tutorial on the editing screen to take you through what each tool does
. You can edit all of the basic elements like curves, size, and contrast. There are blemish fixers and lip tint capabilities for portraits, or you can add text, stickers, or frames to any photo.
The biggest downside is that there is a watermark on free edits
. A Pro (paid) version of the service is ad-free, has advanced features, no watermarks, and more storage.
#5: PiZap
The free version of PiZap has one of the most intuitive interfaces I've seen in a free, web-based photo editor. As soon as you choose the free option, you are prompted to upload a photo.
You can upload from your computer, various social media sites, as well as DropBox and Google Drive
. Basic elements like saturation, brightness, color, and contrast can be adjusted on sliders on the right side of the screen. You can add text bubbles, makeup effects, stickers, frames, or use the paint tool. There is even a tool to help you create a meme quickly.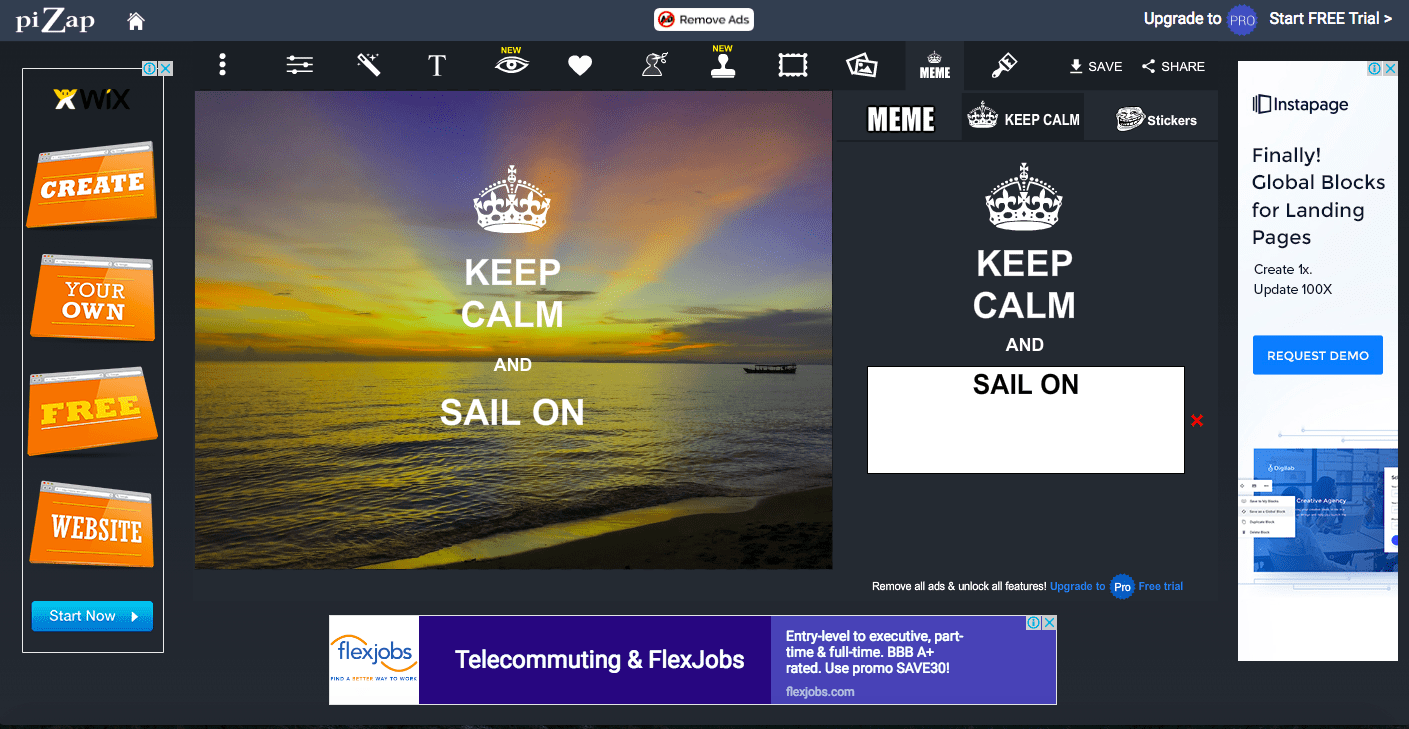 #6: BeFunky
Like some of the other editors I mentioned, BeFunky also has photo editing, collage making, and designing capabilities. They have all of the editing tools I've been mentioning throughout this post like sharpening, color adjustment, and beautifying tools.
BeFunky has a greater number of effects and artistic filters available than their competitors, however, the majority are only available on the paid version of the service
. Below, I used Sepia on a stock photo provided by BeFunky.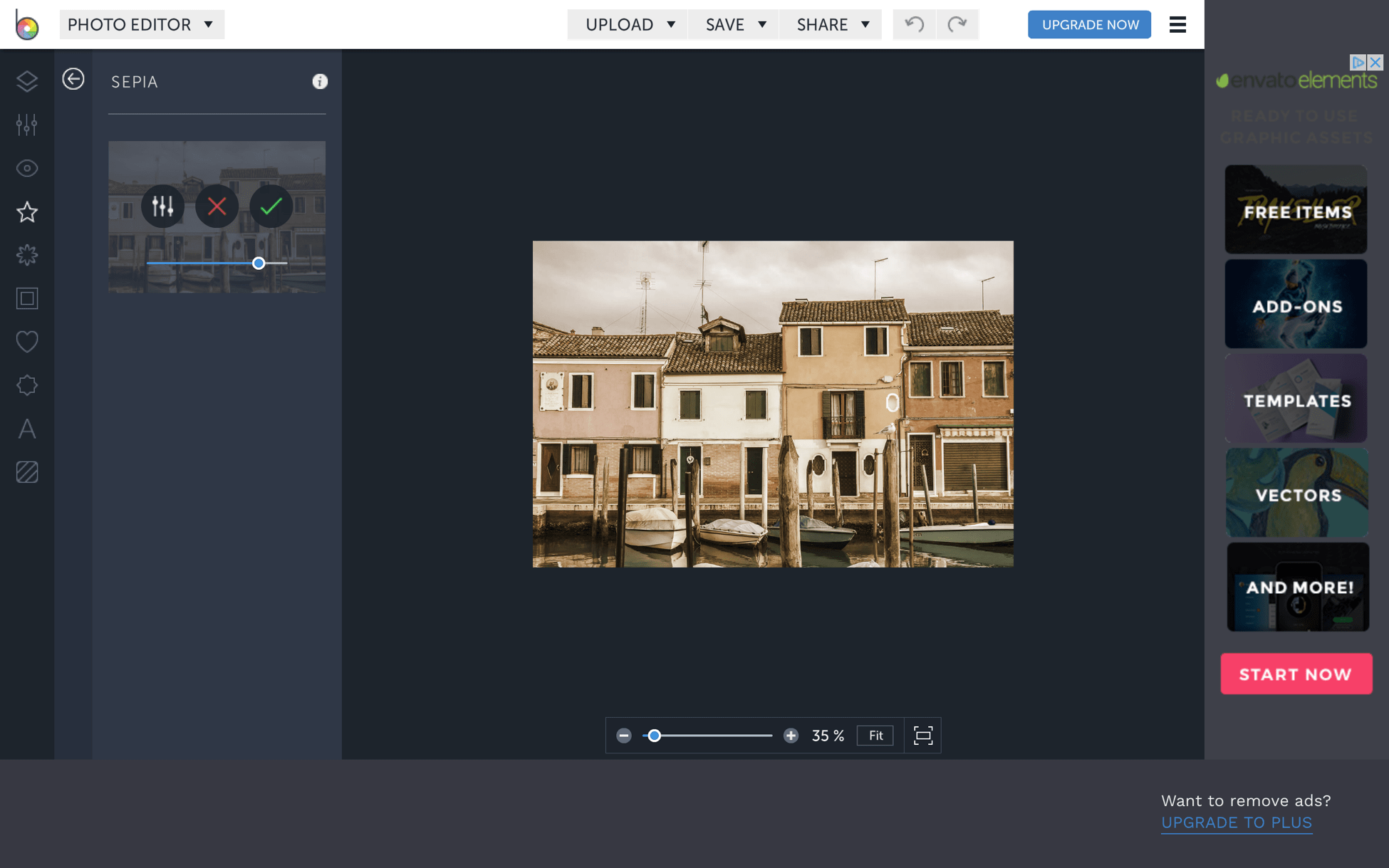 #7: iPiccy
Like Fotor, iPiccy also has three basic photo editing, design, and collage making options. You can create an image from scratch or upload one to edit.
You can edit the basic elements of your image, beautify portraits, work with layers, paint, and add frames or textures for free
. In the image below, I added a mirror frame, grunge texture, and a touch of snow from their unique holiday effects menu: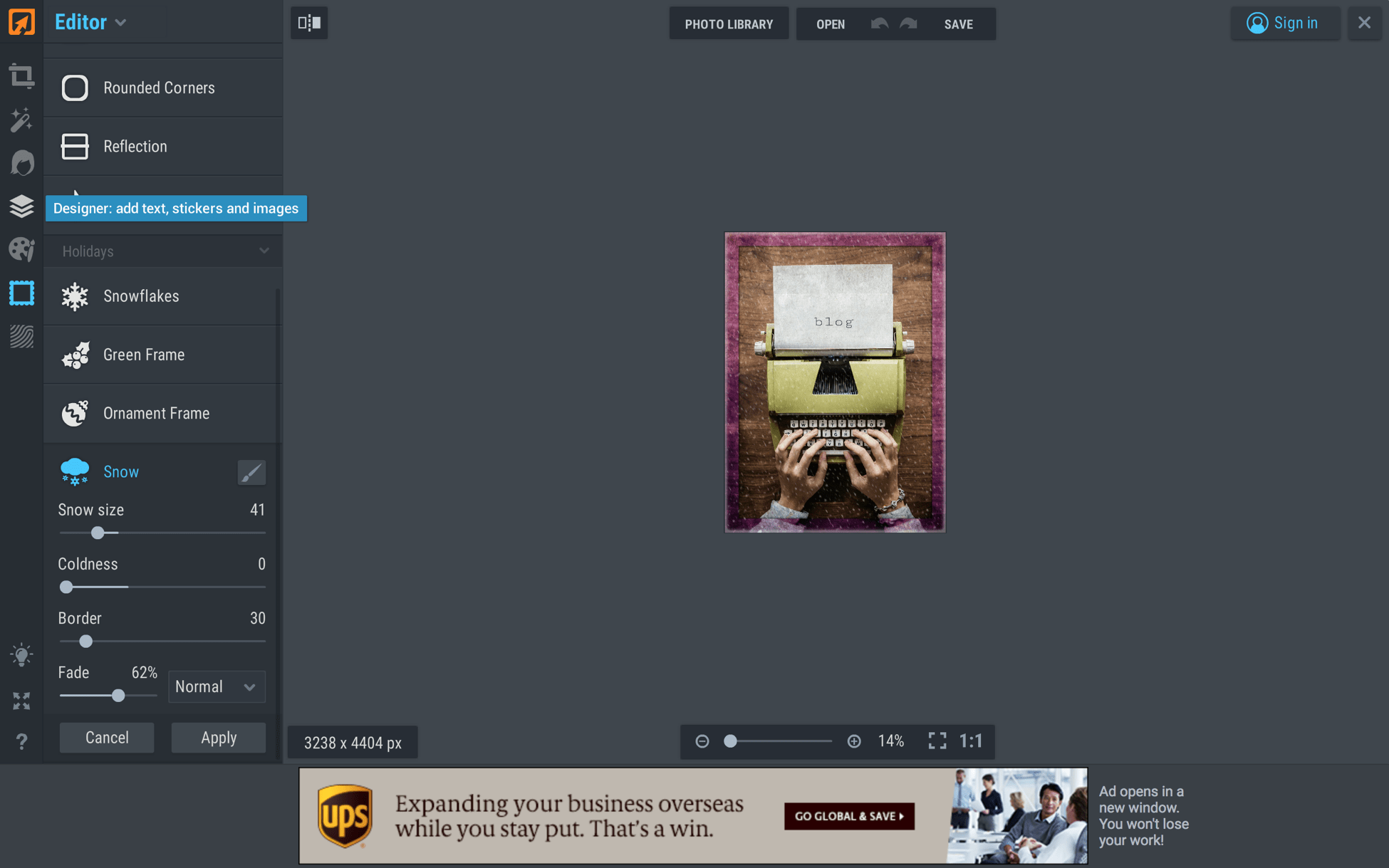 I love that, even with ads,
the editing interface is clean
. Each tool has a menu that pops up when you click on it so you can edit the effect/details elements precisely to your liking.
Pro Tip:
With some website builders, you don't even need an external editing tool. Weebly offers a built-in image editor with a wide variety of filters and adjustment settings, so you never have to leave the platform. This can save you a ton of time!
#8: Ribbet
Ribbet allows you to make
regular collages, shape collages, or cards
in addition to the photo editor. Like nearly every example in mentioned, this editor has cropping and resizing capabilities and allows you to edit basic elements of photos. There are
"auto" features for many elements that adjust specific elements to perfection
, this is great if you want to enhance your image without spending a lot of time fiddling with different levels. Below, I used the "boost" effect to make the colors of the sunset really pop.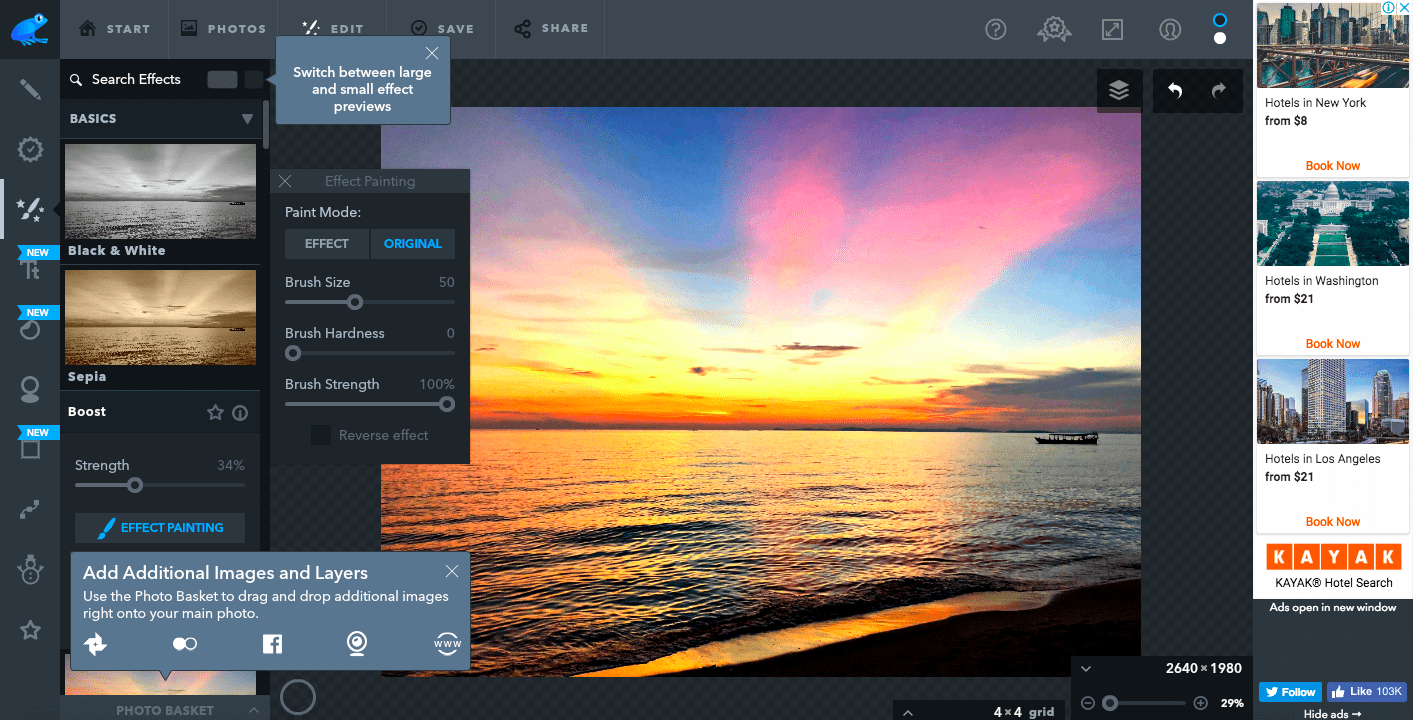 #9: FotoJet
FotoJet has the same three capabilities as most of the services I've looked at so far, including creating Facebook and Instagram ads with a number of different templates.
They also let you work with layers and have an extensive clipart gallery organized by category
. Though advanced,
paid features are clearly marked with a crown
, I don't like the fact that your "trial" seems to start automatically. You should also note that, at the time of writing,
photo editing is not compatible with Chrome
. Below, I used an "old photo" effect on the typewriter photo:
#10: LunaPic
To end the "free" editing options, we'll go back to a basic editor. Like FotoFlexer, Lunapic seems to have an archaic interface and layout, but it is more than meets the eye.
Beyond the basic editing tools like cropping, drawing, erasing, and painting, there are some weird effects
. I don't think the dropdown menu style is very intuitive at all, but if you play around with LunaPic enough
you certainly can create a unique image
. Below, I used the comic book, cartoon, and kaleidoscope effects to completely alter the photo: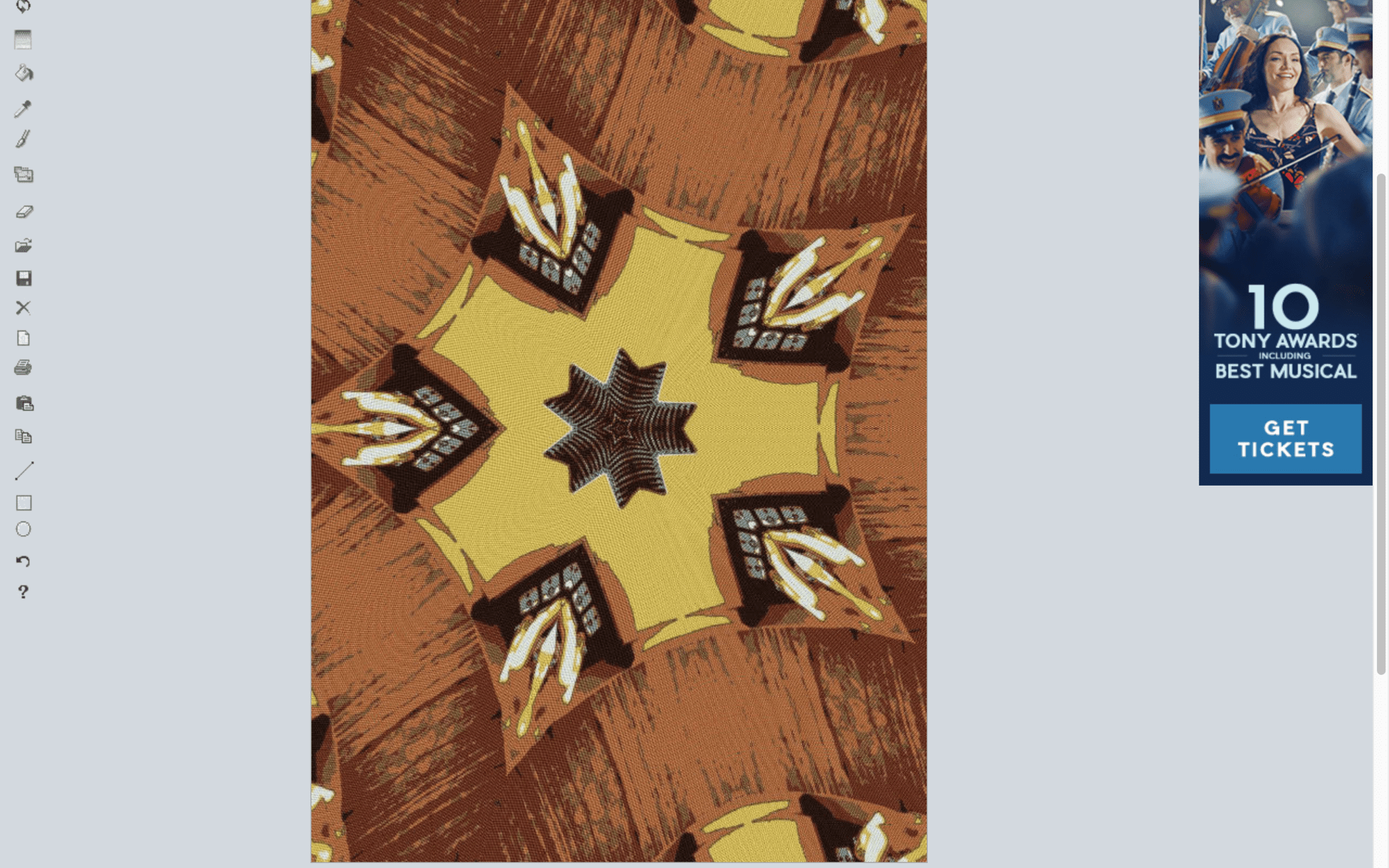 Pro Tip:
If you're planning on posting your photos on your website, on social media, or even sending them via email, optimizing them is a must. Nobody wants to wait around for huge image files to download. With the Website Planet image compressor, you can make your JPG and PNG files up to 80% smaller without compromising on quality.
Not sure which file format you should be using? Don't miss our handy guide.
Paid Photo Editing Programs
#1: Photoshop Elements
I started our free options with Photoshop, so it seems fitting to talk about one of their paid options first. Photoshop Elements is specifically for editing photos. There are
quick, guided and expert modes to match anyone's editing abilities
, and photo organization and tutorials are included. With software like this, you can easily
integrate videos into photo collages
, develop a wide variety of marketing materials, and share your creations far and wide.
#2: PicMonkey
PicMonkey is a browser-based paid photo editing service. They offer two paid subscriptions, a Basic and a Pro version. Aside from the basic editing tools you're likely familiar with, they offer
more nuanced beauty retouch options
so you can change someone's hair color and make it look completely natural. They also have premium framing options for your images including "museum quality," "Polaroid," or something completely customizable. There are also 3,000+ graphics/icons, 60+ effects and filters, 230+ fonts, and 2,400+ templates.
#3: Tucia
If a human touch is your preference, then Tucia is the ideal choice for you! Their in-house team of photo editors will handle all the tasks on your behalf, usually completing them within 24 hours (timeline varies based on the quantity of your order). They possess the ability to perform tasks such as incorporating digital makeup, retouching skin, applying HDR effects, eliminating undesired photographic imperfections, adding tones, filters, textures, and much more. If your business relies on top-notch specialized imagery but lacks in-house capabilities, this presents itself as an exceptional solution.
Finding the Perfect Image
When your business or product is not particularly visual, half the challenge of editing a photo is literally finding it. Every blog post, advertisement, and most social media posts need an image—or at the very least will benefit from one. But when you're running a business, you may not have time to take your own pictures for your content. That's where stock photography comes in. Once you find the perfect photo, don't forget to edit it. Stock photos can be lifesaving, but the downside to them is that everyone can use them. So, you need to add effects and make sure their aesthetic matches your brand in order to make them your own.