hire a marketing expert who can design and manage targeted Facebook video ad campaigns for you.
The good news is that it doesn't have to cost as much as you think – you can hire a Facebook video ad designer for as little as $5. Jump down to learn my secret for hiring a professional for a great price.
5 Best Facebook Video Ads for Small Businesses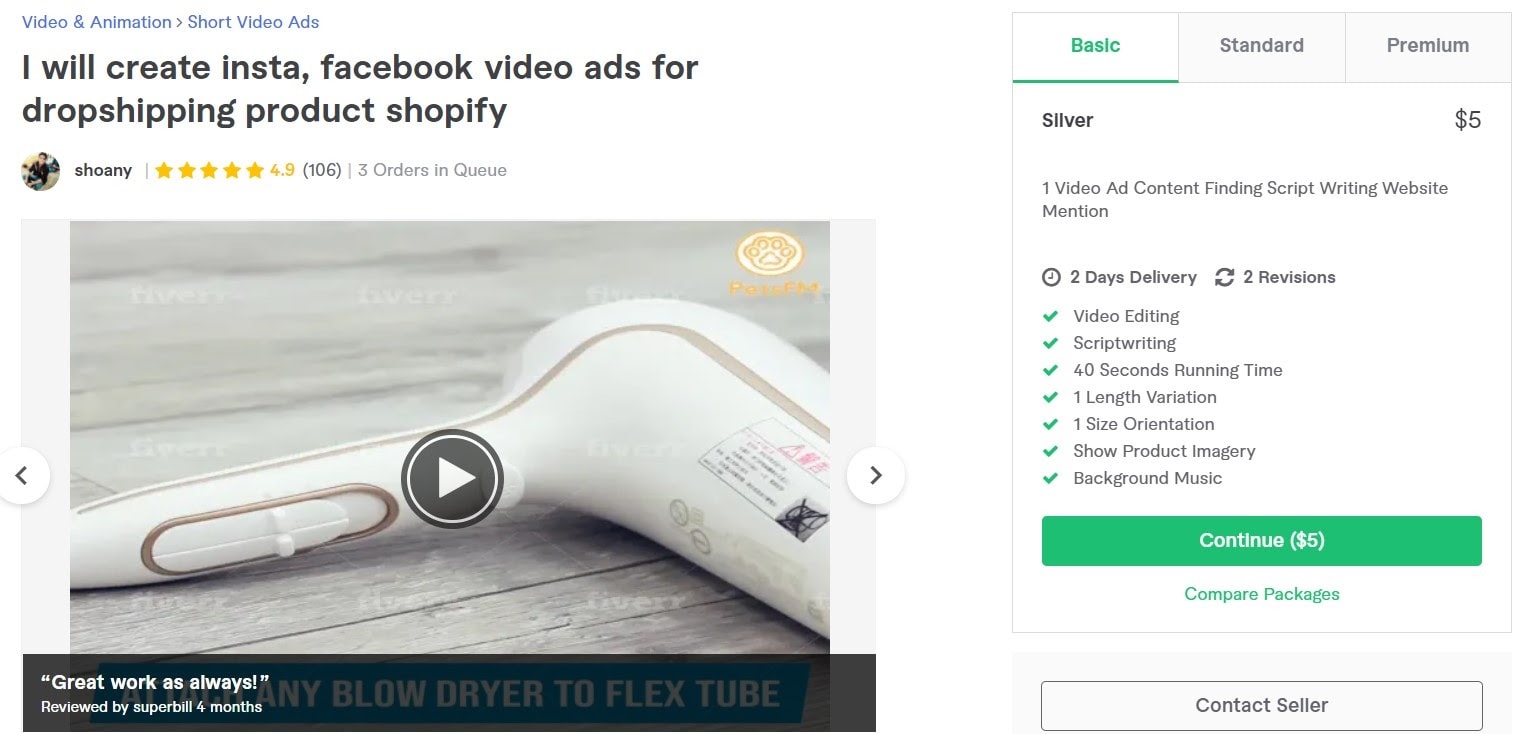 Shoany tops this list for excellent value for money and a reliable, professional service.
For only $5, Shoany takes care of scriptwriting, video editing, background music, product imagery, and revisions
, and will put together a 40-second Facebook video ad.
For the basic package, you can choose one video orientation
 – vertical, horizontal, or square – or upgrade to the standard package (only $10) and you can have it in two different sizes. If you're pleased with Shoany's work (and you'd be hard-pressed to find anyone who isn't based on the reviews), he also creates book covers, thumbnails, banners, and logos from $5.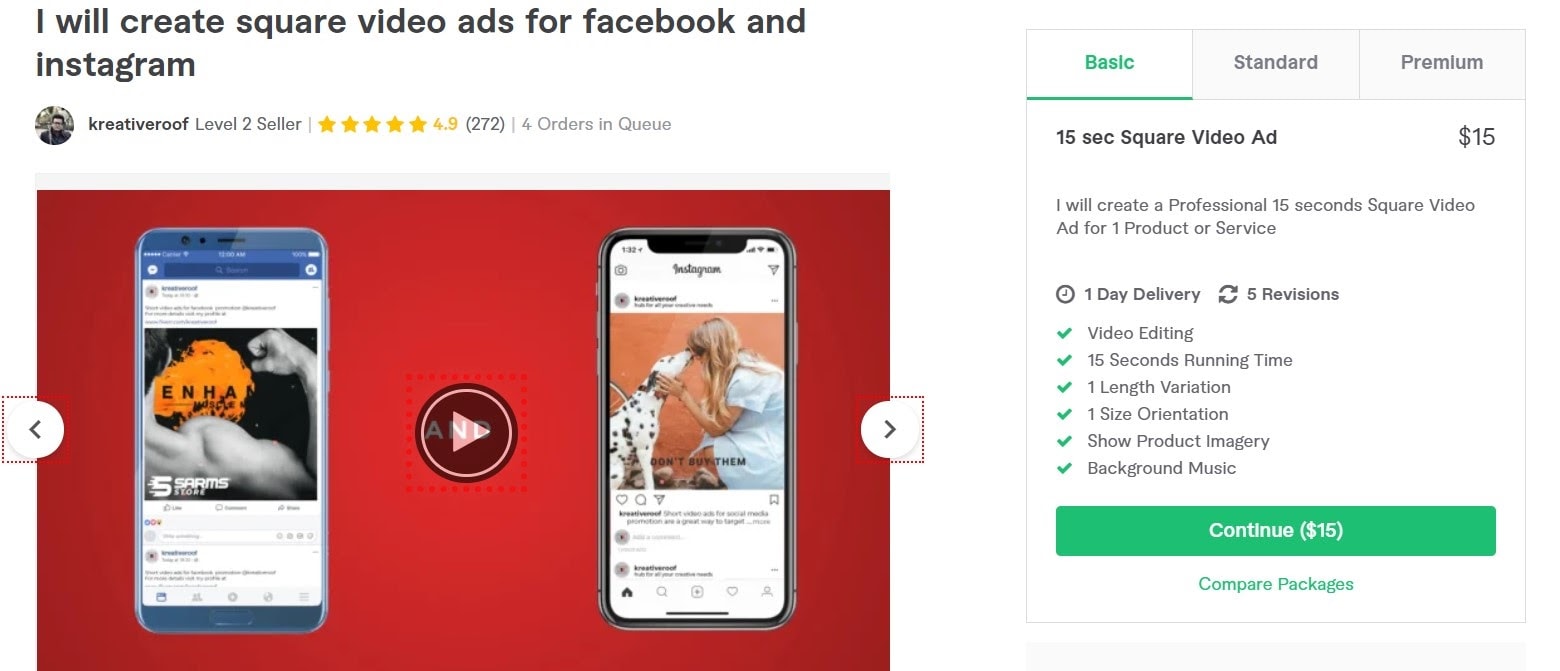 With years of experience and well over 600 reviews, Kreativeroof is a trusted, reliable seller. This gig caught my eye because it offers a
15-second square video ad (in my opinion, the optimum time for a Facebook ad), five rounds of revisions (if needed), and one-day delivery all for $15.
You can upgrade to the standard or premium packages for 30- and 45-second ads. I'd recommend sticking with the basic package –the only difference is the length of time and you get all the same elements as the other packages for a fraction of the price.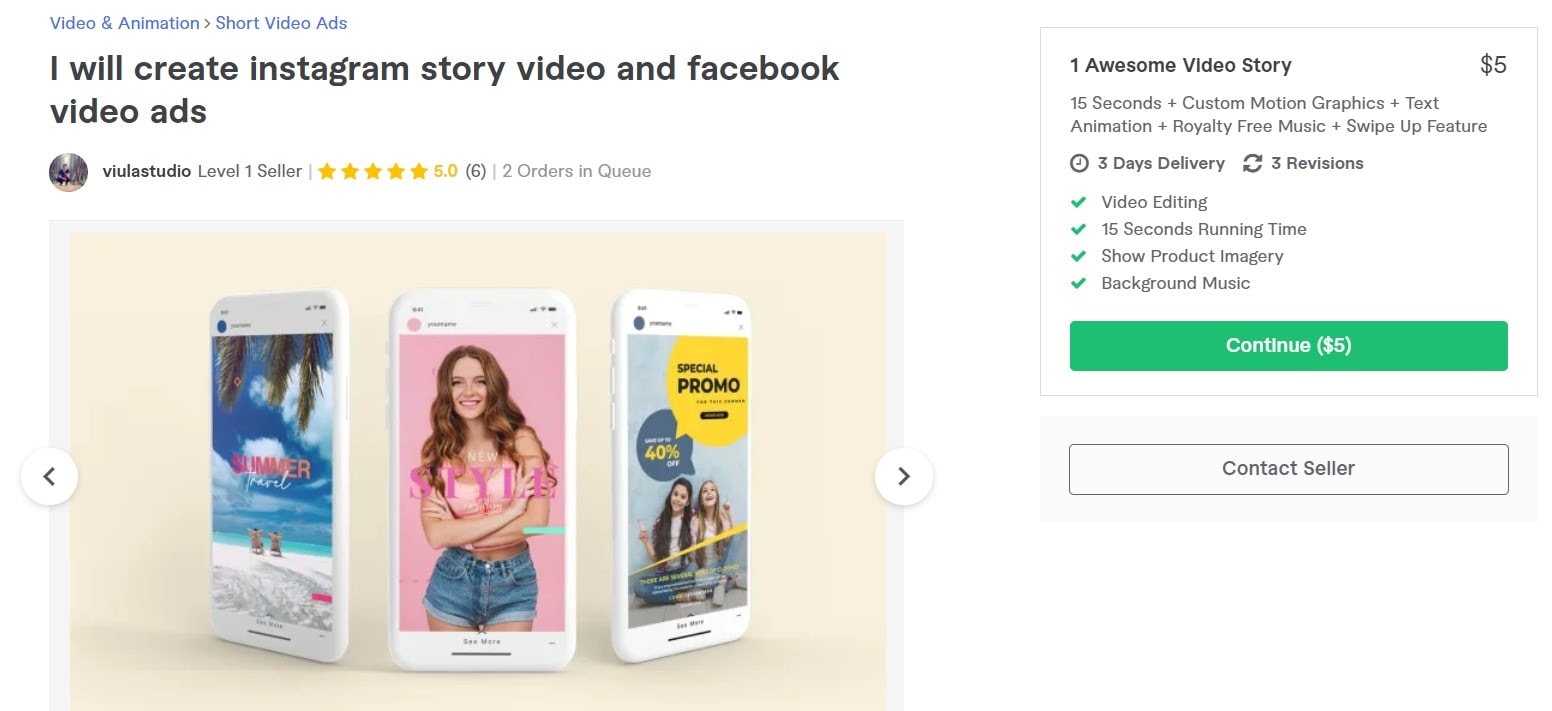 Viulastudio's portfolio instantly grabbed my attention.
If their promotional videos are anything to go by, you can expect some high-quality work for just $5
. Viulastudio handles product imagery, royalty-free background music, text animation, and video editing, optimized in the right size and format for Facebook ads. They also offer three rounds of revisions, all delivered within a very reasonable three-day turnaround. If you're impressed with their design work, they also offer gigs for designing carousel ads, highlight icons on Instagram, and standard Instagram posts. These all start at $5, so you can save yourself a lot of money as well as time.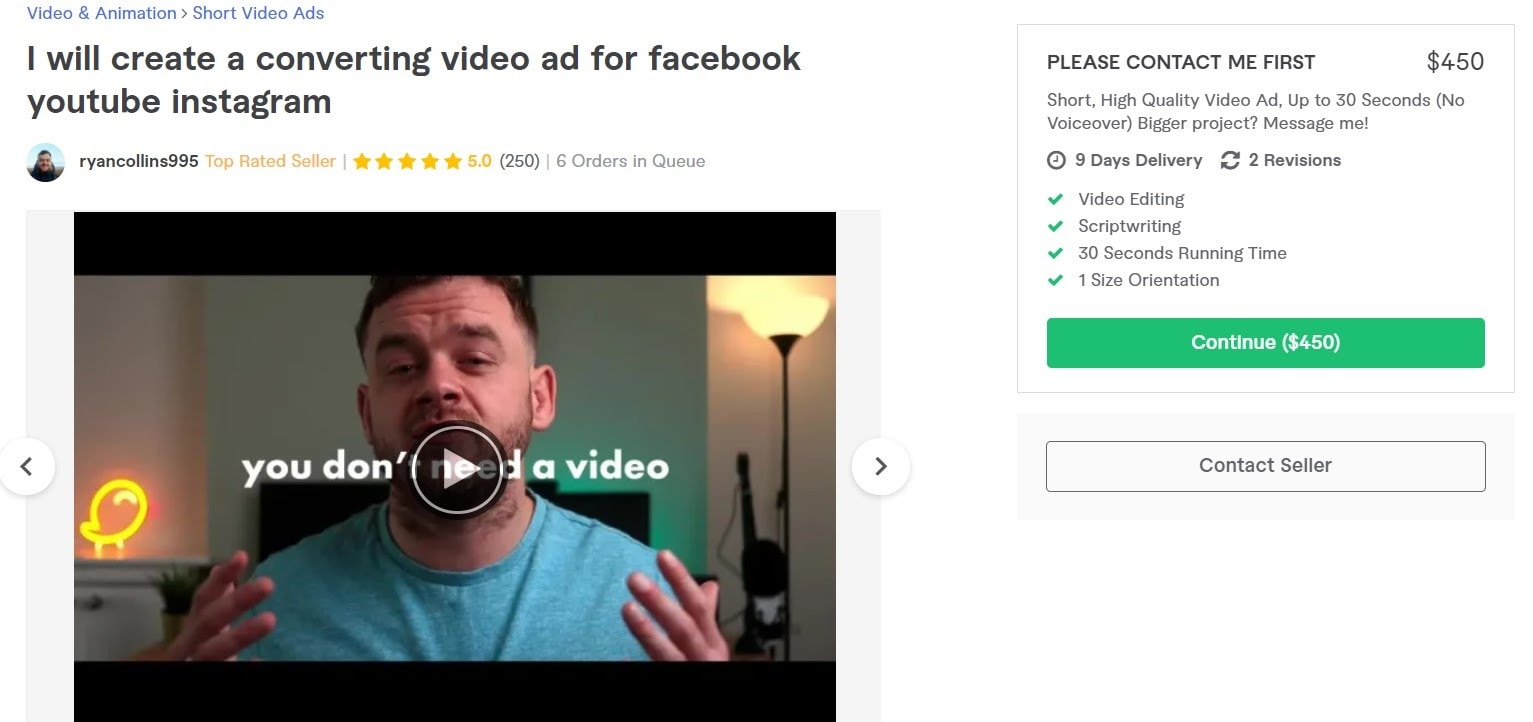 If you've got the budget for it, it might be worth checking out Ryancollins995. He's on the pricey side, but he's got a clear, strategic approach to video ads that works. With 250+ reviews and a five-star rating, he'll ditch the gimmicks and focus on delivering the right message to the right audience to help you convert. Sure $450 is a big investment, but based on his positive reviews –
there's a reason he's a Top Rated Seller.
He'll offer you a 30-second ad, scriptwriting, and video-editing with two rounds of revisions, with a nine-day turnaround, because quality work can't be rushed, right? If you're not ready to make that kind of investment,
 he also offers to help with your video marketing strategy for $135.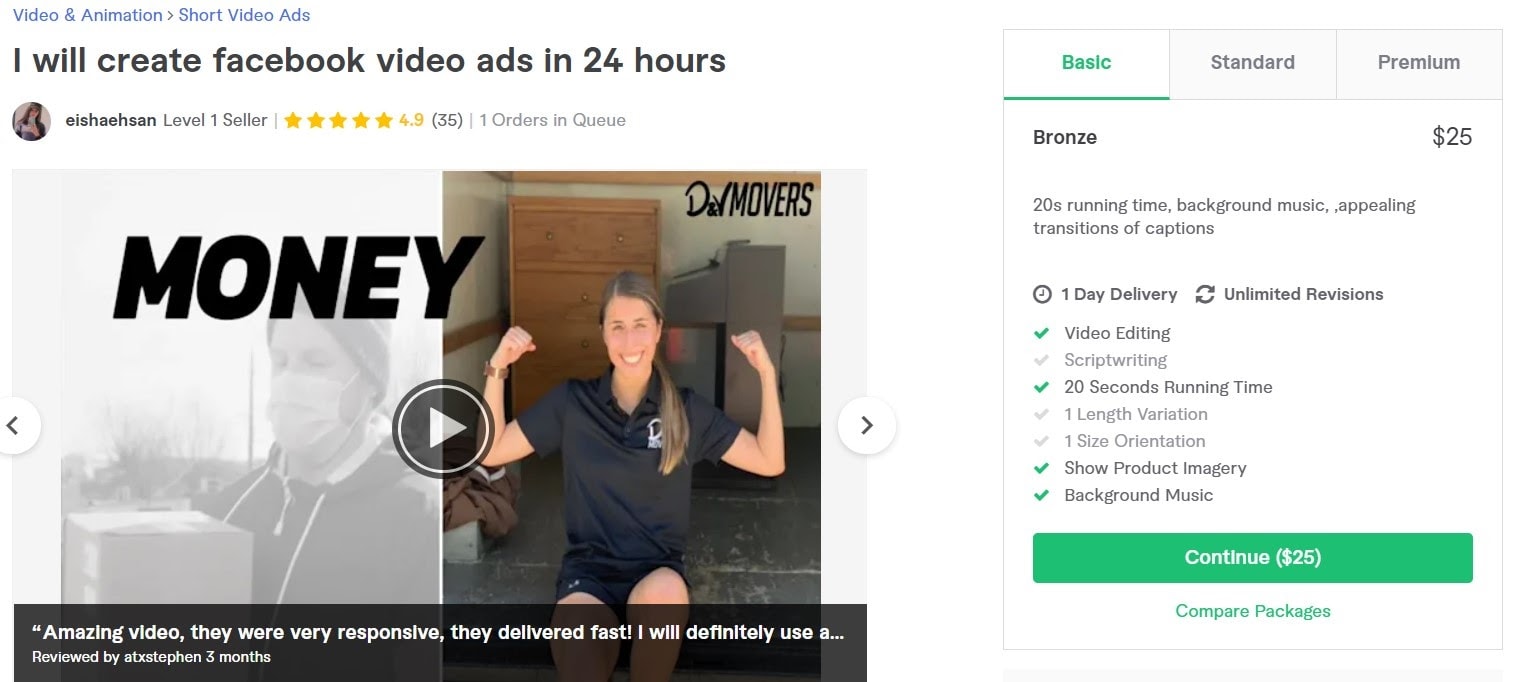 For just $25, creative designer Eishaehsan will create an appealing 20-second video ad for you. Using your own footage and images or stock imagery, all she needs is your logo and the text, and she'll do the rest, including "dynamic transitions." Many of Eishaehsan's reviews mention how well she communicated and how she was happy to receive feedback.
 Even with the basic package, she offers unlimited revisions, which gives you peace of mind.
Upgrade to the standard package ($45) and you'll also get scriptwriting and an extra 10 seconds, while the premium package ($80) will get you a one-minute video ad.
How to Hire a Facebook Video Ad Creator for a Great Price on Fiverr
As its name suggests, Fiverr is famous for offering freelancers for as little as $5 per project. While this may sound too cheap to be true, you can find experienced video ad specialists there for very attractive prices.
As a small business on a budget, you'll find it's a great starting point as you build up your social media presence
. It's free to sign up to Fiverr, and I promise it's worth your time to check it out. Just
go to the Fiverr homepage
 – you'll find Facebook advertising experts in the
social media marketing
 category under the
Digital Marketing
 menu.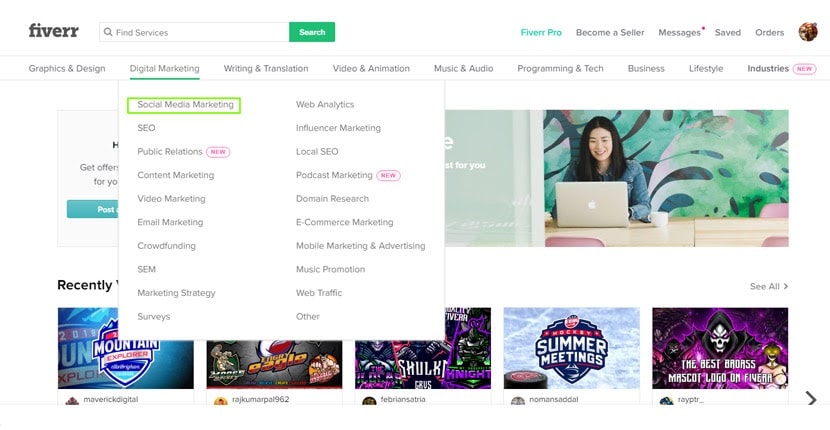 Start your search under the main
Social Media Marketing
page, or click on
Social Ad Campaigns
. From there, you'll find a variety of freelancers ready to tackle your Facebook marketing needs. To refine your search, you can narrow down your choices by platform, including Facebook, Instagram, YouTube, and others. You can also enter your preferred budget range, delivery time, and the type of advertising you're looking for.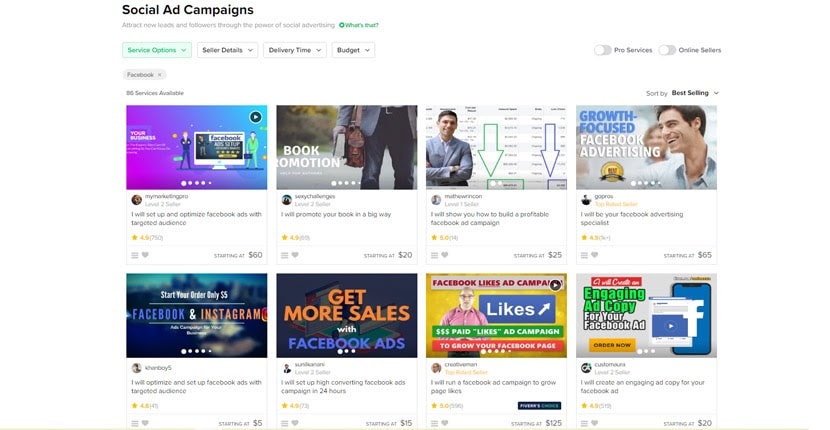 Click any gig that's of interest to learn more about the services on offer. Fiverr freelancers offer three levels of packages to suit a range of needs:
Basic
,
Standard
, and
Premium
. Many also offer add-on services to cover optional extras such as rush delivery or access to source files. Then simply move to the next page to confirm the price and enter your payment details. If you have questions about any of the gigs,
I recommend sending the seller a message before hiring them. That way, you can gauge if they're the right fit for your needs
. Tada! That's all there is to hiring a skilled Facebook video ad designer on Fiverr.
Fiverr's Key Features:
Reviews and user portfolios help you get a feel for each designer's skills.
Funds are held in escrow, which protects your investment until you approve the final delivery of your video files.
You can choose video experts from the regular talent pool or spend a little more on Fiverr Pro, a carefully vetted selection of top-rated marketing and design experts.
With the free mobile app, you can browse the site, connect with freelancers, and discuss your projects on the go.
You can read more about Fiverr's key features, and what we thought of them in
our detailed Fiverr review
.
How to Create Your Facebook Video Ad
If you'd rather handle your business's ad creation yourself, you'll want to become familiar with the Facebook Ads guidelines. Each ad category has its own set of design guidelines and supported file formats to ensure optimal performance on mobile phones, tablets, and desktop computers. There are several important rules and community guidelines you'll need to follow to advertise on Facebook, but here's a summary of some of the dos and don'ts to get you started.
Facebook Video Ad Recommendations:
Most file types are accepted, including: .avi, .3g2, .divx, .flv, .gif, .mpg, .qt, .wmv, and .mov.
Minimum length of one second, maximum length of 240 minutes
Video ratio of 9:16 or 16:9
No letter or pillar boxing (no black bars)
H.264 compression, square pixels, with a fixed frame rate and progressive scan
Stereo AAC audio compression at 128+ kbps
4GB file size maximum
Captions and sound are optional, but recommended
125 characters of text (longer text may be truncated)
Facebook Ad Dos – Tips to Help Create an Engaging Ad
Film in well-lit areas that aren't too busy or distracting. Focus on the products and services you're promoting.
High-resolution images and videos are a must. Go as big as you can to ensure everything looks good on a range of devices.
Show your product in action – if people can see the immediate benefits of your product or service, they're more likely to click to learn more.
Visual consistency – create each ad with your brand's image in mind. Incorporate your logo, along with mascots and/or products people associate with your brand. Include corporate color palettes and product shots you can reuse across all forms of marketing.
If it's in your budget, film several variations of your video ads to test which ones perform the best. Some regions may respond better to different wording, color schemes, or something more culturally relevant.
Facebook Ad Don'ts – Beware of These Potential Issues
Don't upload low-quality videos. It may take longer to upload large files, but a high-quality video will make the viewer feel like your product or service is just as high quality.
Don't rely on audio to get your message across, your audience might not be listening with the sound on.
Don't make your video too long. You've got a limited amount of time to grab someone's attention as they're scrolling, so put your main message upfront.
If you lack written permission from the company or brand, please refrain from incorporating background music or imagery that could potentially violate the copyright or trademark of another company. It is advisable to seek out royalty-free clips whenever feasible.
If you have questions about specific content types, you should consult with
Facebook for Business
 directly
. I also recommend reading up on Facebook's advertising policies.
Put Your Best Face Forward with Facebook Ads
While this article only skims the surface of the potential success you can have with Facebook video advertising, I hope it's given you some actionable information to know where to start.
Try doing a little market research of your own – I recommend checking out your favorite brands that advertise on social media
. Think about what catches your attention, and what keeps you engaged. Once you've established your preferred style,
find a professional Facebook ad designer on Fiverr
 to help turn it into a reality. As specialists, they'll be up to date with the ever-changing specifications of Facebook advertising as well as knowing how to develop an eye-catching ad that converts. With so many pro designers available, you can
also
test out potential ad concepts for as little as $5
.
Don't forget that you can get a lot more than a facebook video ad designer on Fiverr too. For example, I've found a great selection of:
Brainstorm concepts with your Fiverr freelancer, and watch them turn your ideas into a professional-quality marketing campaign that works for your business. Good luck!
FAQ
How do I create a Facebook video ad?
In my opinion, the best way to create video ads for Facebook is to work with a professional designer. It might sound expensive but I was pleasantly surprised to find you can hire a Facebook video ad designer for as little as $5! The freelancers I've worked with on Fiverr have always been great for discussing potential ideas and delivering quality work quickly, even on a budget.
How long should a Facebook video ad be?
A Facebook video ad can be anything from one second to 240 minutes, but to grab a user's attention and keep them engaged, I'd recommend keeping it under 15 seconds – nobody's got 240 minutes to spare, however good your ad is!
What kind of ads work best on Facebook?
It completely depends on your audience and desired outcome, so make sure you do your research before getting started. Take a look at our advice on how to make the most of Facebook Ads. Video ads are often best for engagement and views, but image posts and carousels work well for click-throughs.