Benchmark
can give you all the data you need as a marketer, I decided to take a close look at what analytics it offers. If you're interested in learning about what else Benchmark has to offer, see my
detailed review
. Or if you want to check out its competition, make sure you take a look at
the best email marketing services in 2023
.
An Overview of Benchmark Email's Analytics
Benchmark Email has some of the most thorough email analytics I've come across. It has all the essentials for an email marketer, plus a few extra features. The only area I think needs improvement is the look of the downloadable reports. We'll examine them in detail soon. In your Benchmark Email account, there's a "reports" section on the sidebar that can be expanded to reveal six different types of reports.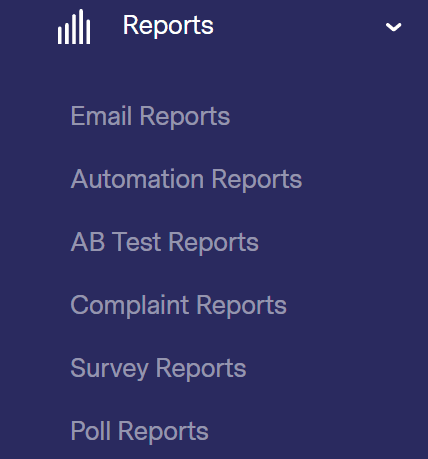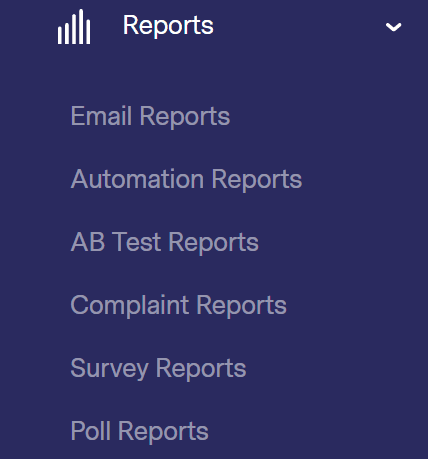 Briefly, here's what you'll find in each report:
Email reports: A detailed breakdown of any individual email you've sent.
Automation reports: An overview of analytics for automation campaigns you've created.
AB test reports: An overview of the results of any split-tests you've run.
Complaint reports: A summary of any complaints made by your email recipients.
Survey and Poll reports: The responses to surveys or polls that you've made.
You'll primarily use the first three, so let's take a closer look at them.
Email Reports
The email reports section starts with a summary of all your emails. You can click any individual one to access a detailed email report. There are four main sections to any email report, starting with the
Overview
section. This is a fairly detailed overview, starting with the basic overall performance of the email:


You'll see:
The number of emails sent
Opens
Link clicks
Bounces
Unsubscribes
If you scroll down the page, you can also see whether there were any
abuse complaints or forwards
. Not many email marketing tools track forwards, and this can be valuable if you're trying to grow your email list through your existing contacts. You'll be able to see which messages spread the best. Finally, there's a nice hourly performance graph, which will be important later on, when you're trying to optimize your send time.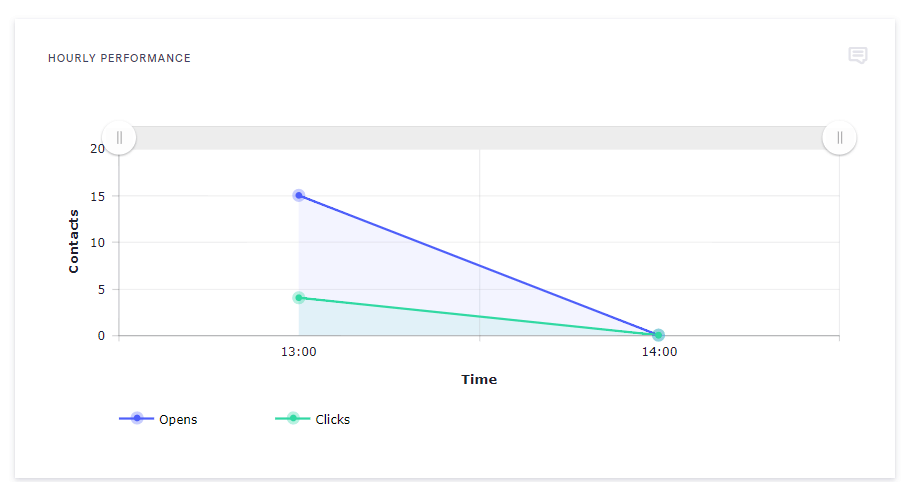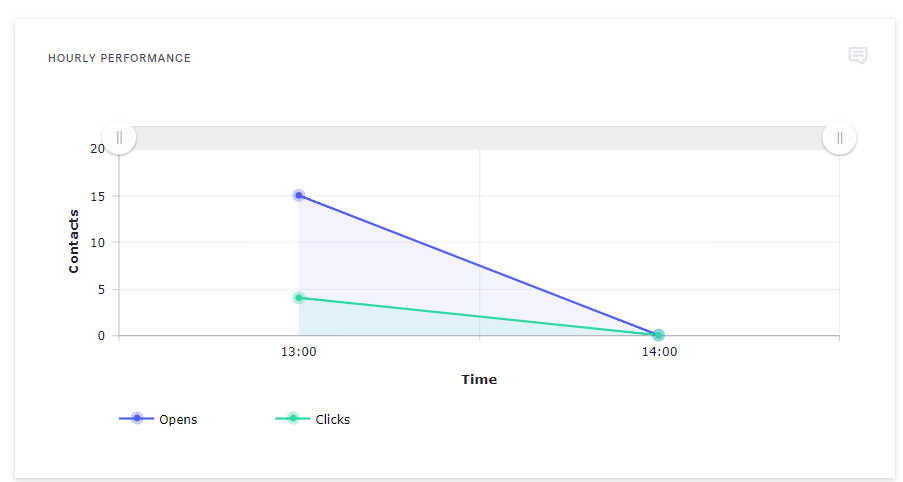 Below the Overview section, there are three additional sections you can navigate to using the panel on the left side of the report. The
Link Performance
section gives you a summary of how many times each link in an email was clicked. The
Geolocation
section shows you a highlighted map of where your email opens came from. The most interesting section is the
Activity Details
section.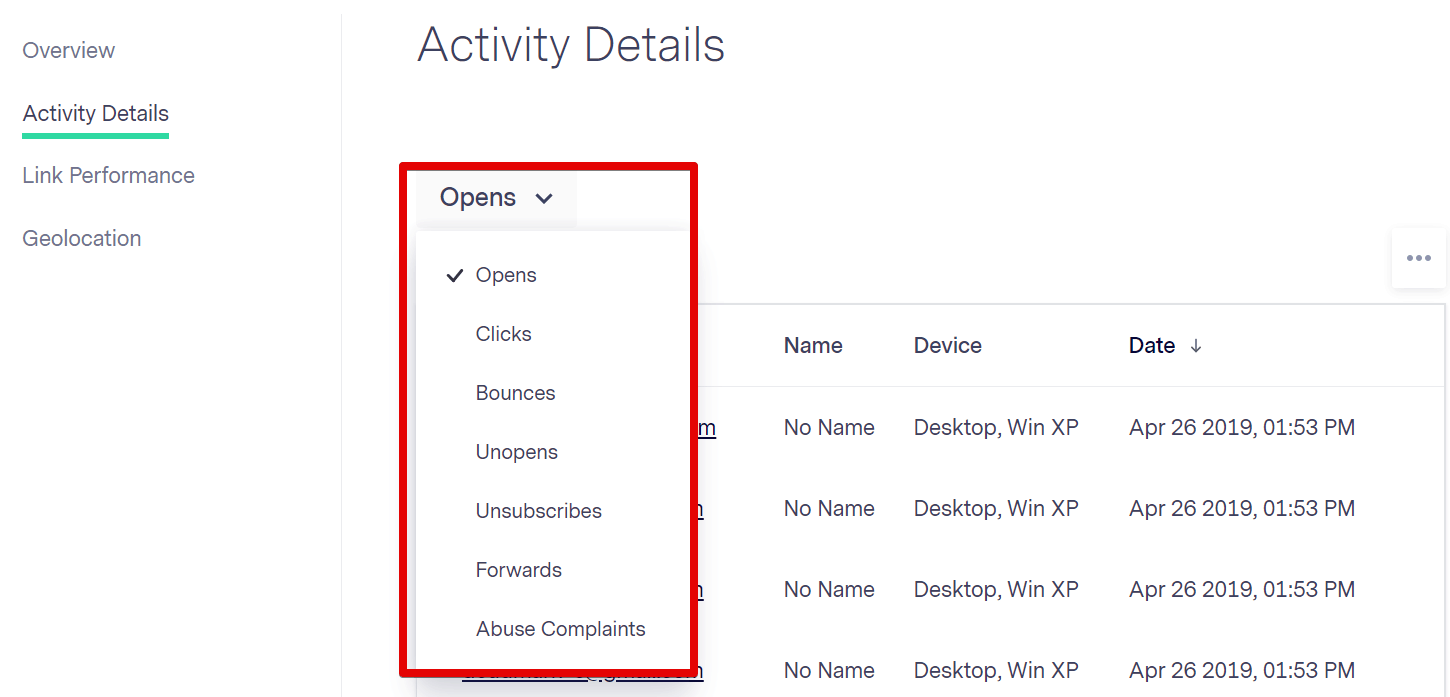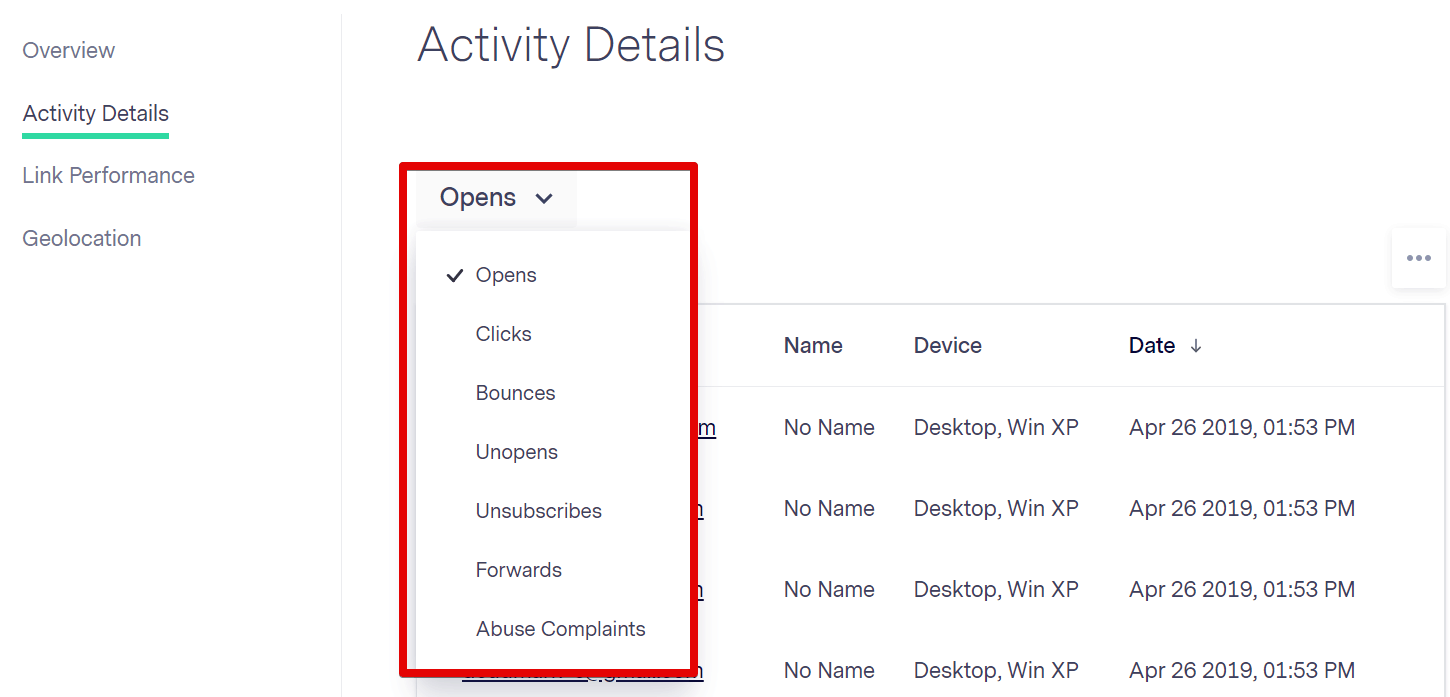 Here, you can see which contacts took (or didn't take) an action. You can look at:
Opens
Clicks
Bounces
Unopens
Unsubscribes
Forwards
Abuse complaints
You can save any individual list of contacts to
a new list
. For example, you can add people who didn't open emails to an "inactive" list and try to target them with different emails. Finally, on the main "Email Report" screen, you can also
select and compare email reports
against each other.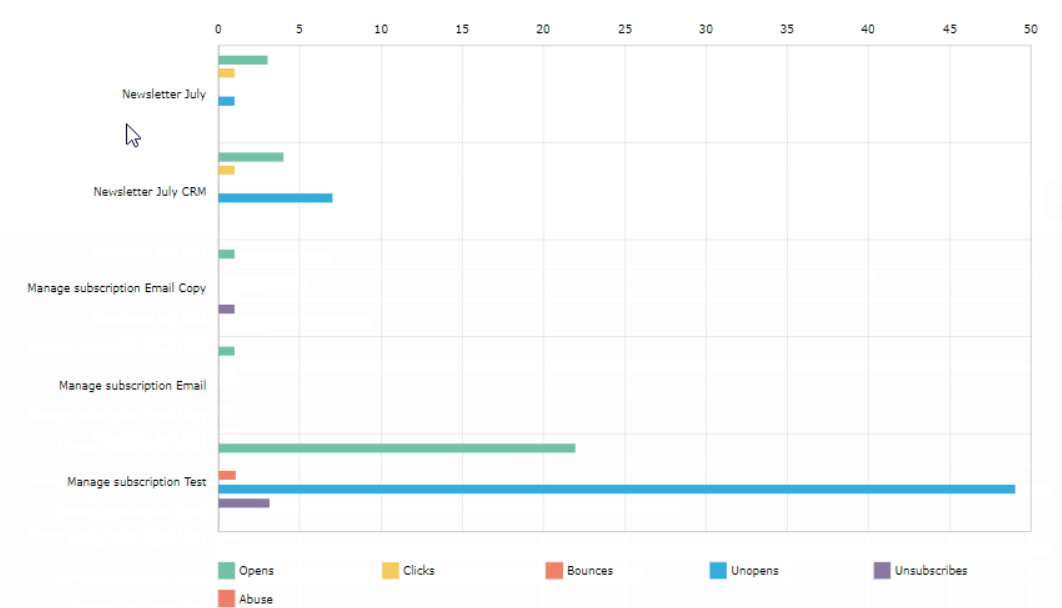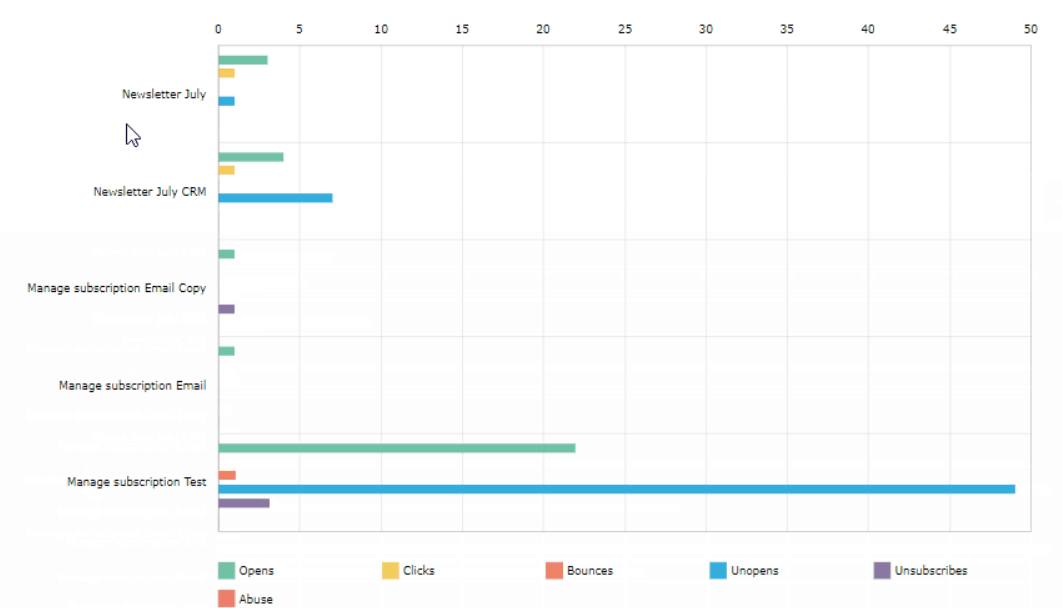 You can view the results as a table of numbers, or a graph like the one above. It will show you:
Opens
Clicks
Bounces
Unopens
Unsubscribes
Abuse complaints
Downloading Reports
You can download reports as either PDFs or Excel files. The Excel reports are nothing too pretty; they're just a plain spreadsheet with the data: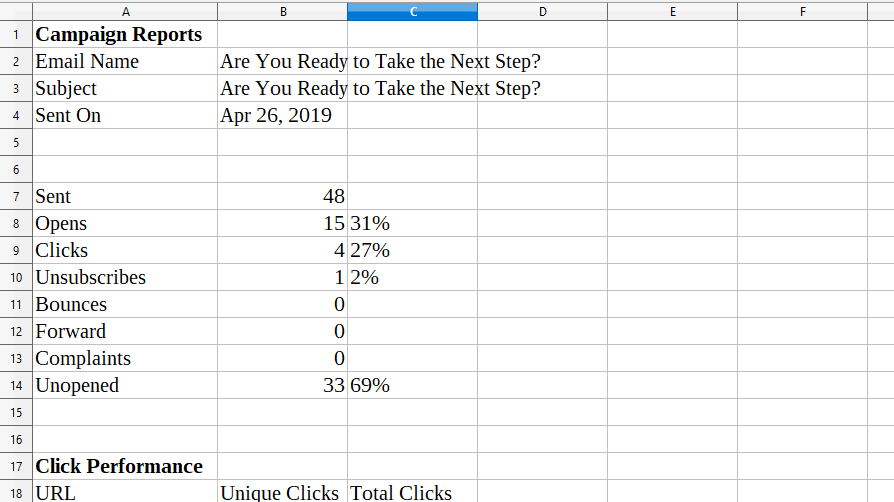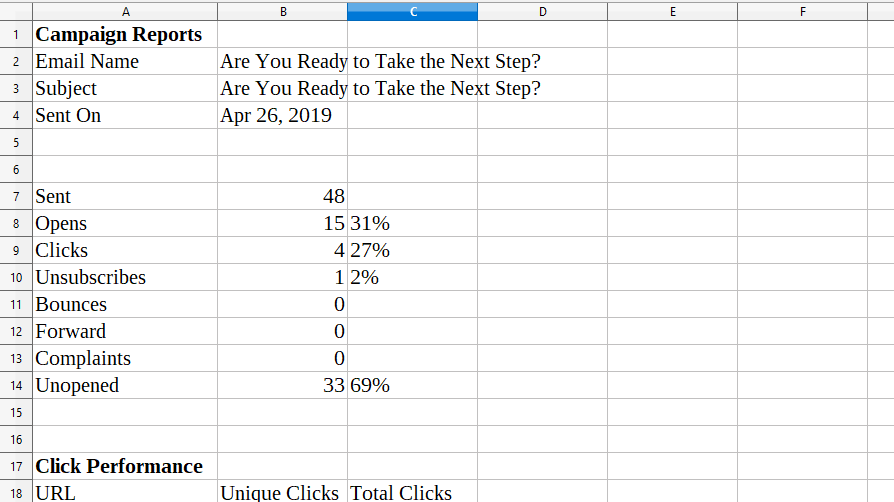 The PDF reports look a bit nicer: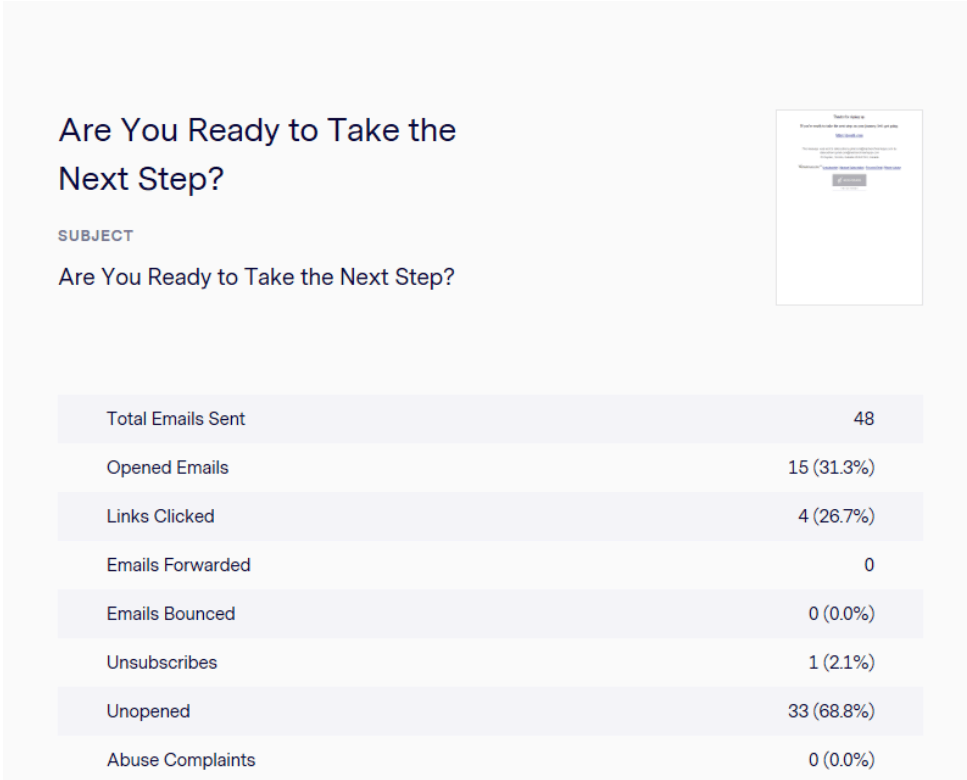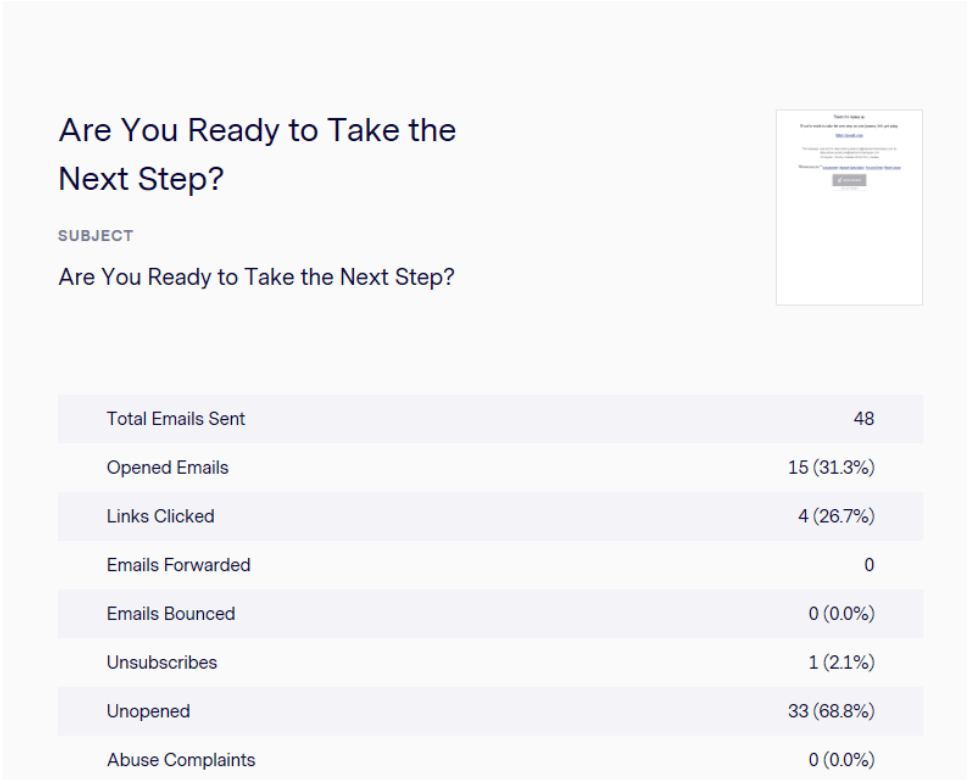 If you have to send a report to a client, the PDF might be okay. But you're probably better off just saving the web version of the reports page that has nice graphs on it.
Automation Reports
This is where you'll see the results of any workflows you've made. Initially, you'll see all your campaigns side-by-side, showing you whether or not each is active. The real data comes in the "Summary" that you can get for each campaign by clicking on it: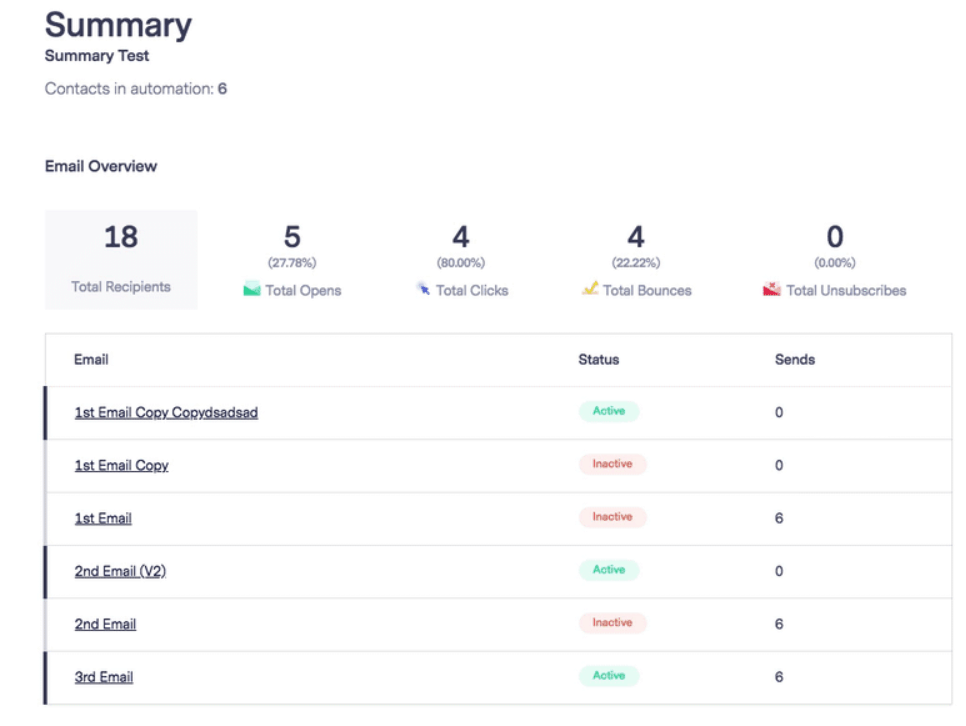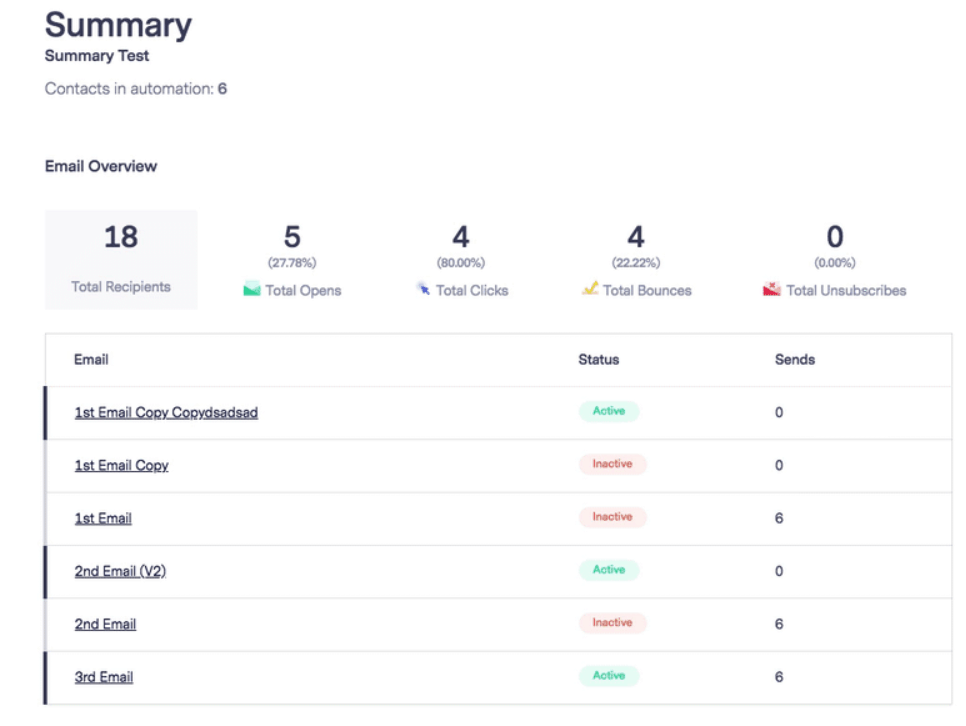 In the campaign report, you'll see
a summary of all the emails in that campaign
. It includes:
Total Recipients
Total Opens
Total Clicks
Total Bounces
Total Unsubscribe
That's not quite as much detail as the individual email reports, but the campaign report has all the essentials. If you do want the extra data (e.g., email forwards, activity report), you can click on any email in that summary, and you'll get a detailed report with everything above, and more.
A/B Test Reports
The A/B Test Reports section is an overview of all the A/B tests you've run. You can click on any individual test to get a complete summary: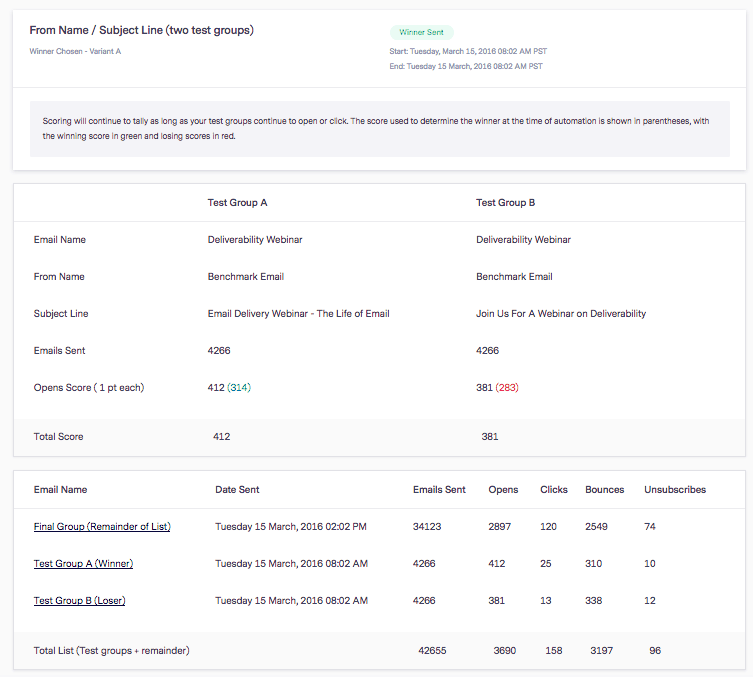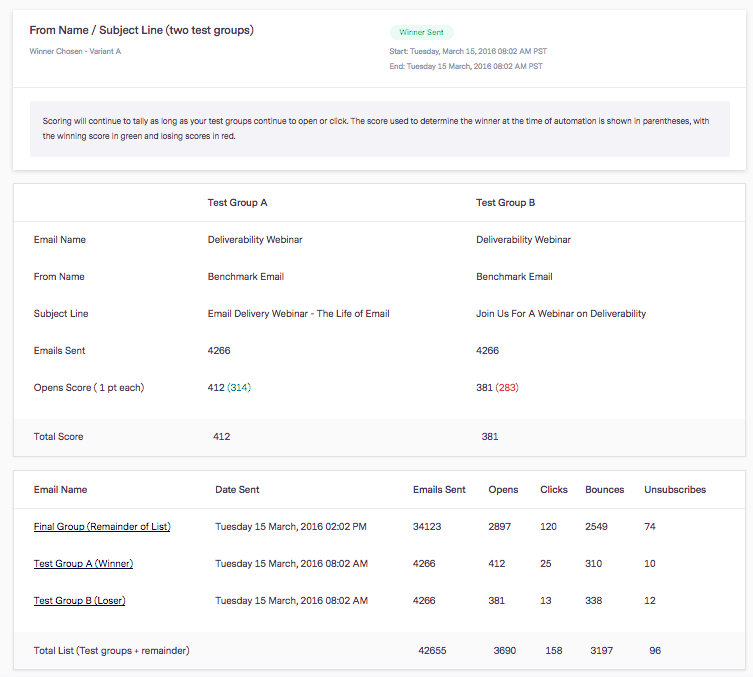 In addition to the main differences in the emails you sent (e.g., subject line, from name, or whatever you tested), you'll also see the main performance stats of each email compared alongside each other:
Emails sent
Opens
Clicks
Bounces
Unsubscribes
Again, you can click on an individual email variation to get a more detailed email report with additional data.
How to Use this Data to Improve Your Email Marketing
There are two main ways these reports can improve your marketing effectiveness. The
A/B Testing Report
will let you identify the best email to send. This helps maximize your opens and clicks for that specific email. More importantly, this data will help you take away lessons about what works best with your subscribers, which will benefit you over time. But the big win from these reports is being able to
create sub-lists of subscribers
based on the results. The detailed activity reports give you a list of subscribers who have or haven't performed an action. These can be saved as a new list. This functionality enables you to send an email to assess interest in a product. Subsequently, you can save the engaged subscribers – those who have opened or clicked a link – into a new list. From there, you have the option to dispatch further information to this new list, without causing any inconvenience to other subscribers who might not be inclined towards this specific offer. Note that you can create more detailed
segments
in the "Contacts" section of your account, but these quick sub-lists will save you time.
Is Benchmark Email's Analytics Good Enough for You?
The report interfaces themselves are simple to use and beautiful. All the essential metrics that I can possibly think of are included, and there are a few extras that not many other email marketing tools offer. The only potential issue you might have is with the downloadable reports. If you'd like a little more control, you might want to try
Constant Contact
, which lets you create custom reports. To learn more about Constant Contact, check out our
expert review
. However, if you're convinced that Benchmark Email gives you the data you'll need, you can
read my detailed review
to see what other features it offers. If you're not convinced yet, don't forget to look at our list of
the best email marketing services in 2023
.
FAQ
Which email marketing service is the best?
The best place to start is looking at our list of the very best email marketing services in 2023. Of all the options out there, I would recommend trying Sendinblue's free plan so you can try creating your own templates and sending out campaigns before committing and investing in more email sends.
How much does Benchmark Email cost?
The best thing about Benchmark is that it offers a free plan where you can send up to 250 emails per month. Now, that's not a lot once you start growing, so I'd recommend upgrading to the Pro plan for unlimited email sends. Before you sign up though, take a look at our Benchmark coupons to save yourself some money.
Is Benchmark a good email marketing service?
Benchmark is a great email marketing service – it's one of our top recommendations for a reason. It's ideal for beginners thanks to its simple drag-and-drop editor, pre-made automation templates, and 24/7 customer support. It's got a huge range of features and many of them are available on Benchmark's free plan.