Email marketing is HUGE in today's business world. Close to 60% of marketers peg email as their most effective revenue-generation channel, while 80% of retailers say email marketing is responsible for their customer retention (which is  twice as much as the next highest driver!). On average, consumers who buy things via email marketing spend 138% more than those who make purchases generically.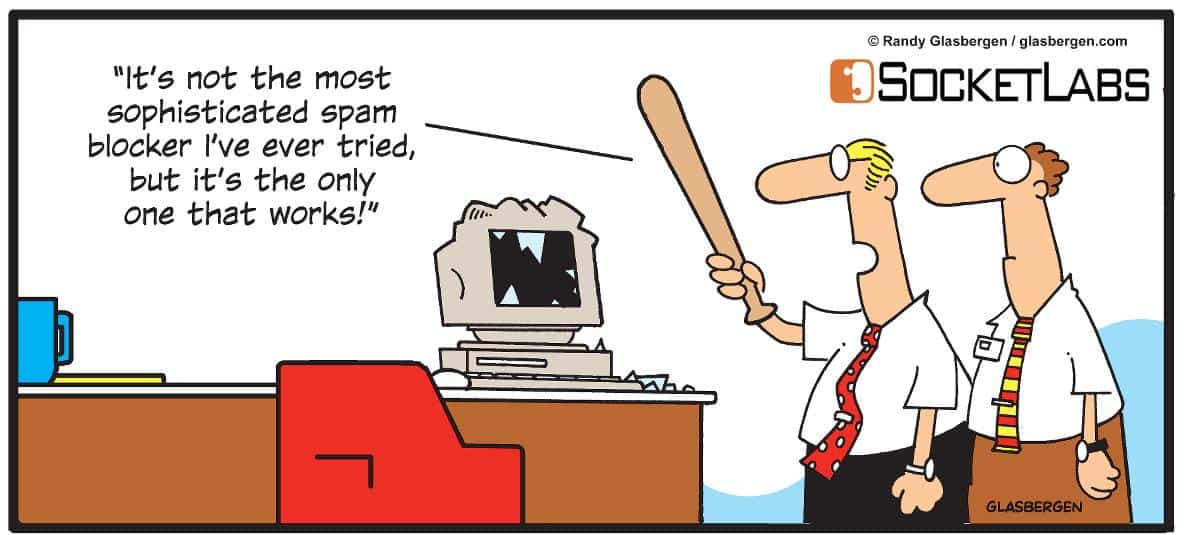 Spam Filters Killed the Email Marketing Star?
So yes, email marketing is a powerful tool, but there's one thing that can blow all of your marketing efforts clear out of the sky: spam filters. In fact, according to a recent study done by Return Path, one in five emails never reach the inbox, and global deliverability has sunk to a low of 24%. That means that nearly a quarter of all emails sent completely miss the inbox, and that number is growing annually. The statistics are even worse for American marketers, with this segment seeing only a 73% delivery rate (and that's up from the beginning of 2016 when the figures were below the 70% mark).
What's going on here? How do the spam filters have so much control over marketing campaigns? Does it really matter? And if it does, what can you do about it? Check out everything that's important about spam filters and how to ensure that your prized emails land in the inbox where they belong.
What Triggers Those Awful Spam Filters?
But first, let's get one thing straight. Are spam filter hacks important? Well, if your emails aren't getting to your customers, you're wasting nearly all of your marketing budget and losing out on potential sales opportunities that can amount to millions of dollars in lost revenue.
There are two barriers preventing your email from reaching your customers: the gateway block and the spam filter. A malicious email won't even get past the gateway, while spam filters focus more on the sender's reputation, engagement with the recipient, and content of the email.
Once you're past the gateway, it's time to enter the spam-filter gauntlet. There are two main ways internet service providers (ISPs) will block you:
Spam traps.

ISPs set up email accounts specifically to test bounce rates. If you send to an inactive email address or to another type of address that continues to bounce back, your email address will be labeled as spam. For this reason, it's super important to

pay attention to bounce notifications and remove these names from your listings immediately

.
This is also true of dormant accounts. If someone isn't engaging at all, remove them from your list to avoid getting blacklisted.
Spam filters.

Spam filters effectively filter out the spam from the rest of your email using preset conditions. For example, if your customers set up filters for certain keywords present in your subject line, your email will get sent straight to the spam folder.
Side note — spam filters aren't actually bad. In fact, they help keep your customers' inboxes from being inundated with real garbage, so there's room and headspace for the good stuff (like your offers!). So, spam filters are really your friends; you just have to learn how to work with them.
How to Avoid the Spam Filters
The numbers look abysmal for marketers, but all hope is not lost. Marketers who want to improve their emails' readership and deliverability need to increase efforts in several key areas including:
Tip # 1: Clean up your reputation
Since the sender's reputation is one of the major factors considered when factoring deliverability, it's vital that a business have a sterling reputation. You can check your rep for free at SenderScore.org.
Additionally, make sure that your content is relevant, interesting to your recipients, nicely laid out, and helpful, and that your email template is attractive. This will make you look more reputable. Using a service like Constant Contact gives you access to hundreds of templates, so designing a professional-looking email is pretty easy today.
Tip #2: Use a personal name as the recipient
Like people, email service providers want to see that they're working with a real person, not just a robot or program. That's why using a personal name in the "From" field will give your emails more credibility in the eyes of the spam filters. Besides, generic names get skipped over more frequently, even if they get past the filters. So, instead of using Messages@companyname.com, opt for YourName@companyname.com. This will not only let your subscribers know whom the email is coming from, but it'll make the whole experience more personal while increasing your chances of entering the coveted inbox.
In addition, don't keep switching out the name in the "From" field of your emails. This looks suspicious and is likely to trigger the spam filter.
Tip #3: Have good subject lines
Almost 75% of people use the subject line to determine whether an email is spam or open-worthy. That means you have just one line to make your first impression on your customers. Make it a good one.
Don't use ALL CAPS

. That's just outright intimidating.

Avoid lots of exclamation points!!!

You can't be

that

excited about a deal on car insurance.

Stay away from spam trigger words

. Words and phrases like "free," "cash," "no obligation," "earn extra," and "discount" sometimes look suspicious.
The same holds true for the body of your emails.
Tip #4: Test your emails
As with all marketing efforts, it's always best to test your emails before clicking Send. You can do this by using a mail tester service, and there are several good ones for free. In fact, Gmail just rolled out a convenient feature that measures the quality of your email. It'll measure things like subject length, word count, question count, and reading level. Then it will tell you how likely it is that anyone will respond. You can even gauge how polite and positive your content is. That way, you'll get a good idea of whether or not the spam filters will be triggered by your email and fix your mistakes before sending it out.
Tip #5: Clean up your subscriber lists
Some services will let you set up automatic email listings. MailChimp, for example, has an excellent marketing automation system (and it's free!). But marketers should realize that this isn't a set-and-forget feature forever. Why? Every time you send an email to an inactive, dormant, or unknown user, you're damaging your reputation.
As I mentioned earlier, spam filters use inactive accounts to filter out quality emails from the spam, so sending to one of these accounts can actually get your legit emails blacklisted. Go through your mailing lists and make sure everyone on there is a legitimate subscriber and an active account holder. Quality leads are more important than bulk leads. This is also why you should never buy a generic email list; they're loaded with dormant accounts that'll just land you in a heap of trouble.
Tip #6: Get your subscribers moving!
Spam filters take recipient engagement seriously into consideration when deciding what should stay and what should go. The more your customers engage with your brand, the higher the score you'll receive, and the more likely your emails are to make it to the inbox. There are loads of techniques out there to get your subscribers moving and engaging. But if you're drawing blanks, don't worry. The best email marketing services have plenty of ideas to get you started, along with the tools to implement those ideas.
Tip #7: Employ a reliable ESP
No, I'm not talking about extrasensory perception (though if you have this, it'll do wonders for your marketing efforts). Rather, I'm referring to your email service provider (ESP), which can make a huge difference to your deliverability. Reliable people tend to gravitate toward other reliable people, and the same is true of shady characters. So if you want to appear reliable, make sure the ESP you use to send out your email is also reliable. For example, you're much more likely to open an email from Scott@gmail.com than you are to open one from Scott@nonameservice.com. It's just common sense.
Get in the Box Today!
You'll also want to keep up to date with any anti-spam laws and ISP practices and technologies, so you don't miss a beat. Properly ask subscribers whether they want to sign up for your emails, and whether they can add you to their address book to avoid spam filter issues altogether. And NEVER send an email to someone who's unsubscribed. Keep these hacks in mind in order to get your emails successfully delivered to your customers.
---
IMAGES
https://www.socketlabs.com/blog/analyzing-modern-spam-filters/
http://www.thenonprofittimes.com/news-articles/rate-legit-emails-getting-caught-spam-filters-jumped/