There are two things you'll notice when looking at ActiveCampaign: There are a ton of features, and they don't come cheap. The first offers tantalizing possibilities, but the second definitely tempers the enthusiasm of many of my clients. But one thing's for sure: No research of potential email marketing solutions can be complete without it.
Do you get the best value for your money? Below, I dive in to everything that's offered, what it will cost, and how that price/functionality relationship compares with some of the competition.
ActiveCampaign Features and Pricing
I'll say it up front: ActiveCampaign has as complete a feature list as you will find anywhere else. There's no modern email marketing technique it can't do. Where it runs into issues for many companies, though, is cost. Despite there being four plans available so you can choose the right balance of price and functionality, the reality is that they all cost more than the competition.
"Lite" Plan
ActiveCampaign's cheapest plan offers much of the functionality that other solutions' middle and upper plans offer. It has more than enough features to get individual and small businesses started with email marketing:
Newsletter builders
Drag-and-drop email designers
Email templates
Ability to import existing contacts
Auto responders
In-depth reporting
Social media integrations
What's incredible is that these features are at the lowest available tier. If I'm sitting down with clients looking to get as much power behind their efforts as they can, you can't beat this. It has the nuts and bolts that marketing teams need to run an email marketing campaign.
However, the "Lite" plan has glaring omissions you should be aware of as well:
You can't sync a database, and you can have only three account users at a time. Both of these make it impossible to transfer a large, existing list of contacts over to this plan or to even manage one that's native-grown
You don't have any sales automation or lead-scoring capabilities. This makes it mostly useless for sales departments or e-commerce stores, even though the marketing functionality is excellent.
But if you're just looking to run a newsletter and other basics, this plan already has everything you need.
The biggest problem is price. A list of 2,500 contacts will cost you about the same as other solutions with similar functionality and unlimited contact lists. The awkwardness of the price point means the "Lite" plan struggles to find an audience. I can recommend it only to organizations planning to move into the higher-tiered functionality in the future, and that want to save themselves the trouble of transferring over from a different solution.
"Plus" Plan
The biggest addition in ActiveCampaign's "Plus" plan is all of the Sales functionality. Here are the highlights:
Built-in CRM
Sales automation
Lead scoring
Custom branding
Up to 25 users
E-commerce stores will have to begin at this plan. It's also the plan that most start-up and mid-sized SaaS companies I work with find best suits their needs. You have everything necessary to run lead-nurturing tracks and sales pipelines. The 25 user accounts can be a bit tricky for some organizations finding themselves with enough functionality but possibly having outgrown the "everyone knows each other" sales team model.
The biggest thing missing here for companies is the ability to customize your mail server domain. Organizations large enough to need all the functionality don't want to see their efforts directed to the spam folder, but you won't get any help on that front here. It's usually not a deal breaker, but definitely something you want to consider if you're going to be sending out many promotional offers and contests with keywords that might get flagged by email services.
Overall, I think the "Plus" plan is the best balanced plan. It's still more expensive than others — at three times the cost of the already high-priced "Lite" plan. But for organizations with both marketing and sales departments that are serious about building full pipelines, the functionality is complete from end to end.
"Professional" Plan
In my experience, the value of ActiveCampaign's "Professional" plan is limited. There are only a few new features included over the "Plus" plan: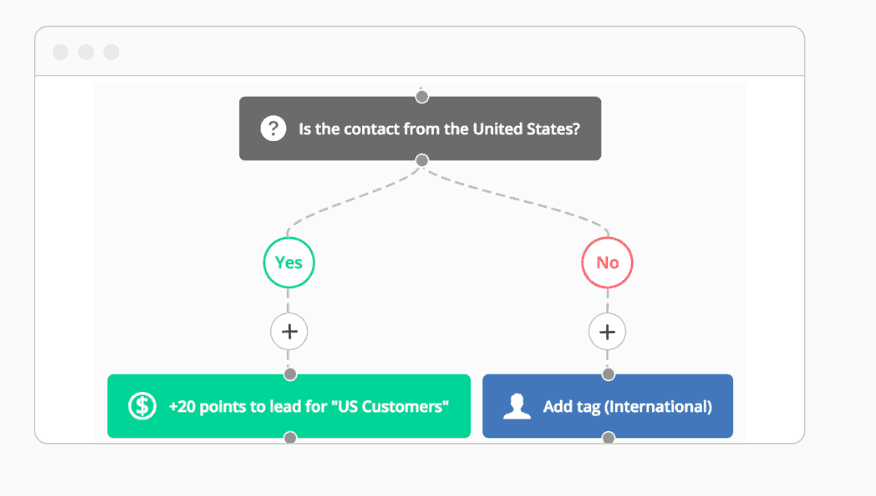 The biggest benefit of paying the extra money is the additional user accounts — up to 50. This will help larger organizations that find the functionality of the "Plus" plan adequate, but that need to scale it to include a much larger number of employees. However, where I find organizations balking is the fact that the price tag is more than twice the cost of the "Plus" plan. If you fall into the grey area where you have, say, 30 employees who need access, you may not want to pay the additional money just for a handful of new accounts.
For all these reasons, among all four available pricing options, this is the one I find the least advantageous to clients.
"Enterprise" Plan
ActiveCampaign's top-tier plan definitely adds something to it's already impressive feature list. In addition to everything from the other plans, you'll get the kind of detail that the highest ROI email campaigns are made of:
Customer server email domain
Ability to automate the discovery of your subscribers' social media profiles
Unlimited users
Uptime SLA
What I really like about this plan though has nothing to do with the feature list — it's the customer service for your organization that really sets it apart. Only the largest organizations need all the functionality offered here, and so it's also the only plan that comes with in-depth on boarding, as well as a dedicated account rep. In my experience, even organizations with large and competent Dev teams have benefited from having people intimately familiar with ActiveCampaign's software be hands-on during and throughout the on boarding, setup, and maintenance processes.
The only downside here is, again, the price. The cost of just 500 contacts will already set you back more than the top-tier pricing of almost any other email marketing solution available. But of course, no organization interested in all the functionality offered either has, or plans to stay at, 500 subscribers. And once you get to 25,000 list subscribers — the bare minimum for the size of an organization that needs everything in this plan — you can't even get a price without speaking with a representative.
Bottom line, because the most important functionality is included in even the "Plus" plan, I always tell people to be absolutely sure they need the personal attention this plan offers before spending the money on it.
The Bottom Line on ActiveCampaign
Overall, I believe the "Plus" plan has everything that most medium and large companies will need to run effective email marketing campaigns. For the largest organizations, the "Enterprise" plan is an option to get all of that functionality along with help implementing it. But with the cost being so much more than other solutions, individuals, small, and even some medium-sized organizations really need not apply — they will get everything they need, for much less cost, elsewhere.
What Are the Best Email Marketing Alternatives to ActiveCampaign?
The cost of ActiveCampaign is a big turn-off for many individuals and organizations. If you're looking for alternatives, here are four options that, while not perfect, still offer a viable email marketing solution.
#1. Sendinblue
Sendinblue boasts that it offers the same features for small and medium-sized businesses at half the cost of ActiveCampaign. Unlike ActiveCampaign, Sendinblue does have a free plan that provides many email marketing and contact management tools to get you started. Many of the tools that you will pay for with ActiveCampaign's Lite Plan, are part of Sendinblue's free plan including access to an email template library and real-time reporting. In fact, you also get automation capabilities with Sendinblue's free plan, something you don't get unless you upgrade to ActiveCampaign's Plus Plan. Sendinblue also goes above and beyond by offering customers essential tools like heat maps, send-time optimization, and even a dedicated IP for your email marketing. – features ActiveCampaign does not currently offer.
However, there are areas where Sendinblue falls short. It does not offer any third-party integrations or an option to create a double opt-in email newsletter. You can also personalize web content and do event management plus bulk social media posting with ActiveCampaign.
#2. MailChimp
MailChimp is one of the most popular email marketing solutions for a reason. It's strength, compared with ActiveCampaign, is that it has a similar feature list, but at a much lower cost. ActiveCampaign's "Plus" plan for a list of 10,000 contacts already costs as much as MailChimp's most expensive option for unlimited subscribers. MailChimp also has identical core marketing functionality (custom branding, social media ads, landing pages), giving it everything necessary to run an effective campaign.
Where it falls a bit short is the e-commerce functionality. MailChimp has advanced segmentation and cart abandonment capabilities, but that's about it. You won't get the sales automation and lead-scoring abilities provided by ActiveCampaign.
Although I've found that many of my clients are willing to deal with the small decrease in functionality when it comes with such a huge decrease in price, e-commerce stores especially, and any organization that does lead scoring generally, will probably find the gaps in MailChimp significant.
#3. Constant Contact
Constant Contact is an even more affordable option, making it a great alternative to ActiveCampaign for individuals and organizations that put price affordability first. There are just two plans — "Email" and "Email Plus" — both of which are significantly cheaper than what you'd pay to manage a list of even just 5,000 contacts on ActiveCampaign. I've also had clients who welcomed the pricing model for its sheer simplicity; you can very quickly decide whether Constant Contact will meet your needs.
The big drawback is how little it does to meet clients' needs in comparison with ActiveCampaign. Most of the clients I've worked with who even consider ActiveCampaign have functional requirements that Constant Contact doesn't provide. For starters, you can A/B-test only subject lines, which is a non-starter for many companies. In addition, there are zero true e-commerce capabilities, disqualifying it from any organization selling products.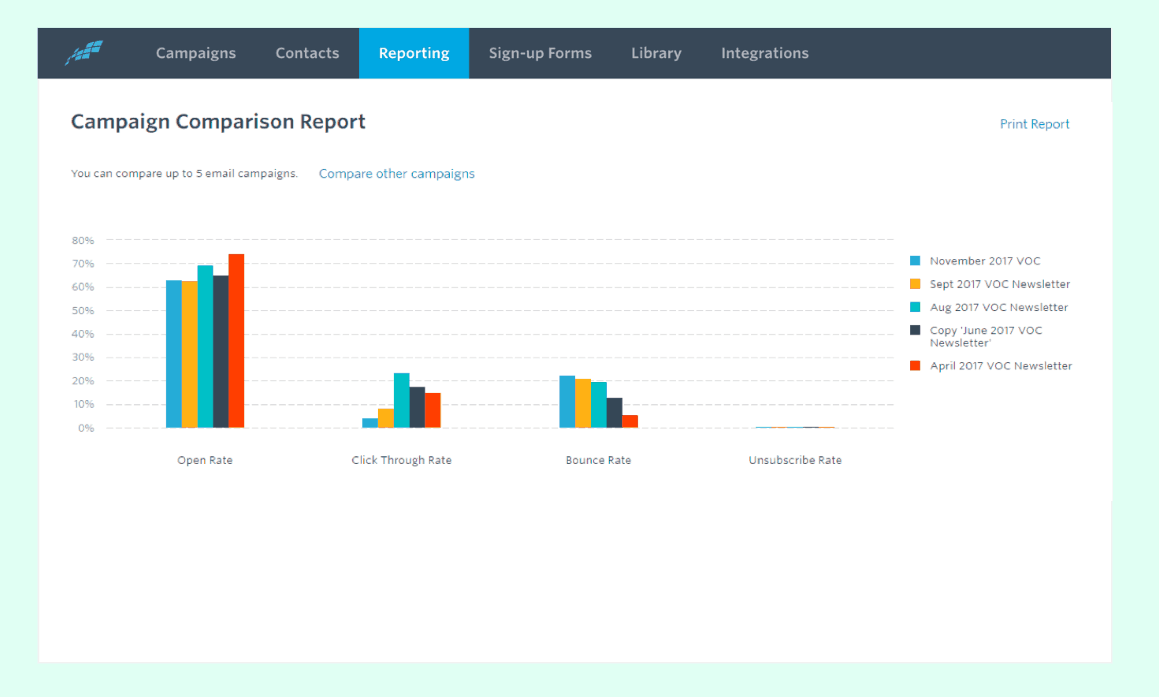 Overall, Constant Contact is a very good introductory email marketing solution. If you're just looking to send a monthly newsletter and occasionally correspond with subscribers, you'll find what you need here at a much lower cost. But make no mistake, there's a lot of modern email marketing functionality ActiveCampaign has that simply isn't available here, no matter what you're willing to pay.
#4. AWeber
AWeber has a very interesting pricing model — every plan has the same functionality, and you simply pay more based on the number of subscribers you have on your list. This makes it a very interesting alternative to ActiveCampaign, which starts at a high price point and then increases as you add functionality. Moreover, AWeber's feature list is very good, and includes list segmentation, pretty robust analytics capabilities, and the ability to integrate with most of the other popular platforms and software used by marketers. So, you can get a lot here for your money.
But like nearly every other email marketing solution out there, where AWeber falls short remains the advanced marketing and e-commerce functionality. Its feature list is simply dwarfed by ActiveCampaign's. Lead scoring is absent, there's no social media tie-ins, and shopping cart triggers are nowhere to be found.
AWeber is definitely worth the money for those looking to run fairly sophisticated email marketing and awareness campaigns. But once again, if you're out there looking to move product, it doesn't come close to ActiveCampaign.
ActiveCampaign Is Worth It For Large Companies and Organizations, but Overkill for Everyone Else
At this point it should be pretty obvious that ActiveCampaign is very likely both the most powerful — and most expensive — email marketing solution commercially available. If you're a large organization or store looking to sell as much as possible, ActiveCampaign is absolutely more than worth the money. It has everything you need to get people into the pipeline, move them through it, and then keep them coming back for more.
But all that power is simply overkill for individuals and smaller businesses. While it might be tempting to try out everything you can do with ActiveCampaign, the reality is that it's unnecessary. You can get everything you need from one of its more-than-capable competitors at a significantly lower cost.