Do you know what AuthorRank is, or how it can help your site in search engine rankings?  If not, then you are about to learn the 3 biggest secrets on why creating informative content is so important for your blog's future search results.
It is your reputation as a verified author that will influence how well the content you create performs in Google's search results. So I will show you what AuthorRank is, how it works, and how you can get started.
For your convenience we have created a presentation summing up all the key points from this post.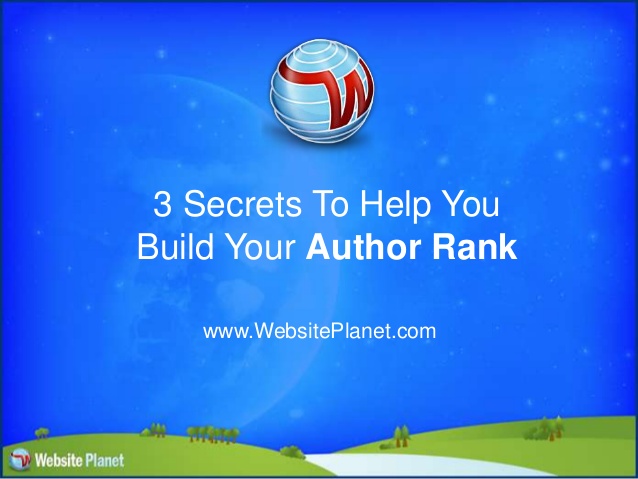 I've Never Heard of AuthorRank Before, What Is It?
AuthorRank is a new metric, which has recently been introduced by Google to recognize the author of a particular article. Google can then identify what subject area the author writes about the most, and how influential they are in that area.
In an age where content is being produced on a vast scale and then distributed on an even wider scale, Google is in need of filtering out the quality from the inferiority, so to speak.
Therefore, you can see straight away that author reputation is a big factor that must be established and preserved in order to have any affect.
There are a number of factors in place to how authoritative an author is, such as the number of followers you have on social networks, and how often the content you publish gets shared.
What Do You Need To Do To Get Started?
The first steps you need to take is to establish control of the content you have written and published, which will allow you to start building up your AuthorRank.
Setting Yourself Up to Prepare For AuthorRank
rel=author
This is the most important implementation you will need to make.  By creating this connection, you will see highlighted results that will drive higher click through rates (see Matt Cutts talk about rel=author below).
In the past year Google has updated the way you link content (it's a lot less confusing), all you need to do is head over to the Google Authorship page and check that the first 3 points have been completed. Once completed you need to verify that you have an email address on the same domain as your content.
So create a link from your site:
<a href="[profile_url]?rel=author">Google</a>
Then in your profile, head to the Contributor To section and click edit. Now you can add a custom link to the site as a reciprocal method. Don't forget to click save.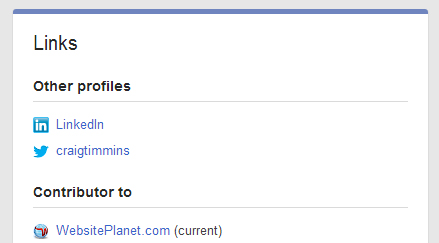 Once the link has been established and verified, you should start to see your headshot pop-up alongside the content that you have published on the Internet, like mine below:

Now That You're All Setup, Here Are The 3 Secrets To AuthorRank Success?
We have left the best to last, as we wanted you to understand what AuthorRank is, what it can do, and get yourself setup before we discussed the secrets to building up your AuthorRank.
There are 3 secrets that can be broken down into different sections.
Secret #1 – Increase your activity on social sites
If you have produced quality content, then now is the time to start shouting about it. I mean literally, get on Twitter, Facebook…etc., and share it. The chances are that at least one person will pick it up and comment, and as soon as you get that comment it will start the ball rolling for you.
How many comments did your content generate?
Who commented on your content?
Did those who commented on your content have expertise in that topic?
Were the comments on your content of high-quality?
Were the comments on your content of a positive sentiment?
Secret #2 – Create and publish high-quality content that is both informative and resourceful
Don't just write content for the sake of it, put your heart and soul into what you write and you will be rewarded. If you find what you are writing about boring, then your reader will. If you have something interesting and controversial to say then you are likely to get that content shared and retweeted.
How often is your content shared?
How quickly is your content shared?
Who shared your content?
Did those who shared your content have expertise in that topic?
Do the same people always share your content?
Secret #3 – Connect with influential people
If there is a collection of influential people in the sector you are writing for, then reach out to them for their thoughts or comments. One comment, retweet, and like from someone that has a big presence in your industry could be the ideal starting point.
How often is your content endorsed? (Share, Like, RT'd)
Who endorsed your content?
Did those endorsing your content have expertise in that topic?
Do the same people always endorse your content?
AuthorRank will change the way we see search results in Google so it's important to get started by linking your content to your name.
Remember, it is only a matter of time before we really start to see AuthorRank kick in, so don't be left in the dark.
Are you ready for the future of search?