From online shopping and distance learning to social networking – our society is embracing the digital era, especially business owners. If you own a blog for your business or write blogs for other people's companies, be prepared for a stiff competition and a heavy push for innovation just to survive in the blogging world. However, to excel in it – get ready to embrace social media as an incredible tool for building and strengthening your niche market. Continue reading for advice on how you can improve your blog reach by having a direct and practical engagement with your blog audience via social networks with a well-designed blog and social media strategy.
Building a Social Media Strategy
What is a social media strategy? It is a brand's campaign to reach out to their shoppers and followers and get them to talk about the company/its products, as well as to share the company's information with their peers. When developing a social media strategy, you should:
Determine clear objectives and goals
Understand your target audience
Conduct a social media audit
Look at using a variety of social networks
Identify key success metrics
Have a valuable content
Use social media management tools
Give more than you get
Be consistent.
Which Social Media Networks to Use?
To figure out the answer to this question, you first need to identify your target audience. Whichever social network your clients and potential customers are using – you should be using that social network too. Regardless of whether you like or understand that social network – if the target demographic for your brand is on it, you better be on it as well.
Not all content is suitable for every social media platform. If you are a newbie to the social media universe, then you need to know what kind of content can be shared and where. Nowadays, the most commonly used social media networks are:
Facebook – Videos and blogs are the types of posts that have the highest performance on Facebook. Blogs that are both educational and entertaining do best on the most popular social network in the world.
Twitter – The most common reason for people to use Twitter is to keep up with news, especially breaking news. So, any type of blog in which news is being shared should do well on Twitter.
Instagram – High-resolution photos, quotes, and stories are all over this social network. You should use beautiful and artful photos of the product/service that is subject to your blog post to attract Instagram users to read the entire blog.
Pinterest – If you can summarize your blog post in an infographic or produce a step-by-step photo guide from it, then you are on the right path to utilize the power of Pinterest. Users who wish to read more in details about the information shared in the infographic or photo guide will be intrigued to click on your blog's link and that will increase your blog's reach.
11 Ways to Use Social Media to Improve Blog Reach
Here are 11 actionable and free ways to increase your blog traffic and reach:
Post comments on other people's blogs – Follow blog owners who write in your industry and as soon as you come across their content relevant to your blog, you can comment on it and share a link from your own blog. This way the readers interested in the topic can expand their horizons and you will expend your blog readership.
Recycle blog content – Repurpose old blogs by sharing bits and pieces of them on different channels. Mix the most engaging posts from past blogs with new products or services that your audience needs and wants. In addition, you can combine your top few blogs in one long guide or turn them into fun quizzes published on social media. This way you will create more time and revenue for your business – time that you will save by not having to write more new blogs.
Use a teaser of your content – When sharing a link to your blog on any social media channel, ensure you include a teaser as well so that your audience has a reason and curiosity to open and read the full blog.
Choose an appealing image for your blog – Besides using a teaser text, post an eye-catching image with it. This will make the link to your blog to stand out on social networks, as the ones containing only text are easy to skip among all the other posts in your audience's feed.
Add an intriguing call-to-action – The social network's visitors are not looking for a reason to leave it, so the link to your blog alone will not be sufficient for them to do that. You must lure them with a freebie or learning opportunity for them to click on your blog's link.
Post the same blog multiple times – Your audience is not online all the time so not a lot of them will notice if you have posted the same blog or part of it again and again. However, be careful not to cross the line of being annoying, as that would mean losing instead of gaining followers.
Make it easy for other people to share your blog on Twitter – Use social plugins like Sumo or SocialWarfare to get other people to share your blog on Twitter by adding click-to-tweet quotes within your blog. Then track the activity of each link over time.
Utilize Facebook groups – As there are many groups on Facebook, the chances are that there is one for your market niche and some of them allow promotion of blogs. However, make sure you read the rules of the group before sharing a link to your blog post.
Join Pinterest group boards – Pinterest is more of a search engine than a social network; however, by joining a Pinterest group board your pins will be seen by not just your own followers, but by the group board's followers as well!
Schedule social media content – Do this using a scheduling tool to help you with being consistent on each different platform and stick to a regular schedule to publish the most appropriate content at the best time for your audience. Scheduling will give you more time to be active on social media and further engage your audience.
Follow analytics – Although there are many studies done on the topic of when and which posting will bring the optimal results, the best way to find out what works for your target audience is to research it! You will have to experiment at first, and then let the analytics results such as Tweepsmap show you the way.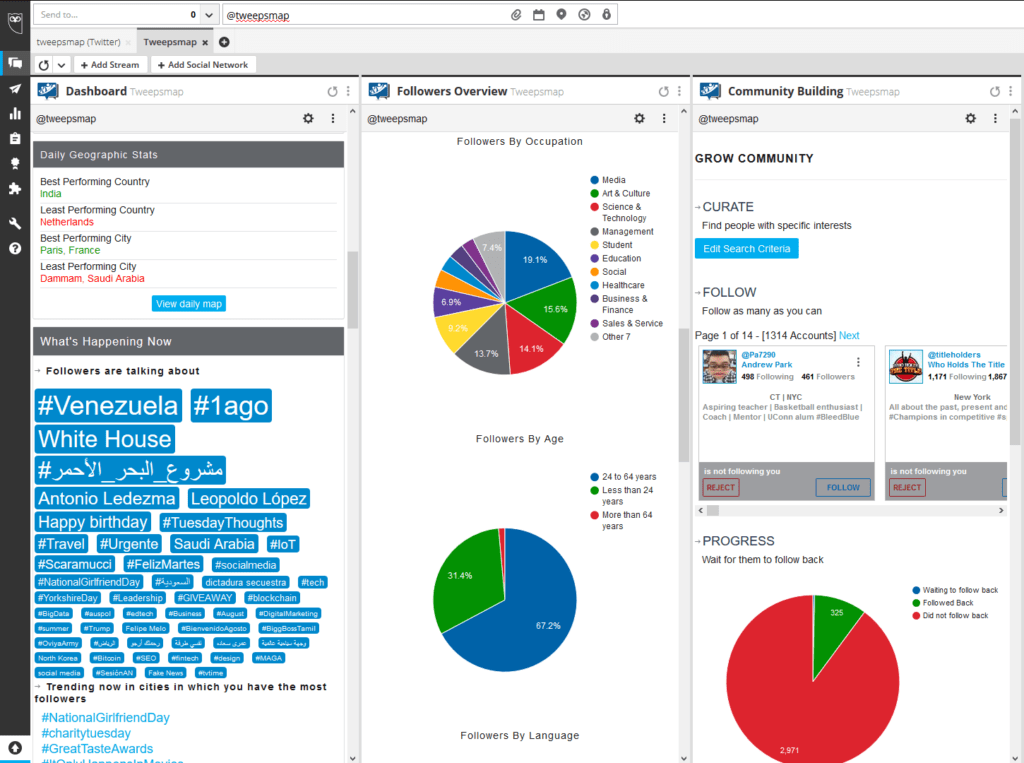 Some Social Media Management Tools
Certain quality social media management tools will increase your social productivity and save you some valuable time. Instead of repeating boring blog and social media tasks every day, you can schedule them with a social aggregator. Some of them are:
By using any of these or similar tools, you will also get the following benefits:
Manage multiple social accounts from one place (streamline team collaborations)
Keep up with social engagement (e.g. organize conversations)
Monitor relevant keywords (for leads and valuable information), and
Analyze social performance (produce reports for stakeholders).
You can even use a combination of a social media posts scheduling app and a content-saving app such as Pocket where you can be saving interesting articles, videos or images to read and share with your audience via a social media management tool at a later stage.
Do Not Rely on Trial and Error – Instead, Plan and Optimize
Not using social medic to improve your blog traffic is equivalent to blog suicide. Blog owners no longer have the choice of whether to use social networks or not, as it is essential for their blog's promotion.
Simply, plan ahead, track your results, analyze the data, and then tweak and optimize your results. Do not just rely on trial and error – create a good social media strategy for your blog, use social media management tools and learn from your blog's past successes and failures. Learn about your audience and continue to grow.