Overview
A Large Company Who Could Do Better
Ok so first of all, we have all heard of GoDaddy – whether its for TV ad campaigns, online advertising or through controversial news stories that have hit the media. They are a large company but when it comes to their website builder it is almost like they have just thrown something together quickly to say 'we have a web builder'. Now, don't get me wrong it works, but there are a lack of features, templates and they don't offer a free package. However, the paid packages are very well priced and you do get a few extra things thrown in.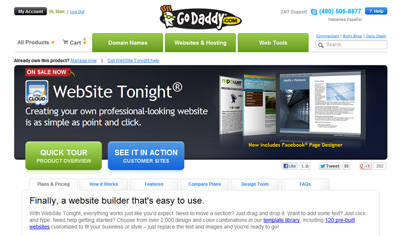 Why Choose Godaddy.com?
Easy to use
Community and forum support
Make money with your website
Daily deals and discounts
Great price compared to competitors
Need more info? Yeah, I thought so. Read on…
Templates & Designs
GoDaddy Has Tons Of Colorful Design Templates & Pre-Made Web Templates
Selection – Godaddy has about a million and a half templates, because each template option also comes in a range of different colors.
There are also 120 premade webistes, meaning that everything is already done, you just tweak a bit here or there so that your company name is onsite and your details are all accounted for.
Everything else is there, which is why your website is finished…you know…tonight. Bad news? Most of the templates are, shall we say, dated.  They just look kind of old and tacky to me.  But hey, beauty is in the eye of the beholder right?
Customization – You can do a lot, but there are some irritating issues with HTML. As in, any HTML you try to play around with will only work if you're really lucky.  They do have a fantastic range of images though.
Multimedia – Godaddy's done pretty well here, there's a built in photo album and video, audio, animations…all well done.
Websites Built With Godaddy
Visit GoDaddy
Features
No Free Package But Decent Features With Top Tiers
They have slowly improved their web builder service since the first launch but still need to tweak areas in order to compete with the likes of Wix, Weebly and Squarespace. For example, you won't find a free plan but you can benefit from a low cost paid plan at £1 per month, which is great but does come with its own problems.
The drawback is that you won't get many perks or features unless you pay the top end package. However the top package does offer some incredibly good features and only costs £6.49 per month. The top package offers business themes, SEO packages, mobile sites, good bandwidth and storage specs, and a handy 1 year SSL certificate that you wont find at many other website builders.
Social Media Integration
Facebook, Twitter & FlickR are easily integrated with your site, and GoDaddy even offers the awesome feature of helping you design your Facebook fan page.
Widgets
GoDaddy has a decent range of their own widgets (weather, maps, news, clocks, event planner…), plus you can add external ones.
SEO Friendly
There are basic SEO capabilities, but considering you're paying for your site no matter what, I was somewhat disappointed with the SEO capabilities. GoDaddy doesn't help you automatically optimize, also changing your tags is a bit difficult.
E-commerce/Online Stores
GoDaddy makes e-commerce super easy and comfortable, and especially with the deluxe version, you get a great package with strong tools. You get multiple payment options no matter what, and you can make a really nice online store.
Mobile
You gotta build on a .Mobi domain. It's not automatic, and it's a bit uncomfortable to work with.
Monetization
You can, in theory, use Google Adsense and Banners, but because you don't have access to HTML for the whole site, you have to go to each individual content block. It's difficult and there are a lot of reported technical issues with it.
Visitor Statistics
Use GoDaddy Visitor Statistics, or upgrade to Site Analytics.
Custom Domain/Email
Encryption
GoDaddy offers great security and encryption features. They offer strong phishing scam filtering and you can be rest assured your site is secured and protected from attacks.
Free Google Webmaster Tools
Help analyze your site's performance and capability and improve keyword usage.
Visit GoDaddy
User Friendly
Easy, Professional and No Special Skills Required
The Godaddy Website Tonight control panel has a lot of components which are not present in other website builder's editors.
This may seem daunting at first, but once your choose your template or a pre-built website to modify it becomes smooth sailing.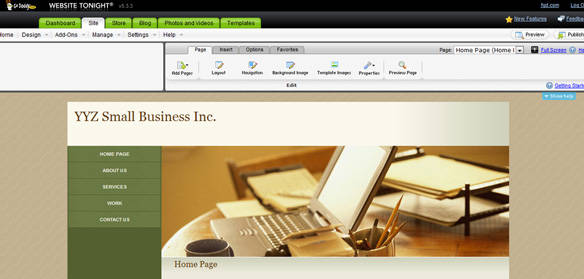 The drag and drop functionality is easy to use and there are other tools like
the photo galleries and other web management tools make the job a lot more easier.
Godaddy offers a secure hosting platform with full back-up in case of disaster and if you're a newbie you can use their hosting concierge to put you through the process and help with your website hosting.
Visit GoDaddy
Pricing
How Much Does It Cost?
Other than the fact that there is no free package, GoDaddy offers a motherload of "free" features (like Advertising).
SSL Certificate
Visit GoDaddy
Summary
PRO'S

CON'S

Easy to use
E-mail, phone and Tech support
Page level password protection
Google Adword credit
Bing/Yahoo search credit
Facebook search credit
Video recorder
Quick shopping cart and E-commerce features

Limited features for low paying customers
Browser and operating system compatibility
Browser and operating system compatibility
Online file managers are not easy to use
Set up time delay
SEO tools and site submissions attract additional charges
Like Godaddy Review? Click here to build your website for free.
Visit GoDaddy
Users Reviews
(30)
Read Testimonials & Reviews of godaddy-website-builder or write your own
User Score
(based on 13 reviews)
4.0
More
Did you try
Godaddy Website Builder

? Write a review
Godaddy Website Builder doesn't suit your needs?
Check the Highest Rated Website Builders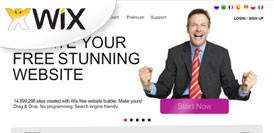 Wix Review Score: 9.8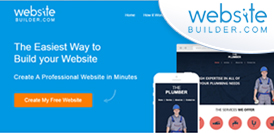 WebsiteBuilder.Com Review Score: 9.3


Web.com Review Score: 8.9