Overview
A Credible Form Builder With Extra Tool Sets
A clean looking website that has been established since 2006, FormStack offer a great way for novice users to quickly and easily build up forms, using modern and professional templates. You can benefit from a free limited service, but there is a catch to signing up for this, you will need to signup for a 14 day plan first before moving across.
The FormStack platforms does offer extra services which you can make use of, and they include eCommerce and email tools, to further extend your site.
Why Choose Formstack?
Easy-to-create forms for business
Launch Pad tools to create storefronts, emails, and more
Want to know if FormStack is right for you?
Let's check it out…
Templates & Designs
FormStack Offers Few Forms
A handful of general forms are pre-created for you to work with.
Template Selection: The selection is fairly limited – a handful of forms in 10 categories – with the most templates available for HR.
Customization: You can customize the various forms and fields, but are limited by number of fields for the Free plan. Themes are only available for paid plans.
Visit Formstack
User Friendly
Bold Colours and Simple Layouts To Help You Get Started
You won't find any kind of clutter at FormStack because they have put the user first when thinking about the design and layout of their form builder. If the spacious design and easy to use features aren't enough to make your life easier, they also offer a very useful Wizard that will help you build the foundations and then structure your form to how you want it.
If starting from scratch isn't what you are looking for then you can get one step ahead by taking a look through some of the pre-built forms on offer.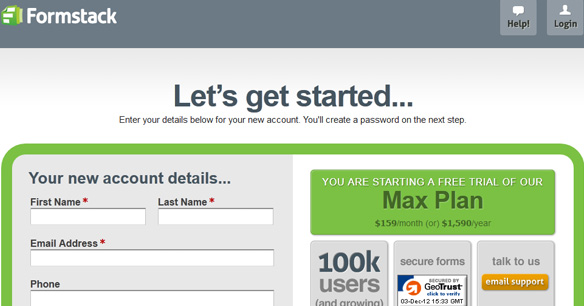 Right now, Launch Pad is free during beta and promises to be a very easy way to build stores, pages, and custom emails. Soon to come are other tools such as events and CRM. Take advantage while you can.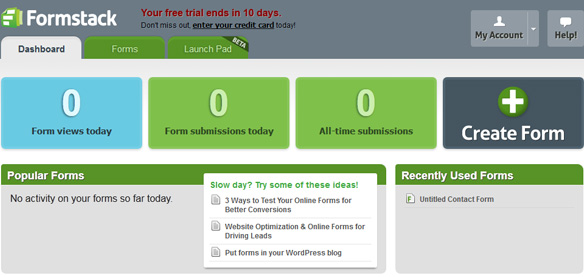 Visit Formstack
Features
FormStack limits their features for Free plans, including eCommerce.
Number of Forms
Add Attachments
Multi Page Form
You can have multiple pages on your forms, as well as progress indicator for users.
Form Rules
"Conditional Logic" is available for checkbox, radio, or number fields.
Reports
Reports can be generated in table or chart mode and results filtered.
Export Data
You can export with in CSV or RTF formats.
Spam Prevention
CAPTCHA not available on Free accounts.
Accepting Payments
Payments are not accepted for Free accounts.
Stats & Analytics
Not at Free level, have to install separate plug-in.
3rd Party Integrations
Integrations with Twitter (but not Facebook), MailChimp, Google Docs and many more.
Ads
Visit Formstack
Pricing
Secret Free Level Available After Signup
FormStack has you sign up thinking you only have a 14-day trial before you have to pay for one of their services. This is not completely true, as you do have the option of downgrading to their free account once you have registered. They do not collect any credit card information at signup, so you don't feel like you are locked-in to buying.
Visit Formstack
Support
Chat Available at Free Level
Clicking on a large Help! button in the upper right opens up a floating window where you can easily type in a question and be directed to chat or a support ticket – these are available at even the Free level. For DIYers, there is a decent knowledgebase, as well as community help, but there doesn't seem to be much activity there.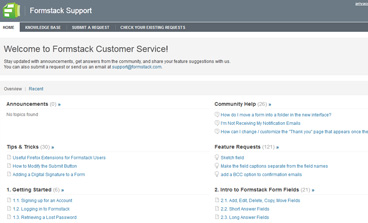 Email Support
Forum – not very active
Support Center
Blog – very active
Live Chat
Video Tutorials
Phone Support
Visit Formstack
Summary
FormStack looks good and is easy to use, but if you are looking for a freebie, you are very limited with what you can do. The price points are on the higher end of their competitors. Still, they do offer a few cool things like live chat and Launch Pad shows a lot of potential. Their Tips&Tricks blog can really keep you ahead of the curve.
PRO'S

CON'S

Step-by-step form building for beginners
Live chat
Tips & Tricks blog

Expensive
Limits on all forms
NO eCommerce until Starter level
Visit Formstack
Did you try
Formstack

? Write a review
Formstack doesn't suit your needs?
Check the Highest Rated Form Builders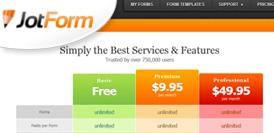 JotForm Review Score: 9.4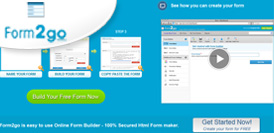 Form2go Review Score: 8.8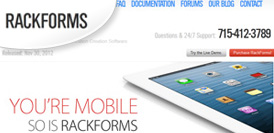 RackForms Review Score: 8.6