Introduction
Whether you have a brick and mortar retail business, or a great idea for an online store; Whether you are a lawyer, an entrepreneur or even a consultant – you know that in order to keep up with the way business is done in the 21st century, you must have a website.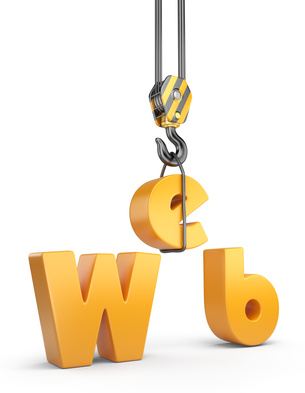 Building and promoting a website can seem like an overwhelming task, especially if you don't have the time and experience to design or code on your own. While some years ago this might have been true, the fact is that nowadays building a website is not beyond the reach of anyone.
With a blossoming market of online tools to benefit even the most inexperienced of us, this seemingly daunting task has never been easier.
In this book we will take you through building your own budding web empire; From research & planning to going live and grabbing the attention of your first visitors.
No matter what kind of business you have, by the end of this book you'll have everything you need to create your first site and and tap into the vast opportunities that lie in today's online markets.
What makes a great website?
Try to think of the last time you were researching something online. I bet it's not hard. While you were browsing, you probably noticed some websites that were just a bit too cluttered or sites that were difficult to navigate through.
While the gold rush to the online world is ever increasing, a lot of people neglect certain aspects of their website. It could either be due to poorly planned navigation, uninteresting or non informative content, or simply bad design.
Lack of attention to each and every one of those aspects while building a website will cost anyone a whole lot of potential clients. Any user faced with a bad site would most likely leave and find another, more functional website that will most probably better suit their needs.
It really doesn't matter if a website can actually meet those specific needs, a potential customer can tell within a few seconds whether or not they wish to stay and explore the website any further.
Solid Foundations are Key
Whether you're starting from scratch or simply trying to improve the website that you already have; there are several key components that every website owner should deeply consider while creating and maintaining his site.
The architecture, content, and design are the most important foundations of a good website. And like a house of cards, if you take one out – the entire structure falls. Having a crisp and clean design would be pointless if there is no quality content to support it, and having great content will not matter if there is no way to get to it.
It might seem hard to try and balance out all of these elements and keep everything in check. However, it could be simpler than you might think. In this book we will explore each of those pivotal foundations alongside the technical aspects of building a website.
With easy step by step guides and challenging tasks you will be able to build a great website with a minimal amount of time and effort possible.
What Do We Cover In "Build a Website 101"
Throughout this book we are going to discuss the steps you should take in order to build a successful website. It begins in the research and planning phase, through the technical issues of setting the ground for your website, getting your content and design and finalizing your site.
Naturally, there are many ways to build a website, and as you read the book you will discover that there are several different paths you could take while building your site.
For that reason, the book is constructed in such a manner that you are able to skip parts that are not relevant to the path you chose. Each of the following sections will explore a different aspect of creating your website:
Planning and Research

– This section will deal with how to analyze your competition and decide if a certain market is appropriate to enter. You will learn how to create a file to organize your research data, find appropriate keywords and make a blueprint for your website.

Domains and Hosting – In this section, we will discuss how to choose and register a domain name as well hosting your website. We will also go through how to install a content management system onto your hosting account – which will enable you to have a solid website in no time.
Content – The importance of good content cannot be stressed vigorously enough. This section deals with the fundamentals of good content, and explores the various paths you can take in order to get your content or write it on your own.
Design – The design element of your website can determine its success. In this section we will discuss the various methods of designing your website, as well as what makes a good and appealing design for best results.
Wrapping it up – Our journey through building a website will end here. This section deals with how to finish up your website and go live, no matter what path you chose. Also, we will explore various tools to help you analyze data about your website, and how to maintain it.
Discovering the nuts and bolts of building a website is very important. This discovery will allow you to find out what the advantages and disadvantages of different methods of building a website are, as well as the costs involved.
Everyone has a different budget in mind when it comes to building and launching a website. In order to make the most out of this book, you will have to decide what your resources are. This will help you make the best decisions regarding what path you are going to take.
In the next section we will discuss the planning and research for your website. This research will help push you forward in the right direction, ensuring that your website will be just as successful as you want and need it to be.